Above: Torkwase Dyson in her New York studio. Photo: Weston Wells.
This week in Black art and culture, nine people died at Travis Scott's Astroworld festival, and hundreds more were injured. Writer Roxane Gay was chosen board president of the New York-based, alternative-art venue Performance Space. Before Yesterday We Could Fly: An Afrofuturist Period Room opened at the Met. Missy Elliott received a star on the Hollywood Walk of Fame. Thousands of items from the National Museum of Gungu in the Democratic Republic of the Congo were destroyed in a fire. And up-and-coming artist Torkwase Dyson announced upcoming exhibitions.
Crowd Surge Kills Nine at Astroworld Music Festival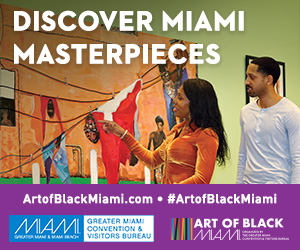 At least nine people were killed and many more were injured at the Astroworld music event in Houston when a packed crowd began surging toward the front of the stage during a performance by headliner rapper Travis Scott. The concert was part of a two-day event that began on Friday. According to the Houston Fire Department, over 50,000 people were gathered there on Friday night when the incident happened. 
It seemed to be one of the deadliest crowd-control catastrophes at a concert in the United States in many years. Those who perished ranged in age from 14 to 27, with one person's age unknown. Hundreds of people were hurt, including a nine-year-old boy who was brought to the hospital and is now suffering from brain swelling and organ damage. 
The Astroworld Festival is an annual music festival launched in 2018 by American rapper and hip-hop musician Travis Scott, who named it after his third studio album, an homage to a defunct Six Flags theme park near where he grew up. Live Nation and its affiliates arranged and managed the event. Scott's performance was live broadcast on Apple Music. Mr. Scott continued to play his set, hyping the audience multiple times and pausing when an ambulance joined the mob at about 9:30 p.m. 
The performance was called off around 30 minutes earlier than anticipated, at 10:10 p.m.—40 minutes after city officials declared the "mass casualty incident." Mr. Scott previously had been detained and charged with instigating riots at his performances, both times pleading guilty to lesser crimes. One concertgoer, in an ongoing legal action, said he was largely paralyzed in 2017 after Mr. Scott pushed others to jump from a third-floor balcony and then lifted him onstage. Authorities still are looking into what prompted the surges in the 50,000-person crowd and how it led to the incident, which lasted an estimated 40 minutes, according to law enforcement. 
Mr. Scott's representatives stated on Monday that he will cover all funeral costs for those who perished at Astroworld, as well as provide refunds to all attendees who purchased tickets. According to the report, the rapper also has canceled his forthcoming headline appearance at the Day N Vegas event on Saturday.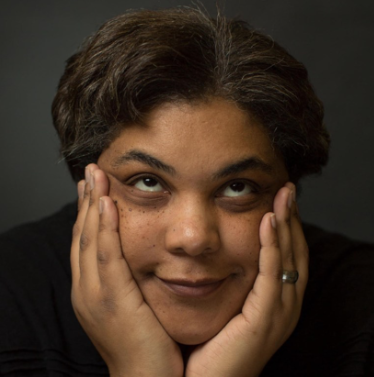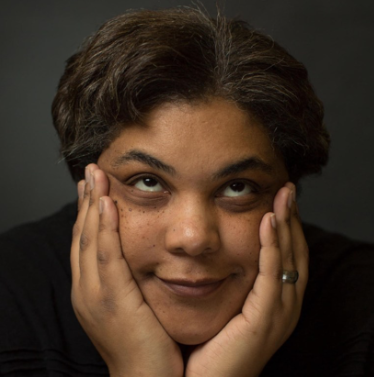 Above: Roxane Gay. Photo from RoxaneGay.com
World of Wakanda Writer Named President of NYC's Public Space
Roxane Gay, a writer, has been chosen board president of the New York-based alternative art venue Performance Space. Gay takes over as president of the board, while Suzanne Geiss steps down and becomes vice president to assist with the transition, eventually remaining on the board as chair of the development committee. Roxane Gay is a highly praised author who rose to prominence with her debut novel, Bad Feminist, in 2014. Bad Feminist, a compilation of her pieces, became a New York Times best-seller. Hunger: A Memoir of (My) Body, her 2017 book, received comparable accolades. Gay is an outspoken social analyst who frequently addresses the thorny themes of gender and sexuality. She is also the author of World of Wakanda for Marvel. She has several books forthcoming and is also at work on television and film projects. 
Gay is a devoted art collector, even though she generally is not linked with the art world. She joined the board after being introduced to it by her wife, board member Debbie Millman, and has been serving for the past 1.5 years. In typical fashion, board members at art organizations are wealthy collectors and donors. Gay's selection is another step toward assuring Performance Space New York's ability to prioritize artists' need for risk-taking and community. 
"My vision as board president is to continue supporting great experimental art and to make sure that a diversity of aesthetics is brought to Performance Space," Gay said. "But I'm also interested in diversifying the board and making sure we continue to ensure that it's not only people with money who get to sit on the board and make decisions—because that's not a reflection of our actual community. I want us to make sure we are connected to the East Village community where our space is located; to support as many artists as possible; to say yes to as much as possible in ways that are interesting and innovative, and to stay as nimble as possible and remain open to ideas that are maybe uncomfortable but are ultimately going to best serve Performance Space and best foster art." 
Afrofuturist Period Room Opens at The Met Museum
Before Yesterday We Could Fly: An Afrofuturist Period Room, which debuted over the weekend, integrates components of what it means to be Black in America, particularly as a child of the trans-Atlantic slave trade. The Met's curatorial team collaborated with head curator Hannah Beachler, who envisioned and constructed this space with consultant curator Michelle Commander and was inspired by Virginia Hamilton's legendary retellings of the Flying African myth. Since 2019, the group has worked with a variety of artistic and intellectual partners to enrich the installation with new ideas and perspectives. 
This work, like other period rooms around the Museum, is a fabrication of a household environment that assembles items to give the appearance of authenticity. Unlike the other places, this one rejects the idea of a single historical era and embraces the African and African-diasporic conviction that the past, present, and future are all intertwined and that informed speculation may reveal a plethora of possibilities. 
This project has its origins in the dwellings of Seneca Village, which has only a fragmented past. In what is now Central Park, a thriving 19th-century community of primarily Black landowners and tenants thrived. By the 1850s, the community had grown to include 50 dwellings, three churches, many cemeteries, a school and numerous gardens. Seneca Village was demolished in 1857 by the City of New York, which used eminent domain to obtain property for the development of Central Park. The exhibit includes works by Ini Archibong, Cyrus Kabiru, Roberto Lugo, Zizipho Poswa and Tourmaline, as well as commissions from Njideka Akunyili Crosby, Fabiola Jean-Louis and Jenn Nkiru, and it is furnished with a range of works from The Met collection—from Bamileke beadwork and 19th-century American ceramics to contemporary art and design. 
Missy Elliot Receives Star on Hollywood Walk of Fame
Missy Elliott, a four-time Grammy-winning rapper, singer, songwriter and record producer, received a star on the Hollywood Walk of Fame on Monday. Elliott grew emotional during the event, tears up as she thanked everyone who helped make her career so successful, from the organization for honoring her, to her early collaborator Timbaland, to her record company, to all the pioneering female hip-hop artists who came before her: Queen Latifah, Monie Love, Sha-Rock, Angie Stone, Roxanne Shanté, Yo-Yo, MC Lyte and Salt-N-Pepa. 
Mona Scott Young, her manager, and performers Lizzo and Ciara accompanied the 50-year-old pioneer. She was the third rapper and the first female hip hop artist to be admitted into the Songwriters Hall of Fame, joining Jay-Z and Jermaine Dupri. Heading to her Instagram page to celebrate, Elliott said that she not only was grateful but also humbled for the recognition: 
"We here baby! And I know a lot of people say (Missy it's 'bout Time) but this was the right time (God's Timing) & I am Grateful! This is a moment that I shall never forget," she captioned her post in part. She continued, "I am still filled by seeing I have a star amongst so many other great Stars my heart is Smiling and I thank all my SuperFriends and all the female EMCEES before me thank you for being the foundation for me Queens. I am HUMBLED!" 
Lizzo's speech shook the ceremony, highlighting Missy's profound effect on music. "I watched you my entire life and I saw a superstar in you, but I also saw myself and I'd never seen myself before," Lizzo said. "You live so boldly and so beautifully and so unapologetically and so out loud. You have no idea what you have done for so many Black girls." 
Supa Dupa Fly, her 1997 solo debut album, was certified platinum by the Recording Industry Association. Her personal hits include Get Ur Freak On, Work It, The Rain (Supa Dupa Fly), One Minute Man, and Gossip Folks. She is also one of the masterminds behind the late R&B artist Aaliyah and her singles One In A Million, If Only Your Girl Knew, and Hot Like Fire. She has won four Grammy awards and the MTV Video Music Awards' Michael Jackson Video Vanguard Award. In 2019, Missy received an honorary doctorate from Berklee College of Music. She delivered the commencement speech during the graduation ceremony and encouraged the graduates to never give up on their dreams. 
Thousands of Items Destroyed in Fire at a Congolese Museum 
Thousands of items from the National Museum of Gungu in the Democratic Republic of the Congo were destroyed in a fire that broke out late at night on Nov. 4. The cause of the fire is unknown; however, museum authorities have speculated that it was ignited on purpose. According to the BBC, the fire destroyed between 8,000 and 9,000 antiquities, or nearly one-third of the museum's inventory. Many of the items dated back to the 18th century. 
The Pende people's masks were among the objects destroyed in the fire. The Pende, who dwell in the southwestern region of Congo, are well-known for their elegant and unique masks, which were utilized in a variety of rites. These masks were the most popular exhibits in the Gungu Museum. With almost 25,000 items in its collection, the National Museum of Gungu is regarded as one of the most prominent museums in the Democratic Republic of the Congo. 
Museum Director Aristotle Kibala estimated the worth of the works to be roughly $15 million. The museum's collection is scheduled to play a key role in Gungu's annual celebration next year. The provincial deputy of Gungu, Franck Gatola Mungiela, informed the Congolese outlet, 7sur7, that the works destroyed in the fire were of "national heritage." Because of the magnitude of the damage to the museum, an official inquiry into the cause of the fire has been begun. Kibala also said he felt that the fire was set intentionally. In an interview with a French news site, he admitted to hearing a "loud cannon blast" on the night of Nov. 4 night, shortly after which the fire was detected.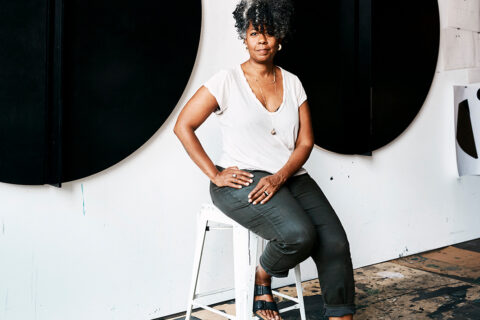 Above: Torkwase Dyson in her New York studio. Photo: Weston Wells.
Torkwase Dyson Announces Upcoming Group and Solo Exhibitions
Torkwase Dyson will present a new, commissioned work for the upcoming group exhibition, A Movement in Every Direction: Legacies of the Great Migration at the Mississippi Museum of Art and Baltimore Museum of Art (2022). Gray will exhibit Torkwase Dyson's work for the first time at Art Basel Miami Beach in December for her first solo exhibition at Gray Warehouse in Chicago in the fall of 2023, Dyson will present a site-specific project focused on her research into Chicago's waterways.
Torkwase Dyson is currently represented by Gray, who joins Pace in representing the artist. Torkwase Dyson distills and investigates the crosscurrents of ecology, architecture, and infrastructure to envisage new modalities of environmental and spatial freedom, working across the genres of painting, drawing, installation, and sculpture. Dyson's approach investigates how Black and Brown people navigate, negotiate, and negate existing structures via a rigorous investigation into the built and natural environments. 
While the trapezoid, scalene triangle, square, and curve she employs are abstract in nature, they are inspired by historical accounts of what the artist refers to as "Black spatial genius." Water is also an important part of Dyson's practice, as demonstrated by the flow of paint on her canvases or the reflecting surfaces of her sculpture. Dyson, a qualified diver, has gone beneath oil rigs in the Gulf of Mexico and examined how waterways such as the Middle Passage and the Mississippi River have affected migration. This study has influenced her growing idea, "Black Compositional Thought," in which Dyson explains "considers how paths, freeways, waterways, architecture and geographies are composed by Black bodies and how properties of energy, space and objects interact as networks of liberation." Throughout her work, Dyson addresses issues of environmental justice, seeking to create a blueprint for a more equitable future.
-Compiled by Sumaiyah E. Wade