Above: the language must not seat|Shikeith|2018
This week in Black art, the Whitney Museum of American Art opens digital discourse on Black art in this moment of increased activism, and commissions grace the covers of Vogue and Vanity Fair. Meanwhile, exhibitions open virtually, and finally, face-to-face.  The community also is keeping its eyes out for grants to ensure the Black experience is represented when America celebrates its 250th anniversary.
The Whitney Museum and the Economy of Representation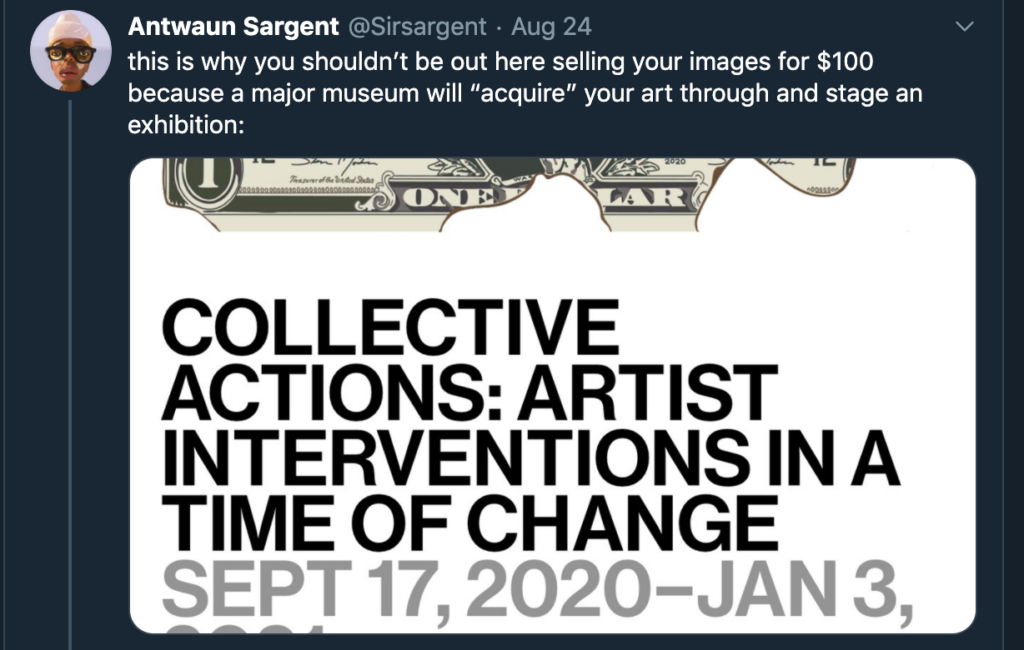 On Monday, the Whitney Museum of American Art announced an exhibition, and on Tuesday, after public criticism, the show was canceled with a letter of apology. Originally slated to open on Sept. 17, Collective Actions: Artist Interventions in a Time of Change was to exhibit "prints, photographs, posters, and digital files that have been created this year in response to the COVID-19 pandemic and the Black Lives Matter movement." While the exhibition's aim was well-intentioned, its mode of production was faulty and reproduced the museum's history of stealing and inequitably "acquiring" works of art from Black and Brown artists.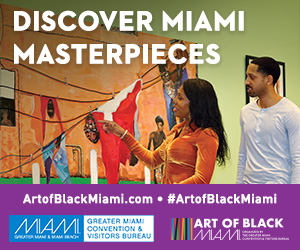 On Aug. 24, photographer Gioncarlo Valentine tweeted a congratulatory email from the exhibition's curator Farris Wahbeh. The email outlined that the work's compensation was "Artist Lifetime Pass," which would allow him "and a guest free entry to the museum as well as other benefits." This, in lieu of monetary compensation, was egregious for a museum of Whitney's influence and budget availability, especially during a pandemic that is severely affecting Black professional artists.
Criticism of the Whitney's assault went further. The way Valentine's and others' work was acquired was considered unethical at best. Whitney purchased prints at heavily reduced prices from See in Black, "a collective of Black photographers to dismantle white supremacy and systematic oppression." Through the sale of highly curated original images from Black photographers, See in Black raises funds to support causes that envision and create Black prosperity. All profits from the sales went to charity.
The artists donated their works, not for a museum exhibition's intent, but partially to make their work more accessible to their community and mainly to aid communities devastated by the COVID-19 pandemic, to pay for bail bonds and to support victims of police brutality.
Curators, critics, and artists all chimed in, and undoubtedly their frustration, concern, and rightful anger influenced the institution's decision to cancel the exhibition. Whitney tweeted, "We apologize for how we handled the exhibition and the pain and frustration it caused." Responses to this show on Twitter offered historical context to this insult, one that is not a novice to Whitney.
Tweets also moved the conversation to possible solutions to the ongoing inequity in the museum world––for example, Whitney could have purchased the work in a proper acquisition process. Additionally, Black institutions experience inequities when serving Black audiences year-round: with small budgets and capacity, they often cannot afford to show top-selling, and capital "A," art-world-renowned Black artists. While the art world in 2020 has offered new considerations to address the cost of "diversity and inclusion" and other aims of advocacy and activism, these are short-lived and perhaps harmful to those they seek to serve.
Commissioned Covers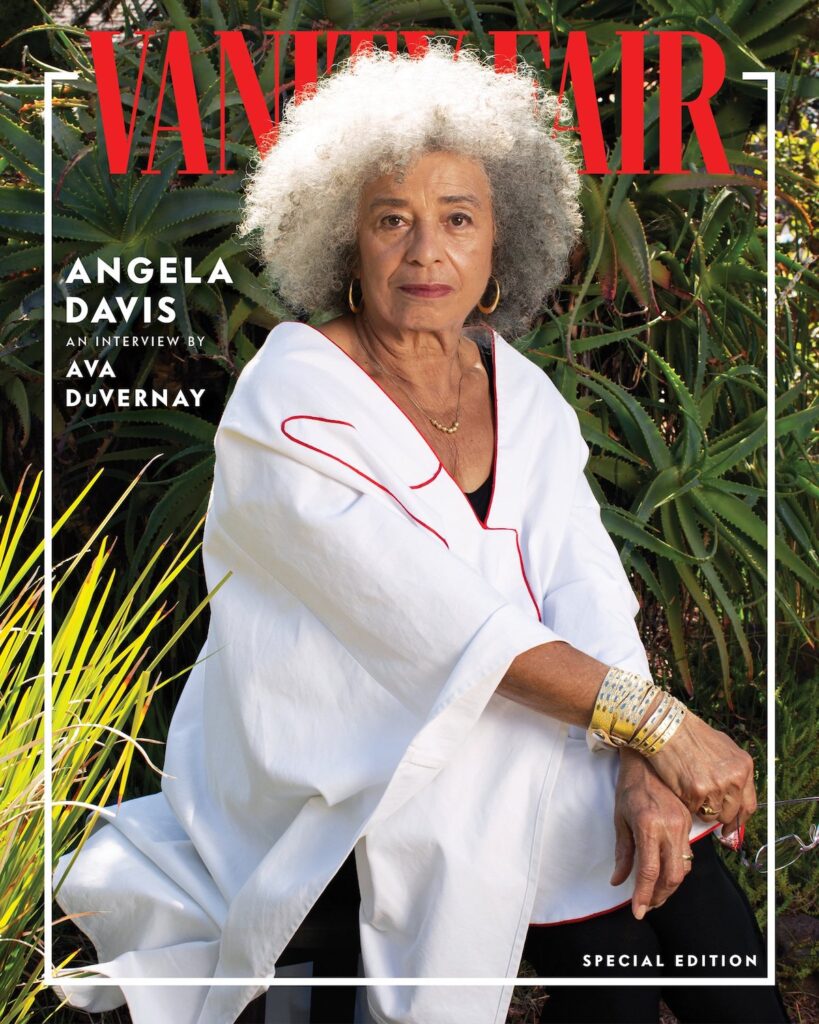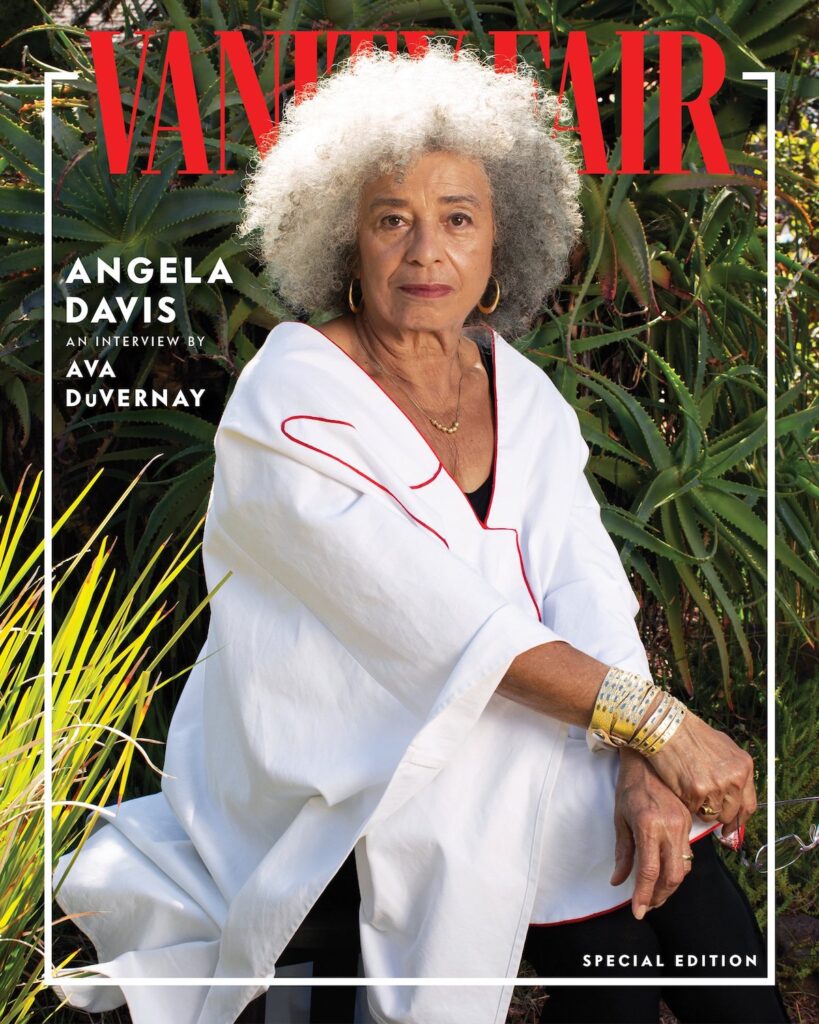 Vanity Fair September Digital Issue Cover, Courtesy: Vanity Fair
The September issues of Vogue and Vanity Fair both feature works by Black artists. Vogue's issue features covers by Jordan Casteel and Kerry James Marshall. Their portraits not only feature Black subjects, but according to Vogue's editors, Black designers Marshall and Casteel "were given complete freedom to decide who would be on their covers, a real or imaginary person, and how that person would be portrayed. The only requirement was that they choose a dress by one of four Vogue-selected designers for their subject to wear."
Marshall's fictional character is wearing an off-white gown. Casteel's subject wears Brother Vellies fashion designer Aurora James, adorned in Pyer Moss. Casteel's portrait is entirely appropriate for Vogue and this moment. Both Aurora James and Kirby Jean-Raymond, designer of Pyer Moss, produce political work.
Aurora James launched the 15% pledge this spring, advocating that top retailers afford at least 15% of their shelf space to Black-owned businesses. Kirby Jean-Raymond's collections and shows have been an homage to Black creativity. Last September, Pyers Moss' New York Fashion Week show brought industry insiders to his home neighborhood of Flatbush in Brooklyn, New York. The show was held at the iconic King's Theatre. A year earlier, the Weeksville Heritage Center was the selected venue.
Kirby Jean-Raymond not only highlights cultural landmarks, but cultural icons adorn his clothes in shoots and press walks. Kirby enlists activists to take center stage in his editorial campaigns, sharing both their images and their powerful advocacy aims.
Amy Sherald's portrait of Breonna Taylor covers the September Issue of Vanity Fair. Grim and disheartening circumstances brought Breonna Taylor to public consciousness; however, her image is aligned with Sherald's iconic grayscale portraits. Sherald shares that Breonna Taylor is an "American girl, she is a sister, a daughter, and a hard worker. Those are the kinds of people that I am drawn towards."
Sherald's details include a blue aquamarine dress reflecting the stone of Breonna's March birthday. The digital issue features political activist Angela Davis photographed by Deana Lawson wearing a Pyer Moss white dress with red trim. The article, "This Moment––and What Came Before," is a dialogue between Ava Duvernay and Angela Davis.
Virtual Show at International Visions Gallery
@invisionsart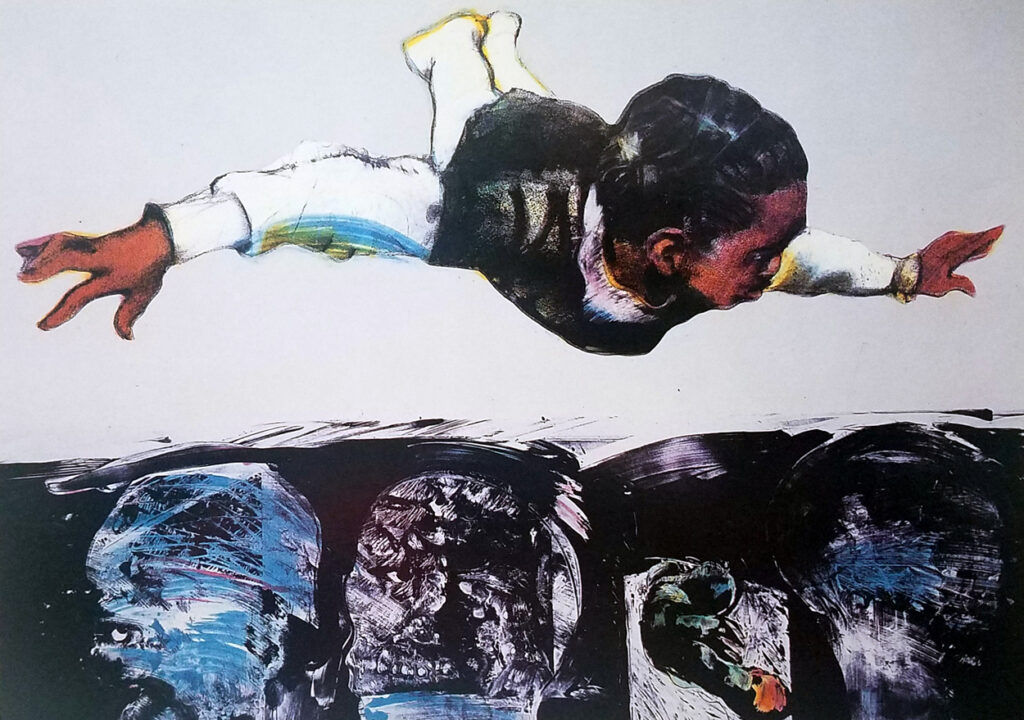 Washington, D.C.-based International Visions Gallery, founded by artist Tim Davis, opened Artists-Resilience-Brave Spaces on Aug. 22. Davis has curated a show of 15 artists who address current, pressing issues of our world. He shares, "As an artist, I have always been about social justice and making statements for positive change. The gallery stands in solidarity with those leading the national conversation for racial justice and the fight to change the current inequities.
"Through our literary and visual statements, our hope is for those who view the show will be activated to continue to make change for the better. I/we grieve the murders of George Floyd, Breonna Taylor, Sandra Bland, Tony McDade, Ahmaud Arbery, Philando Castile, and the thousands of Black people who have been murdered, over-criminalized, hyper-policed, arrested, and unjustly accused of crimes they did not commit."
Featured Artists: Anne Bouie, Kay Chernush, Tim Davis, George Kochev, June Linowitz, Shoccara Marcus, Betty Press, Jonathan Ribaillier, Preston Sampson, Debra Mathews Tyler, Dwight Tyler, Frank Smith, and featured poems and prints from Michael Platt and Carol Beane.
New York City Museums to Reopen
Once the U.S. center of the coronavirus pandemic, New York now readies itself to reopen museums and other "low risk" cultural centers. Aug. 24 was the first day museums reopened here. After months online, for visitors with eyes strained from looking for details in virtual exhibitions, the reopenings are cause for celebration. In the excitement, museum-goers are encouraged to comply with indoor social distancing restrictions. Each museum has limited entry and other, new safety precautions that should be read ahead of attendance.
Here's a list for August/September openings:
Earlier This Month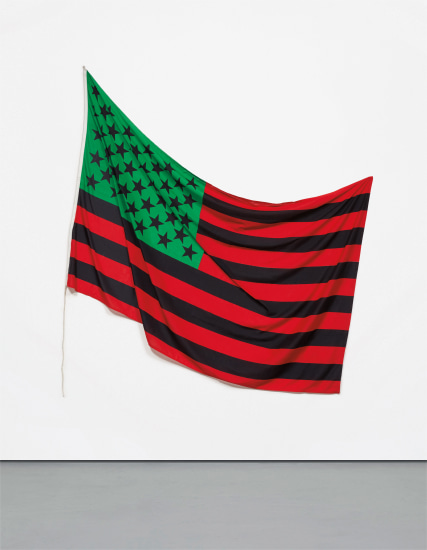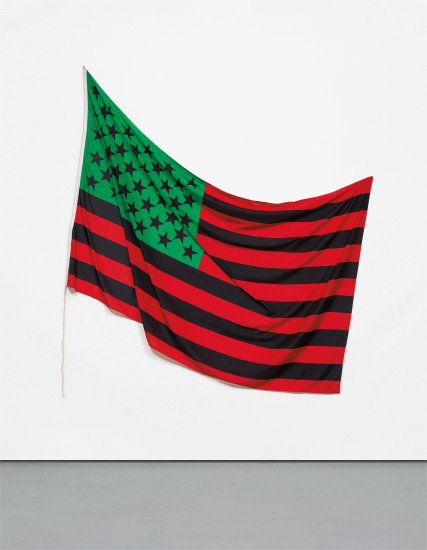 As we come to the end of the month, we reflect on "Black August," a month of historical moments of Black activism, creativity, and tradition. This Black August, we celebrate a historic anniversary. On Aug. 13, the Pan-African flag turned 100 years old. The flag was adopted in 1920 by the Universal Negro Improvement Association and African Communities League (UNIA-ACL). Since its introduction to public consciousness, the flag has represented the unification of Africa's children and has been used in various artistic media, including David Hammons' African-American Flag, pictured above.
Shikeith Opens a New Solo Show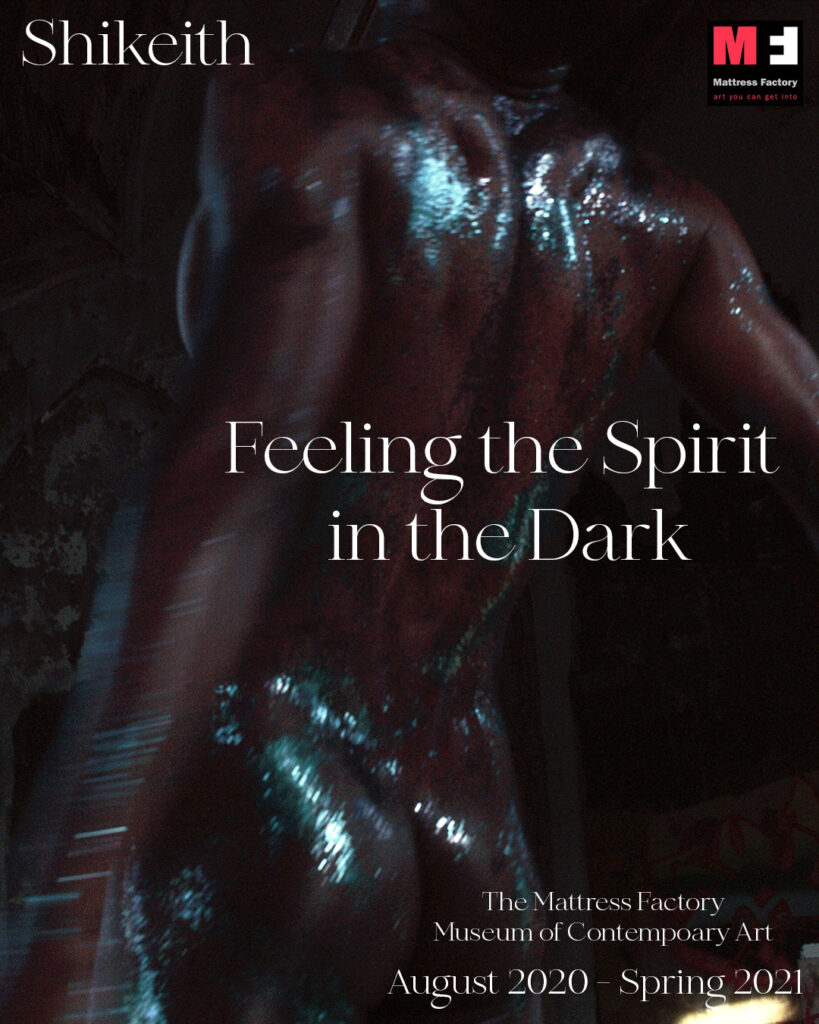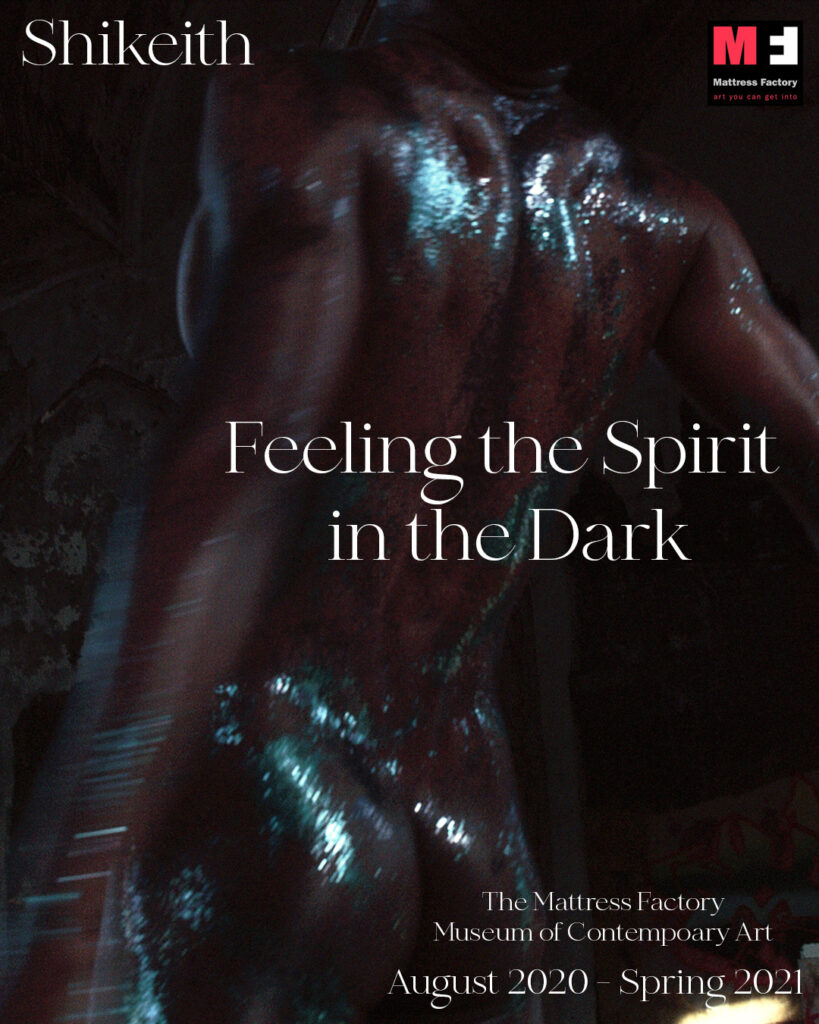 Shikeith, alongside Jenifer Angus, opened his solo, site-specific installation exhibition earlier this month at the Mattress Factory Museum in Pittsburgh, Pennsylvania. Shikeith's exhibition, Feeling The Spirit In The Dark continues his exploration of Black maleness and masculinity. The installation pairs his primary mediums—photography, filmmaking, and sculpture—to explore Black men's complex interior lives.
The title of this exhibition and its textual contents come from performance artist and scholar E. Patrick Johnson's 2001 essay about the sacredness of the African American Gay Community. The show is fully immersive and "experimental," as described by Shikeith. The title of one work, "Autoeroticism," may encompass the show's mood and aesthetics. The show is open until January 2021 (contingent, of course, on national and state response to COVID-19). This is a show not to be missed; after months inside, this opportunity of wonder, color, and soothing water throughout the exhibition rooms is sure to bring thoughtful reflection.
Shikeith | Feeling The Spirit In The Dark | Mattress Factory Museum | Pittsburgh, PA
Additionally, in anticipation of the United States 250th Anniversary in 2026, Black cultural leaders met at a webinar in mid-August to ensure representation of the Black American experience. This webinar, hosted by Association of African American Museums (AAAM) and the Association for the Study of African American Life and History (ASALH) provided discourse around museum and cultural institutions planning to join this national acknowledgment. Careful consideration was given to ensure that participation will respectfully and honestly grapple with Black American topics. Strategies for planning were shared to apply for and deploy grant resources becoming increasingly available to support institutions around this celebration. All artists, scholars, and museum professionals can benefit from watching this recording, accessible here. 
Compiled by Maleke Glee