Above: Onell Naar.
Onel Naar is a South Bronx native who uses his rich culture, art history and his love of music to create works that are both nostalgic and new. Naar uses materials rooted in his Puerto Rican and Lebanese-Dominican culture to engage his audience in a personal way. I was fortunate enough to speak with Onel about his practice and his influences during his SHIM residency, on a snowy Sunday afternoon in Brooklyn, New York.
Tiffany: How has your experience been at SHIM? What are you working on right now?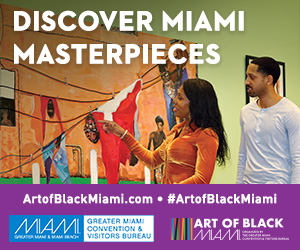 Onel: My experience has been awesome. The people here are great and community oriented. I'm currently working on two things at once. There is a quote by Lilly Lamp that really explains it: "Perhaps it isn't that painting is dead, but that like many of us, it suffers from anxiety about death. Maybe painting is depressed, a sentiment I dare say many critics would validate." This was said in an article from last year (2016) referencing the legacy of Clement Greenberg, and his dictations on painting. What I'm working on now is a way to heal with art. In the D.R. (Dominican Republic) and P.R. (Puerto Rico), we swear on Vicks Vapor Rub. Growing up it was the biggest placebo. It solved everything as well as banana leaves which was historically a healing leaf.
Tiffany: You're utilizing things that you grew up with to solve this issue.
Onel: Right, exactly. To solve that algebraic equation. These frames, they're custom-made, If you slide your thumb across, there is actual Vicks in them and underneath is resin to hold it together. I want people to touch the work and feel the Vicks. The frames will hold these images I get from the from the internet, and I use a technique that my mentor, Paul Pfeiffer, used in his work.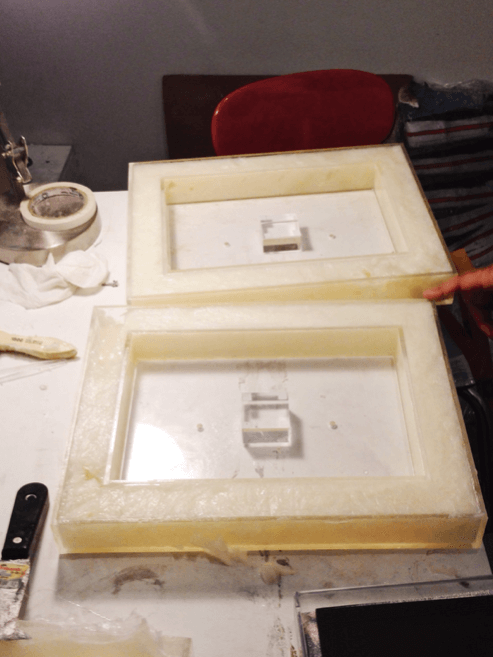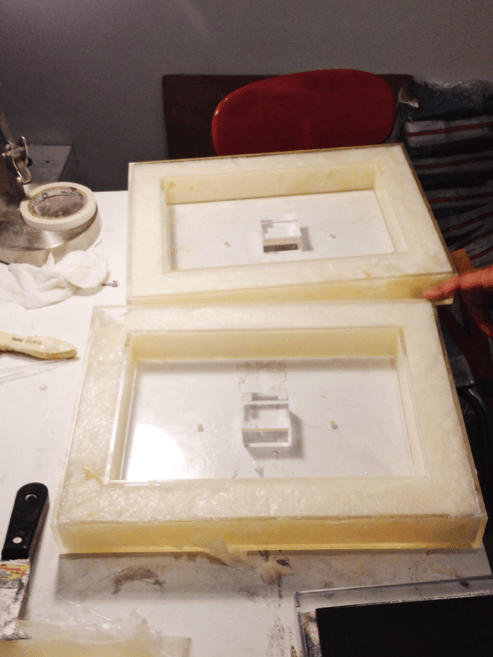 Above: Work in progress by Onel Naar. Photo by Tiffany Garnett.
Tiffany: Tell me more about that technique.
Onel: He would intensify the lens flares in these paparazzi-like images. What I want, is to see the lens flare and raise him something. In these images, I raised him those effects, grounded up the fibers of the actual paper. Removing the fibers as this act of reclaiming the physicality of something virtual.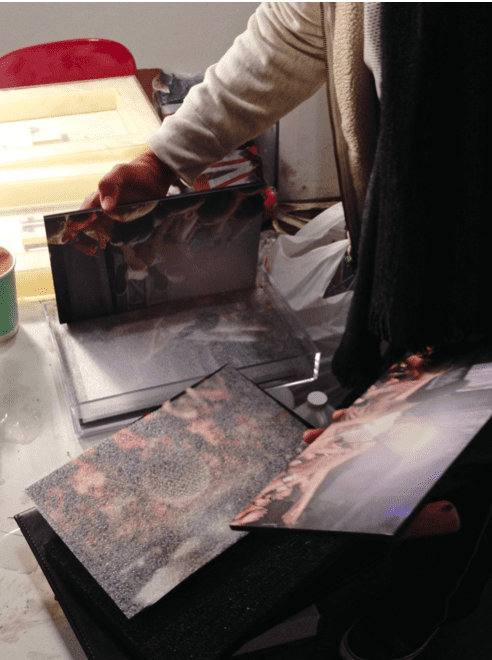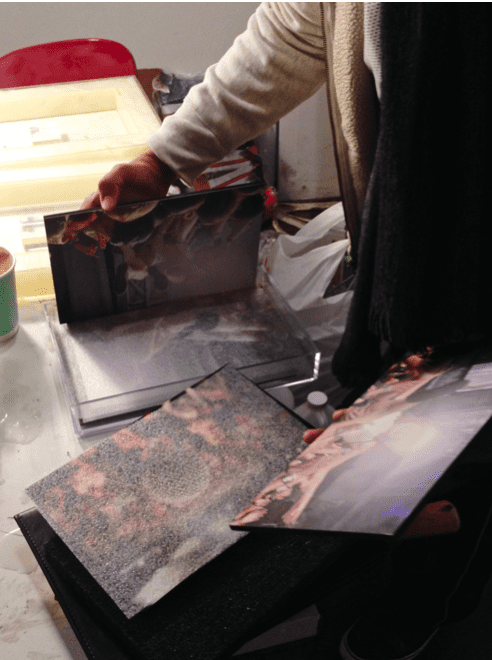 Above: Work in progress by Onel Naar. Photo by Tiffany Garnett.
Tiffany: When did you decide that art needed to be healed?
Onel: After 9/11 I had a problem with exhibiting. I didn't have much of a problem creating work, but I had a problem exhibiting work. I just thought it wasn't a time to promote myself. It's a time to work with the community. Art heals on a different level but not to that level. I started doing a lot of volunteer work. I volunteered as a teacher because it felt like it healed. It felt like the right medicine for the moment. I basically left the idea of exhibiting in pursuits of doing something still public, but different from just promoting my name, you know? Right out of art school, all you think about is yourself. So, I started teaching, but I continued working, researching materials, researching other artists, seeing what other people are doing. Keeping my fingers on the pulse of the art world, and then I realized the art world was actually sick, and it needed healing itself.
Tiffany: Do you feel there are certain mediums that allow you to better explain certain issues?
Onel: Narrative is not really an interest of mine. I like the idea of purifying art so that it doesn't rely on narrative. It doesn't rely on politics. It doesn't rely on economic systems. It doesn't rely on social issues. It needs to be self-standing, and a lot of art uses all those things as a crutch. To me, I respect it, but I can't do it. That doesn't feel like my truth. My work is about liberating art from all those things, and when you think about Rosalind Epstein Krauss who was a big-time Greenberg follower/antagonist, she's interesting. She said that in order to purify art, in order to have a pure art experience, improvisation is necessary, also using technology that is obsolete. Because technology and capitalism go hand in hand. You use something that capitalism can't use, a technology that capitalism can't use, or a medium that capitalism can't use to further its agenda. Then you're freeing the art.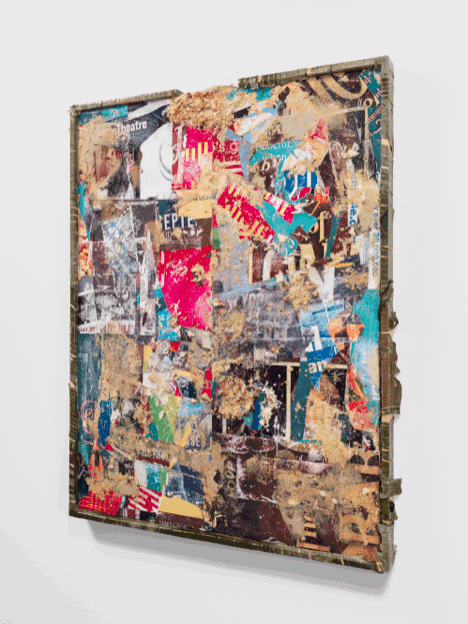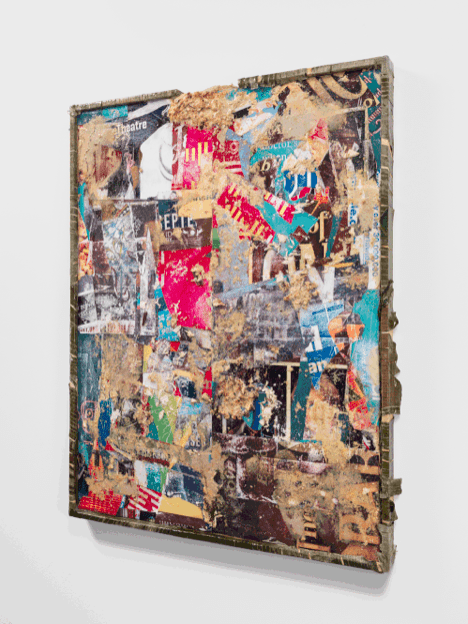 Above: Onel Naar,"Eye Level (after Stuart Davis)" Yucca and epoxy resin on found billboard advertisements; banana leaves and epoxy resin on wood. Photo by Tiffany Garnett.
Tiffany: You pay homage to many different Artists in your work such as "Eye Level (after Stuart Davis), 2016 and "A Tempest Diptych (after Leonardo da Vinci) 2016, and several others. Is that important to you?
Onel: I always think that artists have to have a conversation with the past, the present, and you have to honor and give credit to who came before you because there's nothing new under the sun. So, why am I gonna hide? Why am I gonna say, "Oh, this is me? This is all me. This is mine." I teach high school students, and I teach them about not plagiarizing. I would be a hypocrite, introducing this intellectual property to the world, and not giving credit where credit is due.
Tiffany: You're originally from South Bronx but you went to art school in Manhattan. Does location have an effect on the work that you're creating or your process?
Onel: The Manhattan side of things introduced me to contemporary art history but the Bronx was life. I am working on putting that life on to canvas using the language that I learned in school. When I was growing up everything was rubble because of the fires in the Bronx. As a kid, you don't know the socio-political-economic implications of all that, you see the potential. You see a playground. You see possibilities. You see a world there. So, I don't like to feel resentment about anything, hence my work is not political, nor is it social. It is autobiographical, it's subjective. I don't like how divisive politics can be. I would like anyone to look at my work and see something. It's not for just Hispanic people. It's not just for black people. It's not just for people from the South Bronx. It's for everybody, you know? There is an interactive element to my work that will make people aware of, the ability that art has to erase that line between us and them. Sometimes, people come up to a work, and they start touching it. That's totally cool. Then they're like, "What is this? Is this sand? Then you break the barrier between the viewer and the artist. So they know "you can do this, too."
Tiffany: Creating community.
Onel: Yes, because the artist needs the community. It's not that he wants to be backed up, but the artist needs it. He needs a script. It's just like an actor needs the writer. Society presents the artist with a blueprint, with a script. The artist can misinterpret it, interpret it, do with it what they want, but the script is still there. It always helps. I can only do this because I look at the South Bronx from the eyes of a child, the eyes from when I was a kid. I can't do this as an academic because you start over analyzing things, you won't do anything. But if you do it as a kid.
Tiffany: The possibilities are endless.
Onel: Yes, and you enjoy the process.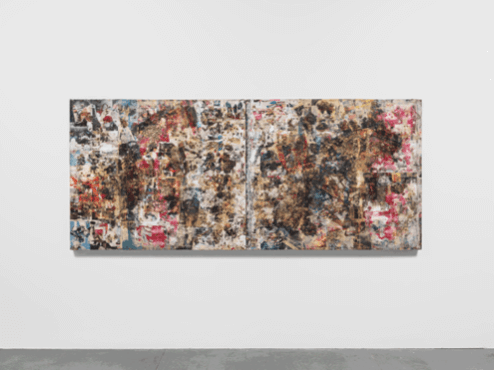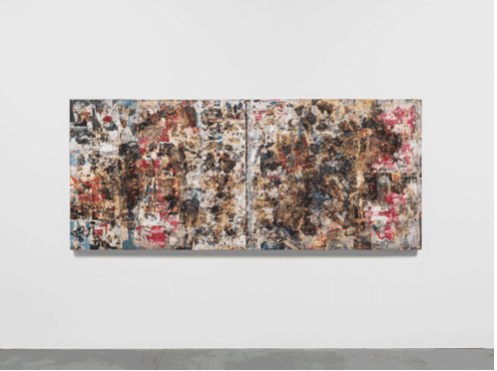 Above: Onel Naar,"A Tempest Diptych (after Leonardo da Vinci)," 2016. Gandules and epoxy resin on found commercial print. Photo by Tiffany Garnett.
Tiffany: Is there anything that is influencing you right now?
Onel: Yes, I always think about DJ Kool Herc with my work. There isn't a day that I'm doing something with these materials, that I don't think about that man. He's the equivalent of that essay that was written in the late 1800s that Greenberg then ripped off of. You can go back in time and take the principles that he based his music on, his approach, and just take it in a different direction. I think about that, and I also think about language. I think in English, Spanish, and Portuguese. To me, I feel like Brazilian-Portuguese is the most avant-garde language on the face of the earth, because they took this western language, this European language, and they did their own thing with it. I think art should be that, where you create something that's so unique, but grounded in history, grounded in something that already existed.
Tiffany: What are you looking forward to for the future in terms of your work?
Onel: In terms of the future, I don't think about it at all. I think more about what needs to happen, as opposed to what I want to happen. Michelangelo said that he wanted to liberate the image in the marble, you know, the figure in the marble. In that respect, the painting will let you know when it's done. The painting will let you know what you need to do it. This idea of the loner artist, the genius artist, I think that's a bunch of fooey. It takes a village to create art. The artist is just circumstantial. He's the guy at the moment that, for some reason, is actually communicating something that society has scripted for him. It takes a village to create art because you come in here and mention something about the work because the piece told you something. It told YOU something. It didn't tell me that specifically and I'm just taking that information in.