Above: Photo from Vogue Business by Valentin Hennequin
This Week in Black Art and Culture is Sponsored by The Children's Trust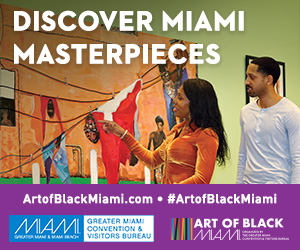 A new memoir and film from Edward Enninful are released. Several high schools are to begin offering the new AP African American studies course. Skepta curates an art selection for a Sotheby's Auction. Hannah Chalew receives the Southern Award. Read more in This Week in Black Art and Culture.
New Memoir and Film from Edward Enninful Released
This week, Edward Enninful, the editor-in-chief of British Vogue, launched his new book along with a short film featuring some of his famous pals.
The film, A Visible Man, chronicles Enninful's journey from his childhood as a working-class refugee in West London to his appointment to one of the most powerful positions in the fashion industry. The book begins with Enninful's upbringing as a working-class refugee in West London and ends with his appointment to one of the most powerful positions in the fashion industry.
Enninful has been at the helm of British Vogue since 2017, serving as the magazine's first-ever Black editor-in-chief while simultaneously serving as Vogue's European editorial director.  He has been a consistent agent of cultural change, as seen by his leadership of the acclaimed The Black Issue issue of Vogue Italia and his placement of first responders and civil rights activists on the cover of British Vogue.
"My message is about inclusion and representation, and I hope the film and my memoir inspire all to open doors and walk through," Eninful said. "It's an honor to have so many of my close friends and supporters included in this project, celebrating my memoir, and I'm so grateful to everyone who took part." 
The three-minute short, produced by Enninful's spouse Alec Maxwell and his firm Kloss Films, remembers significant milestones from the 50-year-old's life and his path in the worldwide fashion industry. Jourdan Dunn, Kate Moss, Daniel Kaluuya, Gemma Chan, and Sienna Miller are among the celebrities who appear in the project reciting extracts from his book, A Visible Man while wearing his iconic black suit, white shirt and spectacles.
As a teenager, Enninful became interested in fashion after being scouted as a fashion model. When he became the fashion director of i-D at the age of 18 in 1991, he was the industry's youngest fashion editor; he later became the style director of W magazine. In 2017, he succeeded Alexandra Shulman as the leader of British Vogue, for which he received an OBE in 2016, recognizing his contributions to diversity in the fashion business.
The new A Visible Man memoir by Edward Enninful OBE is now available in hardcover and e-book editions everywhere books are sold.
Several High Schools To Offer New AP African American Studies Course
This school year, high school students at 60 schools throughout the nation will be able to enroll in a new Advanced Placement course, African American Studies. The AP program, which has been under development for over a year, is the first ethnic studies AP course since the first AP exams were offered in 1952. According to the College Board, AP African American Studies was developed via considerable dialogue and continuing cooperation between the College Board and several cultural and academic organizations around the nation. The curriculum will include political science, literature and other subjects. Next year, the initiative is anticipated to expand to include all high schools interested in delivering the course for the 2024-2025 academic year.
"Nothing is more dramatic than having the College Board launch an AP course in a field—that signifies ultimate acceptance and ultimate academic legitimacy," Dr. Henry Louis Gates, professor and director of the Hutchins Center for African and African American Research at Harvard University, said in a statement. "AP African American Studies is not CRT (critical race theory). It's not the 1619 Project. It is a mainstream, rigorously vetted, academic approach to a vibrant field of study."
The creation of the course coincides with continual assaults on critical race theory by political conservatives, notably the propagation of falsehoods about its real meaning. Critical race theory is a paradigm developed by researchers in the 1970s to investigate systematic racism and the confluence of race, society and law. Critical race theory is normally not taught at the high school level, but the right has used the phrase to describe classroom discussions on race and racism. 
According to a survey by PEN America, a free speech organization, 36 states have submitted 137 measures this year to limit instruction, mostly on race but also on gender and history, up from 22 states and 54 bills last year.
The College Board intends to guide students through an in-depth exploration of the African diaspora and encourage conversations on intersectional ways to combat prejudice in modern times; however, the curriculum's contents still are being developed and revised. As with all other AP courses, students enrolled in AP African American Studies have the option of taking a cumulative test at the conclusion of the school year to possibly earn college credit at around 35 U.S. institutions. The Smithsonian Museum has supplied artwork for a number of sections. Colleagues and teaching academics from throughout the nation convened at Howard University during the summer to debate the optimal approach to the curriculum.
Skepta Curates Art Selection for Sotheby's Auction
Sotheby's is conducting the second annual edition of Contemporary Curated in London. Skepta, a British-Nigerian rapper, musician and DJ, is the guest curator for this auction, which features works from the most established to the coming generation of artists, including a selection Skepta has selected for his edit and the premiere of his own painting. The Contemporary Curated auction will take place twice a year and showcase between 90 and 120 artworks in total, with Skepta choosing between eight and 12 pieces that represent Nigeria's vitality. Olaolu Slawn, a fellow Nigerian artist, will be shown alongside works by Frank Bowling and Lynette Yiadom-Boakye, among others.
Mama Goes to Market was created by Skepta, whose real name is Chief Joseph Olaitan Adenuga, Jr., in the spring of 2020, after all of his gigs had been canceled at the onset of the epidemic, according to an interview with the Financial Times. 
"I guess I was just so used to expressing myself all the time, every two days, out doing a show somewhere new," Skepta said. "So I just ordered the oil paints and the canvas [on Amazon]." The artwork, titled Mama Goes to Market, was done in one week by Skepta and portrays three African women, one of whom is pictured carrying a child on her back, much like his mother had carried him. The picture is estimated to fetch between £40,000 and £60,000 GBP / $46,000 and $69,000 USD. Skepta expressed optimism to the Financial Times that "Jay-Z" or "Dave Chapelle" will be the buyer.
Sotheby's Contemporary Curated auction will take place in London from Sept. 7-13.
Hannah Chalew Receives Southern Award
South Arts, an Atlanta-based nonprofit, has named Hannah Chalew, a New Orleans-based artist whose work focuses on the effects of climate change, as the winner of its annual Southern Prize. A finalist is Sarah Elizabeth Cornejo of Memphis, Tennessee, who co-founded BASEMENT, an artist-run space in Chapel Hill, North Carolina.
The Southern Prize is in its sixth year, and all fellows earn $5,000, with the finalist receiving an extra $10,000 and the winner receiving an additional $25,000. As part of their award, Chalew and Cornejo will also engage in residencies at the Hambidge Center for Creative Arts and Sciences. New Orleans-born artist, educator, and environmental activist Hannah Chalew lives and works in the city. Her artwork examines what it means to live in a time of global warming and a collectively uncertain future, as well as what it means for those who reside in Southern Louisiana. 
Her approach investigates the historical legacies that have brought us to this point in order to envision fresh possibilities for a habitable future. Since 2018, she has endeavored to divest her studio practice as much as possible from fossil fuels by using recycled, free, and sustainable materials, powering her artworks and studio practice with renewable resources such as solar power and rainwater collection and biking to her studio. 
"My works draw viewers into an experience that bridges past and present with visions of the future ecosystems that might emerge from our culture's detritus if we fail to change course," Chalew said. "Believing that art has the power to make people feel deeply and to question their perspectives, I use my artwork to reach and engage people on the issue of climate change in an increasingly oversaturated information age.
"My artwork explores what it means to live in an era of global warming with an uncertain future, and specifically what that means in Southern Louisiana. My practice explores the historical legacies that got us here to help imagine new possibilities for a livable future."
South Arts supports artists and organizations in nine states: Alabama, Florida, Georgia, Kentucky, Louisiana, Mississippi, North Carolina, South Carolina, and Tennessee. Artists from this area are eligible to apply for the grant every year. The champion and finalist are chosen by a two-step procedure: a national jury selects nine fellows, each representing a constituent state, from which a second jury selects two exceptional artists to be highlighted. The scholarship is accessible to artists working in all genres, with the exclusion of filmmakers, video artists and media artists. In addition to Chalew and Cornejo, this year's fellows are Brittany M. Watkins, Jenny Fine, GeoVanna Gonzalez, Antonio Darden, Crystal Gregory, Gloria Gipson Suggs, Marcus Dunn and Brittany M. Watkins.
-Compiled by Sumaiyah E. Wade