This week in Black art and culture, the world is studying and chiming in on Black influence and how it affects us politically, artistically and socially. Frieze NY asks the question, "How are the arts responsible for disrupting, complicating, or shifting narratives of visual representation in the public realm?" Auctioning and collecting become easier every day, but is this trend negative or positive? Hampton University and the Chrysler Museum of Art receive a half-million-dollar grant. The Olympics continue a ban on political statements.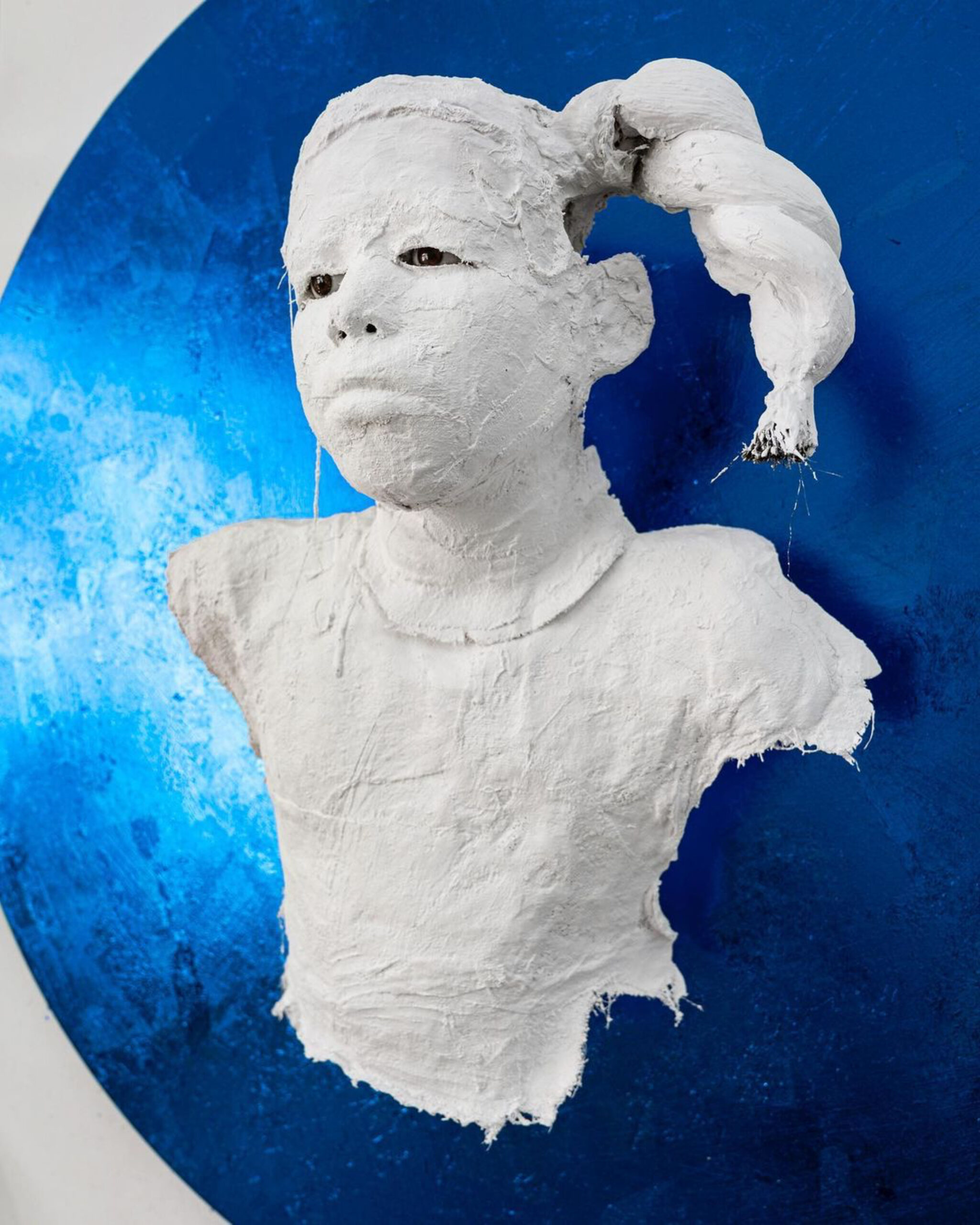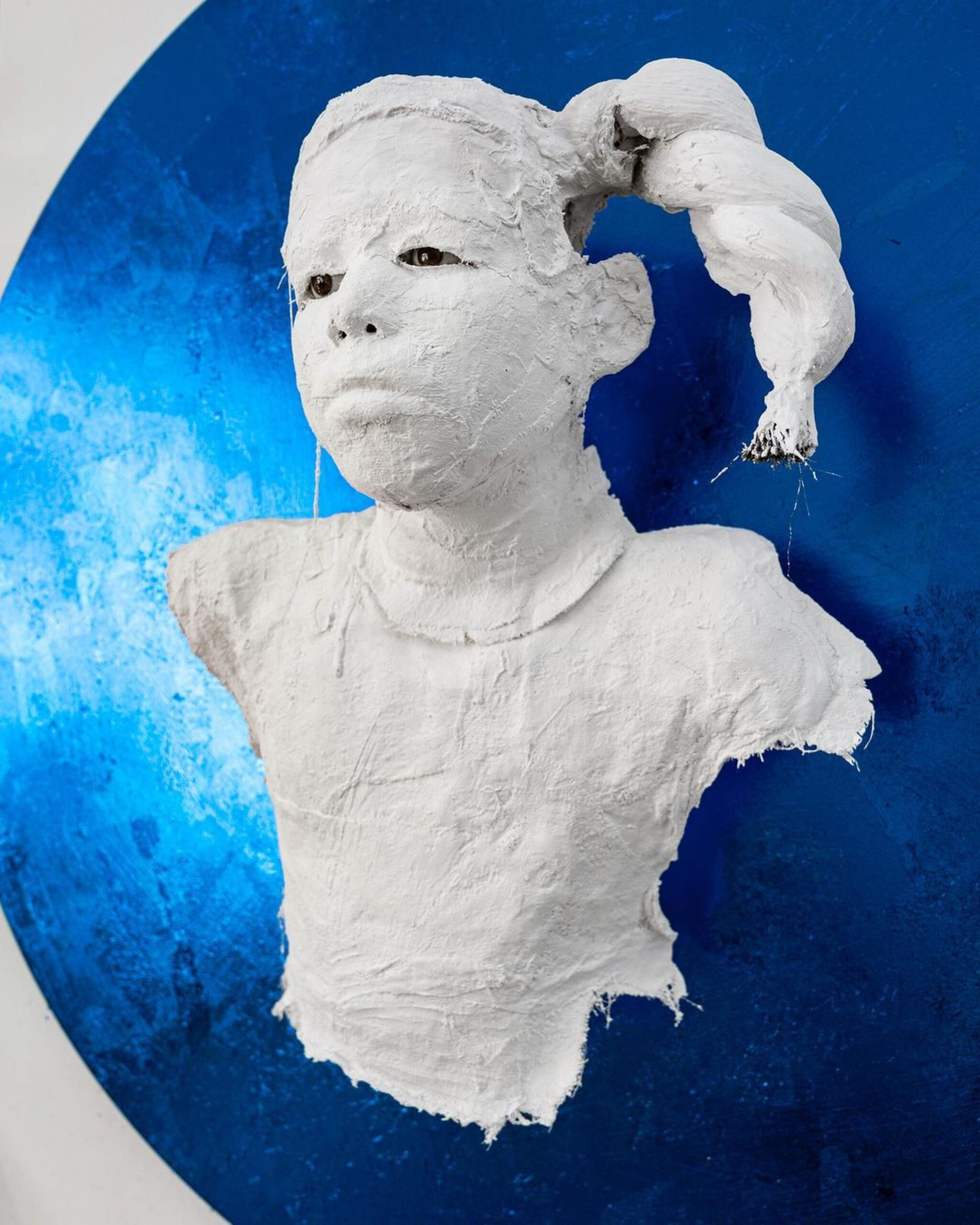 Above: Essa, 2021. Plaster strips, glass eyes, steel, wood, metal leaf, 36 x 36 x 10.5 inches, 91.4 x 91.4 x 26.7 cm⠀by Karon Davis at Wildingcran Gallery
Frieze NY 2021 Honors Black Thought
New York gradually is reopening and has welcomed Frieze New York, the city's first art exhibition since the pandemic started on Wednesday. The five-day festival, which runs from May 5- 9, will be the city's first in-person, single-venue art fair since the Armory Show last spring.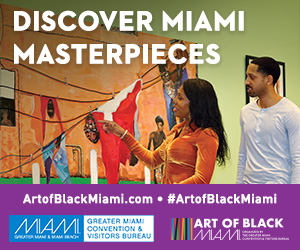 The fair is moving from its previous location on Randall's Island, where several visitors arrived by boat, to The Shed, a new arts complex in Hudson Yards on Manhattan's west side.
About 60 exhibitors, all coming from New York, is a far lower amount than average. Fortunately, for exhibitors that didn't receive space, Frieze Viewing Room will be running concurrently, with about 160 galleries from around the globe (including those at The Shed) displaying their wares digitally. (About 190 galleries participated in the 2019 exhibition, which was the last to be held at Randall's Island.)
Temperature checks and masks, including for children, are required. Visitors must provide either a recent negative COVID evaluation or evidence of complete vaccination for at least 14 days prior to entry. According to the Wall Street Journal, the overall occupation of The Shed by Frieze will be reduced to approximately 850 people, including workers.
The prompt that over 50 of the galleries are following this year: "How are the arts responsible for disrupting, complicating, or shifting narratives of visual representation in the public realm?"
All are responding in honor of Harvard scholar Sarah Elizabeth Lewis and her Vision and Justice educational initiative, which focuses on how pictures are inextricably intertwined with representation. Vision and Justice was born from Lewis's Harvard course of the same name, in which she explored "how visual representation in the arts has limited and liberated our definition of American citizenship and belonging," she recently told the Financial Times.
She created Vision and Justice, a hybridized initiative that has so far featured an installation, a two-day conference, and a forthcoming collection of books, after adapting the tenets of her curriculum to a 2016 issue of Aperture magazine, which received the 2017 Infinity Award for Critical Writing and Research from the International Center of Photography. (This year at Frieze, every gallery received a copy of the Aperture issue.)
Frieze New York's director of programming, Loring Randolph, approached Lewis last year with the possibility of modifying her platform for the festival. The aim of the tribute is to further this investigation and to broaden the scope of the Vision & Justice Project in order to provide new viewers with access to visual literacy that may alter their perceptions of the environment. As part of the initiative, Frieze also commissioned artists Carrie Mae Weems and Hank Willis Thomas to create their own tributes as part of the campaign, which will feature a 2020 reproduction of Thomas's Who Taught You To Love billboard and a monumental presentation of book covers showcasing representations of the Vision & Justice Project by Weems.
In conjunction with For Freedoms, the fair will also feature two virtual film screenings, including Aggie (a documentary discussing art, culture, and equality) and Black Art: In the Absence of Light from HBO, as well as the introduction of a billboard by Mel Chin expressing unity with Asian, Pacific Islander, and Asian American communities.
New Auction Sites Make Collecting Easier
Later this month, a group led by former Sotheby's rainmaker Adam Chinn plans to launch a peer-to-peer digital platform that will enable collectors to sell high-end art directly and privately to each other. The shift occurs when a slew of art-world participants rethinks conventional forms of exchanging art online, from former Christie's auctioneer Loc Gouzer's Fair Warning auction software to the proliferation of immersive channels selling non-traditional artworks.
Even as the art world's attention turns back to in-person art events like fairs, online sales of luxury goods remain powerful, and some top industry dealmakers see a bigger market opportunity in finding innovative ways to sell art to consumers who are used to purchasing art online. With the assistance of artificial-intelligence experts and former auction professionals, including George O'Dell, he bought and retooled Live Auction Art (LiveArt), an auction-tracking data portal, late last year.
The key to success is persuading collectors that LiveArt's pricing and provenance offers are as reliable as those provided by auction houses. Later this month, LiveArt will debut a marketplace feature, enabling it to serve as an online marketplace for private art sales. According to New York art analyst Alex Glauber, who isn't associated with the group, the matchmaking element of a peer-to-peer digital marketplace could solve a logistical dilemma for collectors who want to sell middle-market pieces without paying a premium to an auction house or wrangling a gallery to promote their consignments before the gallery's own inventory or artists. Mr. Rogath, a Connecticut dealer who owns works by David Hockney and René Magritte, said he has no links to the venture but is intrigued by it because he has bought and sold art through Mr. Chinn throughout his tenure at Sotheby's.
Mellon Foundation Awards the Chrysler Museum of Art & Hampton University Museum $500,000
The Andrew W. Mellon Foundation has awarded a $500,000 grant to the Chrysler Museum of Art in collaboration with the Hampton University Museum. The "Field of Curation and Conservation," a three-year, diversity pilot fellowship program for two aspiring museum experts who have earned master's degrees, are to be funded by the intensely competitive award.
One curatorial fellow and one conservation fellow will look at the conventional African collection at the Chrysler Museum and the Harmon Foundation Collection of Modern African Art at Hampton University Museum. One Hampton University undergraduate student will enroll in a paying summer internship at the Chrysler Museum between the program's second and third years.
The fellows will curate a public display, create a database, and prioritize and preserve a group of artifacts from the collections under the guidance of Gant and Vanessa Thaxton-Ward, Ph.D., Hampton University Museum's director and chief curator. The conservation fellow will be stationed at the Chrysler Museum and will work in the museum's conservation lab under the supervision of Mark Lewis, the Chrysler's conservator.
The curatorial fellow will spend the second year studying the Chrysler Museum's collection of African art, selecting 20-30 works for study and restoration, and utilizing the works found at both institutions to create education guides for college students and the general public. Based on their prior two years of experience, the curatorial fellow will spend the final year of the degree planning a show with a limited catalogue that will be displayed at the Chrysler Museum and Hampton University Museum.
The Hampton University Museum is the nation's oldest African American museum, having been founded in 1868. The museum houses over 9,000 items depicting civilizations and people from all over the world, with galleries devoted to African American, African, American Indian, Asian and Pacific art and artifacts. The museum's decorative arts series is the world's greatest collection of paintings by John Biggers, Elizabeth Catlett, Jacob Lawrence and Samella Lewis.
The International Review of African American Art, a significant magazine devoted to African American art and artists, is also published by the museum. The Chrysler Museum of Art is a nationally recognized, mid-sized art museum with a growing collection of over 30,000 pieces, including one of America's great glass collections. Every season, the Museum mounts an extensive schedule of touring exhibits and instructional programs.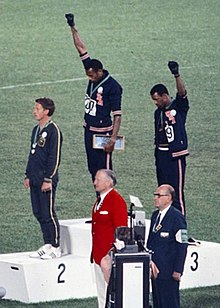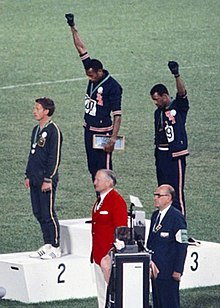 Above: Gold medalist Tommie Smith (center) and bronze medalist John Carlos (right) showing the raised fist on the podium after the 200 m race at the 1968 Summer Olympics; both wear Olympic Project for Human Rights badges. Peter Norman (silver medalist, left) from Australia also wears an OPHR badge in solidarity with Smith and Carlos. Via Wikipedia.


Olympics Reiterate Rule Against Political Protesting

The International Olympic Committee (IOC) has reiterated its decision to prohibit any kind of political, social or ideological protest at the 2021 Tokyo Olympics. Taking a knee, raising a fist, or displaying anything that reads "Black Lives Matter" are prohibited, and players who violate the laws will be penalized. Athletes in a variety of sports have been wearing the BLM expression on t-shirts, arm bands, and other items of apparel before, during, and after tournaments and games all around the world.

The IOC, the governing body of their respective sport, and their home country's Olympic committee have also threatened competitors, referees and employees. Rule 50 of the Olympics prohibits demonstration or national, social, or ethnic advertising on the playing field, at the medal stand, or at the Games' official ceremonies.

However, the term, BLM will be allowed in news releases, interviews and staff meetings, according to TMZ Sports. Last year, the IOC published a study and polled 3,500 competitors to gauge their thoughts on political demonstrations at the Games. Kirsty Coventry, the head of the IOC's Athletes' Commission, said she has spoken with several athletes regarding the law and that the vast majority endorse the Black Lives Matter ban.

More than two-thirds of competitors, according to the IOC, do not believe it is acceptable to protest during the match. "A large number of athletes believe it is inappropriate to display or share their opinions on the playing field, at official events, or on the podium," said Kirsty Coventry, head of the IOC Athletes' Commission.

"As a result, our advice is to keep all protests, marches, or actions considered as such off the podium, field of action and official ceremonies." Many organizations, like The World Players Association Union, intend to condemn athletes who want to protest. Brendan Schwab, the union's executive director, said, "Any competitor approved at the Tokyo Olympics would have the full backing of the World Players."

Other organizations, such as Global Athlete, take an opposing view. "Do not allow outdated 'sports rules' to supersede the basic human rights," Global Athlete advised athletes. Noah Hoffman, a two-time Olympian and member of Global Athlete, claims it is time to "elevate the voice of the international athlete."

– Compiled by Sumaiyah E. Wade