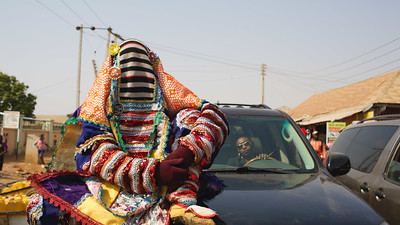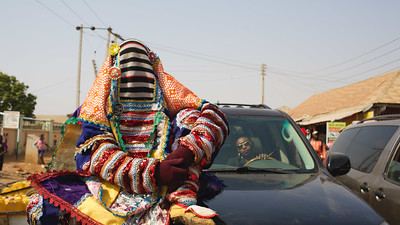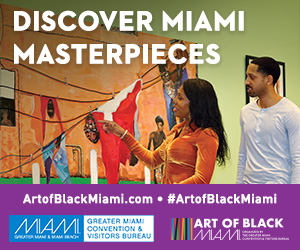 Now that the 2022 Sundance Film Festival has come to a close, Sugarcane reflects on some of this year's standout films directed by or featuring Black creatives from across the African diaspora, and assesses the current state of diversity and inclusivity at the Festival.
The emergence of the highly transmittable COVID-19 omicron variant forced the Festival to quickly pivot from its traditional in-person offerings in Utah to an entirely virtual platform. "While we're disappointed to not provide the full hybrid experience and gather in-person as intended, audiences this year will still experience the magic and energy of our Festival," the Institute said in a January press release.
Despite the last-minute shift, Festival viewership remained high. When asked whether the Festival was concerned about market disruptions caused by the abrupt transition to virtual platforms and streaming services that began in 2020, Kim Yutani, director of programming at the Sundance Film Festival responded, "We aren't chasing the market, we are hoping to expand the appetite so that all ecosystems thrive." Later in the press conference, Yutani offered, "We are putting work in conversation by featuring films that speak to the cultural moment.".
Adaptation remains a key strategy for a festival that continues to reimagine the ways its internationally celebrated programming can continue to reach eager audiences. Many of the films featured in this year's program concerned timely issues including climate justice, women's reproductive rights, and a host of what have been dubbed "genres with a purpose": films that discuss socialized violence, political upheaval or international and domestic struggles against oppression. "Whether you watched from home or one of our seven satellite screens, this year's Festival expressed a powerful convergence; we were present, together, as a community connected through the work," shared Sundance Film Festival Director Tabitha Jackson, "And it is work that has already changed those who experience it."
Run the Numbers
According to a recent study conducted by Sundance, out of 14,849 submissions across a broad range of categories including feature films, narrative features, documentaries, short films and New Frontier interventions, 164 projects were accepted—84 feature-length films, 59 short films, and 21 New Frontier experiences, a slightly lower selection than the previous year's. Applicants represented 147 countries. Roughly 50% of all accepted projects were from creatives who self-identified as People of Color.
Data revealed a steady push by the Festival to ensure balanced representation of POC creatives across all categories: Features (34%), Competition features (42%), Shorts (66%) – a significant uptick from previous years, New Frontier projects (67%), U.S. Documentary Competition (30%), U.S. Dramatic Competition (50%), World Documentary Competition (40%), World Dramatic
Competition (50%), Next Competition (28%). The report also indicated a slight increase in LGBTQ+ identifying participants who represented 16% of all accepted filmmakers and 33% of New Frontier projects. Female filmmakers represented 49% of projects and 55% of features.
Films to Look Out For
We were excited to see that the Festival continues its commitment to featuring films and projects about the Black experience, and films directed or produced by Black creatives from across the African diaspora. We were inspired by many of the films in this year's program. The following reviews highlight some of the stand-out, must-see projects from this year's Festival.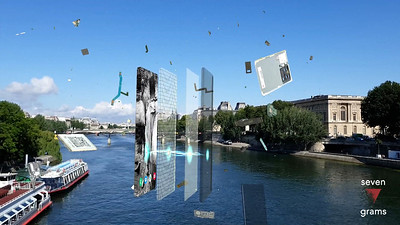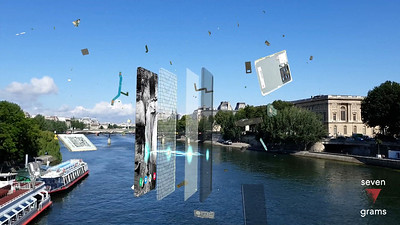 Above: A still from Seven Grams by Karim Ben Khelifa, an official selection of the New Frontier section at the 2022 Sundance Film Festival. Courtesy of Sundance Institute.
Seven Grams (Karim Ben Khelifa)
A feature project of New Frontiers, Seven Grams reviews the exploitative mining of rare earth minerals from the Democratic Republic of the Congo used to make mobile devices. Even if you could not access the New Frontiers projects, you can still download the immersive Augmented Reality experience as an app for Android or IOS devices. Once activated, the app animates the virtual deconstruction of a holographic mobile device and pinpoints the cassiterite, cobalt, gold and tungsten components in our phones that are mined from the DRC. There is a human cost to the mining of rare earth minerals that is rarely considered. Seven Grams challenges us all to learn about this issue and offers a few ways that we can all take action against the continued exploitation of Africa.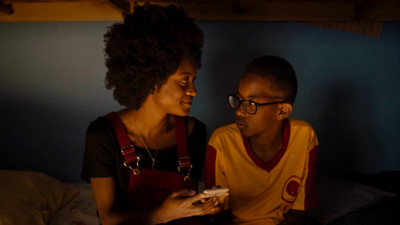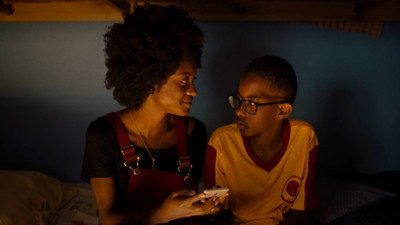 Above: Camilla Souza and Cícero Lucas appear in Marte Um (Mars One) by Gabriel Martins, an official selection of the World Cinema: Dramatic Competition at the 2022 Sundance Film Festival. Courtesy of Sundance Institute | photo by Leonardo Feliciano.
Marte Um (Mars One) (Gabriel Martins)
Included in the World Dramatic Audience Award Competition—Marte Um (Mars One) was a beautiful feature that followed the struggles and victories of a contemporary Afro-Brazilian family. Deivinho, the youngest son of a maintenance man and housekeeper, dreams of becoming an astrophysicist so that he can explore Mars. His father, Wellington, has other plans and encourages Deivinho to become a footballer (soccer player) with the hopes that his success may change the financial wellbeing of the entire family.
After experiencing an odd encounter at a local diner, Deivinho's mother, Eunice, suffers from anxiety and fears that she has been cursed by an unlucky spirit that threatens to consume her and all those she encounters. Her oldest daughter, Tercia, balances all of the characters with a standout performance. When Tercia decides to engage openly in a same-sex relationship, she wonders if her family will accept her as she is. Director Gabriel Martins does an extraordinary job of weaving the lives of these characters together against the backdrop of a greater crisis, the election of right-wing President Jair Bolsonaro. Marte Um is a moving film that breaks from convention by centering on the lived experiences of Black Brazilians, a constituency that makes up the majority of the population but often is erased from cinematic narratives.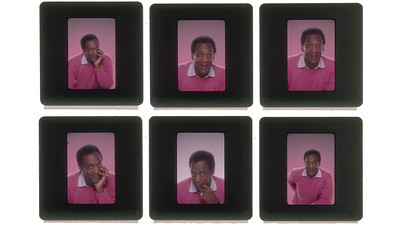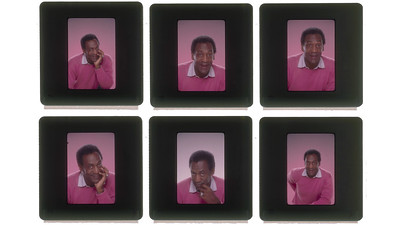 Above: A Still from We Need to Talk About Cosby by W. Kamau Bell, an official selection of the Premieres section at the 2022 Sundance Film Festival. Courtesy of Sundance Institute.
We Need To Talk About Cosby (W. Kamau Bell)
The highly anticipated four-part Showtime docuseries premiered at this year's Festival to rave reviews. Through a series of interviews with notable culture writers, comedians, scholars and alleged victims, W. Kamau Bell crafts a compelling examination of comedian Bill Cosby's extraordinary career. Bell highlights the disturbing trend of sexual assault cases (over 60 reported incidents) that increased as Cosby's celebrity gained acclaim. This writer felt all the feels while watching this intense and emotionally triggering series but was glad to push through to the end. It is important that we continue to have real conversations about Cosby and other Black cultural icons accused of gross misconduct.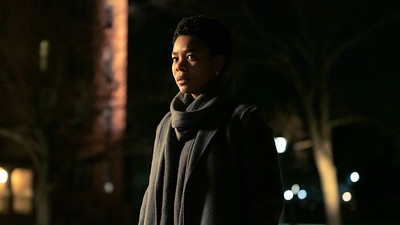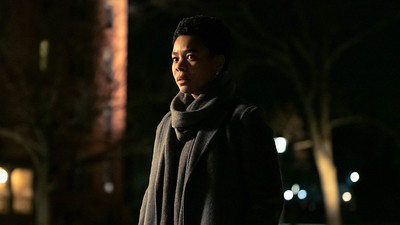 Above: Regina Hall appears in Master by Mariama Diallo, an official selection of the U.S. Dramatic Competition at the 2022 Sundance Film Festival. Courtesy of Sundance Institute.
Master (Mariama Diallo)
Master is a surreal film, inspired by Director Mariama Diallo's experience at Yale University, that appraises the physical, psychological and emotional racialized violence that Black students encounter at predominantly white ivy league institutions. Starring Regina Hall, Zoe Renee and Amber Gray, Master aligns with other notable social horror films, including Get Out (2017) and Candyman (2021), that make plain the redundant occurrence of white supremacist prejudice. By portraying the broad cultural acceptance, ritualization and cult celebration of terrorism against Black bodies in America, and its institutions of higher education, Diallo paints an intriguing assessment that challenges viewers to review the sadistic and fervent tradition of antiBlackness.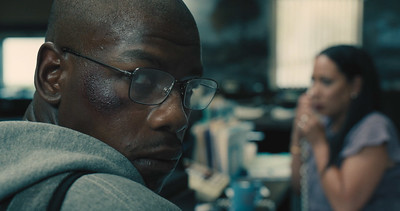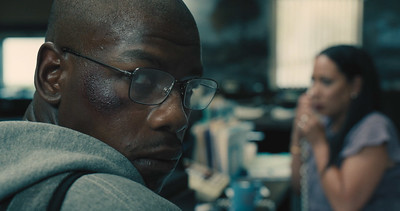 Above: A still from 892 by Abi Damaris Corbin, an official selection of the U.S. Dramatic Competition at the 2022 Sundance Film Festival. Courtesy of Sundance Institute | photo by Chris Witt.
892 (Kwame Kwei-Armah)
892, a debut feature film from notable playwright Kwame Kwei-Armah and Director Abi Damaris Corbin, is a tense thriller about a desperate U.S. Marine veteran who holds up a bank, not to rob it, but to get the attention of the federal government, which refuses to distribute his overdue veteran benefits. Based on a true story, 892's lead cast, John Boyega, Nicole Beharie, and the late Michael K. Williams, offer a telling depiction of a broken system and the actions that result from denying benefits to anguished, traumatized veterans.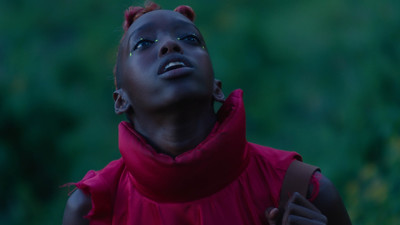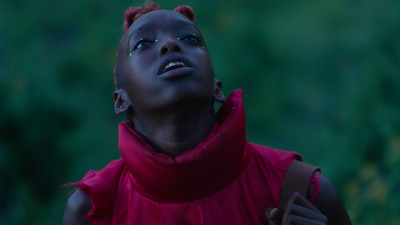 Above: A still from Neptune Frost by Anisia Uzeyman and Saul Williams, an official selection of the Spotlight section at the 2022 Sundance Film Festival. Courtesy of Sundance Institute.
Neptune Frost (Saul Williams + Anisia Uzeyman)
A dynamic new musical, Neptune Frost has been traveling around the festival circuit, premiering first at Cannes Film Festival in 2021 and now screening as part of Sundance's Spotlight program. The film was picked up by Kino Lorber and will screen at theaters around the country this summer. Directed by creative partners Saul Williams and Anisia Uzeyman, Neptune Frost queers and reimagines the science fiction genre.
The film centers on an entirely Rwandan cast. It offers a compelling take on the neo-colonization of Africa, with a focus on the mining of rare earth minerals in central Africa. Two actors, Cheryl Isheja and Elvis Ngabo play the lead, a nongender conforming hacker named Neptune. Neptune has a dream that reveals who they will become and catalyzes their journey to find others who also will play an integral role in the evolution and empowerment of their entire community. Williams riffs and revises his 2016 release, MartyrLoserKing, to create an urgent -head-nod-inducing soundscape that helps to ground viewers in the world he and Uzeyman build.
Neptune Frost takes place in a time that is simultaneously now and the future, or possibly is set in a parallel dimension that reveals the evolutionary possibilities of our present condition. While some may attempt to categorize the film as exclusively Afrofuturist, both directors noted during the Festival's after-screening Q&A that the work, which they have been slowly crafting for many years, drew from many points of inspiration and reviewed the broader genre of science fiction. Neptune Frost is a film that will surely become a cult classic. The often cryptic dialogue, symbolic character naming conventions, African folkloric and steampunk heroes' journey, and nonlinear narrative will inspire you to watch and re-watch the feature for years to come.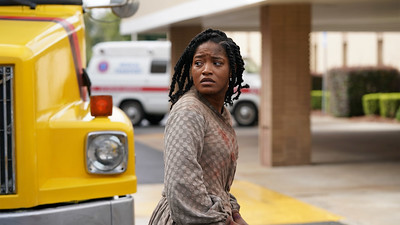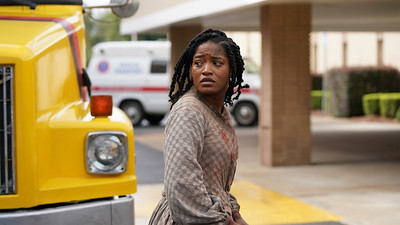 Above: Keke Palmer appears in Alice by Krystin Ver Linden, an official selection of the U.S. Dramatic Competition at the 2022 Sundance Film Festival. Courtesy of Sundance Institute | photo by Eliza Morse.
Alice (Krystin Ver Linden)
When Alice (Keke Palmer) runs away from the Georgia plantation where she and her family have been held captive as slaves, she discovers that it is 1973 and that the enactment of the Emancipation Proclamation, established in 1862, should have abolished the gross system that had tortured her. Inspired by Blaxploitation films and the encouragement of a kind stranger and former Black activist, Frank (Common), Alice finds the courage to avenge her family and hold her former captors accountable. Based on a true story, Alice is an interesting portrayal and stark reminder that the tyranny of American slavery continued well into the 20th century.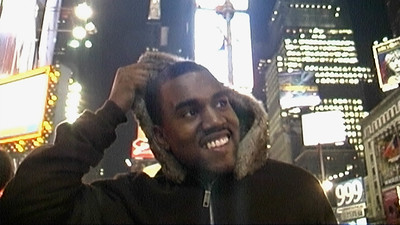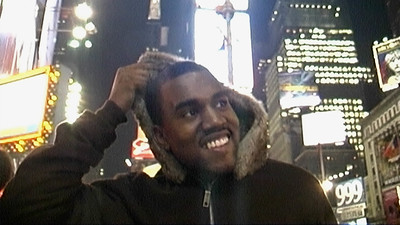 Above: Kanye West appears in jeen-yuhs: A Kanye Trilogy by Coodie & Chike, an official selection of the Premieres section at the 2022 Sundance Film Festival. Courtesy of Sundance Institute | photo by Netflix.
Jeen-yuhs: A Kanye Trilogy (Chike Ozah + Clarence "Coodie" Simmons)
Directors Chike Ozah and Clarence "Coodie" Simmons present Act I: Vision, the first part of the three-part Netflix docuseries Jeen-yuhs: A Kanye Trilogy. Act:I follows Kanye as an audacious and talented teenager, who has a vision of being a legendary rapper but is still only acknowledged as a notable producer.
The intimate footage that Chike Ozah captures and obsessively documents was shot while West was still working on, and had yet to name, his first classic album, College Dropout, years before he eventually got a record deal with Rockafella Records. In this era, though West had already produced major hit records for Jay-Z, Blackstar and others, he was not satisfied with only making beats.
Despite the discouragement he received from peers and the countless rejections he encountered while pitching demos, with the loving support of his mother Donda and a small cadre of other young Chicago artists, young Kanye pushes forward, determined to realize his dreams. Jeen-yuhs: A Kanye Trilogy is a beautiful homage to all underdogs that reminds us to stay encouraged and hold the visions we have for our futures, even if others cannot see or understand that vision. Check out Netflix in the coming months to see all three parts.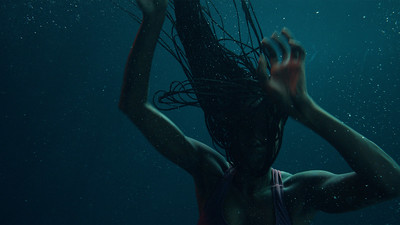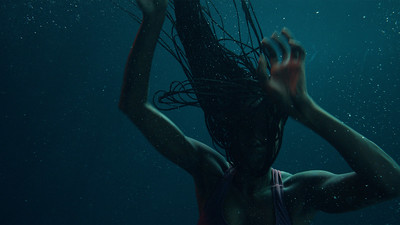 Above: A still from Nanny by Nikyatu Jusu, an official selection of the U.S. Dramatic Competition at the 2022 Sundance Film Festival. Courtesy of Sundance Institute.
Nanny (Nikyatu Jusu)
"How do you use your rage, the grandmother of Senegalese immigrant Aisha's (Anna Diop) lover asks, "Is it your superpower or is it your kryptonite?" Nanny, directed by Nikyatu Jusu, is a powerful supernatural horror feature inspired by African traditional religions (ATRs) and folklore, dedicated to immigrant mothers.
"This is a love letter to mothers who have been systemically excluded from the American dream," Jusu shared during the Festival Q+A. If Ousmane Sembene's Black Girl could have channeled the ancestral forces from her homeland to support her, her story may have looked a bit like Nanny. Set in present-day New York, Aisha has been hired as a nanny to the child of a wealthy white Manhattan family. Aisha works hard to save money to bring her son to New York from Senegal. After Aisha has a strange vision of a mermaid, Mami Wata, everything changes, and she must learn how to stay afloat while under pressure. Nanny won this year's Sundance Film Festival U.S. Grand Jury Prize: Dramatic.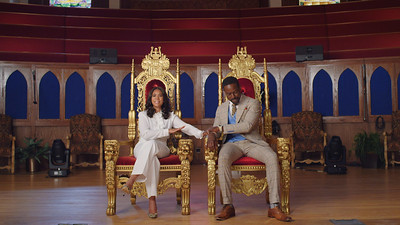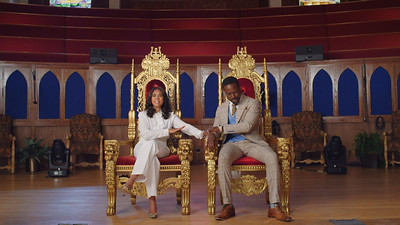 Above: Regina Hall and Sterling K. Brown appear in Honk For Jesus, Save Your Soul by Adamma Ebo, an official selection of the Premieres section at the 2022 Sundance Film Festival. Courtesy of Sundance Institute | photo by Alan Gwizdowski.
Honk for Jesus Save Your Soul (Adamma Ebo)
Honk for Jesus Save Your Soul is a witty, satirical, darkcomedy and faux-documentary that parodies the preacher showmanship of Black megachurch couples. When pastor Lee-Curtis Childs (Sterling K Brown) is accused of sexual misconduct by several members of their Greater Paths Baptist Church congregation, he and his wife Trinitie Childs (Regina Hall), agree to allow a documentary filmmaker to tell their story, hopeful that the good press will bring their once-thriving 26K flock back to the fold.
Director Adamma Ebo does an extraordinary job reviewing the culture of Black megachurches, posing uncomfortable questions about the ways some of those institutions are more concerned about the capital gains they can reap from their members than they are about maintaining a safe space for worship. Honk for Jesus Save Your Soul is a funny and biting commentary worthy of review and will surely prompt compelling debates.