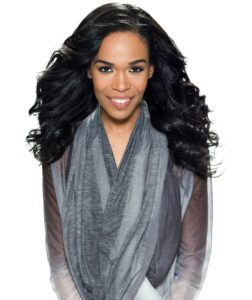 Producers Shawn "Jay-Z" Carter, Will & Jada Pinkett Smith and Ruth & Stephen Hendel are pleased to announce that Grammy Award-winning recording artist and Destiny's Child member Michelle Williams will star in the national tour of the hit Award-winning Broadway musical Fela!, coming to Miami's Ziff Ballet Opera House at the Adrienne Arsht Center for the Performing Arts from March 19 – 24.
Tickets range in price from $26.00 -$56.00 and are on sale at the Adrienne Arsht Center box office (1300 Biscayne Boulevard, Miami), online at www.arshtcenter.org or by calling 305.949.6722.
"I am thrilled to join the cast of Fela!," said Michelle Williams. "This musical journey is one that I've wanted to be a part of since first seeing it on stage in 2008. The sounds, the passion and the politics of Fela Kuti have long intrigued me and speak to my heart. I am simply honored."
Heralded on three continents, Fela!, a provocative hybrid of dance, theatre and music exploring the extravagant world of Afrobeat legend Fela Kuti, will star Broadway vet Adesola Osakalumi in the title role, Melanie Marshall*, who won raves both at London's National Theatre and on Broadway, plays Kuti's pioneering mother and Michelle Williams in the role of Sandra Isadore, activist and love interest to Kuti. Duain Richmond will play the title role at certain performances.
Also featured will be Miami native Gelan Lambert in the role of JK (rhythm tapper) Ogungun, described by The New York Times' Ben Brantley as "the brilliant tap dance artist suigeneris." Of Haitan descent and a YoungArts Presidential Scholar of the Arts, Lambert is a graduate of the Juilliard School with a BFA in Dance, trained at the Ailey School, Broadway Theater Project, The Joffrey School of America Ballet, and appeared with the Martha Graham Dance Company. He was in the first national tour of Fosse, has danced in concerts at Jacob's Pillow, was a resident artist at the Stella Adler Studio, and has performed the works of Alvin Ailey, Hinton Battle, Jose Limon, Donald McKayle and Reginald Yates.
A triumphant and inspirational tale of courage, passion and love, Fela! is the true story of Kuti, who created a type of music, Afrobeat, and mixed these pounding eclectic rhythms (a blend of jazz, funk and African rhythm and harmonies) with rousing lyrics that openly attacked the corrupt and oppressive military dictatorships that ruled Nigeria and much of Africa.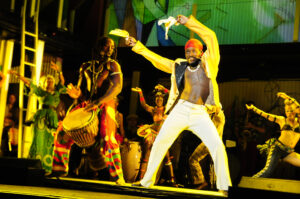 Fela! is directed and choreographed by Tony Award-winner Bill T. Jones, with a book by Jim Lewis and Bill T. Jones, it was conceived by Bill T. Jones, Jim Lewis and Stephen Hendel.
Featuring many of Fela Kuti's most captivating songs and Bill T. Jones's visionary staging, the global phenomenon that is Fela! reveals Kuti's controversial life as an artist and political activist, while at the same time celebrating his pioneering music and commitment to the cause of universal human dignity. David Cote, of Time Out New York, calls Fela! "More than a musical, an ecstatic phenomenon!" And longtime trusted Boston critic Joyce Kulhawik describes it as "a spectacularly inspiring hybrid: theater, music, dance, biography, history lesson, political rally and religious experience. Sublime!"
Fela! had its world premiere Off-Broadway in the summer of 2008, and opened on Broadway at the Eugene O'Neil Theater to rapturous reviews a year later where it played 34 previews and 463 regular performances. Numerous celebrities and dignitaries caught the groundbreaking musical, including First Lady Michelle Obama, Bruce Springsteen, Madonna, Kanye West, Oprah Winfrey and Hugh Jackman, among others. Prior to its closing on Broadway, London's Royal National Theatre presented the production as part of its season in the fall of 2010, marking the first time ever that the National Theatre had presented a show that was simultaneously running on Broadway. There, too, the show received rave reviews and numerous awards and accolades. The show went on to tour internationally, selling out theaters in Nigeria, Amsterdam, a return stint in London then a successful tour across the United States, culminating in an acclaimed encore four-week engagement on Broadway during the summer of 2012. FELA! is currently touring the United States. Click here for details