This week in African art, the news is buzzing from Nigeria, and perhaps this dialogue stands for more,considering that the country is celebrating its 61st anniversary of independence as a nation. While its citizens might experience many unsettlements and feel displeasure about the nation's state of affairs, they continue to take pride and forge on with significant strides and milestones achieved by individual Nigerians within and outside the country, as well as celebrateaccomplishments on international grounds, wherever they are spotted.
Some of the Nigerian-centric news making the rounds are of a female artist winning an emerging artist prize instituted by West Africa's most regarded art fairs—ART X Lagos, a collaboration between an emerging artist and an established fashion designer at the Paris Fashion Week, and an emerging digital artist will be the first African to present an NFT (Non–Fungible Token) work at Christie's Europe sales.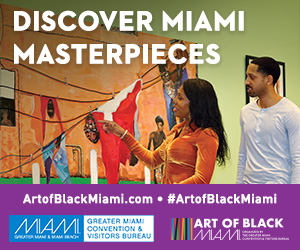 In Cape Town, South Africa, there is a must-see exhibition at Stevenson featuring works across various media, including some of the most compelling sculpture works, and Accra, Ghana has been announced as the World Book Capital for 2023.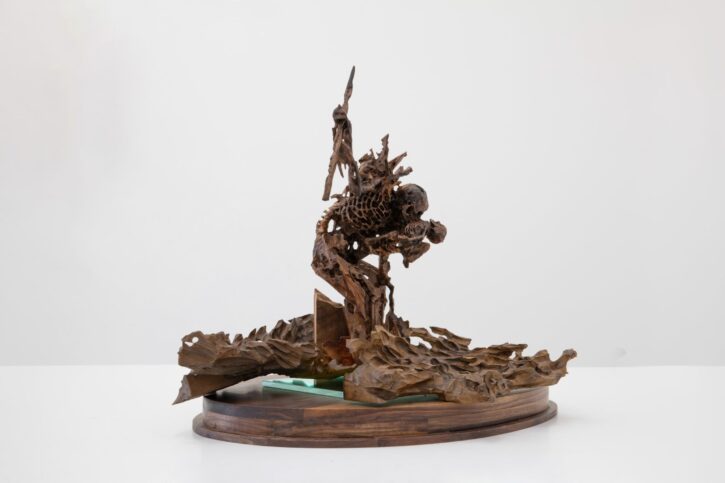 Above: Wim Botha | Scenes from The River, 16 | 2021
The River by Wim Botha at Stevenson, Cape Town
Stevenson has a solo exhibition on view by Wim Botha titled,The River. The exhibition features an ongoing installation,which debuted in the gallery's Parktown North space in May, comprising intricate walnut carvings in miniature dioramas and ink drawings on paper, ensembled into a single landscape.
Wood, glass, marble and semi-precious stones remain central to The River. Individual small scenes—simple moments of contemplation, silence or activity—are positioned so as to suggest a waterway, semi-dry and ancient. Rivers have been a potent symbol across histories and mythologies, serving as a source and continuum, where figures seem to be at peace and at leisure.
In this iteration, The River is seen against the backdrop of a new series of drawings by the artist. Created with Japanese lamp soot ink, this selection of work varies across detailed references to the scenes in Botha's waterway to oblique mark-making that alludes to and reinterprets elements of the installation.
The artist Botha writes of his work, "This body of work was started in the last half of 2019 and is an ongoing project. The advent of the COVID-19 pandemic added a layer of nuance and immediacy since, for the first time in decades, we had no choice but to collectively consider the idea of impermanence as a fundamental constant. For many people this moment was an opportunity to rethink what it means to be human, what it means to be in this time and this place."
Botha's characters, with their eroded or skeletal forms, find their antecedents in the artist's previous works, such as Studies for the Garden of Earthly Delights. Botha's figuration alludes to forms of existence beyond linear time. Blurring the distinction between inception and annihilation, his carved entities appear to offer acknowledgement of the temporary nature of the physical form while accepting the idea of an eternity of formless presence.
Above:
Above: Chigozie Obi receiving her prize

The River

is on view at Stevenson Cape Town until Oct.23, 2021
Chigozie Obi Wins 2021 Access Bank ART X Prize
A few weeks ago, we highlighted news of the emerging Nigerian artists vying for the 2021 Access Bank ART X Prize. This week, the winner was announced, and Chigozie Obi took the prize.
Chigozie Obi's experimental artworks are created bylayering multiple materials. Her work is consistent in the use of vibrant colors and figures to portray emotions and stories formed from personal experiences, and it focuses on the representation of Black/African people in their diversity.
She was also among the artists who participated in the protest art live painting at the #EndSARS protest in October 2020, which saw many of the demonstratorskilled by the Nigerian military.
At the protest, Obi created an acrylic piece titled Ezu River, inspired by the tragic events in Awkuzu in Anambra State, located in Eastern Nigeria, where people are kidnapped, harassed, killed and dumped in Ezu River by the police. The painting recounts, in particular, the experience of one of the fathers of the victims, who was forced by the policemen to swim through and overturn corpses in the river in search of his son's body, which he didn't find.
The prize for Chigozie Obi comes with a N1.8 million naira (U.S. $4,382) grant towards a solo presentation at ART X Lagos, a three-month residency at Gasworks, London and ongoing mentorship and support.
Above: – Bunmi Agusto | Left half of Mindmap for Kenneth Ize SS22 Works | 2021

Visual Artist Bunmi Agusto and Fashion Designer Kenneth Ize Collaborate at Paris Fashion Week
Nigerian fashion designer Kenneth Ize, known for tackling political and gender issues in his work, was in lighter spirits for the spring show at Palais de Tokyo, Paris. This time around, he returned to the runway with a collection he designed in celebration of women.
The gender-fluid display carried his signature plaid fabric, inspired by the aso oke cloth woven by the Yoruba people. The fabrics appeared in vibrant colors, with silky fringes, and in colorful checks, which clashed with striped T-shirts and vintage geometric motifs.
Conspicuous at the set were artworks by Nigerian artist Bunmi Agusto, including a tapestry painted on one of Ize's striped cloths, showing a long-throated figure swallowing an agama lizard.
"The show was just a celebration of the new dawn, what is new in my country," Ize said backstage. "Bunmi is a very young artist that is very new to my country, and it feels so interesting for me."
Agusto, who last year graduated from Central Saint Martins in London, said it was her first time collaborating with a fashion designer. "We're both talking about migration and displacement and cultural theory in general," she noted. "My work mostly focuses on hybridity and world-building out of that." Her most recent and first solo exhibition, titled Escape to Within,was presented at Cromwell Palace, London by DADA Gallery between July and August 2021.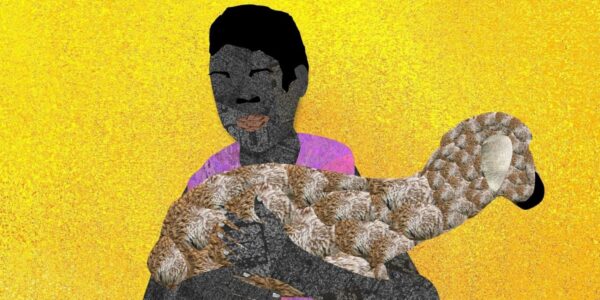 Above: Digital art by Osinachi
Osinachi to Offer First African Artist's NFT at Christie's Europe
Osinachi (Prince Jacon Osinachi Igwe), a Nigerian digital artist, will be the first African artist to auction non-fungible tokens (NFTs) through Christies and in collaboration with 1-54 African Art Fair.
Five of Osinachi's works, which depict a swimming pool painting by David Hockney from 1972, are valuedbetween an estimated £ 40,000 to £ 60,000 (U.S. $54,180-$81,270), each in an online sale that will take place between Oct. 5-19, 2021.
The works primarily address imbalances between work and life, and present a Black protagonist, something that is deemed important and essential to his work.
The 29-year-old artist creates detailed digital works using Microsoft Office, an unusually basic application in a high-tech field. Earlier this year, he sold three NFTs for the equivalent of $75,000 in just 10 days.
"NFTs have given him a great platform and such visibility," said Isabel Millar, a Christie's specialist.
Christies will show the works on screens at this year's 1-54 trade fair in London (Oct. 14-17, 2021). The works can be purchased with ether or bitcoin.
Accra, Ghana is UNESCO World Book Capital for 2023
Accra, Ghana has been announced to be the UNESCO World Book Capital for 2023. The year of celebrations will start on April 23, 2023, on World Book and Copyright Day.
The World Book Capital is the city that UNESCO designates as the headquarters of activities for World Book and Copyright Day on April 23. This date marks the anniversary of the death of William Shakespeare and Inca Garcilaso de la Vega, as well as that of the birth or death of several other prominent authors.
Cities designated as UNESCO World Book Capital undertake to promote books and reading for all ages and population groups, within and across national borders, and to organize a program of activities for the year.
Previous cities that have hosted the event have been Madrid (2001), Alexandria, Egypt (2002), New Delhi (2003), Anvers, Belgium (2004), Montreal (2005), Turin, Italy (2006), Bogota, Colombia (2007), Amsterdam (2008), Beirut (2009), Ljubljana, Slovenia(2010), Buenos Aires, Argentina (2011), Erevan, Armenia (2012), Bangkok (2013), Port Harcourt, Nigeria (2014), Incheon, South Korea (2015), Wroclaw, Poland (2016), Conakry, Guinea (2017), Athens, Greece (2018), Sharjah, United Arab Emirates (2019), Kuala Lumpur, Malaysia (2020), and Tbilisi, Georgia(2021).
Following Guadalajara (Mexico) in 2022, the designated capital for 2023 is the Ghanaian capital, the fourth African city to host this celebration after Alexandria, Port Harcourt and Conakry. Accra was selected for its strong focus on young people and itspotential to contribute to the culture and wealth of Ghana. Accra's proposed program seeks to use the power of books to engage these young people as an effective way of skilling up the next generation.
Activities will include the introduction of mobile libraries to reach marginalized groups, the holding of workshops to promote reading and writing of books in different Ghanaian languages, the establishment of skills and training centers for unemployed youth and the organization of competitions to showcase Ghanaian arts and culture and to promote inclusivity.
-Compiled by Roli O'tsemaye