This week in African art and culture, Nigeria's art scene is brimming with activity. Affinity Art Gallery and Undiscovered Canvas are collaborating to present an exhibition in Lagos featuring two women artists, from Nigeria and South Africa, respectively. And a group exhibition featuring the works of some of Nigeria's most thriving artists are on view at Rele Gallery, Lagos.
Literature, pop culture and visual arts meet in photography as a South African influencer expresses her style with the interpretation of a new memoir by an emerging African writer. Finally, the longlist is out—and three African authors are on it—it's another year to review eligible books for the 2021 Booker Prize.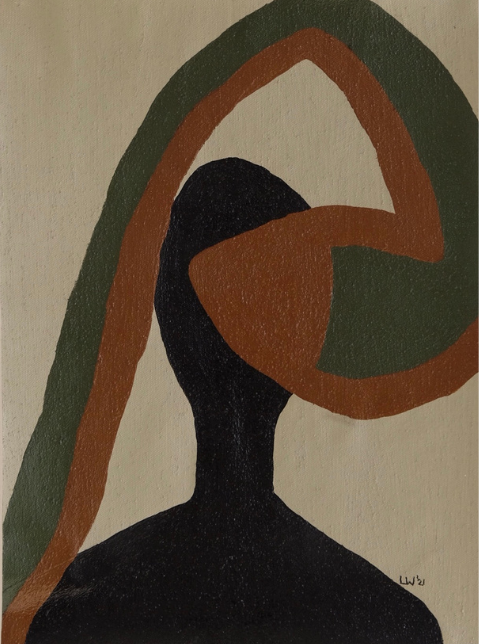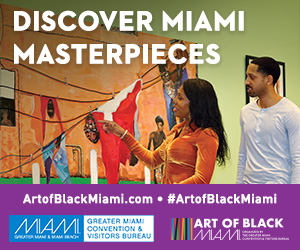 Above: Lulama "Wolf" Mlambo | Bana ba Ma'am Zima (IV) | acrylic and sand on canvas | | 2021 | Courtesy of Affinity Gallery
Anne Adams and Lulama "Wolf" Mlambo in A Vernacular Homage to Architecture & Design in Lagos
In Lagos, Affinity Art Gallery in collaboration with Undiscovered Canvas has presented a duo exhibition titled A Vernacular Homage to Architecture and Design. The show features sculptural work by Nigerian artist Adams Anne alongside paintings by South African artist Lulama "Wolf" Mlambo.
The exhibition emphasizes the importance of tradition, heritage, design and sustainability by focusing on the social functions and information passed down through generations by African matriarchs, outside of a globalized modern commercial practice. 
The artists take the viewers back in time, when art existed out of the necessity of who people were, their lifestyles, culture, spiritualism, and when humanity was intertwined in a rhythmic dance with nature. Using vernacular techniques and textures, Anne's works incorporate structure, design and authentic Nigerian symbols adapted from Nsibidi and Mbari art. The use of symmetry in her works is a harmonious display of interactions between balance and indigenous design. Her works are intimate, familiar, and represent abundance and harmony, telling stories about Africans' origins and sense of belonging.
Exploring the human disposition in imaginative and stylized ways, vernacular architecture is a principal theme in Lulama's work. She interrogates the pre-colonial African experience through the contemporary mind by studying the patterns used in decorating homes, similar to the practices of the women of the Ndebele tribe of Southern Africa. These patterns serve as a means of communication. Mlambo's approach to her new body of work, Remaining Vernacular is reminiscent of the textures and character of these South African modes of communication.
A Vernacular Homage to Architecture and Design is on view until Aug. 28, 2021.
Six Artists are Making Face at Rele Gallery, Lagos
At Rele Gallery located at Onikan, Lagos, a group exhibition by six contemporary Nigerian artists titled Making Face is on view. These artists are Kainebi Osahenye, Alimi Adewale, Mobolaji Ogunrosoye, Plantation (Ayomide Tejuoso), Soji Adesina and Jimi Agboola. 
Their works explore the consideration of diverse elements, stories and forms that make up the human experience. They tend to address the question, "How do we create portraits of complex lives situated against a shrinking and dynamic landscape?"
Engaging loosely with the art of portraiture, Making Face imagines acts of representation and terms of recognition of the image. The image here is both static and evolving, a constantly moving bricolage of experiences and landscapes. The consideration of diverse elements, stories and forms that make up the human experience is at the core of the exhibition premise. It asks, how do we create portraits of complex lives situated against a shrinking and dynamic landscape? 
From layered explorations of the relationship between the city and the individual to intimate explorations of pleasure, the exhibition is concerned with representations of being and becoming.
Making Face is on view until Sept. 5, 2021.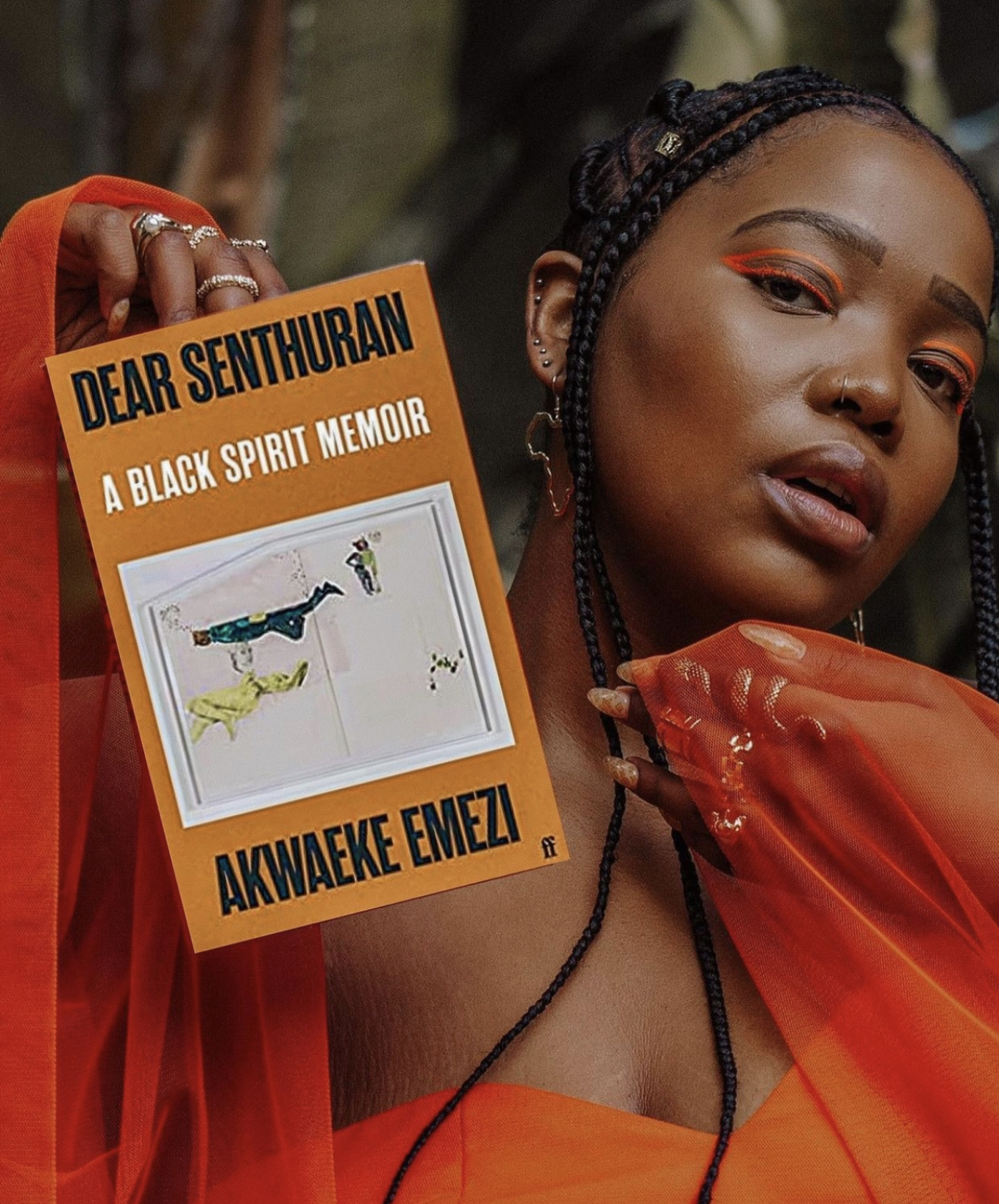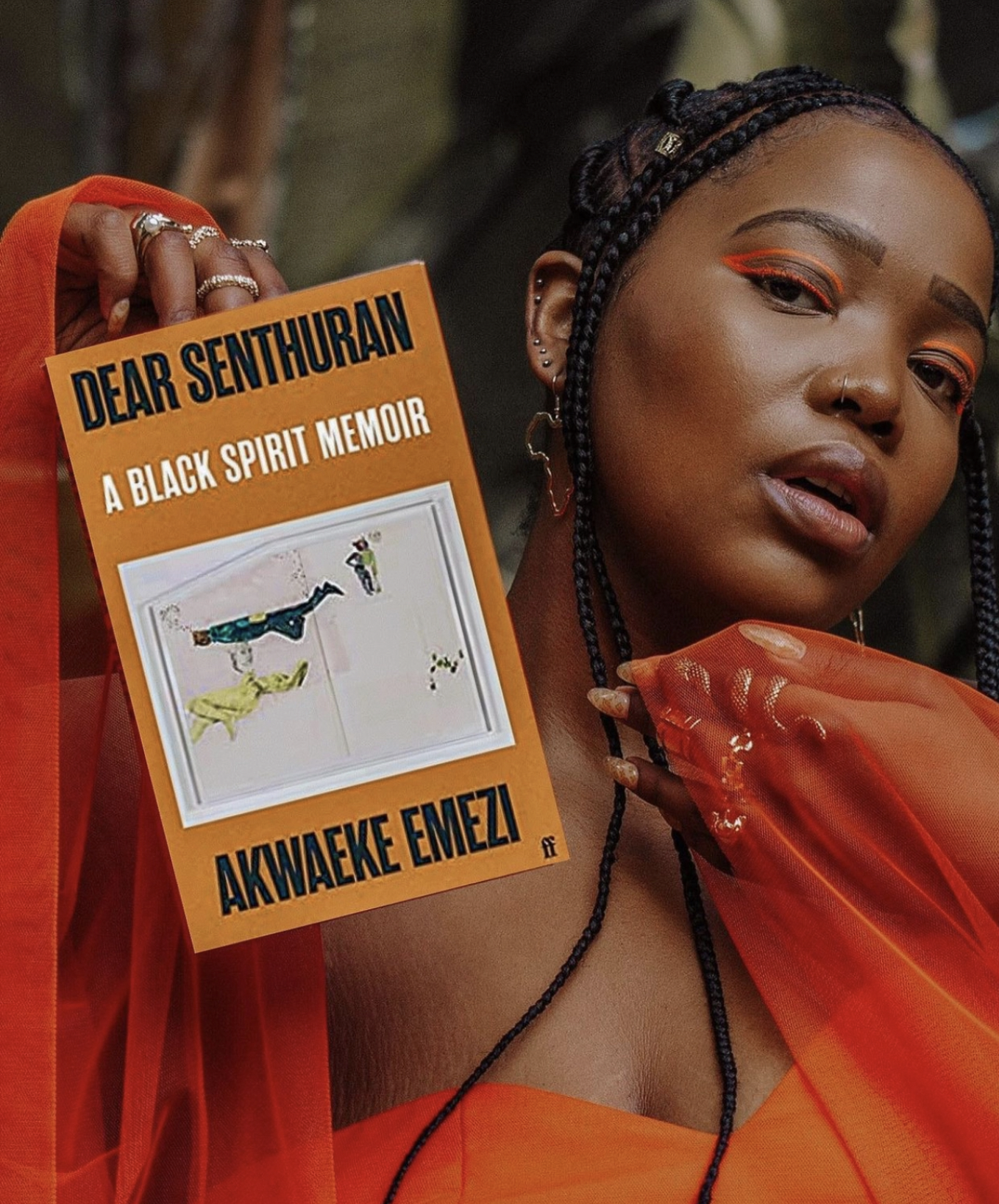 Above: Nokukhanya Ntsaluba with Dear Senthuran
South African Artist Nokukhanya Ntsaluba Reimagines Dear Senthuran Through Photography
On the Instagram page of Faber Books, you will find a collection of striking photographic interpretations of Akwaeke Emezi's memoir, Dear Senthuran. The photographs feature South African Instagram influencer Nokukhanya Ntsaluba styled in outfits inspired by the book. The feature is part of a campaign to publicize Dear Senthuran, a new memoir by Akwaeke Emezi.
Emezi's memoir continues some of themes of queer, trans and spirit experiences, which they explored in their debut fiction, Freshwater. Seasoned Nigerian writer Helon Habila wrote of the book in The Guardian, "This pugnacious epistolary memoir by an embodied 'ogbanje' spirit is as fascinating for its disturbing self-absorption as for the brilliance of its writing."
Ntsaluba said, "in responding to Emezi's latest offering—and the idea of desire that is a theme explored in the book—I thought a lot about my own relationship with the visual aspect of the reading experience. In the past year or so, I have found that doing book cover recreations and cover-inspired makeup looks has given me a greater appreciation of how book covers entice readers and act as both an invitation and a foundation into imagining what the story holds. 
"In thinking about Dear Senthuran, I wanted to convey the boldness of the work through these images; the vibrance of the images speaks to my experience of the work. The book is bold, bright, elemental and affirming, which is what I hoped to convey in the cover recreation."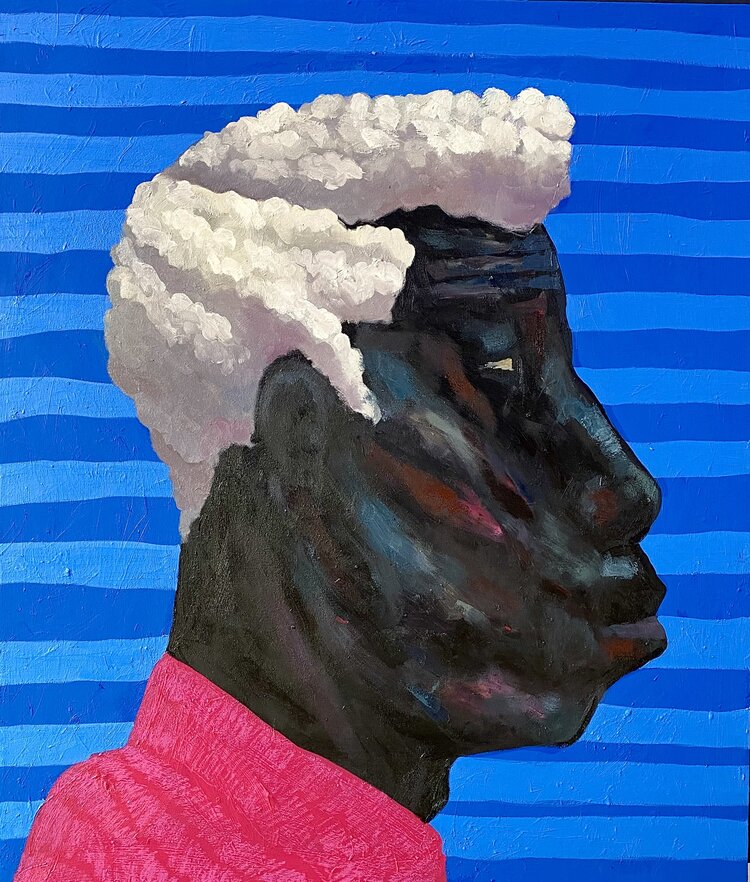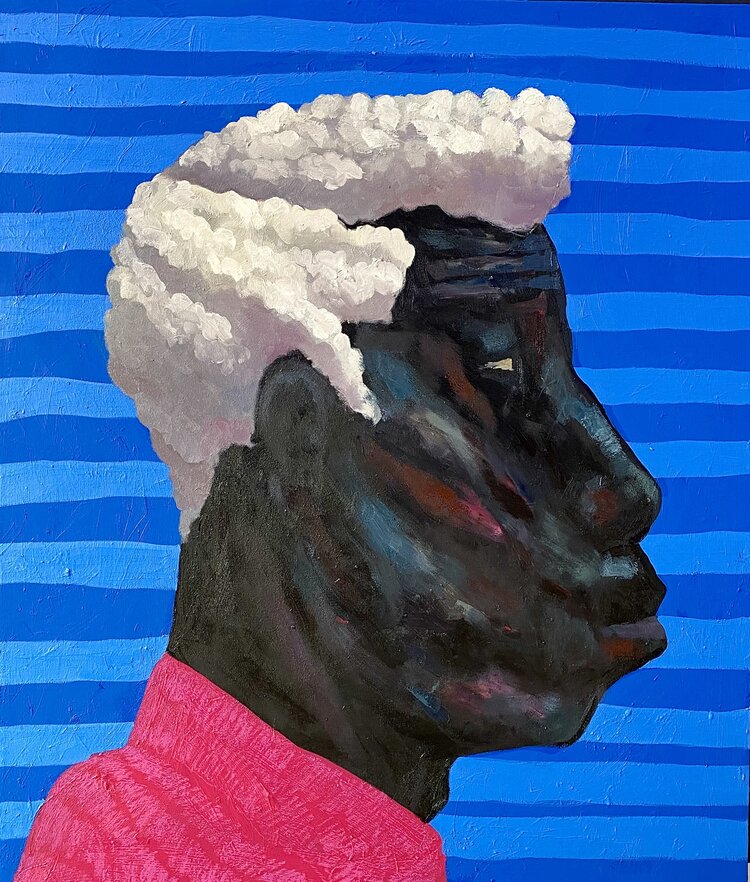 Above: Soji Adesina | Wasiu (Making Face) Exhibition | oil on canvas | 2021 |
African Writers Make the 2021 Booker Prize Longlist
The 13 books on the 2021 Booker Prize longlist have been released and three African writers are on it. The list was chosen from 158 novels published in the U.K. or Ireland between Oct. 1, 2020 and Sept. 30, 2021 for fiction writers of any nationality, written in English and published in the U.K. or Ireland.
The judging panel: historian Maya Jasanoff (chair); writer and editor Horatia Harrod; actor Natascha McElhone; twice Booker-shortlisted novelist and professor Chigozie Obioma; and writer and former Archbishop Rowan Williams. 
The African writers who made the list for the prestigious award are South Africa's Damon Galgut and Karen Jennings, along with Somali-British writer Nadifa Mohamed. They are up against 10 other writers from different parts of the world. The award honors a novel written in English by an author from anywhere in the world. Their inclusion is an improvement on 2020's list, which featured two authors from the continent, Maaza Mengiste and Tsitsi Dangarembga—but neither won. 
Damon Galgut made the cut for the third time with his novel, The Promise, which highlighted the history of South Africa and its struggle with apartheid, peace and reconciliation.
Karen Jennings writes about a friendship with the novel, An Island, while Mohamed joins the others with The Fortune Men, which tells the true story of discrimination against a Somali man in Wales in the 1950s. 
To be announced at a Nov. 3 award ceremony, awards in the amount of £2,500 (U.S. $3,470) and a specially bound edition of their book go to authors who make the shortlist, while the winning author receives £50,000 (U.S. $69,403).
Compiled by Roli O'tsemaye