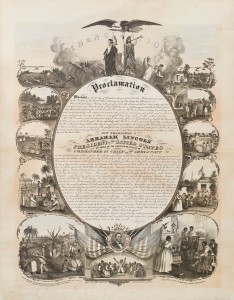 NEW YORK—On Thursday, March 21, Swann Galleries will conduct their 18th annual auction devoted to Printed & Manuscript African Americana, which comprises important historical material related to the African experience in the Americas. Catalogued, as it is each year, by Wyatt Houston Day, this auction features a selection of rare items related to the Emancipation Proclamation, which was passed 150 years ago. There are also sections devoted to art, the Black Panthers, W.E.B. Du Bois, Marcus Garvey, music, religion, sports and more.
Among the Emancipation Proclamation highlights are three rare lithographs: Proclamation of Emancipation by the President of the United States, printed by Alvord, New York, 1864, with an oval portrait of Lincoln being held by an American eagle ($3,000 to $4,000); the elaborate Emancipation Proclamation, by Martin & Judson of Milwaukee, 1864 ($3,500 to $5,000); and a full-length portrait of Lincoln, resting his hand on the manuscript of the Proclamation, based on the drawing by Gilman R. Russell, Philadelphia, 1865 ($3,000 to $4,000).
There is also the original manuscript for Major General Robert H. Milroy's handbill order "Freedom to Slaves," announcing the emancipation to his troops, with a retained copy of his letter to Lincoln in praise of the act ($1,500 to $2,500); a group of postcards issued on the anniversary in 1909, and an example of the famous 1864 engraving Reading the Emancipation Proclamation by J.W. Watts ($800 to $1,200).
Also in the slavery and abolition section are two wooden items made by slaves, an antique American burl bowl, decorated with carved West African Adinkra symbols, Mississippi, circa late 18th to early 20th century ($7,500 to $10,000) and a wooden cradle, a rare example of the sort of craft found in the slave quarters of a plantation, South Carolina, first quarter of the 19th century ($6,000 to $8,000); a rare broadside advertising the sale of an entire plantation and its 111 slaves, with handwritten notations about the prices realized for each, sold due to a mortgage default, Charleston, 1854 ($25,000 to $35,000); one of only five known copies of Narrative of the Life of Frederick Douglass, an American Slave, Written by Himself, Rochester, 1848 ($18,000 to $22,000); John Brown's Provisional Constitution and Ordinances for People of the United States, which was presented as part of his defense while on trial in Harper's Ferry, 1858 ($10,000 to $15,000); and an extraordinary group of more than 90 letters chronicling the relationship of a Connecticut abolitionist family with Amistad captives including Cinque, Grabeau, Kin-Nah and others, 1833-46 ($30,000 to $40,000).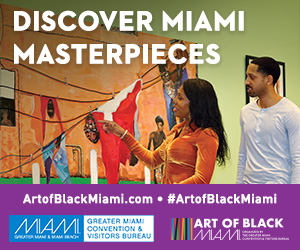 A strong selection of Civil War material includes a scarce chromolithograph of the famed image of United States Soldiers at Camp William Penn, 1863 ($8,00 to $12,000); a poignant letter from a black soldier, Morgan W. Carter of the 28th U.S.C.T., to a friend, which describes a bloody battle, December 1864 ($6,000 to $8,000); a rare photographic image of an African-American medal of honor recipient, Christian A. Fleetwood, 1880 ($3,000 to $5,000); and a remarkable collection of 38 photographs of Buffalo Soldiers, with images taken in most of the Western states and territories, 1870-1905 ($40,000 to $60,000).
From the Education section are two remarkable Booker T. Washington items. The first is a certificate created for a student in his class at the Hampton Institute (now Hampton University) in Virginia, naming him an Honorary Member of the "Plucky Class," filled out and signed by Washington, circa 1879-1880. This previously unseen item is a souvenir of a night-school program for promising young men and women who could not otherwise afford to attend Hampton. Washington was so impressed with the earnestness of the students in the first year of the program that he nicknamed them The Plucky Class ($6,000 to $8,000).
Also from Washington is Autograph Notes for his Emancipation Day Address, January 1, 1895, which contain the famous phrase "Cast down your bucket," which he would later incorporate into his historic Atlanta Compromise speech ($30,000 to $40,000).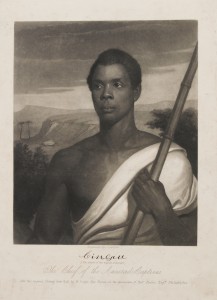 Rare Marcus Garvey items include a graphite portrait with the title Provisional President of Africa, circa 1916-17 ($4,000 to $6,000); and a large silk banner from the Black Nationalist Movement reading "Buy Black," New York, circa 1930s-40s ($3,000 to $4,000).
Another eye-grabbing banner in the auction is one from the earliest days of the Black Panther party when it was formed in Lowndes County, Alabama, stenciled with the words "Black Panther," and depicting a panther sewn on in felt along with the year '67 ($2,500 to $3,500). Also of interest among Black Panther material are several evocative posters, including Let Rap Rap!, picturing H. Rap Brown, Los Angeles, 1968 ($1,500 to $2,500).
There is large and rare collection of Pullman Porter material, which includes clothing, equipment, a metal stepstool used to board passengers, booklets, photographs and more, circa 1910s-50s ($10,000 to $15,000).
Music memorabilia features a collection of photographs, programs and ephemera from a Harlem Renaissance era chorus girl, including material inscribed by performers such as Billie Holiday, circa 1920s-40s ($3,500 to $5,000); eight bars of original music written by John Coltrane ($1,500 to $2,500); and a collage of images of Charlie Parker, assembled by his wife Doris, circa 1960s ($3,000 to $4,000).
Rounding out the sale are a first edition of the second work by Juan Latino, the great "Ethiopian humanist," and first African author published in Europe, Ad Catolicum, Grenada, 1576 ($40,000 to $60,000); Roy Schatt photos of Malcolm X; Jack Johnson boxing ephemera; and a run of film posters that includes Bill Pickett, World's Greatest Colored Champion, The Bull-Dogger, Jacksonville, Florida, 1921 ($6,000 to $8,000).
The auction will take place on Thursday, March 21 at 10:30 a.m. and 2:30 p.m. The items will be on public exhibition at Swann Galleries on Saturday, March 16, from 12 p.m. to 4 p.m.; and Monday, March 18 through Wednesday, March 20, from 10 a.m. to 6 p.m. Groups wishing to attend the preview are requested to make advance arrangements.
An illustrated catalogue, with information on bidding by mail or fax, is available for $35 from Swann Galleries, 104 East 25 Street, New York, NY 10010, (212) 254-4710, extension 0, and can also be viewed online at www.swanngalleries.com. Bids can also be submitted by e-mail via the website.
For further information, and to make advance arrangements to bid by telephone during the auction, please contact Wyatt H. Day at (212) 254-4710, extension 300, or via email at whday@swanngalleries.com.
Live online bidding is available via Artfact.com
# # #
CATALOGUES AND DIGITAL IMAGES AVAILABLE UPON REQUEST