"To the ordinary man.
To a common hero, a ubiquitous character, walking in countless thousands on the streets. In invoking here at the outset of my narratives the absent figure who provides both their beginning and their necessity, I inquire into the desire whose impossible object he represents." Michel de Ceteau (The Practice of Everyday Life, Univ. of Calif. Press, 1984)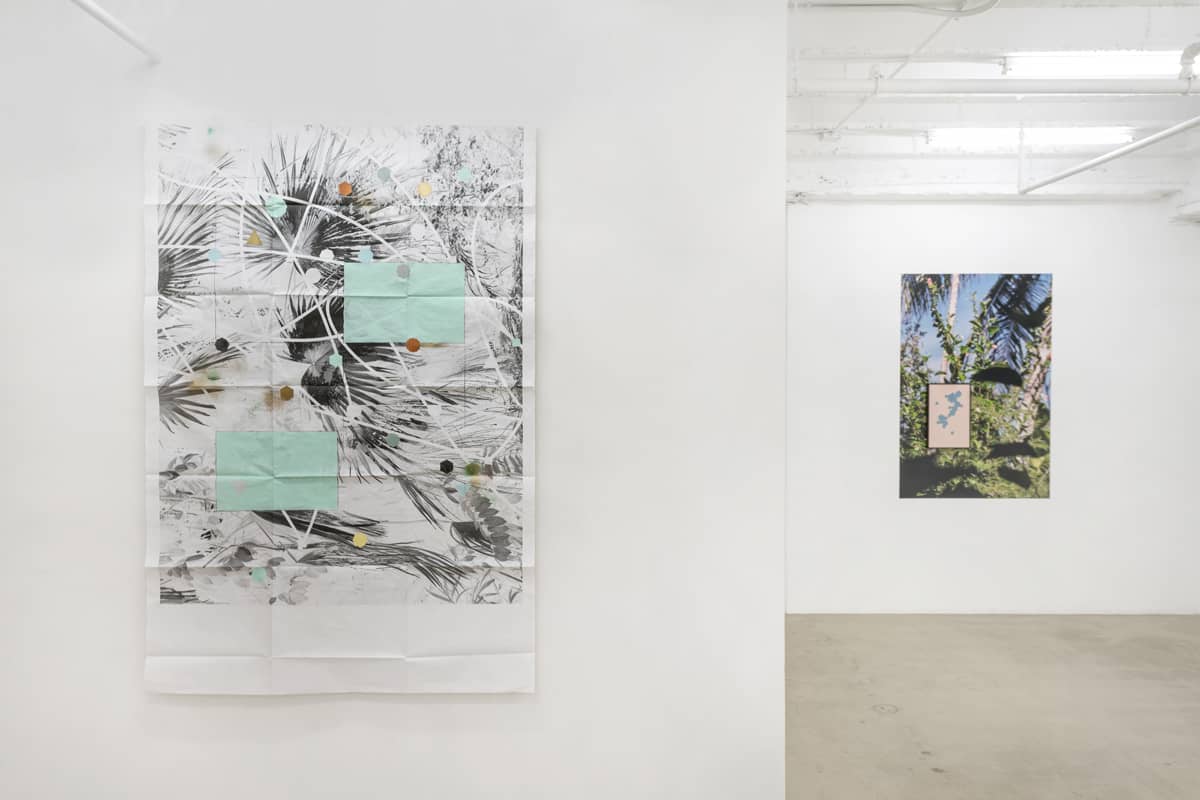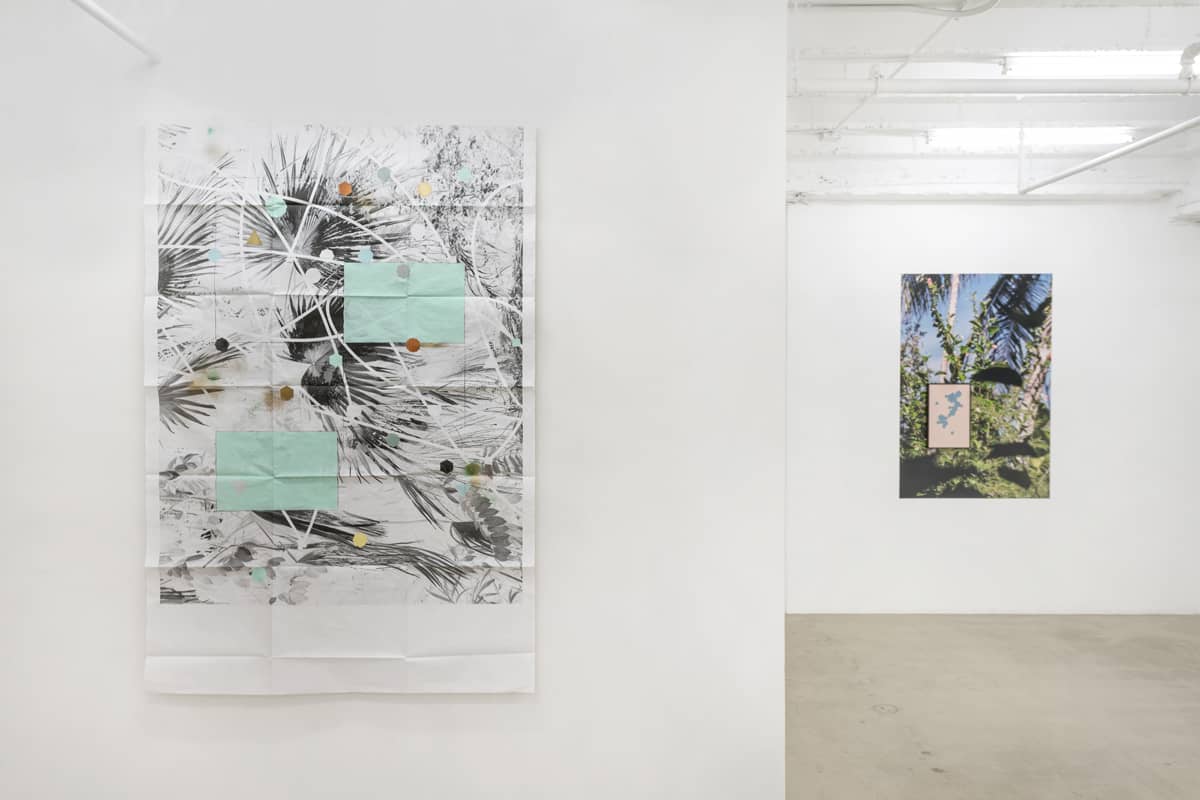 Above: Adler Guerrier – front image: Untitled (Place marked with an impulse, found to be held within the fold) iii, ink, graphite, enamel paint and xerography on paper, 71 x 48 inches, 2017
rear image: Untitled (Place marked with an impulse, livid peach), graphite and cut marks on paper framed over vinyl, 17 ¼ x 11 ¼ inches (frame), 59 ½ x 40 inches (vinyl), 2017/em>
David Castillo Gallery presents Deployed Utopia, a solo exhibition by Adler Guerrier. "To deploy Utopia is to bring it into effective action. And in this body of work Guerrier treats the Utopian impulse as an extension of both built and natural environments. [I]n Deployed Utopia we see Guerrier's gaze, how he witnesses and reinterprets Miami, home, and Utopia as the interconnected components in his personal concept of place. To look is everything; to see the possibility of this everyday, and sometimes degraded, sceneries is a first step in deploying action" (Gallery notes)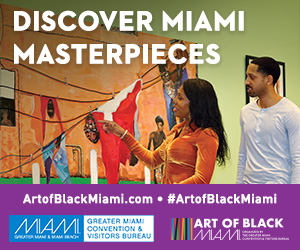 Guerrier is an urban wanderer, although Miami is not very walking friendly. Or, maybe a better way to say it is that part of Miami is and part is not walking friendly. Miami, and really southeast Florida as we know it, is a mostly artificial, human-built environment with areas of the natural environment still available to public access. It's an environment that is fecund enough to recover even some lost vegetation in between the crevices of asphalt and concrete infrastructure. More important than seeing urban weeds to Guerrier's practice though, is an examining of the human manipulated environment and the way it maps that environment through its architecturally dominant features and nature's unwillingness to recede into the backdrop.
The bits and pieces of the every day arising out of Guerrier's art are so untropical, yet they are tropical in a way we have come to identify them through Caribbean vacation advertising. Beyond central Florida's theme parks, south Florida (on both coasts) remains as our "tropical paradise" (within the continental United States). It's not so much the tropical but Miami he attends to.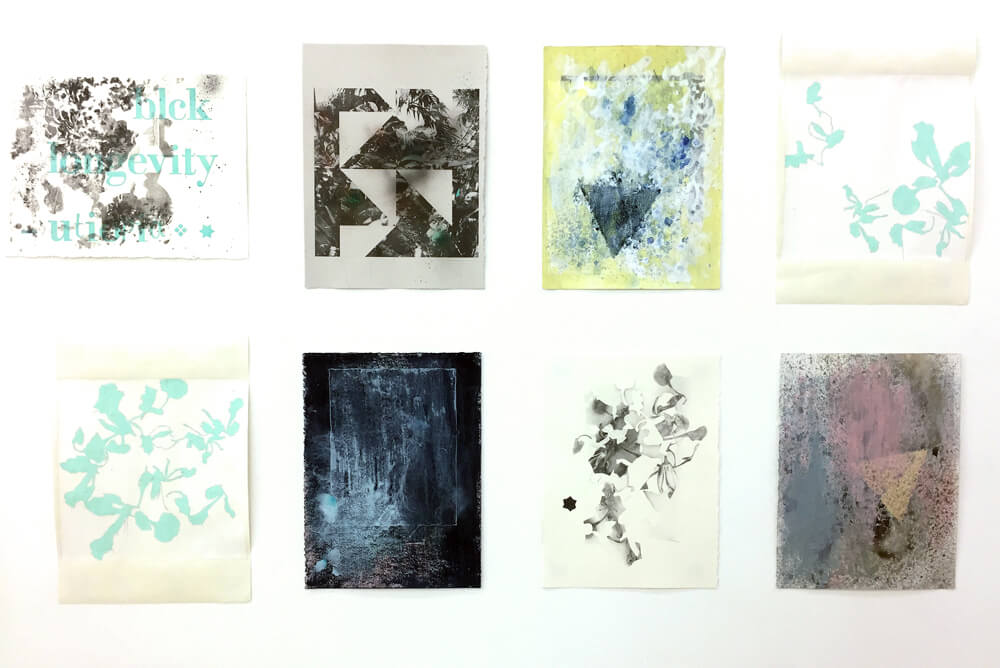 Above: Adler Guerrier selection of works on paper: 2017 graphite, color pencil, enamel paint and solvent transfer on paper, 15 x 11 ½ inches
The contradictory place Miami and the place as imagined reveal themselves in Guerrier's photographic based works as devoid of people, yet the human is extremely evident as a subtext to this living body full of restless botanical growth and a myriad of insects and birds.
As the unseen human body "wanders" through this Miami the bodily engagements with objects seen and unseen imply some type of activity but in a way that remains hidden from view, unless we look. Deriving inspiration from John Dewey's Art as Experience, first published in 1934, his discussion of "having an experience" demonstrates that aesthetic experience is possible in every aspect of people's daily life.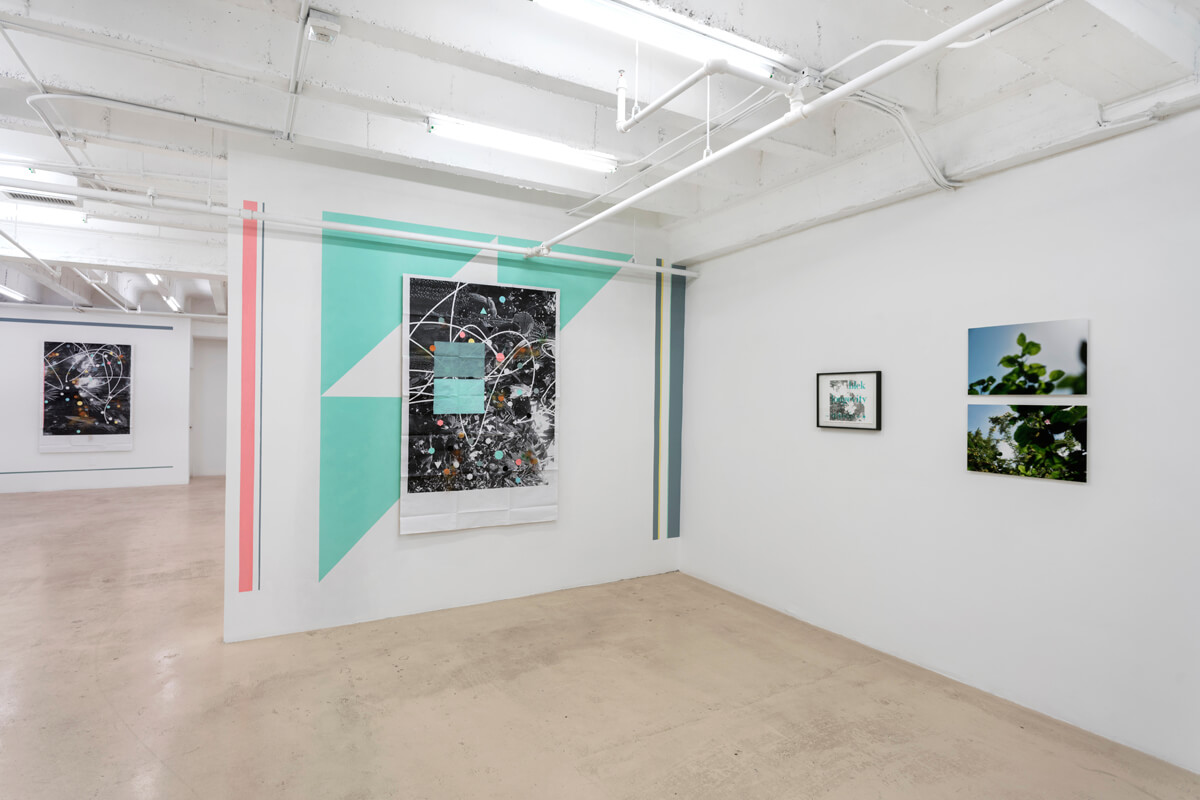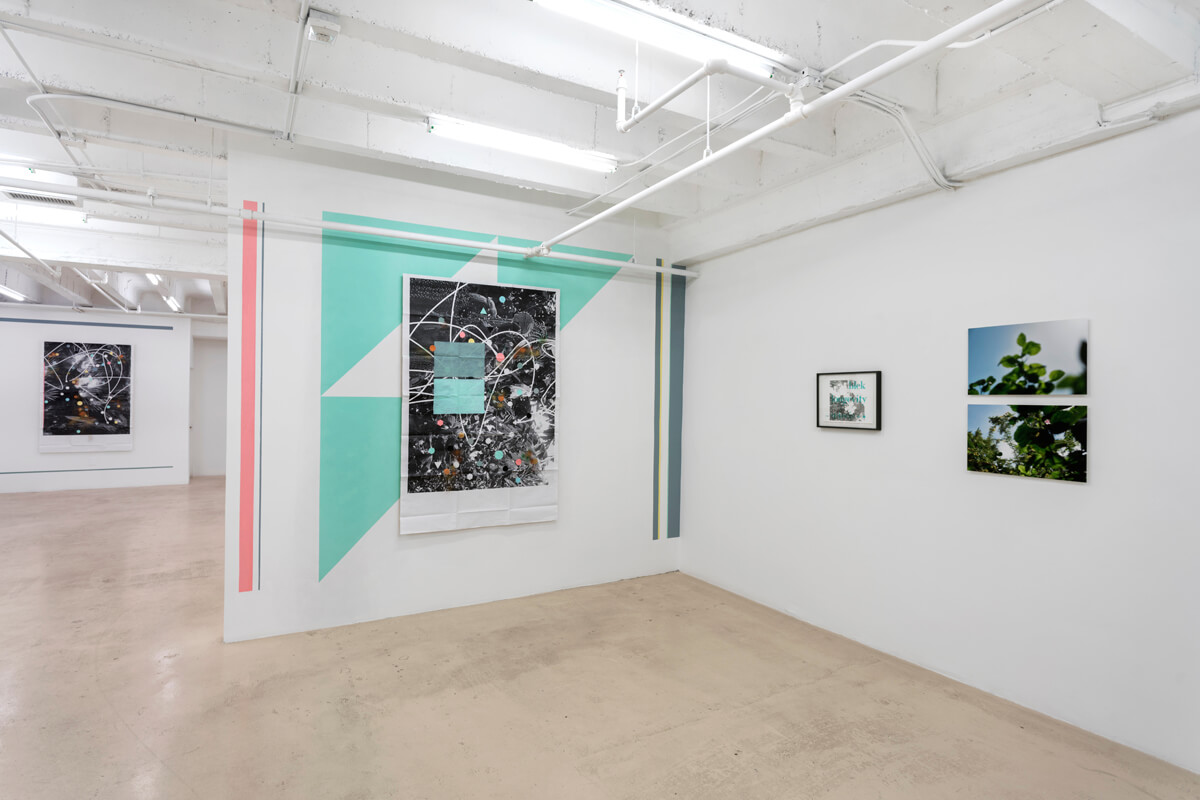 Above: Adler Guerrier, Untitled (Place marked with an impulse, found to be held within the fold) i, mixed media on paper, 71 x 48 inches, 2017 [center front wall image]
"If 'everyday' is characterized as the familiar, ordinary, commonplace, and routine, regardless of the specific content that varies from people to people depending upon their lifestyle, occupation, living environment, and other factors, what makes its aesthetic appreciation possible," asks Yuriko Saito of RISD? Adler Guerrier has been responding to that question for a good number of years. He provides both the 'everyday,' 'familiar,' and 'commonplace' with such a manner that you are sure you are not seeing those attributes, while at the same time you are seeing them.
Because we are most of the time preoccupied with the task at hand in our daily life, pragmatic considerations mask the aesthetic potential of commonplace objects and ordinary activities. Once we experience them with a different attitude and perceptual gear, we can unearth latent aesthetic values in the most ordinary and routine. (Irvin 2008b; Melchionne 2014; Shusterman 2013).
A number of the works incorporate texts of a few words, poetically driven and intimately personal. We have to wonder, is this beyond the visual and into the poetics of the written word? Perhaps Guerrier will take us there.
For now, though, Adler Guerrier's present journey will take us to the unfamiliar familiar.
28 Sept. – 18 Nov.2017
David Castillo Gallery
420 Lincoln Road
Miami Beach, FL 33139
www.davidcastillogallery.com