Above: Renee Cox in conversation. Photo by Passion Ward.
There's a story Renee Cox tells about her father that gives some insight into her work as a world-renowned, firebrand artist. Upon arriving in America for the first time, Cox's father, a Jamaican expatriate, asked a black taxi driver to take him to the Fontainebleau Hotel, the most famous hotel on Miami Beach. It was the Jim Crow 1940s.
"So of course the cab driver was like, 'What? You can't go there!" laughs Cox. She's in Miami wrapping up a stay at the Fountainhead Residency in Morningside, and given today's conversation about everything from sexual abuse in Hollywood to racism and the NFL; the story seems fitting.
After an argument with the cabbie, a drive to the beach, and yet another argument with the hotel's desk clerk, Mr. Cox was given his room. It was quite a feat for a black man back then. It turns out the hotel assumed this reservation made via telegram for someone named Lancelot W. Cox — with a British passport at that — must be a white man, only to be surprised upon his arrival and his insistence that his booking is honored.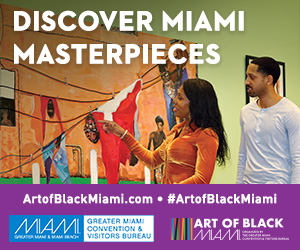 "Mind you, my father was completely ignorant about segregation or Jim Crow or any of that," says Cox. "He thought these people were acting bizarre. Of course, he found out later which makes the story even funnier. One of the things I took away from that is if you have an attitude that a particular scenario doesn't exist in your world, sometimes it doesn't."
For just over twenty years, Cox's work has re-framed popular culture, society around her and even history itself with the black woman's body at its center. From depicting herself as the self-created black superheroine Raje, to Yo Mama's Last Supper, in which she positioned herself nude in place of Jesus in a recreation of Leonardo's "The Last Supper," Cox's bold and controversial work has often put forth a world in which the everyday evils of sexism and racism have been conquered or don't exist in the first place. In 2017 however, with her storied career still unfolding and the social and political landscape in perhaps the worst turmoil of the past 20 years, she's well aware how these evils persist and is hoping that other creatives—as she has—rise to face the challenge.
"The state of affairs right now is not great, but I'd like to be optimistic about it," says Cox. "It seems like people are starting to come more into a conscious state through spirituality and that things are changing."
Over the past month, Cox has been exploring Miami. Though no stranger to the city—her work has shown during Art Basel Miami Beach/Miami Art Week several times. This particular trip and residency have allowed her to get more in touch with the local creative community, leading to a series of portraits of South Florida-based artists such as Edouard Duval-Carrié, Stuart Sheldon, and Vickie Pierre likely to follow on return visits.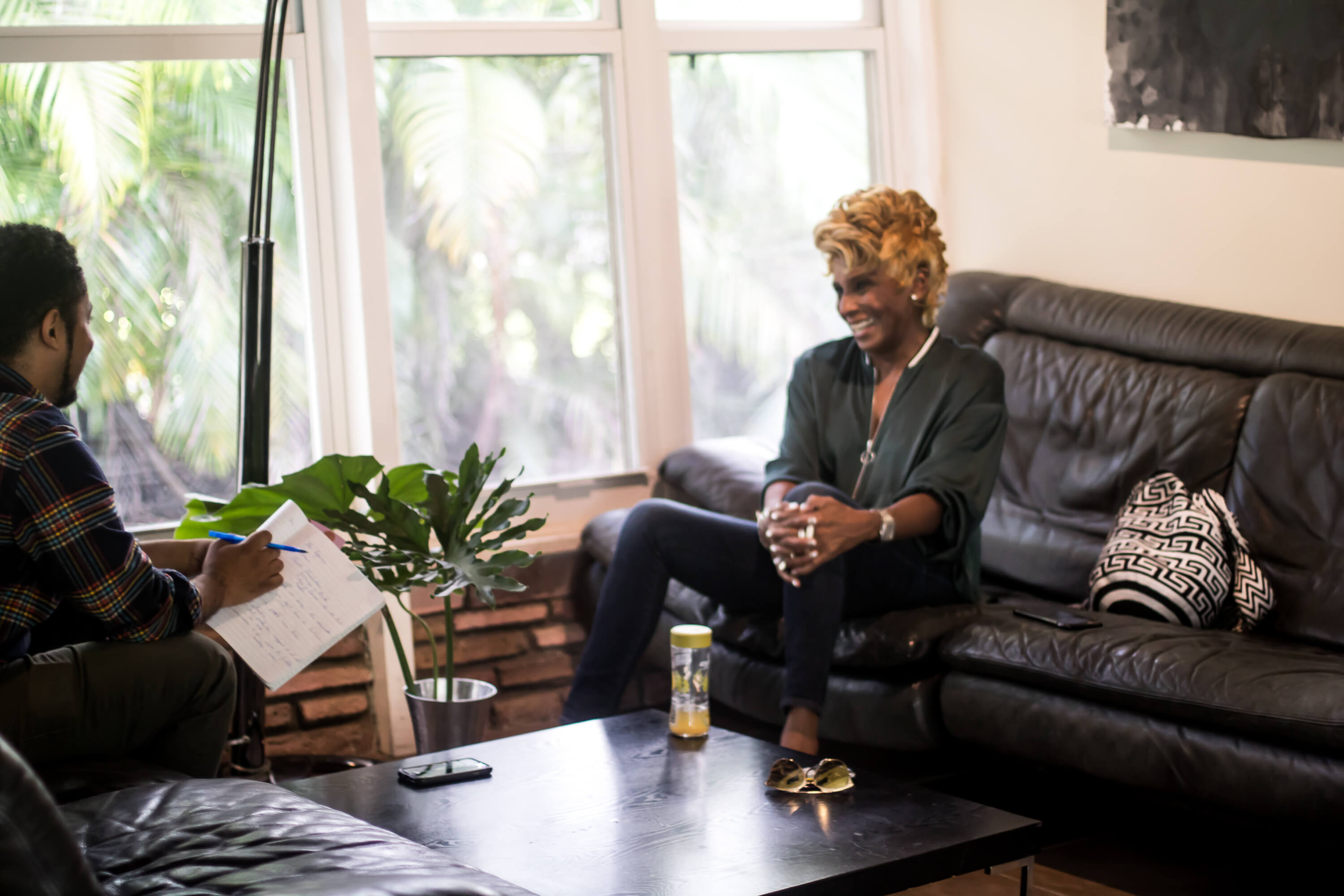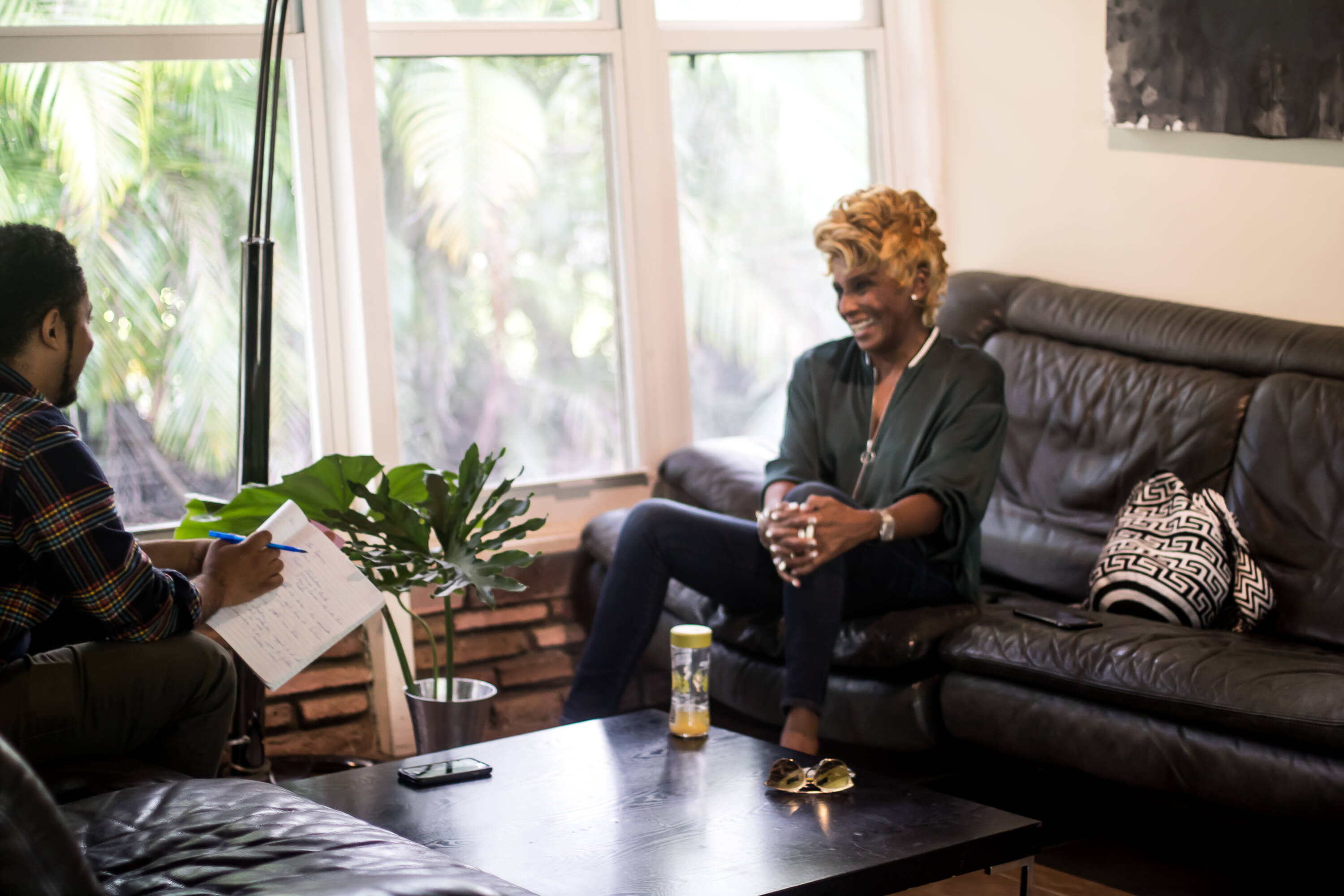 Above: Renee Cox speaking with Jason Fitzroy Jeffers. Photo by Passion Ward.
"Miami's probably more alive than New York at this juncture," says Cox. "That's good because I feel New York has gotten a little bit sleepy. It's too expensive; you just have people sheltering money there and not living there."
She'll return in a few months during Prizm Art Fair to show work that hearkens back to her notorious Yo Mama series, which drew the ire of then-New York mayor Rudy Giuliani. Entitled The Signing, it finds Cox once again supplanting white figures in imagery held to be untouchable, if not sacred in the American consciousness.
"It's a revisionist look at the classical painting of the declaration of independence," says Cox. "I changed it [to feature] black and brown people, some in 17th-century clothes, some in today's clothes, others in African garb, some in burqas, everything. It makes some people say 'oh, that's how you used to work!' I say yeah, and maybe there are points where I need to go back to that because these are the times that we're living in."
It's a line of thought and action that Cox thinks increasingly necessary in our current historical moment. Though outrage is the flavor of the day, she believes there's more need for it, especially where it translates into black action, ownership and Afrocentric visions of both the past and future.
"I believe we can create our own worlds, and if Afrofuturism is part of that world then that's what it is, and why shouldn't it be? When we leave it to them, they show us space, and we're not there," she remarks. "They write the history, so why aren't we writing our history? Their history is no purer than the history that I make up. It's "his story" and "he's" the victor so to speak, but why do I have to feel like a loser when I can make my history up? It's time for us as black people to get back to our Marcus Garvey vibe. We need to get back to owning some stuff. I want to see that change. I want to see people wake up now because we don't have time to waste."