Lyric Prince soArt Africa Miami Arts Fair is Miami's premier anchor fair for artists from the African Diaspora, Art Africa Miami kicks off the opening day of Art Week — when thousands of collectors, dealers, curators and artists descend upon Miami. Renown for its avant garde gallery-like decor, its outstanding quality and extraordinary variety, Art Africa Miami showcases the best in contemporary black art.
Art Africa Miami opens the season with a talk by Lyric Prince November 3 at7 PM. Ms. Prince, a renowned artist, speaks on the intersection of art and Afro futurism.
Art Africa Miami had grown into a leading position in America's contemporary art fair market. It is the original and longest-running contemporary art fair solely showcasing black diaspora artists in Miami and continues to receive praise for the variety of unparalleled art that it offers. It is the not-to-be missed event for all serious collectors, curators, museum directors and interior designers, providing an intimate look at some of the most important work at the forefront of the international contemporary black art movement.
7th Edition-BACK TO BLACK: No On/Off Ramps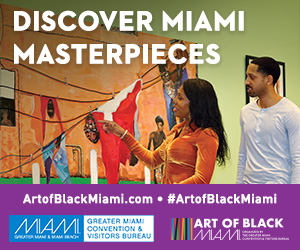 ART AFRICA 2017 explores how Black Arts respond to the assaults that currently beset the global African Diaspora and the world at large and how artists of African descent and of the global south create modes of intervention of radical autonomy.
BACK TO BLACK: No On/Off Ramps is a multimedia presentation including paintings,sculptures, photography, installation and video as well as performance exploring how alternative narratives confront the resurgence of oppression and the idea of Black arts' intervention in the cultural sphere as both necessary and urgent.
BACK TO BLACK: No On/Off Ramps brings about 25 artists from the United States,Africa, Europe, the Caribbean and Latin America.
Art Africa Miami Arts is spaced between the Pan-African Pavilion at 919 Lyric Plaza and the opposite 920 historic Clyde Killens' building both on NE 2ND Avenue in Overtown, ART AFRICA 20017 cover about 9000 sq. of exhibition-space; doubling that of previous years.