Above:Gary Simmons, Ghost Reels, 2016

For non-California natives, the California African-American Museum caught the eye of viewers of Issa Rae Misadventures of an Awkward Black Girl. This city staple features phenominal shows and here are two that open with the month of July.
Artist Gary Simmons—who recently returned to Los Angeles, where in 1990 he received his MFA at CalArts—references film, architecture, and American popular culture in paintings and drawings that address race, class, and memory. Much of Simmons work centers on his signature erasure techniques. Early on he drew in white chalk on readymade chalkboards or directly onto slate-painted walls, then smudged the images with his hands. In recent years he has adapted the process to canvas and large-scale wall works, such as Blue Field Explosions (2009), a monumental drawing in the stadium that is home to the Dallas Cowboys. In his first museum exhibition in Los Angeles, Simmons' "canvas" will be the five large walls in CAAM's grand lobby, where he is creating a site-specific painting that includes titles of vintage silent films that feature all-African American casts.This exhibition is curated by CAAM's Deputy Director, Exhibitions, and Programs, Naima J. Keith.
Face to Face: Los Angeles Collects Portraiture offers new perspectives on one of art's oldest genres. In the age of social media, when the demand to represent our "selves" has become a daily imperative, portraiture is mutating. Within the human face—the most familiar element of our identity—we glimpse some measure of a subject's character, personal biography, social status, and emotion, as interpreted by the artist and communicated to us. Drawn entirely from LA-based collections, the over fifty works in this exhibition demonstrate changing approaches to portraiture from 1984—CAAM's founding—to today.
Bringing iconic works together with lesser-known examples in a range of mediums, the exhibition is arranged according to commonalities in pose, gesture, color, composition, and
subject matter. Viewed outside their chronological and historical contexts, the works speak to each other in unexpected ways, looking across generations and between media. Through their varied takes on portraiture, the artists represented in Face to Face, including Lyle Ashton Harris, Titus Kaphar, Amy Sherald, Mickalene Thomas, and Lynette Yiadom-Boakye, raise provocative questions about who we are and how we perceive and commemorate others.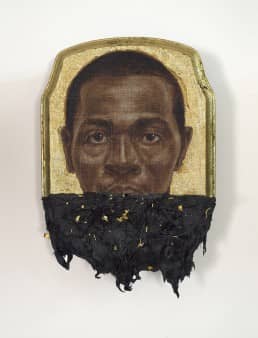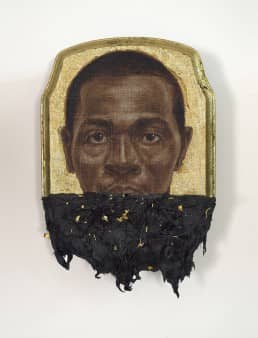 Above: Jerome I by Titus Kaphar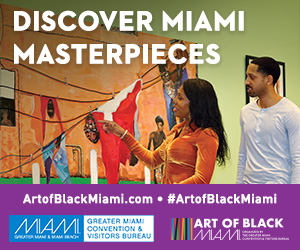 Los Angeles Collects is a new series inspired by a historic exhibition mounted by pioneering art dealer Alitash Kebede. Reimagined at CAAM, Los Angeles Collects celebrates the instrumental role of collectors in supporting artists in Los Angeles and beyond. Face to Face: Los Angeles Collects Portraiture is curated by Naima J. Keith, Deputy Director, Exhibitions, and Programs, and Diana Nawi, Associate Curator, Pérez Art Museum Miami.