Creative Arts and Culture Collage Of Artistic Expression Looks to Engage and Enrich Students Through Arts and Culture
Young Picasso Award Competition Open for Submissions
Miami, Fl-April 15,2017- The Urban Collective, producers of the Art Africa Miami Arts Fair continues their commitment to their Youth Art Insiders program as they partner with the team from IAMART to host the inaugural IAMART Miami, two -day artisan event in Historic Overtown, May 18-20, 2017. The arts empowers children and improves their life chances. Both organizations believe in the value of cultural learning and are champions of youth art programming that celebrate the art and creative expression of children and teens. IAMART Miami is free and open to students who are in K-12. Register at this link.
IAMART was created by Earl Silas, a Miami native, who selected Brooklyn, New York to launch this four-city international tour celebrating art as a vibrant life form this past October. Historic Overtown is the cultural hub of South Florida, and the collaboration with The Urban Collective to launch IAMART Miami was a perfect fit. Both organizers hope the artisan showcase will go beyond semantics and cultural barriers to show kids how art is the fiber that connects us all.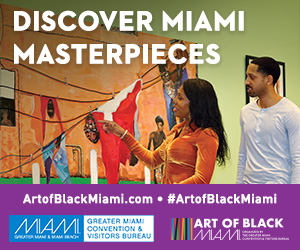 "IAMART Miami is all about cultural demonstrations, from art to music to tech and much more.. the day celebrates the rich cultural heritage of our community in Historic Overtown", states Neil Hall, AIA, Found of the Urban Collective and the Art Africa Miami Arts Fair. We strongly believe arts and cultural heritage is essential to building and sustaining vibrant, healthy communities.
IAMART Miami programming includes instructor-led arts & crafts activities, creative storytelling, mural painting,high school student breakfast art talk,community paint day, sip and stroll art event,art-tech demonstrations, DJ Beat academy, and much more.
The sessions focus on nourishing the students creativity, imagination and artistic ability
South Florida students will also have the opportunity to compete in the The Young Picasso Award presented by Blick Art Materials. The competition allows students to express themselves, display their artwork in a gallery setting, and ultimately be inspired to continue developing their creativity.
"Blick Art Materials is proud to support IAMART Miami, a project in collaboration with the Miami Dade Public School District. We are excited to continue partnership with the organization, launching from our partnership in Brooklyn in 2016. As a leader in the art supply industry, it is important that our support goes to events fostering education in visually creative fields", says Bob Buchsbaum, CEO of Blick Art Materials. "We take pride in supporting arts initiatives like this through our entire retail chain, offering over half a million dollars in localized sponsorships each year to encourage the growth of creativity in the places we call home. The arts are not created in a vacuum, but are a living, breathing force that is built on communities coming together".
Community sponsors and partners for IAMART Miami include:SEOPW CRA,The Beat,Blick Art Materials,Miami-Dade Public Schools, Aifos Agency, The Greater Miami Convention and Visitors Bureau Multi-Cultural department,The Overtown Youth Center,Infinite Markets,MLK Mural Project,CodeFever and The Betsy Hotel.
For more information call 786.897.8854 or email info@harrispublicrelations.com .

Follow on social media @iamartaru on Twitter.