Above: Julien Creuzet . Photo by Virginie Ribaut
Art Basel and BMW are delighted to present the 2021 artist shortlist for the BMW Art Journey, a joint initiative recognizing and supporting emerging artists worldwide. Like a mobile studio, the BMW Art Journey can take artists almost anywhere in the world to develop new ideas and envision new creative projects. Today, the shortlisted artists for the BMW Art Journey 2021 were announced at the BMW Wan Chai Showroom in Hong Kong:
Julien Creuzet
born in 1986; lives and works in Montreuil; represented by High Art, Paris.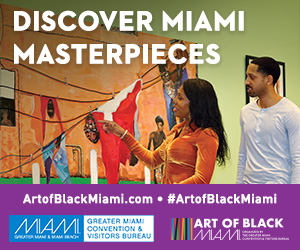 Kelvin Kyung Kun Park
born in 1978; lives and works in Seoul; represented by Vanguard Gallery, Shanghai.
Alice Wang
born in 1983; lives and works in Los Angeles and Shanghai; represented by Capsule Shanghai.
In recognition of the ongoing exceptional circumstances caused by the pandemic, the international expert jury conducted its selection process online. Artists and their galleries were invited to submit digital applications, including a short video by the artists explaining their work and artistic process. Since 2020, the circle of eligible artists has broadened and includes not only emerging and mid-career artists from the Discoveries sector, but also artists represented by galleries founded no more than ten years ago at Art Basel's show in Hong Kong. The shortlisted artists are now invited to develop the proposal for their ideal journey, with the winner to be announced in summer 2021.
Members of the international expert jury are Claire Hsu, Director, Asia Art Archive, Hong Kong; Matthias Mühling, Director, Städtische Galerie im Lenbachhaus und Kunstbau, Munich; Patrizia Sandretto Re Rebaudengo, President, Fondazione Sandretto Re Rebaudengo, Turin; Philip Tinari, Director, UCCA Center for Contemporary Art, Beijing; and Samson Young, artist and winner of the first BMW Art Journey.
'We were deeply impressed with the group of artists we reviewed, and those we selected. Their profiles are very different in terms of practice, research, and expressive modality, and this infuses a great richness to the group. Together, their varied perspectives and ways of working the artistic horizon of the BMW Art Journey,' stated the jury in its unanimous decision.
'The Paris-based French-Caribbean artist Julien Creuzet is a traveler between genres and cultures. His hybrid practice includes film and animation, music, poetry and sculpture. His multi-layered assemblages explore different cultural heritages. His gaze on history and on different geographies, on minor and forgotten tales, is important for building new collective scenarios. South Korean Kelvin Kyung Kun Park's multi-disciplinary work deals with notions of the individual versus the collective, nature versus conditioning – topics that have tremendous potential in generating a research journey across time and culture. His videos, performances, and photographs explore the fundamental structures of those mediums, and of contemporary society. Alice Wang, who lives and works between Shanghai and Los Angeles, makes sculptures and films that take us on epic journeys unfolding across space, time and materials to bring us closer to understanding our place in the universe. Each work tells a different story that transverses the surreal and sublime, leaving us to question what is in fact truth and what is fiction,' notes the jury.
Works of this year's shortlisted artists can be viewed in a virtual showroom at 'Art Basel Live: Hong Kong'. As official partner of the show, BMW will host a virtual partner room at 'Art Basel Live: Hong Kong' showcasing works and documentations of previous BMW Art Journey winners.
In collaboration with the winning artist, the journey will be documented and shared through publications, online and via social media. For further information about the artists and the project, please visit: www.bmw-art-journey.com
During this year's Art Basel in Hong Kong the BMW Wan Chai Showroom hosts a documentation of Leelee Chan (Capsule Shanghai), BMW Art Journey winner 2020, and her project 'Tokens from Time". Additionally, and on the occasion of 50 years of BMW Group Cultural Engagement, visitors can not only view the miniatures of the BMW Art Car Collection but also contributions and background information about the 50th anniversary. To visit the exhibition that runs until May 23, 2021, please register here.
BMW has supported Art Basel's shows in Basel, Miami Beach and Hong Kong for many years.