***EXPANDED***
December 3 marks the beginning of Art Basel Miami Beach. Collectors, art enthusiasts, hipsters and celebrities descend on Miami Beach and surrounding areas to take in an voluminous amount of art and performance by some of the most exciting artists in the world. For the collector interested in work by artists of Africa and the African diaspora, one has to navigate not only the Art Basel Art Fair itself, but to wind their way through the city for the two dozen smaller satellite fairs. Sugarcane wants to make this easy for you, so here is a list of galleries on scene at Art Basel, notable fairs and,established museums and dedicated events that feature work by artists of African Descent.
Goodman Gallery ( South Africa)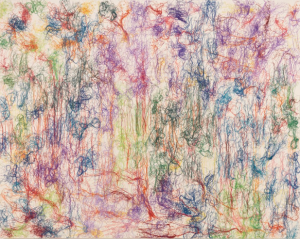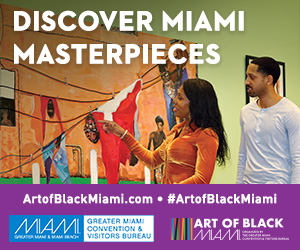 Goodman Gallery has been apart of Art Basel Miami since 2003, as one of the premier galleries in the world and on the African continent. Goodman Gallery started in 1966 and has been a leader in African art and part of the positive cultural changes in South Africa. With impressive, power house artists such as William Kentridge, Alfredo Jaar, Moshekwa Langa, Liza Lou, Kendell Geers, David Goldblatt, Ghada Amer Mounir Fatmi and Hank Willis Thomas, you will enjoy some of the content's finest contemporary art.Click here for tickets.
Fusion MIA ( Miami)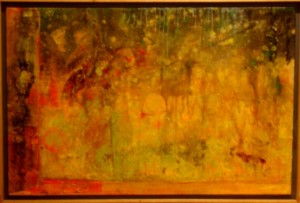 After a successful launch, Fusion MIA returns for its second year of art, fashion and film. This polished art fair sponsored by BET and will collaborate with N'NAMDI Contemporary Art Gallery for their showing entitled African-American Abstract Masters. The show will feature work by Gregory Coates, Nanette Parker and the great Frank Bowling. Fusion opens December 3, 2014. To reserve tickets visit here
Prizm Art Fair ( Miami)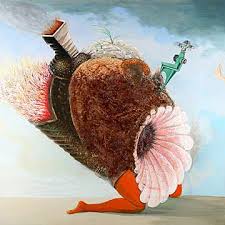 Prizm Art Fair debuted in December 2013 with not only anticipation, but the moxy to back it up. Work by Asser Saint Val, Amber Robles-Gordon and T.Elliot Mansa wowed artists and collectors alike. PRIZM is the producer of a cutting-edge art fair that is multidisciplinary in scope. Their goal is to expand the spectrum of international artists from the African Diaspora and emerging markets at one of the most prestigious art festivals in the world. This years fair takes place at the beautiful Miami Center for Architecture and Design in Downtown Miami. This year promises to impress with both young artists and some the most respected veterans.To learn more and plan your visit go here
Stephen Friedman Gallery ( United Kingdom)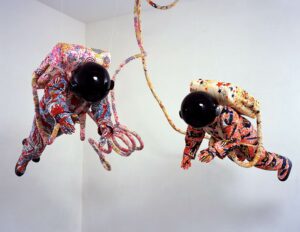 The Stephen Friedman Gallery returns to booth E04 with the crème de la crème of global artists .This is the place to go to see the prophetic Yinka Shonibare and Kehinde Whiley. A favorite of collectors and art lovers, The Stephen Friedman Gallery is a must see when you visit Art Basel. For details on times and tickets visit here.
Art Africa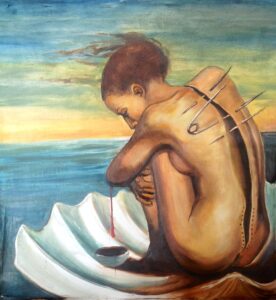 The Father of African Diaspora art fairs during Art Basel, Art Africa returns for its fourth year year with visual art, fashion and jazz Also included this year is a discussion led by African Diaspora scholar Dr. Carol Boyce Davies and culminates with a amazing brunch hosted by cultural taste makers. Art Africa was the brain child of visual artist Bayunga Kialeuka and owner of Miami;s Urban Collective Neil Hall to showcase engaging and thought provoking art that served a continuum of the Black, Caribbean, social, political, hip hop artistic strand that spoke to the Black presence missing from the Art Basel script. Get details about the fair here.
Perez Art Museum Miami ( Miami)
Project Gallery Gary Simmons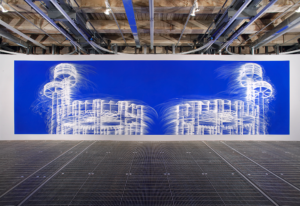 Pérez Art Museum Miami has commissioned Gary Simmons to create an ambitious new work for the museum's stunning double-height project gallery. The New York-based artist will create a large, ephemeral mural painting directly on the gallery's back wall, which measures 30 feet high by 29 feet wide.A single work by Simmons is capable of evoking a multiplicity of meanings, referring to a buried episode in the painful history of race relations in the United States, such as, at the same time that it draws from the artist's childhood memories. Fo more information, go here.
Scope Art Fair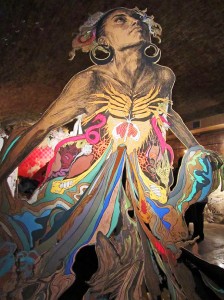 This year scope Art Fair, Will feature celebrity exhibits with producer Swizz Beats . Swiss Beats will give us a taste of the art he has collected, many from young and up coming artists. Kassem " Swizz Beats" Dean has been known as an avid collector and cultivates relationships with the artists he supports. Purchase tickets for Scope here.
The Fifth Annual Art Basel Panel Discussion on Contemporary African Diaspora Art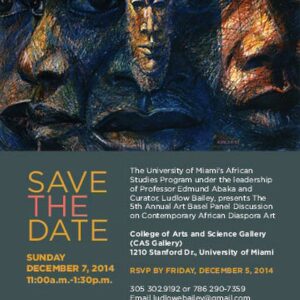 The University of MIAMI'S PROGRAM of Africana Studies, Ludlow Bailey and CADA CONVERSATIONS present "The Fifth Annual Art Basel Panel Discussion on Contemporary African Diaspora Art"
The Panel, moderated by international art curator Ludlow Bailey, will convene on Sunday, December 7, 2014 from 11:00am-1:30pm at the University's College of Arts and Sciences Gallery (CAS), 1210 Stanford Drive in Coral Gables. The event is free and open to the public. Brunch will be served at 1:30pm.
The panel will include Afro-Cuban artist, Alexandre Arrechea, Dominican Artist and Architect, Jeffrey Bienvenido, Dr. Rhea Combs, Curator of film and photography at the Smithsonian National Museum for African American History and Culture, African-American journalist, Julie Walker and Nigerian Art Historian, Moyo Okediji, Professor of African Diaspora Art at the University of Texas, Austin. (See www.cada.us for a more detailed biography of all participating panelists.)
This year's topic will focus on contemporary Afro-Cuban and Afro-Dominican Art, the global African presence at Art Basel Miami Beach 2014, recent developments with the eagerly anticipated National Museum for African American History and Culture, a 2014 review of the contemporary Africana art world and a lively report on the 2014 Dakar Biennale.
i feel ya: SCAD + Andre 3000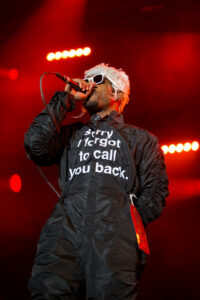 Andre 3000 will exhibit the 47 custom jump suits he wore during his tour as one half of the group Outkast. Each jumpsuit contained a message that represented something trending on social media. After exhibiting in Miami, the exhibit moves to SCAD Museum of Art in Savannah . Get directions to the exhibit can be found here.
Museum of Contemporary Art North Miami Presents : Shifting the Paradigm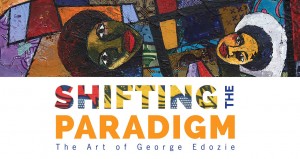 The Museum of Contemporary Art of North Miami (MOCA), South Florida's oldest and only museum dedicated exclusively to contemporary art, will kick off Art Basel week in Miami with a thought provoking exhibition featuring contemporary artist, George Edozie. The show, Shifting the Paradigm is designed to tear down aging but still prevalent concepts surrounding the creation, consumption and interpretation of contemporary.While George Edozie is not an expressionist, he shares a good number of the formal characteristics of the "fauvist" and "post-impressionist" painters at the turn of the 20th century: Cezanne, Matisse, Gauguin, Van Gogh. The opening reception for Shifting Paradigm will launch a week of activities at MOCA North Miami that will include the Moca Breakfasts –an engagement with contemporary aesthetic issues by scholars, critics and artists. Moca Moving Images the series of film screenings and a host of both public and private events surround the exhibition. Details and times can be found here.
Urban Arts International Arts Fair ( Miami)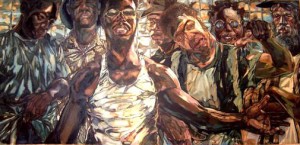 This is the first year for the Urban Arts International Art Fair. Based out of the iconic Coconut Grove area of Miami, this two month-long celebration of arts will feature exhibits and panels for the art collector and art student. Respected Haitian American photographer Carl Juste is one of the directors for this fair. His artistic trajectory brings an important perspective on the Art Basel weekend. Visit here for dates and times.