The well known Swan Galleries is preparing for an auction of fine art October 6. This amazing drawing by Charles White is one of those being auctioned :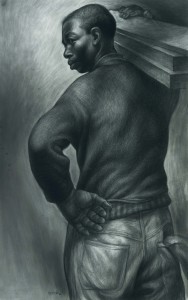 Charles White created Work during the height of his New York career. The drawing is an excellent example of how, in the early 1950s, White gave a new beauty and dignity to his social realist subjects. White now depicted working men and women on a grand scale, with an intensity of mark making and an attention to natural gestures turning his subjects into heroic figures.
Drawings from 1953 are often used as examples representing White's oeuvre, including the Art Institute of Chicago's Harvest Talk, and Ye Shall Inherit the Earth, the cover of Andrea D. Barnwell's monograph, Charles White.
A full list of the sale's highlights, including fine paintings by Charles Alston, Barkley Hendricks, Norman Lewis, Hughie Lee-Smith and Hale Woodruff, will be available in July.