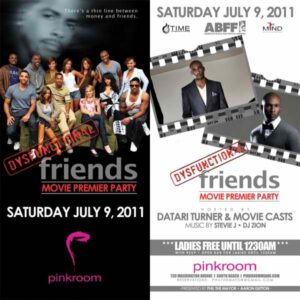 by Iva Marc
Writer, Director Corey Grant's third feature film is a winner. He employees a young, passionate cast of hilariously accomplished talent who not only delivers dramatic effect, but keeps you bubbling over with crisp comebacks and sidesplitting personal quirkiness. The beautiful people include, veteran Stacey Dash, Reagan Gomez-Preston, Wesley Jonathan, Datari Turner, who's credited as a Producer on the film, Jason Weaver, Keith Robinson, Persia White, Tatyani Ali, Terrell Owens, his first feature film, Stacy Keibler, Hosea Chanchez, and Christian Keyes. The casting could not have been better. Each actor carried their role to perfection and embodied the specific demand necessary to illustrate the character nuisance without altering or overshadowing one another. We were also entertained with snapshots of Megan Good, Essence Atkins, Vanessa Simmons, Erica Hubbard, Laila Odom, and Meghan Markle. These women brought a strong presence to the screen during their cameos.
The film begins with the death of their mutual college friend, Dennis, played by Keith Robinson. We are introduced to the friends as they each receive phone calls about his untimely death. During the call, they become aware that Dennis left each of them something in his will and last testament. However, to receive their inheritance, they must all spend five days together in Dennis' home. If any of them leave, none of them receive their inheritance. Dennis was known as the pillar that kept the friends together. Further, this was his last attempt to reunite and rekindle the connection they found in each other while in college. During their five day reunion, past relationships, issues, and secrets are revealed. Additionally, they must address the truth about their current life decisions and where they want to go in the future.
The idea of self-discovery is always fascinating, however, the steps taken towards self-discovery is forever considered a fabulous journey. Dysfunctional Friends is like a well-worn pair of shoes. However, beaten up they may look like on the outside, the comfort they provide on the inside is always so welcoming. This film rejoices in the importance of friendship, love, self-discovery and the wonderful spirit of perseverance.