Above: Nompumelelo (Phumelele "Phumi" Mthembu) talks to Jaquan (Anthony Goss)
(Photo Credit:  Bonga Nkomo, Courtesy of AAA Entertainment)
South African filmmakers Phumelele "Phumi" Mthembu and Muzi Mthembu are living the independent filmmaker's dream. Together, the brother and sister duo completed their first feature film, African America, which screened at the Pan African Film Festival (PAFF) earlier this year. African America was such a hit with audiences that Netflix acquired the film and debuted it for streaming in July of 2021.
Above: Left: Phumelele "Phumi" Mthembu. Photo by Djiko Demba. Right: Muzi Mthembu. Photo by @Munroe_Portraits. Courtesy of AAA Entertainment.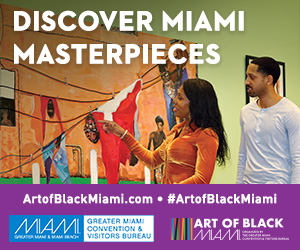 African America opens with a traditional Zulu wedding ritual in which a group of women tell the bride that she must be a good wife. Her identity is no longer hers, and the authority in the household belongs to her husband. That bride is Nompumelelo (played by Phumi Mthembu), a young South African woman who seems to have it all—a doting, new husband, a stable career, and family and friends who love her. Yet, something is missing, and that something eats away at Nompumelelo's ability to be happy with her life.
Nompumelelo's name means success, and she will stop at nothing to pursue her dream of making it in America as a Broadway actress. Driven by her determination and hopes for what could have been, Nompumelelo sacrifices all that is dear to her for a chance to fulfill her wildest dreams. Her restlessness leads her across the Atlantic Ocean to New York City, where adventure quickly gives way to a barrage of formidable challenges.
Actress, producer, and writer Phumi Mthembu based the story on her own experiences as a fledgling artist. As a teenager, Phumi was cast in Zenon: Z3, a 2004 Disney movie. Like Nompumelelo, Phumi left South Africa in search of her big break. In 2014, Phumi arrived in America on a student visa to study musical theater only to be confronted by a set of harsh realities. She found that casting agents either overlooked her or cast her in stereotypical supporting roles. The price tag for city living was also daunting.
"There were a lot of pressures and financial considerations that really started to weigh on me," Phumi says. "There was no reprieve from the hustle, and the burden of that was so heavy." Once her visa ended, Phumi returned home to South Africa feeling downhearted and disillusioned. Instead of allowing her failures to quiet her creative voice, she channeled her energies into the story for African America. Her brother Muzi came on to help write the script and direct the project.
"Working with my sister has been such a beautiful collaboration,because we know each other so well," Muzi notes. "Our references and taste levels are the same. She just gets what it is that I'm trying to communicate, and she also trusts me. She knows that I would never exploit her in any way, so that's been the greatest advantage to working as siblings."
Under South Africa's apartheid, strict censorship laws limited television and film access for many communities of color. "When the apartheid government in South Africa decided to make television widely available for the majority, our parents were part of the first cohort within the industry," Muzi says. "Our parents formed MVP Productions, the production company that made African America, and we have now taken over the business. We're second-generation filmmakers."
While filmmaking in South Africa poses its own unique challenges, Muzi and Phumi agree that there are ample funding opportunities for Black filmmakers in their home country. African America's primary funder was the National Film and Video Foundation (NFVF), a South African government agency. Because the film is set in South Africa and the United States, the filmmakers knew that they would need a solid American producer, so they teamed up with Avril Z. Speaks, who previously  produced the award-winning film, Jinn. Utilizing her connections and knowledge of the American film scene, Speaks relieved some of the pressures of shooting across continents, allowing Muzi and Phumi to fully focus on their creative vision.
"I think everyone feels like you have to be in New York or Los Angeles to make an international production, but what I learned from being overseas is that we have a far greater chance of mounting the barriers that we face as filmmakers from here in South Africa than we do elsewhere," Phumi says.
Currently, the siblings are shooting a drama series as well as working on their second film. The duo's list of dream collaborators includes Spike Lee, Kevin Hart, Will Packer, Oprah Winfrey, Issa Rae, Tyler Perry, and Ava DuVernay. Phumi and Muzi also are interested in exploring the Atlanta film scene because they see value in stories of Black affluence.
"We are from Johannesburg. We are from South Africa," Phumi says. "We love where we are from, and all of our stories will certainly be informed by our context, but we're also confident that we will be able to give Africa a say in what has become an international conversation on Black excellence. We would like to be major contributors to that conversation."
African America. Starring Phumelele "Phumi" Mthembu, Anthony Goss, and Thami Buti. Directed by Muzi Mthembu. Written by Muzi Mthembu and Phumi Mthembu. 96 minutes. Rated TV-MA. Now streaming on Netflix.
April Dobbins is a writer and filmmaker based in Miami. Her work has appeared in a number of publications, including the Miami New Times, Philadelphia City Paper, and Harvard University's Transition magazine. Her films have been supported by the Sundance Institute, International Documentary Association, Firelight Media, ITVS, Fork Films, Oolite Arts and the Southern Documentary Fund. She is a graduate student at Harvard University.