The South Orange Performing Arts Center premiered SLADE: A Family Affair on Thursday. Hauser & Wirth and Fort Gansevoort announced they would co-represent the Winfred Rembert Estate. Marcus Gardley's Black Odyssey cast Jimonn Cole. Mickalene Thomas designed the stage for Dior for Haute Couture Week in Paris. The André Leon Talley collection was slated to be auctioned and toured with Christie's. Adrienne Warren was cast to star in Emma Donoghue's Room. See more in This Week in Black Art and Culture.
SLADE: A Family Affair Opens in South Orange, New Jersey
Thursday marked the opening of SLADE: A Family Affair at the South Orange Performing Arts Center. The father-and-daughter artists featured in SLADE: A Family Affair, Kelvin and Corrine Slade, promote Black art in a variety of genres. Kelvin, who photographs jazz musicians, has an underlying love for the musical genre, which he passes on to Corrine, who uses her admiration of jazz to create soothing abstract environments in her oil paintings. "With each year that passes, I feel more of a kinship with the music," said Corrine. "I wouldn't be the artist or person I am if my dad didn't know the wonders of jazz."
In honor of Black History Month, this show depicts the effect of Black music, particularly jazz, on the artists.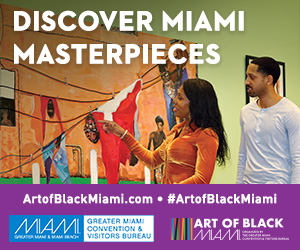 While the Gallery previously featured sister artists, this is the first time the works of a father and daughter will be displayed together. "The exhibit will be unique, thought-provoking, and a wonderful juxtaposition of the mediums of paint and photography," said Jeremy Moss, curator of The Herb + Milly Iris Gallery. Corrine's paintings incorporate the complete color wheel, whereas Kelvin's images are frequently black-and-white. While jazz has served as a springboard for Corrine's art, it is the foundation of Kelvin's work.
Corrine believed jazz was a "cacophonous racket" as a child. In retrospect, her artistic practice was shaped by the genre. "It was roaring, piercing, crooning, sweltering, jutting, and consoling," she said. "Vibrations of catharsis and spirit. It was all the things that make an ideal painting. Jazz encompasses everything through sound that I seek to do visually." The exhibition will be on display from Jan. 26 until March 5.
Hauser & Wirth New York, Fort Gansevoort To Co-Represent Winfred Rembert Estate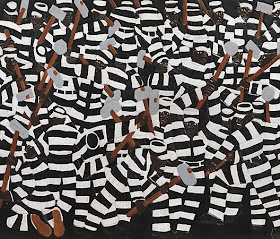 Hauser & Wirth New York announced it would co-represent the Winfred Rembert Estate with Fort Gansevoort. Winfred Rembert's life story, which began in 1945 in the Jim Crow era of the American South, and concluded in New Haven, Connecticut, where he died in March 2021, is one of perseverance and resistance in the face of racial violence and inequity, and of the power of art as a form of witness and reckoning.
Recalling the achievements of African American figurative masters such as Jacob Lawrence, Hale Woodruff and Horace Pippin, Rembert's deeply personal artworks foreground truths about the aftermath of slavery and the persistence of racial injustice in America while also celebrating the people and places of Cuthbert, Georgia's Black community. His unique oeuvre was executed in tooled and painted leather, a craft Rembert learned from fellow inmate "T.J. the Tooler" during seven years of incarceration and hard labor in the Georgia prison system. As a teenager, he was deeply influenced by the civil rights movement and was arrested and charged with car theft. He escaped from jail but later was transferred to multiple penitentiaries, enduring taxing physical labor while working on various chain gangs. He learned how to tool and craft leather from a fellow prisoner and married Patsy Gammage.
At 51, he began a full-time artistic practice and built a unique body of autobiographical paintings. Winfred Rembert's works range from purely illustrative to extremely complex compositions that verge on abstraction. In his early works, he rendered his figures in muted tones, while in other works, bright-colored pigments covered the entire surface of densely packed compositions.
Over time, his compositions accrued as a chronicle of his life through pictorial landscapes of cotton fields and rhythmic compositions of field workers, freedom marches, church services, juke joints and chain gangs in the Jim Crow South. His work, with its corporeal texture, intense color, powerful patterns, and depictions of both hardship and pleasure, takes its place among the most influential American figurative masters.
In 2012, he presented his first major solo museum presentation, Amazing Grace at the Hudson River Museum in Yonkers, New York, which included more than 50 works and incorporated historical photographs of Georgia, as well as gospel music recorded and performed in the museum's galleries by Rembert. When reminiscing on the exhibition's title, the artist said that singing was the only thing about the fields that he loved.
By depicting memories of the most harrowing and joyful moments of his life in scores of visually arresting works of art, Rembert bequeathed a singular visual record to the world. The artist's memoir, Chasing Me to My Grave (with Erin I. Kelly, Bloomsbury, 2021) was awarded a posthumous Pulitzer Prize in 2022. The book chronicles Rembert's life story as told through his dynamic paintings.
Jimonn Cole Cast in Black Odyssey
The cast of the forthcoming Classic Stage Company performance of Marcus Gardley's Black Odyssey has added Jimonn Cole (Hillary and Clinton). Keith Randolph Smith, whose departure from the production owing to an ongoing injury previously was reported, will be replaced by Cole in the role of Paw Sidin.
The show's performances start on Feb. 9. The show is to open on Feb. 26 and run until March 26. Cole joins a cast that also includes James T. Alfred (Jitney) as Deus, Tẹmídayọ Amay (School Girls; or, The African Mean Girls Play) as Benevolence, Harriett D. Foy (Amélie) as Aunt Tee, Marcus Gladney Jr. (Choir Boy) as Malachai Lincoln, Sean Boyce Johnson (For Life) as Ulysses Lincoln, and Adrienne C. Moore (Orange is the New Black) as Alsendra Sabine. 
The ancient Greek poet Homer's The Odyssey is reimagined by Gardley as it follows a soldier called Ulysses Lincoln in contemporary Harlem and incorporates African American history. Ulysses' ancestors and their buried past support him as he travels home and confronts a difficult voyage, appearing to have little control over his own destiny.
Set designer David Goldstein, costume designer Kindall Almond, lighting designer Adam Honoré, props manager Alexander Wylie, music director Linda Tillery, co-music director Molly Holm, choreographer Aquila Kikora Franklin, and assistant director PJ Johnnie Jr. will contribute to the production. The stage manager for the show will be Jakob W. Plummer, and the assistant stage manager will be TaTyana Smith. Victor Vazquez and X Casting handle the casting.
Black Odyssey initially was created and performed at the Denver Center Theatre Company. The play was supposed to be performed by Classic Stage Company last season, but COVID-19 forced the company to postpone the show.
Mickalene Thomas Creates Stage Design in Paris for Dior
A stage design by Mickalene Thomas was the setting for Dior's most recent haute-couture presentation, which made its premiere this week in Paris.
The concept, made public on Tuesday, was proposed to the New York-based artist by the premium brand's creative director, Maria Grazia Chiuri. It was a part of Chiuri's continuous initiative to work with well-known female artists on the runway. This cooperation is Chiuri's second with Thomas to work on the creation of a Dior project. For a presentation in Morocco in 2020, Thomas created a replica of Dior's iconic 1947 bar jacket. Chiuri has previously collaborated with artists including Eva Jospin, Judy Chicago and Anna Paparatti, and even used historical Surrealist painter Leonor Fini's paintings in one presentation.
Chiuri referred to the set for this most recent performance, which took place at the Musée Rodin, as a "creative interaction" between her and Thomas, in the pre-performance notes. The latest offerings from the designer are form-fitting, neutral-toned costumes inspired by female entertainers' attire from the early 20th century.
Collaged black-and-white photographs of 13 Black female performers, including Josephine Baker, Diahann Carroll, Marpessa Dawn, Lena Horne and Nina Simone, were mounted on the walls around the museum's runway floor. Their photos contained embroidered embellishments covered with pink and yellow shapes that were created by India's Mumbai-based artisan collective, Chanakya Atelier and the Chanakya School of Craft.
It's a "moving moment to see these monumental figures take up such space in a setting that celebrates their elegance and talent," Thomas told Angelica Villa of ARTnews.
Black women frequently serve as the primary subject of Thomas' large-scale paintings, and she is renowned for her depictions of them. References used by the artist include personal contacts and archival images.
Christie's Private Collection of Fashion Icon André Leon Talley
With viewings in New York, Paris, and Palm Beach, Florida in February, Christie's New York is to showcase the famous fashion editor André Leon Talley's collection. Talley was the first Black man to serve as the creative director of American Vogue, giving him a coveted position in the fashion world. As seen by his personal collection of haute couture, handbags, jewelry, fine art, books and decorative arts, his discriminating taste went far beyond fashion. The collection is both glitzy and personal, reflecting his decades-long friendships with other superstars like Karl Lagerfeld, Diane von Furstenberg, Ralph Rucci, Tom Ford, Diana Vreeland and Anna Wintour.
The piece by Andy Warhol, with a $150,000-$200,000 estimate, is predicted to bring in the most money for the exhibition. The 1984 candy box illustration in red and black was a gift to Talley from the man who is sometimes referred to as the founder of pop art.
The Abyssinian Baptist Church in New York and Mt. Sinai Missionary Baptist Church in Durham, North Carolina, both of which were dear to Talley, will receive the proceeds from the live and online auctions. The collection of André Leon Talley, named after the chapel he attended as a boy, is slated to be sold live on Feb. 15 and online from Jan. 27 through Feb. 16. Prior to the auction, a selection of highlights will begin a worldwide tour in Palm Beach from Jan. 18-28, continue in Paris from Jan. 19-24 and end in New York.
Adrienne Warren To Star in Emma Donoghue's Room
Following the Tony Award-winning triumph of Tina: The Tina Turner Musical, Adrienne Warren will star in Emma Donoghue's Room at the James Earl Jones Theatre in April. This will be the show's debut Broadway performance. Opening night is scheduled for April 17, with performances starting on April 3. The show is to run through Sept. 17 as a limited engagement.
Based on the 2010 best-selling novel of the same name by Emma Donoghue, Room tells the story of a kidnapped woman who spends seven years imprisoned in a room with her six-year-old son Jack, who never has experienced life outside of the room. The musical Donoghue also modifies the 2015 cinematic adaptation of the piece. In this version, Cora Bisset and fellow Scottish musician Kathryn Joseph contribute songs and music.
"I am truly honored for the opportunity to return to Broadway in a project unlike anything I've done before," Warren said. "There were many reasons I wanted to join this team in telling this story, but most importantly, I wanted to share this beautiful human bond between a mother and her son. This is for all the little Jacks out there determined to hold on to their sense of joy and wonder and all the Mas out there doing their absolute best to live, love, and protect through it all."
The play had its world debut in 2017 at London's Theatre Royal Stratford East before moving to the Abbey Theatre in Dublin the following year. After a scheduled run in 2020 was canceled owing to COVID-19, the play received its North American debut in London, Ontario in 2022. Later, the production was moved to Toronto, where it performed its final show on May 8, 2022.