The San José Museum of Art (SJMA) and Institute of the Arts and Sciences at UC Santa Cruz (IAS) present Sadie Barnette as the next artist in their ongoing series of new commissions, Visualizing Abolition. On view from March 10 through October 15, 2023, Sadie Barnette: Family Business explores the artist's family history as it mirrors a collective history of Black repression and resistance in the United States.
At SJMA, Barnette will debut her first video, extending her work with family and historical documentation and reclaiming histories of violence by foregrounding love and humanity. This newly commissioned video will be displayed in SJMA's galleries in a domestic installation, comprised of drawings, photographs, sculptures, and furniture. The presentation at IAS in Santa Cruz will feature a selection of Barnette's FBI Drawings in a new wallpaper installation and opens April 28 and is on view through September 3, 2023.
"In her work, Sadie Barnette draws from her own family history, knowing that their experiences under state surveillance and violence echo across Black America. With glitter, holographic materials, and hot pink, she reclaims that oppression with love, beauty, and possibility," said Lauren Schell Dickens, chief curator at SJMA.
In her ongoing series FBI Drawings, Barnette works from the 500-page surveillance file amassed on her father, Rodney Barnette, by the FBI. As founder of the Compton, California chapter of the Black Panther Party in 1968 and bodyguard to abolitionist and icon Angela Davis during her infamous San José trial in 1972, Rodney Barnette's everyday movements and activities were under constant surveillance. Barnette creates monumental and painstaking graphite drawings of these clinical documents, covering them with roses and Hello Kitty profiles, effectively smothering records of state-sanctioned terror with Black joy and power.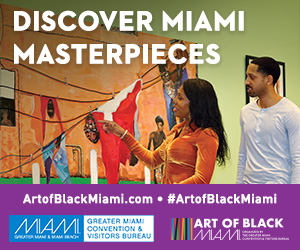 The domestic spaces of living rooms and kitchens play a key role in this history, as the settings where protests are planned, relationships nurtured, where Black love and family thrive on a daily basis. The space of the domestic—which appears in Barnette's work as wallpaper, glitter-covered couches and living room furniture, stereo systems, and family photographs—contradicts official state narratives. The domestic space of familial love and support, proposes an alternate history of Black America, outside of state control, giving space for relationships, love, family, celebration, and hope; all of the things that make up the fullness of human experience which are omitted from official state documents and histories.
Sadie Barnette: Family Business is commissioned as part of Visualizing Abolition, an ongoing initiative exploring art, prisons, and justice. With exhibitions collaboratively organized by the Institute of the Arts and Sciences at University of California, Santa Cruz, and San José Museum of Art, Visualizing Abolition highlights the creative work underway by artists, activists, and scholars to imagine alternatives to current injustices. Visualizing Abolition is organized by UCSC Professor Gina Dent and Dr. Rachel Nelson, director of IAS, in partnership with Lauren Schell Dickens, SJMA chief curator.