This Week in Black Art is sponsored by The Children's Trust
The University of Pennsylvania Museum of Archaeology and Anthropology requests permission to bury 13 Black Philadelphians whose remains were exploited by a white supremacist scientist in the 19th century. Lubaina Himid is to be awarded the Suzanne Deal Booth / FLAG Art Foundation Prize of $200,000. Macy's recreations of Gee's Bend quilts are available online and at select Macy's department stores. The Contemporary Arts Museum Houston exhibits Amoako Boafo's first museum solo exhibition. And Alteronce Gumby's work goes on display next month at Nicola Vassell Gallery, New York.  Read more in this week's Black Art and Culture.
Penn Museum Seeks to Inter Skulls at Black Eden Cemetery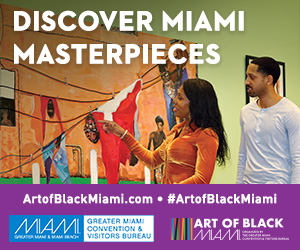 The Penn Museum of Archaeology and Anthropology is asking the Philadelphia Orphans' Court for permission to inter 13 skulls at the city's historically Black Eden Cemetery. The collection of about 1,300 artifacts belonged to 19th-century physician Samuel George Morton, whose racist beliefs on intelligence significantly impacted 20th-century eugenics, and arrived at the museum in 1966.
According to speculation, the skulls belonged to African Americans who were slaves in Philadelphia and were discovered in unmarked graves under the Blocksley Almshouse, a site now occupied by the Penn Museum. Even though Morton's research has been debunked for decades, the Penn Museum will keep his collection on display until 2020 because of its historical significance.
A university student team in 2019 found that 53 skulls from the Morton Cranial Collection, which the museum had purchased in 1966, belonged to people enslaved in Havana, and two others belonged to people enslaved in the United States. The museum removed the items from public display and established an investigation committee the following year.
In 2021, the committee's findings were made public, and the museum announced a three-part action plan with the ultimate objective of returning the artifacts "to their descendants and communities of origin wherever feasible." The repatriation of the remains to the families of the deceased has been a long-standing demand from students and members of the community.
Abdul-Aliy Muhammad, a community leader who worked on the Penn Museum advisory group responsible for choosing the bones' fate, has filed an official complaint about the idea with the Orphans' Court, stating that the descendant communities should be responsible for the skulls. Only one man has been positively identified among the 13 Black Philadelphians, about whom little is known. According to a 2021 study, some likely were slaves whose bodies were excavated from the site of the present-day Penn Museum.
American Anthropological Association committee co-chair Michael Blakey recently told The New York Times, "My colleagues have not demonstrated any scientific value in that particular collection," he remarked. "Ultimately there needs to be a discussion, not only about the ethics of holding human remains without informed consent of their descendants, but in that discussion, we should be weighing the value, or lack thereof, of the research."
Lubaina Himid To Receive Suzanne Deal Booth/FLAG Art Foundation Prize 
Lubaina Himid, a cultural activist and multimedia artist, will receive the 2024 Suzanne Deal Booth / FLAG Art Foundation Prize, presented by The Contemporary Austin. Himid will receive a gift of $200,000 that may be used however she sees fit, in addition to a solo show of her art that will debut at the Texas institution in 2024 and then go on to the FLAG Art Foundation in New York.
The award is one of the largest and most distinguished in the country, created by collectors Suzanne Deal Booth and Glenn Fuhrman. This year's jury consisted of institutional advisor Jonathan Rider, director of The FLAG Art Foundation, and curators Zoé Whitley (Chisenhale Gallery, London), Wassan Al Khudhairi (Contemporary Art Museum, St. Louis), Pilar Tompkins Rivas (Lucas Museum of Narrative Art, Los Angeles), Michelle White (Menil Collection, Houston) and Jonathan Rider (chief curator, Contemporary Art Museum, St. Louis).
A retrospective of the artist's work is now on display at London's Tate Modern. Himid was born in Zanzibar but now lives and works in Preston, United Kingdom. She played an important role as a curator, critic, and educator during Britain's 1970s Black Arts Movement. She established the Blk Art Group, whose work significantly impacted the careers of many Black British artists of the 1980s.
As a result of a rule change in 2017, Himid became the first Black woman and the first individual beyond age 50 to be awarded the Turner Prize. In the years following, she has shown her work in the Sharjah Biennial and the Berlin Biennale, as well as on New York's High Line.
"As a British artist, you don't expect to win an American prize," Himid told Artnews in an interview. "I know people say it all the time when they win things, but I really am honored."
Macy's Sells Gee's Bend Quilts 
Replicas of artisinal quilts from Gee's Bend, Alabama are now for sale on the Macy's website and in select Macy's stores thanks to a partnership with the Souls Grown Deep Foundation and Community Partnership, (Atlanta), Keeco (Hayward, California) and the Artists Rights Society (New York). Prices at Macy's range from $80 to $480 and include six unique patterns on patchwork blankets and cushions.
While Macy's now has only a small number of quilts available, it plans to make them accessible throughout the country. Lucy Mingo, Loretta Pettway, Louella Pettway, Lucy T. Pettway, and Stella Mae Pettway, together with the Souls Grown Deep Foundation, Inc., will receive donations from the proceeds of the sales. The little rural village of Gee's Bend is known for its vibrant abstract fabric sculptures, which have been admired for centuries and hailed as significant additions to the canons of both African American and American art.
There has been a history of selling quilts from Gee's Bend to benefit the local quilters. The Souls Grown Deep Foundation teamed up with the charity, Nest, and the marketplace Etsy last year to expand its online sales. Many current employees are descended from slaves who worked on the cotton plantation founded by Joseph Gee in 1816 and later acquired by Mark H. Pettway in 1845.
A few exhibits have been dedicated to the quilts at institutions, including the Museum of Fine Arts in Houston, the Whitney Museum of American Art in New York, the Smithsonian, and the Philadelphia Museum of Art. They have sold for up to $60,000 from dealer Nicelle Beauchene and can be found in the collections of over 20 prestigious art organizations.
"This Macy's collaboration is another way for the Gee's Bend community to support itself and amplify the voices of its quiltmakers, each of whom receives a significant biographical write-up on the packaging of the bedding," a press release shared with ARTNews says.
Amoako Boafo: Soul of Black Folks at CAMH
Amoako Boafo: Soul of Black Folks at Contemporary Art Museum Houston (CAMH) is Ghanaian artist Amoako Boafo's (b. 1984) first museum solo show. Boafo is recognized for his brilliant use of color and rich improvisational motions, made by finger painting to emphasize his figures' shapes and glowing skin tone. The display features over 30 pieces from 2016–2022, including a site-specific wall painting for CAMH.
Boafo's paintings depict the complexity of worldwide Black existence. Boafo's art centers on Black subjectivity, pleasure, the Black gaze, and extreme caring. This exhibition's urgency and relevancy are heightened by COVID-19, the continual fight against structural oppression, the active countering of anti-Black language, and the monetization of Black bodies in the media.
On display from May 27–Oct. 2, 2022 at CAMH's Brown Foundation Gallery, Soul of Black Folks begins with Boafo's self-portraits. This series was developed privately as a cathartic exercise when the artist resided in Vienna, enduring bigotry and a lack of support for his profession.
By beginning with himself as his main subject, Boafo gained confidence in his work and yearned to produce photographs of others—friends, celebrities, and family. His individuals' high forms are generally isolated on single-color backgrounds, their gaze disturbing. Boafo's art depicts groups embracing, emanating pleasure and togetherness in a period when social separation and touch have gained relevance.
The first three chapters of the program are Boafo's three phases. Boafo's mural at CAMH's exhibit is the concluding phase. This large-scale sculpture illustrates Boafo's creative process and will be the exhibition's throughline.
The Souls of Black Folk by W.E.B. Du Bois inspired the exhibition's title. Du Bois, who is buried near Osu, a district in Accra, Ghana, where Boafo grew up, coined the expression "double-consciousness," which means that Black people must continuously see themselves through the eyes of others. Du Bois's article invites us to consider how Boafo's work confronts an "othered" perspective on the Black body.
Soul of Black Folks focuses on Boafo's topics from all aspects of Black existence. He uses his work to convey the Black diaspora's interconnectedness and cultural overlap. Despite Boafo's physical and mental friction, his subjects are confident and resolute. Boafo's paintings are highly personal and reflect his life as a Ghanaian artist in Vienna and Accra. His paintings celebrate his identity, Black people, and Blackness. They're more than portraiture; they affirm Black people's dignity and value.
Alteronce Gumby Represented by Nicola Vassell Gallery
Nicola Vassell Gallery, New York has announced the representation of Alteronce Gumby, a contemporary abstract artist known for his vivid interstellar paintings that emerge from his profound fascination with the cosmos and theories of energy. His prismatic fields add new perspectives to the history of abstract painting by proposing deliberate connections between color, society and the universe. His solo exhibition with the gallery opens this September.
Alteronce's desire to interpret unknown territory is enhanced by his query into how societal conditions impact life on our planet. His practice serves as a portal into untouched worlds. It is in this context that Alteronce develops his extraterrestrial vistas.
Nicola Vassell, the gallery's founder, said, "I'm thrilled to welcome Alteronce Gumby to the gallery and look forward to supporting the development of his career blueprint. Alteronce's work, at its core, harnesses principles of energy. It is as fundamental and scientific, as it is cosmic and profound. His journey is faceted and insightful and one that I am electrified to partake in."
The physical and aesthetic properties of material, as well as its conceptual implication, inform Alteronce's practice. His use of resin's performative elements, tempered glass, fractured into innumerable pieces and painterly landscapes, populated by a myriad of gemstones, reflect the exertion and time required to generate these dynamic outcomes.
Alteronce conducts extensive research on his materials, examining their historical uses, kinetic abilities and ocular qualities. Once coalesced, these materials form unpredictable surfaces, alluding to the greater forces at play in the universe.
Born in Harrisburg, Pennsylvania, Alteronce Gumby resides in New York City. He received his Bachelor of Fine Arts from Hunter College in 2013 and his Master of Fine Art in painting and printmaking from Yale School of Art in 2016. He was a resident artist at the Rauschenberg Foundation in Captiva Island, Florida in 2019. In 2017, he completed a residency as the Harriet Hale Woolley scholar at the Foundation des Etats-Unis in Paris. 
Solo exhibitions of his work include Cross Colours, Bode Projects, Berlin, 2021; Somewhere Under the Rainbow/The Sky is Blue and What Am I, at Charles Moffett Gallery, New York and False Flag, New York, 2021; Alteronce Gumby: My Favorite Color is a Rainbow, Parrasch Heijnen Gallery, Los Angeles, 2020; When the Nightmare Comes – I Believe, Long Gallery, New York, 2019; Black(ness) is Beautiful, the Fondation des Etats-Unis, Paris, 2017 and Reading Rainbows, Long Gallery, New York, 2017. Alteronce's work is held in the collections of the Studio Museum of Harlem and the Pizzuti Collection of the Columbus Museum of Art, Ohio, among others.
-Compiled by Sumaiyah E. Wade