This Week in Black Art and Culture is sponsored by The Children's Trust

Ernie Barnes' Solid Rock Congregation hits the auction block this fall at Bonhams New York. The Board of Trustees of the Academy Museum of Motion Pictures announces the appointment of Jacqueline Stewart as the institution's director and president. Germany begins returning more than a thousand Benin bronze medals to what is now Nigeria. Read more in this week's Black Art and Culture.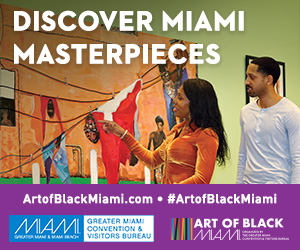 Solid Rock Congregation To Be Auctioned at Bonhams New York

A piece by artist Ernie Barnes depicting a lively Sunday church service will hit the auction block this fall at Bonhams New York, following a summer tour to London and Los Angeles. A breakout star of the spring season, Barnes' Solid Rock Congregation (1993) is another exemplary painting from his oeuvre depicting an energetic, multi-figure composition with strong emotional resonance. Barnes conveys the euphoric, rhythmic music deeply rooted in gospel churches of the American South, painting a Sunday morning church scene brimming with people singing, dancing, and playing instruments through his unique painting style, capturing movement and passion. 

Estimated at $500,000-$700,000, Solid Rock Congregation will be offered in a single lot live auction on Sept. 9 in New York. The work has never been seen by the public before and has resided with American gospel singer Margaret Bell, who commissioned the painting and is depicted in the work singing into the microphone. Ms. Bell became a friend of Barnes after meeting him through the NFL. Like the artist, her then-husband, Keith Byars, played football in the NFL. 

After releasing a record with Warner Alliance Records in 1991, Ms. Bell recalls sitting in Barnes studio and him saying, "After hearing your voice, Margaret, I can envision a wonderful piece, full of color, movement and music! If you commission me, I will create it for you!" 

Barnes dedicated himself full-time to art after his professional football career and became a leading 20th-century artist. He is known for elongated figures, capturing his observations of African American life where he grew up in North Carolina and where he lived in Los Angeles. Barnes' work has appeared throughout pop culture on album covers, on television and in movies. He was the official artist of the 1984 Summer Olympic Games in Los Angeles. 

Featured on the album cover of The Crusader's Ghetto Blaster from 1984, Barnes' painting, The Maestro recently was sold at a Bonhams American Art sale for $882,375. "Following the success of The Maestro, Bonhams was pleased to learn about this unknown work that is clearly a masterpiece by the artist," commented Andrew Huber, senior specialist and head of sales for post-war and contemporary art at Bonhams New York, "and we are thrilled to show it to the public for the first time." 

The work will be on preview at Bonhams New Bond Street in London on June 25 and will head to Bonhams Los Angeles on July 27, then reach its final stop at Bonhams New York starting Sept. 1, where it will be previewed alongside two contemporary art exhibitions from Bonhams Post-War & Contemporary Art Department.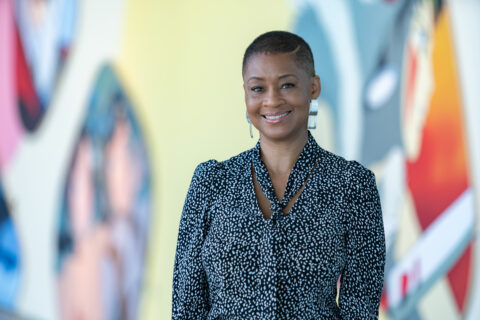 Above: Jacqueline Stewart

Jacqueline Stewart Instated at the Academy Museum of Motion Pictures

The board of trustees of the Academy Museum of Motion Pictures has announced the appointment of Jacqueline Stewart as the institution's director and president. One of the world's leading scholars, curators, and public educators on cinema, she was appointed in 2020 as chief artistic and programming officer of the museum. She assumes her duties as director and president on July 18 and will guide the vision of the Academy Museum and oversee all aspects of its operations. 

She succeeds Bill Kramer, who was appointed CEO of the Academy of Motion Picture Arts and Sciences last week. Bill Kramer said, "It has been a great privilege to work hand-in-hand with Jacqueline as we opened the Academy Museum. I am thrilled that we will continue to collaborate in our two new roles. I know the museum will thrive thanks to her rare combination of expertise, creativity, and proven leadership. Like movie fans everywhere, I am so thankful to have her guide the future of the Academy Museum." 

Jacqueline Stewart said, "Our ambition in opening the Academy Museum was to give Los Angeles and the world an unprecedented institution for understanding and appreciating the history and culture of cinema, in all its artistic glory and all its power to influence and reflect society. I feel deeply honored to have been chosen for this new role and look forward to working with our board of trustees, our COO and General Counsel Brendan Connell Jr., our wonderfully talented staff, and with Bill Kramer and the Academy, as we continue to advance our mission." 

As chief artistic and programming officer, Stewart has led strategy and planning for the Academy Museum's curatorial, educational, and public programming initiatives, including exhibitions, screenings, symposia, publications, workshops, youth programs, and the Academy Museum Podcast. Honored in 2021 as a MacArthur Foundation Fellow, she was a 2019 senior fellow at the Smithsonian Institution's National Museum of African American History and Culture (NMAAHC) and was inducted into the American Academy of Arts and Sciences in 2018. 

She holds an appointment as professor of cinema and media studies at the University of Chicago and previously served on the faculty of Northwestern University. Stewart's work in expanding public understanding of cinema and bringing film history to life has included her award-winning book, Migrating to the Movies: Cinema and Black Urban Modernity, a study of African Americans and silent cinema, her co-editorship of L.A. Rebellion: Creating a New Black Cinema, and William Greaves: Filmmaking as Mission. A native of Chicago's South Side, Stewart founded the South Side Home Movie Project in 2005 to preserve, digitize, and screen amateur footage documenting everyday life from the perspectives of South Side residents. 

Benin Bronzes Returned 

Last Friday, Germany finalized a contract to start returning more than a thousand Benin bronze medals to what is now Nigeria. After Germany originally declared that it would start returning the bronzes last year, the agreement was signed by German Foreign Minister Annalena Baerbock, Culture Minister Claudia Roth, and Nigerian Foreign Ministers Zubairu Dada and Lai Mohammed. The first two relics, an 18th-century king's head known as an oba and a plaque with a complex design from the 16th century, were returned and given to Nigerian representatives. 

Various collections purchased hundreds of the medals, including the Ethnological Museum in Berlin, which is thought to have about 530 items, including 440 bronzes and is home to one of the largest collections of historical artifacts from the Kingdom of Benin. Many of them were created between the 16th and 18th centuries. It will be up to Nigerian officials to select which items they want back after ownership has changed hands and which ones they would lend to German museums as cultural ambassadors for Nigeria. The collection at Ethnological is regarded as the most significant outside the British Museum in London. 

Hundreds of Kingdom of Benin artifacts still are housed in London's British Museum, despite repeated requests for their release. "The British Museum remains committed to thorough and open investigation of Benin collection histories," the museum said in an emailed statement reported by the Washington Post. "This includes fully acknowledging and understanding the colonial history which forms the key context for the development of the Museum's Benin collections." 

Philadelphia's Harriet Tubman Memorial Selection Process Criticized

The city government of Philadelphia's proposal for a new monument honoring Harriet Tubman has drawn criticism for selecting white artist Wesley Wofford to create the permanent sculpture without soliciting submissions from other designers. The monument Harriet Tubman: The Journey to Freedom, created by North Carolina-based sculptor Wofford, was on display outside Philadelphia's city hall from January through March. 

Originally intended to be a traveling display, it has been relocated to White Plains, New York. The monument then will travel to several cities around the state in 2022 before being erected permanently in November 2023. On June 15,  the Office of Arts, Culture and the Creative Economy held a virtual public engagement session about the development of Philadelphia's permanent Harriet Tubman statue by artist Wesley Wofford. The recording includes background, a historical timeline, a review of the themes, and an open discussion with attendees. 

"I think the elephant in the room is my gender and the color of my skin, and it would be naïve to not acknowledge and discuss that," Wofford told Artnet News in an email. "When I look at the National Monument Audit by Monument Lab, the job we have ahead of us is enormous," Wofford added. "If every American figurative artist alive today were to work full time on monuments commemorating underrepresented groups and stories, it will still take us decades to even begin to level the playing field in our public squares. We all need to work together to make our public spaces represent our collective, authentic, and diverse achievements." 

Philadelphia officials also have distributed a survey to the general public, the results of which are due on July 13; they are asking for thoughts on the project. The public memorial will cost $500,000 to build. The city ordinarily would issue an open call to more artists but recently has reversed this custom in an unprecedented and highly publicized manner. At the virtual discussion, a number of artists and historians objected to the decision to commission Wofford without taking alternative submissions from Black artists into consideration.

-Sumaiyah E. Wade