This week in African art and culture, we bring you exciting news focused on the literary art scene that intriguingly shows its rapid, progressive growth on the continent in recent times. Another notably inspiring highlight this week is work by emerging voices in the space from many countries in the continent. Today, one can seize the chance to get to know many of the promising voices of African literature.
Despite the strides and celebration contained in these highlights, sadly, we also bear news of loss with the passing away of another great contributor to the literary scene in Africa.
Kendeka Prize for African Literature 2022 Longlist Announced
The longlist for the Kendeka Prize for African Literature 2022 was announced on Sept. 1, 2022.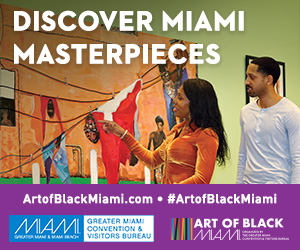 The Kendeka Prize for African Literature is awarded for the best piece of an unpublished short story, either fiction or creative nonfiction. The first edition of the prize, founded by Kenyan writer and publisher Andrew Maina, was awarded to Botswana writer Jenny Robson in 2021.
The judges' panel, chaired by academic and writer Dr. Siphiwo Mahala, includes novelist Bisi Adjapon and editor and columnist Faith Oneya. This panel announced the longlist of 10 stories from 21 African countries that entered for the prize. The longlist is as follows:
Chained, Scholastica Moraa (Kenya)
Star Boy, Adaoro Raji, (Nigeria)
Isithunzi, Beverley Ann Abrahams (Zimbabwe)
The Weight of Grief, Ewa Gerald Onyebuchi (Nigeria)
Ashes on Platters of Gold, Ola W. Halim (Nigeria)
Bittersweet, Like Lemonade, Chiemeziem Everest Udochukwu (Nigeria)
Anchor for the Baby, Ibrahim Mustapha Enesi (Nigeria)
Until Mushrooms Sprout, Joe Nyirenda (Zambia)
The Judgement, Agomuo Juliana Chinaza (Nigeria)
Luckiest Bastards, Uchechi Princewill Akachi (Nigeria)
On Sept. 15, 2022, a shortlist of five stories will be announced before the top three winners are announced during the award ceremony to be held on Sept. 24, 2022 at the Fourteen Falls Leisure Lodge, Thika, Kenya.
2022 Winners for Vweta Chadwick Poetry Prize Announced
The winners of the Vweta Chadwick Poetry Prize have been announced. The Vweta Chadwick Poetry Prize celebrates the memory of Vweta Chadwick, the founder of Project ASHA, who passed away in July 2020. This year, up to 500,000 Naira (U.S. $1,181) was awarded to four winners. The poems of the senior prize winners will be published in an anthology along with Chadwick's poems and on Project ASHA's website. Project ASHA is a nonprofit organization aimed at advancing the basic rights of marginalized women and children with disabilities.
Juliet Nnaji was the overall winner for her poem titled From a Place, while Favour Idaka Imoke and Obasiota Maryhilda Ibe came in second and third place, respectively. Jeremy Benson won the Junior Category Prize. The winners were announced on Aug. 6 at a virtual event.
Earlier in the year, the organization invited young female poets under the age of 24 to write on the theme of "Invisible Disability." In hopes of winning the prize, 70 poets across Nigeria submitted entries. Twelve poems were shortlisted for the finals, judged by renowned poets, speakers and publishers, such as Iquo Diana Abasi, Ella Fortte, David Olajide and Adedayo Agarau.
Nnaji is a poet and author of three books, including Would Never Be Silent Again. As a spoken word artist, she has performed at several events, including LIPFEST 2021, Cedar Fest 2020, Moonlight Tales 2019, and World Poetry Day 2019, where her poem, If the Country is a Book was personally selected by Wole Soyinka for the Lagos-based event.
In From a Place, Nnaji uses the power of the spoken word to explore mental health struggles experienced by Nigerian women. The judge, Ella Fortte remarked, "Juliet Nnaji is a poet people should look out for, who uses her words as a tool of change." In a video in which she reads her winning poem, Nnaji remarks that the theme of invisible disability is close to her heart, having witnessed the many sacrifices made by her mother while growing up.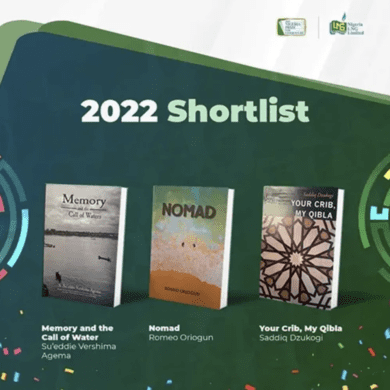 NLNG Nigeria Prize for Literature Unveils 2022 Shortlist for Poetry
The longlist for the NLNG Nigeria Prize for Literature 2022 is known as the richest on the continent. It is funded annually by oil firm NLNG. The prize was started in 2004 to honor Nigerian authors in the four genres of fiction, poetry, drama, and children's literature. The award, worth U.S. $100,000, makes it the richest in African letters today. Over the last several years, winners were Cheluchi Onyemelukwe-Onuobia (2021), Jude Idada (2019), Soji Cole (2018), Ikeogu Oke (2017), Abubakar Adam Ibrahim (2016), Sam Ukala (2014), Tade Ipadeola (2013), and Chika Unigwe (2012).
The judging panel for 2022 is professor Sule Emmanuel Egya (Chairman), Toyin Adewale-Gabriel and Dike Chukwumerije. The advisory board includes previous winners, professor Akachi Adimora-Ezeigbo (chair), professor Olu Bafemi and professor Ahmed Yerima.
This year, the prize focuses on poetry. The 11-member longlist, announced July 8, was narrowed from 287 entries, from which the shortlist was revealed this week. The three works shortlisted for the prize include:
Memory and the Call of Water, Su'eddie Vershima Agema – In this collection, there is a consistent use of memory to reflect on life and destiny through the metaphor of water.
Nomad, Romeo Oriogun – The collection has a fresh language and a nostalgic engagement with the themes of exile and displacement.
Your Crib, My Qibla, Saddiq Dzukogi – This volume translates tragedy into lyrical poetry with pathos and effortless imagery.
Romeo Oriogun reacted to the shortlist by saying, "I am stunned and so happy to know that my collection, Nomad, is on the shortlist for the one hundred thousand dollars NLNG Nigeria Prize for Literature."
Saddiq Dzukogi said, "I am stunned, and delighted that my book, Your Crib, My Qibla, is shortlisted for my country's highest literary honor, @NGRLitPrize @Sueddieagema, @SonOfOlokun , one of us is about to make $100,000!!! I am honored to be standing alongside you! It's a good morning!"
Su'eddie Vershima Agema said, "Excited to be on this list with my brothers, Romeo and Saddiq M, who I love dearly and with whom I have walked many literary paths. This is a win on many fronts, and I am humbled that we are the faces around which this spectacular story is being told. Coming on the heels of Tares Oburumu's Sillerman Prize, this says much. To every creative out there and those toiling, keep on keeping on. Sefi Attah is right: Everything good will come."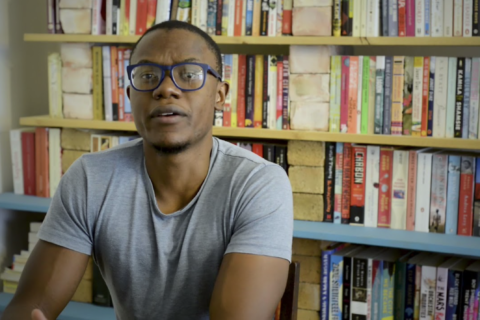 Above: Rémy Ngamije
Rémy Ngamije and Mac Donald Dixon Appointed Commonwealth Short Story Prize Judges for 2023 
Rémy Ngamije and Mac Donald Dixon have been appointed judges of the Commonwealth Short Story Prize 2023.
The Commonwealth Short Story Prize is awarded for the best piece of unpublished short fiction in English in the regions of Africa, Asia, Canada, Europe, the Caribbean, and the Pacific. Each of these winners is then eligible for the global prize. Previous winners in the Africa region have been Jekwu Anyaegbuna (2012), Julian Jackson (2013), Jennifer Nansubuga Makumbi (2014), Lesley Nneka Arimah (2015), Faraaz Mahomed (2016), Akwaeke Emezi (2017), Efua Traoré (2018), Mbozi Haimbe (2019), Innocent Chizaram Ilo (2020), Rémy Ngamije and Roland Watson-Grant (2021) and Ntsika Kota (2022). Jennifer Nansubuga Makumbi won the global prize in 2014.
The judging panel for the 2023 edition of the prize is to be chaired by Pakistani writer and translator Bilal Tanweer. His fellow judges, drawn from the five regions of the Commonwealth, are Rwandan-born writer, photographer, and editor, Rémy Ngamije (Africa), Sri Lankan author and publisher Ameena Hussein (Asia), Canadian writer and critic Madeleine Thien (Canada/Europe), poet and New Zealand's former poet laureate, Dr. Selina Tusitala Marsh (Pacific), and poet and novelist Mac Donald Dixon from Saint Lucia (Caribbean).
Bilal Tanweer said, "The calling of literature is nothing less than to reimagine what it means to be human. I am delighted and honored to chair the 2023 Commonwealth Short Story Prize, an invitation for writers across the Commonwealth's vast and disparate literary geographies to enter a global conversation about our place in the world, to revive old connections, to build new understandings of ourselves and each other. I greatly look forward to working with my fellow judges, reading the submissions and discovering, again, what it means to be alive in these times."
The Commonwealth Short Story Prize is accepting entries until Nov. 1, 2022. The competition is administered by the Commonwealth Foundation, is open to citizens of all Commonwealth countries, and is free to enter. Now in its 12th year, the prize is awarded for the best piece of unpublished short fiction (2,000–5,000 words). The five regional winners receive £2,500 (U.S. $2,878), and the overall winner receives £5,000 (U.S. $5,756).
In addition to English, submissions are accepted in the original Bengali, Chinese, Creole, French, Greek, Malay, Portuguese, Samoan, Swahili, Tamil and Turkish languages. Stories that have been translated into English from any language also are accepted, and the translator of any story that wins (regional or overall) also receives prize money.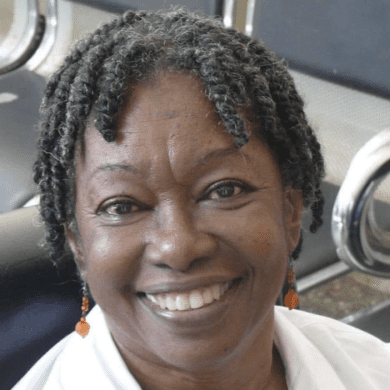 Above: Yema Lucilda Hunter
Sierra Leonean Librarian, Novelist, and Biographer Yema Lucilda Hunter Passes Away 
Sierra Leonean librarian, novelist, and biographer Yema Lucilda Hunter passed away at 79 in Accra, Ghana.
Yema Lucilda Caulker was born in Freetown, Sierra Leone on July 15, 1943 to Richard Edmund Kelfa-Caulker and Olivette Hannah Stuart. Her father, a diplomat and educationist, became the first African principal of the Albert Academy and later had a distinguished diplomatic career, including serving as Sierra Leone High Commissioner to the United Kingdom and Ambassador to the United States. Her mother came from a prominent African-Caribbean family. Her grandfather, Melvin Stuart, was the Collector of Customs from the Bahamas who arrived in 1878 to work for the colonial administration.
For many years, she worked as a librarian for the Sierra Leone Library Board in the medical library at Connaught Hospital in Freetown before going to Congo-Brazzaville to head the Library and Health Information unit at the Regional Office for Africa of the World Health Organization. She took early retirement in 1999 and, in that same year, was made a Fellow of the British Library Association.
Hunter authored six novels and a work of nonfiction: Road to Freedom (1982), Mother and Daughter: Memoirs and Poems (1983), Bittersweet (1989), An African Treasure: In Search of Gladys Casely-Hayford, 1904-1950 (2008), Builders: The Annie Walsh Story, 1849-2009 (2009), Nanna (2014), Her Name Was Aina: A Historical Novel (2018).
Compiled by Roli O'tsemaye