This Week in Black Art and Culture is sponsored by The Children's Trust
This week in Black art and culture, The Black Art Experience announces it will partner this spring with the annual Expo Chicago exhibition for a specially curated weekend. The Hauser and Wirth Institute gives almost $650,000 to The Studio Museum and Pratt Institute. The Metropolitan Museum of Art commissions Lauren Halsey for the Iris and B. Gerald Cantor Roof Garden Commission. Kid Cudi is about to make his directing debut with Teddy, produced by Jay-Z. 
The Black Art Experience x Expo Chicago
The Black Art Experience, founded by Kendra Walker, is teaming up with the annual Expo Chicago exhibition for a curated weekend April 7-10. The show aims to address the lack of representation among Black fine art collectors and provide attendees a "full understanding of the Black Art Ecosystem" in the city.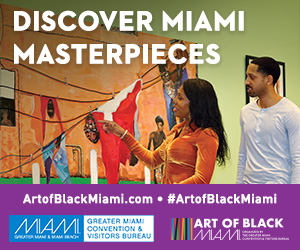 The event provides VIP access to Expo Chicago: special museum tours with Black curators, private studio visits, a panel discussion, and more to address the lack-of-visibility issue. Kendra Walker, an art writer and advisor based out of Atlanta, also is the founder of Atlanta Cultural Weekend. She received her bachelor's degree in psychology and fine art from Georgia State University in addition to studying art and architecture in numerous European cities. 
Walker has contributed to gallery catalogs such as Mariane Ibrahim Gallery in Chicago and Illinois and Roberts Projects in Los Angeles, and to editorial publications such as Artnet News, The Art Newspaper, Artsy, Galerie Mag, Cultured Mag, Contemporary &, and Sugarcane Magazine. 
The Chicago Bulls, Soho House, Buttah by Dorion Renaud, and La Fête du Rosé are among the Black Art Experience x Expo Chicago partners, with Kavi Gupta Gallery, Monique Meloche Gallery, Mariane Ibrahim Gallery and Patron Gallery among the participating galleries. Jake Troyli, Carmen Neely, Leasho Johnson, Bethany Collins, Devan Shimoyama and Zohra Opoku are among the artists performing as part of the multi-day event. 
Hauser and Wirth Institute Gives Almost $650,000 to Underserved Nonprofits 
The Hauser and Wirth Institute (HWI) has given $360,000 to The Studio Museum in Harlem to process and digitize institutional archives over three years. It also is providing $280,000 to cover the full tuition of two graduate students entering Pratt Institute's dual-degree master's program in library and information science and history of art and design. 
The Studio Museum's Archives contain over 50 years of records of exhibitions, events, artist-in-residence programmatic materials and other historic images and documentation. A preliminary assessment of the archives and high-level organization was accomplished through a recent grant from the Henry Luce Foundation. 
HWI's $360,000 grant will support the employment of archivists and fellows in organizing and digitizing these materials over three years. As records are processed and digitized, they will support education, research and curatorial practices. 
"The pandemic created many challenges, but it also made space for us to step back and assess where the gaps in funding and support are, and how we could best serve those working with artists' archives," Hauser & Wirth Institute Executive Director Lisa Darms said in a statement. "It was out of this reflection and dialogue that we chose to fund The Studio Museum, student archivists, and progressive nonprofits and collectives that expand access to archives for communities that have been underfunded and underrepresented." 
These endowments complement HWI's $60,000 award to Sixty Inches From Center, Asia Art Archive, and YVR Art Foundation in 2021, which will fund creative archive initiatives that enable communities of artists, archivists and scholars to preserve and promote their own cultural history. 
"One of the things we're trying to do is set a new precedent for models of philanthropy in art, because I don't think anyone in the art world is doing this, and having talked to archival institutions, really what people need is money to process archives and digitize them," Darms said. "It's massive amounts of materials, but it's not a very sexy thing to fund right now, so we thought, let's make a major gift that really shows that, yes, you could endow the wing of a museum, or you could help preserve the historical record into the future." 
L.A.-based Artist To Design Sculpture for The Met's Roof Garden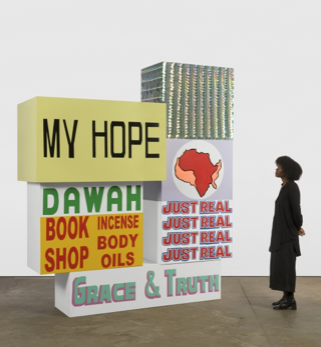 Above: Lauren Halsey| My Hope, 2020 | acrylic, enamel, and CDs on foam and wood | 116 x 101 x 36 inches | (294.6 x 256.5 x 91.4 cm)
The Metropolitan Museum of Art announced Monday that Lauren Halsey, a Los Angeles-based artist, has been commissioned to design the next garden rooftop project, dubbed the eastside of south central los angeles hieroglyph prototype architecture (I). The site-specific sculpture will be a large-scale building with symbolism evoking utopian architecture, ancient Egyptian art, street art and other elements reflecting South Central. It will be shown in South Central Los Angeles after being presented at the Met, where it will be on exhibition from May 17-Oct. 23. 
"Engaging with the past, while also exploring a space of speculative imagination, Halsey offers us a powerful statement about civic space, social activism and a reconsideration of the possibilities for architecture and community engagement," said Max Hollein, the Met's director. The Met Iris and B. Gerald Cantor Roof Garden Commission was founded in 2013. The sculpture is the 10th in a series of site-specific commissions for the outdoor space. 
Halsey was an artist in residence at the Studio Museum in Harlem after receiving her Master of Fine Arts from Yale in 2014. Her artwork was chosen for the 2019 Frieze Artist Award, a commission for new artists backed by the Luma Foundation. 
Sheena Wagstaff, Leonard A. Lauder Chair of Modern and Contemporary Art, commented, "Halsey's activist vision offers a portal into the near future. She has created a monument to living architecture, carved exquisitely with a pictographic vernacular that meshes ancient hieroglyphs with the visual motifs of her home and community. It proposes an urgent paradigm, an ancient-modern vessel that carries a radical message, a vital corrective to the inequality of lived experience today, both nationally and globally. It proposes the vital tenets of a new civilization characterized by truth and justice. Like the ancient Egyptians, she anticipates a meaningful afterlife for her work, which will be displayed in South Central Los Angeles after its debut at The Met." 
The exhibition is supported by Bloomberg Philanthropies. Additional support is provided by Cynthia Hazen Polsky and Leon B. Polsky and Vivian and Jim Zelter. The exhibition will be accompanied by a publication that will include an interview between Halsey and poet, performer and librettist Douglas Kearney and an essay by Abraham Thomas, Daniel Brodsky Curator of Modern Architecture, Design, and Decorative Arts, at The Met's Department of Modern and Contemporary Art. The publication, priced at $9.95, will be available at The Met Store in June 2022. 
Kid Cudi's Directorial Debut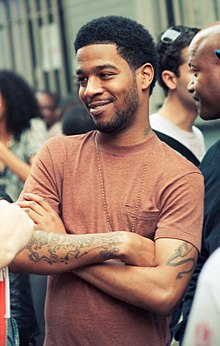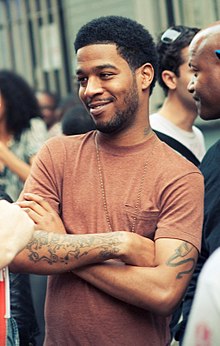 Above: Kid Cudi. Photo by brinksnaps.
Kid Cudi is preparing to make his feature-directing debut with Teddy, a new Netflix film that he also wrote and will appear in. It will be produced by Jeymes Samuel (The Harder They Fall's filmmaker), Shawn "Jay Z" Carter, James Lassiter, Mad Solar (his production and management company) and Bron. 
"This is a story I started writing in 2013, because I always wanted to write my own movie, so I said [f—k] it and started doing it," Cudi wrote in an Instagram post on Tuesday. He currently is starring in Ti West's horror thriller X, which premiered at SXSW earlier this month and is now in cinemas. Last year, he starred in the films Bill & Ted Face the Music and Don't Look Up, both of which were nominated for Academy Awards. 
Teddy is Scott Mescudi's (the name Kid Cudi goes by on camera) second collaboration with Samuel, Carter, Lassiter, and Netflix Vice President Tendo Nagenda, following his contribution to their soundtrack, the song Guns Go Bang late last year. The soundtrack for the film received accolades from the African American Film Reviewers Association (AAFCA) and nominations from the Broadcast Film Critics Association, among other critics and guilds. Disney+'s sci-fi entry Crater and Brittany Snow's September 17th, the latter of which will mark Cudi's fellow X star's directorial debut, are two upcoming projects.
– Sumaiyah E. Wade