This week in African art and culture, we bring highlights from a phenomenal all-female group show in Lagos, Nigeria that captures various interpretations of the expression of femininity and womanhood. 
In Zurich, a South African artist has a mind-blowing solo exhibition on view in which he translates his cherished childhood experiences into a dream-like show.
As we draw closer to the opening of the 59th Venice Biennale, more African countries announce their participation, including Ghana, which had a remarkable debut at the last edition. Expectations are high for what will be presented this year.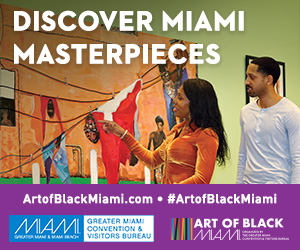 To round up a stellar week, a young, thriving Nigerian artist with exceptional visual language has caught the attention of an international celebrity collector.
Affinity Gallery Presents All-Women Group Show: I Am & … Nothing Else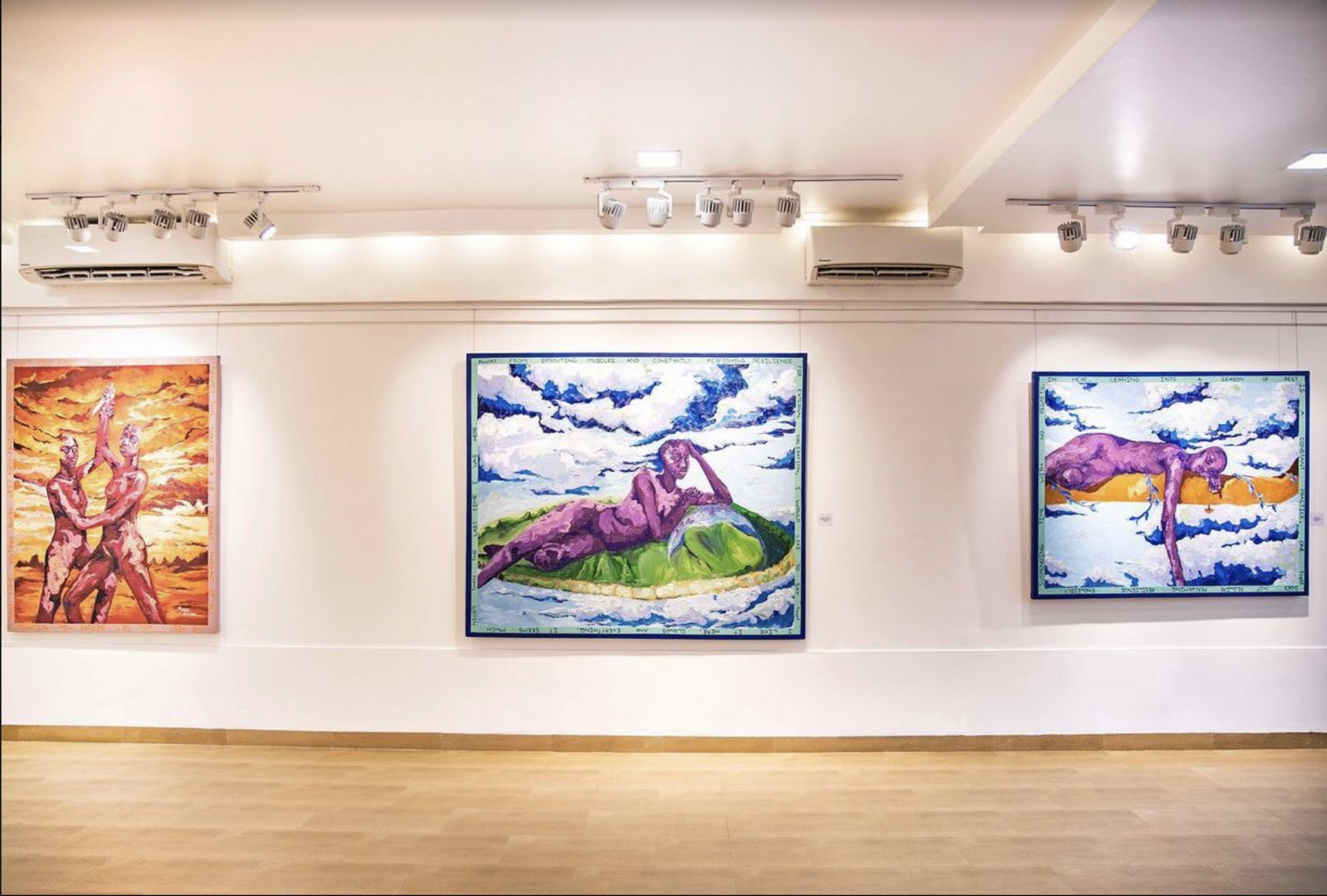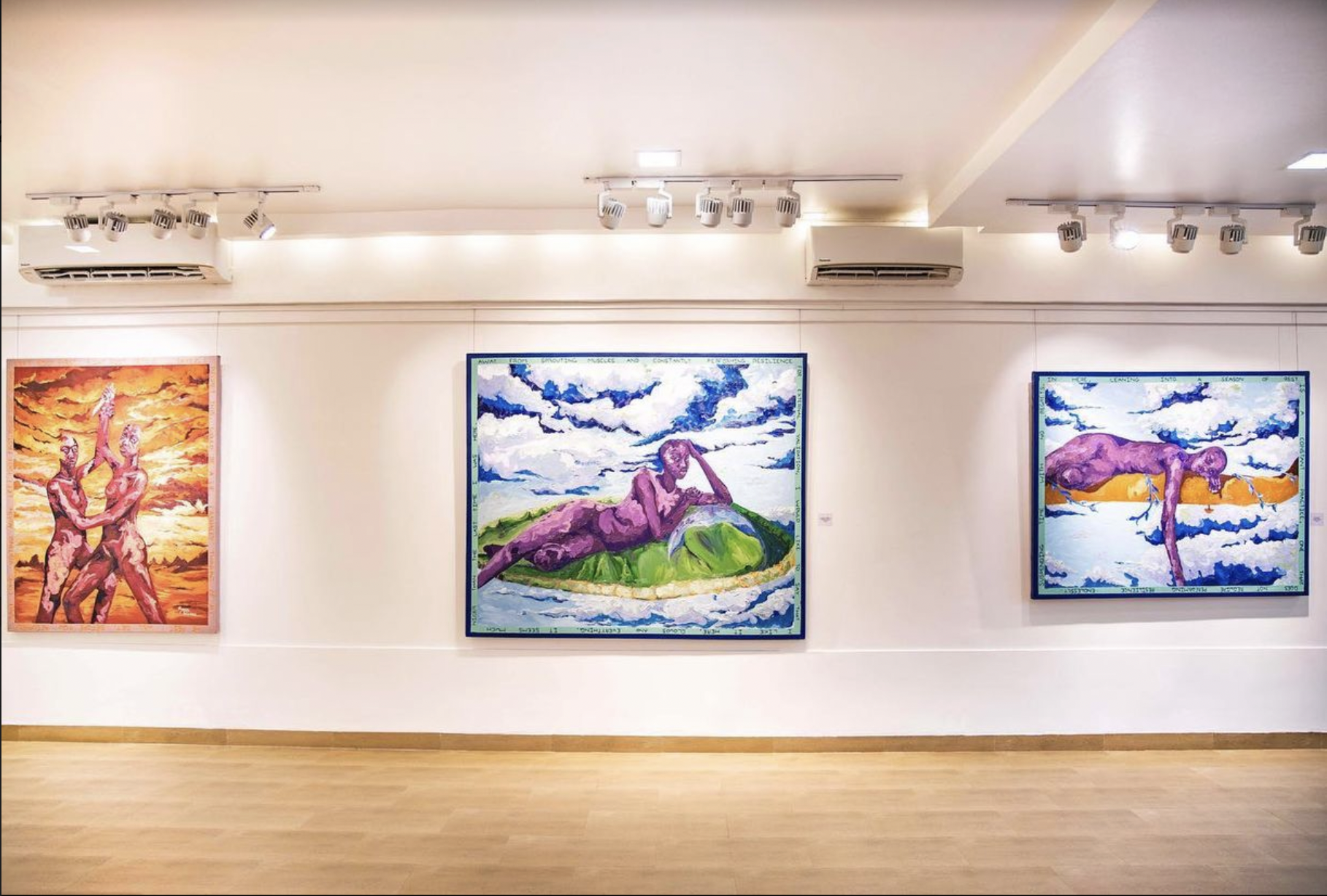 Above:  I Am &…Nothing Else | Installation View | Affinity Gallery | 2022
In celebration of International Women's month, Affinity Art Gallery has presented a stunning group exhibition in Lagos, Nigeria, titled I Am & … Nothing Else, featuring five visionary female artists from Nigeria and South Africa. The exhibition draws inspiration from the book Women Who Run with the Wolves: Myths and Stories of the Wild Woman Archetype by psychoanalyst, author and poet Clarissa Pinkola Estes.
The exhibition engages with themes of healing, identity, community, wholeness, femininity and what it takes to exist in today's world as an African woman while paying homage to past generations. Through the medium of materials such as lace, fabric, gold leaf and embroidery, the works lend texture and nuance, revealing that African women simultaneously can embody softness, fortitude, delicacy and resiliency. 
The artists—Donna Duke, Nene Mahlangu, Roanna Tella, Buqaqawuli Nobakada and Tomilola Olumide—draw connections across time and space to the emergence of the African woman as a wholesome being.
Inspired by people around her, Donna Duke's work is a contemplative study of the unknown possibilities of walking into new scenarios, situations and territories in the exploratory phase in the life of a young woman. The use of materials such as motifs of gold and copper leaf in Duke's work signifies the need for recognition of power, fortitude and strength in the historical and
contemporary context through Black female storytelling. 
The figures in Nene Mahlangu's works depict vulnerability, healing, confidence, wholeness and a transcendent sense of power. Her works are evocative and thought-provoking, reasserting the rhetoric of authority of the female voice in the everyday world. 
Roanna Tella creates an alternate reality by situating herself in dreamscapes where she gets to be at rest and unperturbed by external expectations of the chaos in her present reality. Tella incorporates hand-sewn narrative embroidering texts along the borders of her paintings, which serves as a meditative practice, helping her think through the work.
Using the relationship between paint, paper and lace, Buqaqawuli Nobakada celebrates women for simply being, challenging the notion that women have to be strong. Instead, lace serves as a metaphor for the delicacy, beauty and complexity of the women she is surrounded by. 
Tomilola Olumide's absorbing three-dimensional installation responds to the language, gestures, tones and microaggressions towards women in a misogynistic society. Through her sculptural medium of "fabric drawing, "she envisions a world where women can be "the very best versions of ourselves" without being oppressed, restricted or compromised by irrational and systematically regressive ideals.
I Am & … Nothing Else is on view at Affinity Gallery, Victoria Island, Lagos until April 16, 2022.
South African Artist Igshaan Adams' Kicking Dust at Kunsthalle Zürich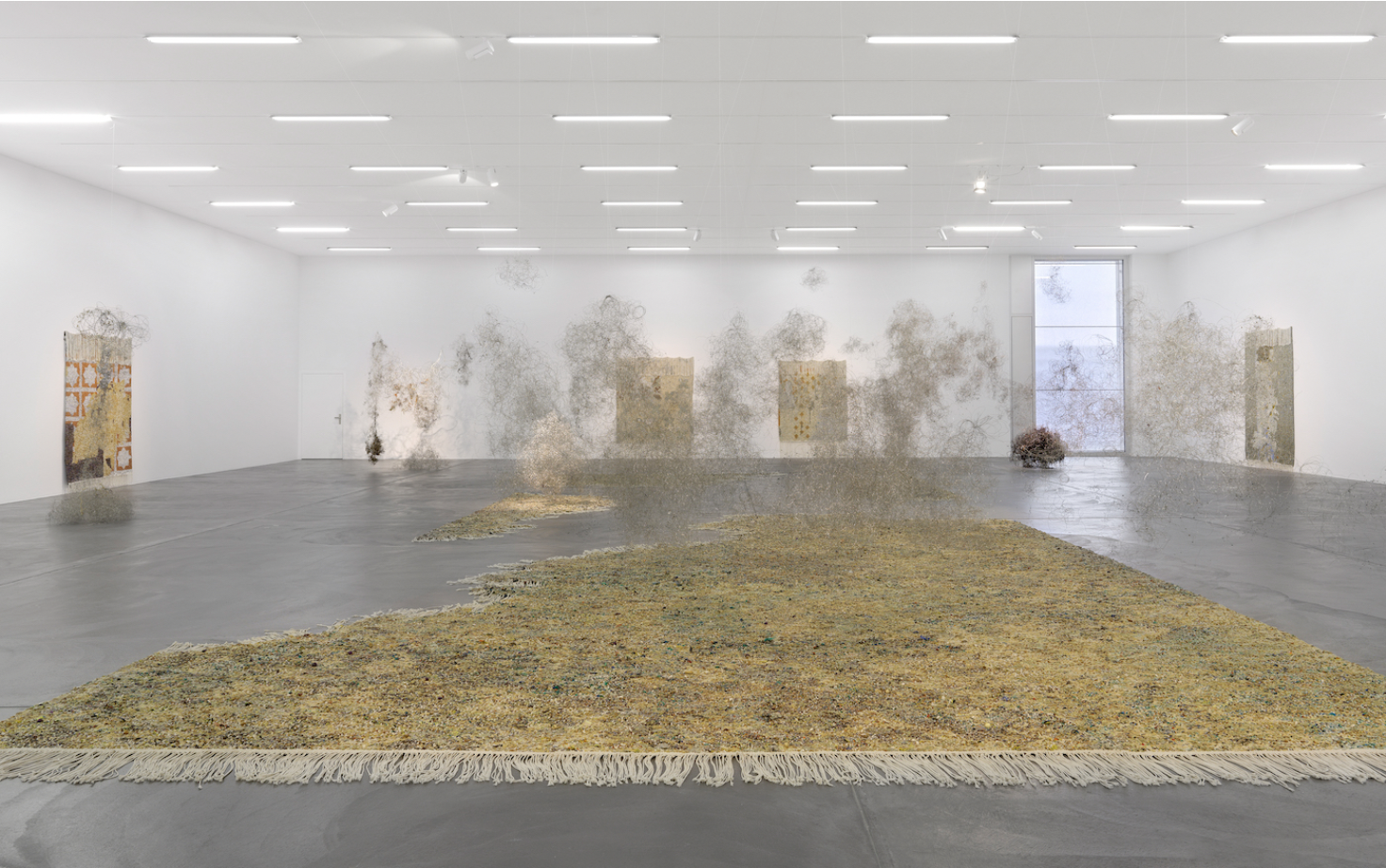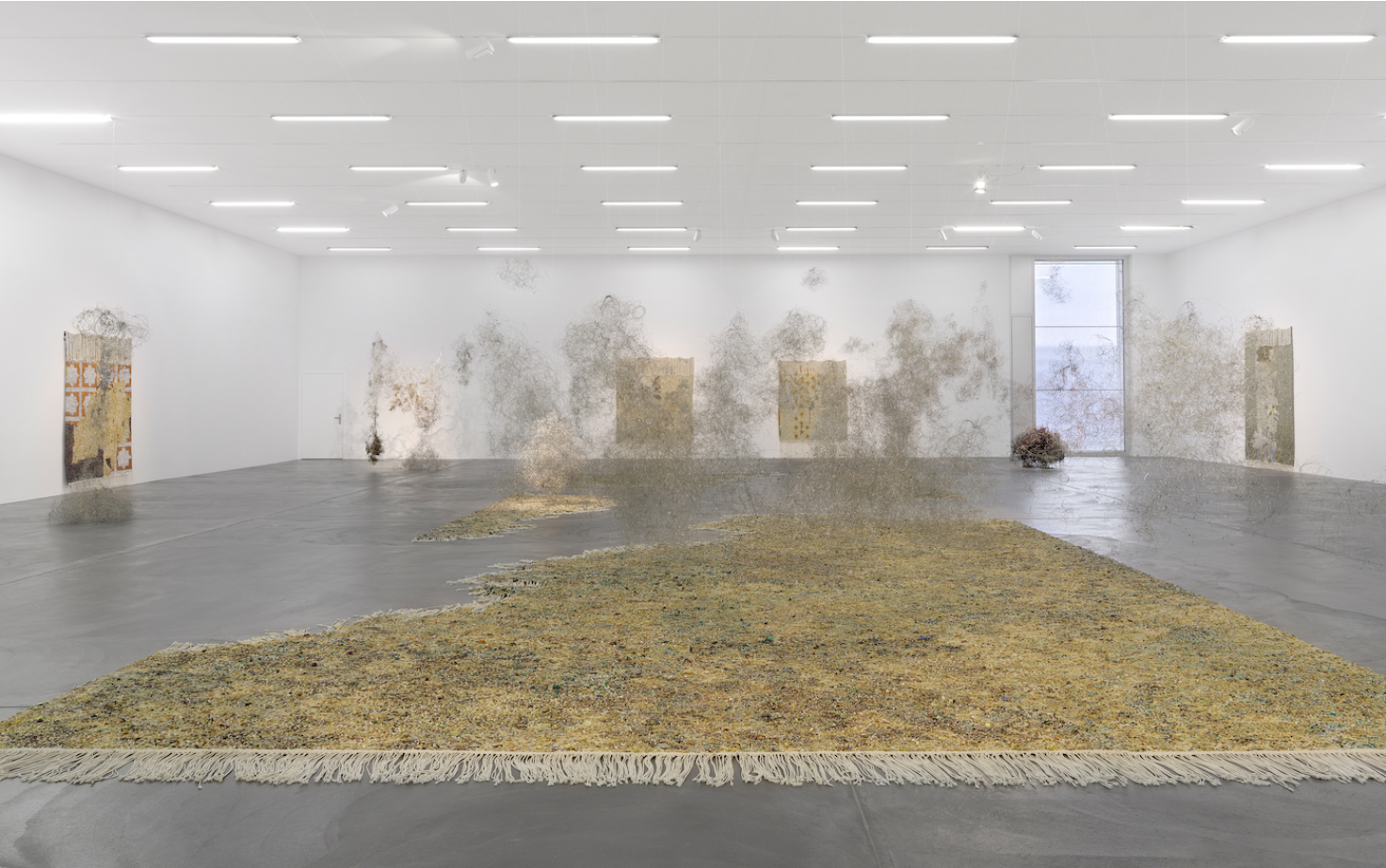 Above: Igshaan Adams | Kicking Dust| Installation View| Kunsthalle Zurich| 2022
Showing at the Kunsthalle Zürich is a solo show by South African artist Igshaan Adams titled Kicking Dust. Igshaan's art speaks of origin, religion and sexuality, and it connects the proximate, the distant and the seemingly contradictory. 
Woven tapestries, filigree sculptures and expansive structures bridge opposites. They spin threads, hold and weave together ideas. Adams' art has been described as abstract, poetic and at the same time grounded in lived experience. It compels viewers yet leaves space and calm for reflection. The exhibition Kicking Dust is reminiscent of a garden or a park crisscrossed by visible and invisible paths, wishes and memories.
Kicking Dust refers to an indigenous South African dance that Adams observed as a child among his grandparents' Nama community in the Northern Cape province. Described as "dancing in the dust," the dance is a courtship ritual where clouds of dust erupt from the ground as performers energetically kick the dry ground. 
Throughout the exhibition, cloud-like sculptures made of spiralized wire and beads hover in space, resonating with the image of traveling dust picked up from the earth below. "Kicking dust" can be understood as an allegory for art in general, as an activity that throws stuff in the air. Dust is nothing; dust is everything; it is, like time, unimportant and essential.
The exhibition is curated by Tarini Malik (Hayward Gallery) and Daniel Baumann (Kunsthalle Zürich), and it is on view until May 22, 2022.
Ghana Announces Its Second Participation at Venice's 59th International Biennale
Following its acclaimed debut participation at the 2019 Biennale Arte, Ghana is excited to announce its second participation with the exhibition, Black Star — The Museum as Freedom, titled after the black star that symbolizes Ghana on its flag and on its most important monument. The black star connects Africa with its diasporas through Marcus Garvey's Black Star Line and his back-to-Africa movement, which is revived in Ghana as Beyond the Return, and pan-Africanism and anti-colonialism feature the symbol, described as the Lodestar of African Freedom. 
The 2022 Ghana pavilion examines new constellations of this freedom across time, technology and borders. Designed by architect DK Osseo Asare and curated by Nana Oforiatta Ayim, director of ANO Institute of Arts & Knowledge in Accra and director-at-large of Ghana's Museums and Cultural Heritage, the exhibition features large-scale installations by Na Chainkua Reindorf, Afroscope and Diego Araúja.
Na Chainkua Reindorf takes masquerade and secret society traditions that historically were largely male and creates her own mythology of Mawu Nyonu, a fictional secret society made of seven women, at one with the elements around them.
This notion of oneness is taken further by Afroscope's work, Ashe, which explores the spirit that runs through all the elements, using technology as a translator of the flow of life, as exemplified by water.
The theme also underpins Diego Araúja's work, A Salt Congress, in which the Atlantic Ocean separated those taken from the shores of West Africa to its diasporas, but now acts as a unifier, the birthplace of a new Creole.
The installation in Venice will be created by architect DK Osseo-Asare, co-founding principal of Low Design Office (LOWDO), a trans-Atlantic architecture and integrated design studio based in Ghana and Texas.
The Venice exhibition is framed by Nana Oforiatta Ayim's concept of the Mobile Museum, which travels into communities across Ghana in co-curation and exchange, with the aim of creating accessible, contextual, inclusive spaces. In Venice, the Mobile Museum program will be presented during the Biennale Arte season, with events and workshops created in collaboration with diverse communities across the city.
Nana Oforiatta Ayim stated, "Ghana in its 65th year still grapples with political, economic, cultural, social and knowledge systems not made of, or for, its contexts. Systems created within its communities over thousands of years were deemed inferior to ones termed 'universal' by dominant powers. As we outgrow and move beyond ill-fitting systems; new ones, not yet defined, that draw on rich histories, not with nostalgia but with discernment of hindsight and experience; are forming.
"Each of the artists' work is connected to the theme of the main exhibition, Milk of Dreams. They are each of them future builders, creating new possibilities and worlds even and especially in this time of chaos: by exploring our spiritual connections with technology; by centering and expanding representations of women's bodies and beings; by looking into how we rebuild relationships with our environment and each other."
Aragbada Receives Recognition from Celebrity Art Collector Alicia Keys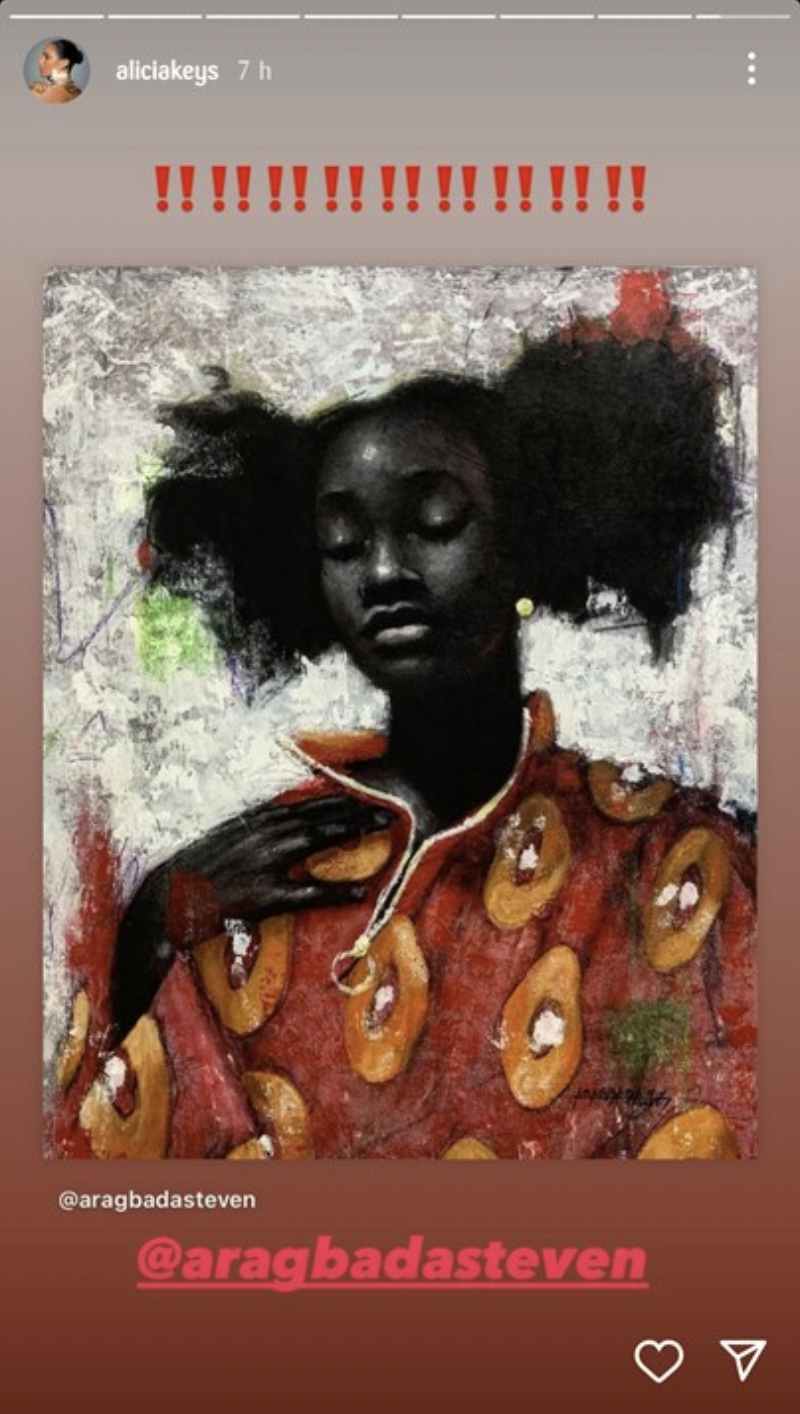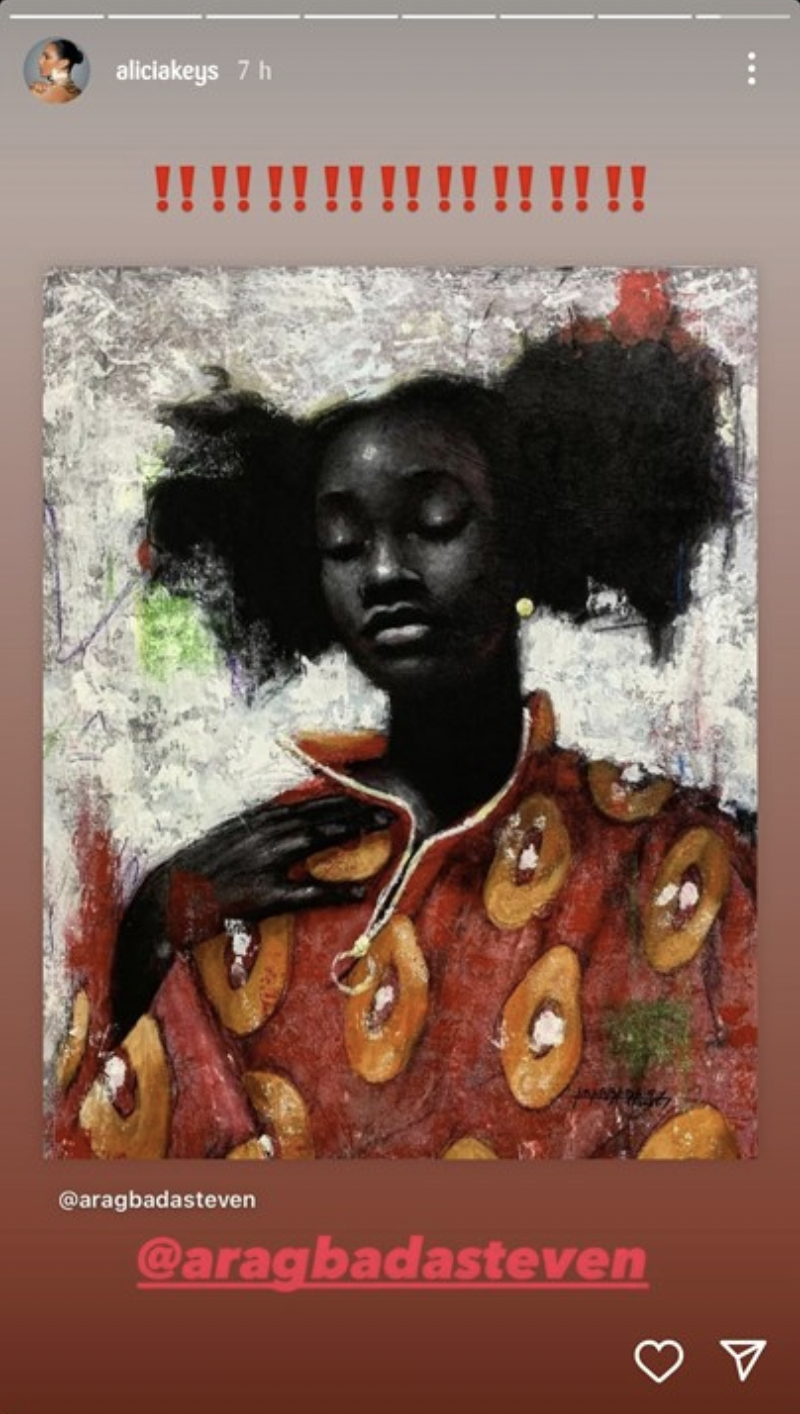 Above: Alicia Key's endorsement of Olayinka Stephen Aragbada's work on Instagram
Nigerian emerging artist Olayinka Stephen Aragbada has captured the attention of celebrity art collector Alicia Keys, who, along with her collector husband Swizz Beatz, has shown keen interest in contemporary art from Africa and its diaspora in recent years.
This recognition took place on Instagram when Alicia Keys commented "Gorgeous!!!" on one of Aragbada's posts on his feed, in which he shared the work, Deep Thoughts (2021). Alicia Keys' reaction extended beyond that. She then followed him and shared the work on her Instagram stories, accentuating her approval with many exclamation marks.
Aragbada was ecstatic and  grateful for the recognition as this could definitely be seen as a worthy commendation for a young, thriving artist like him, who began his full-time studio practice in 2019.
A figurative artist, Aragbada's work focuses on the nuances of everyday living in contemporary times. With the proliferation of figurative painting on the rise, Aragbada stands out distinctly in both style and technique; and honestly, it does not come with surprise that he has been singled out by the famed collector.
In 2018, Alicia Keys and Swizz Beatz launched an art grant via their private collection, The Dean Collection, from which 20 artists from around the world (five of them being of African descent) received $5,000 each towards the realization of a project or work.
Compiled by Roli O'tsemaye