Above:Rita Cole's Charlotte (second from left) makes a point in GableStage's production of "The White Card." (Photo/Magnus Stark)
By Christine Dolen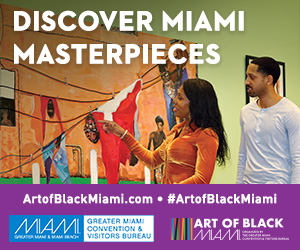 Claudia Rankine's "The White Card" opened at GableStage on Feb. 26, 2022, precisely a decade after the murder of 17-year-old Miami teen Trayvon Martin. That tragedy sparked the Black Lives Matter movement.
In the 10 years since, one name after another, one life after another, one shattered family after another have been added to the ledger of racism's deadly cost.
Artists, poets and playwrights – MacArthur "Genius Grant" recipient Rankine is all three – use their intellect, craft and aching hearts to illuminate difficult questions. Central to "The White Card" is this one: What price do all of us pay for white dominance in this country?
Rankine's play, you should know, is a thoroughly thought-provoking, engaging, intricately layered piece of work laced with moments of surprising humor. Its 90 minutes, give or take, flow swiftly by as the playwright, director Lydia Fort and the cast tell the story of a wealthy white arts patron and an on-the-rise Black photographer going head-to-head in Manhattan's rarefied visual arts scene.
The setup: Charles Hamilton Spencer (Tom Wahl), who has amassed his fortune in real estate, is a well-connected art collector and philanthropist known for his support of diverse artists. On this particular night in 2017, he and wife Virginia (Barbara Sloan), a former corporate art consultant, have invited Eric Schmidt (Iain Batchelor), an art dealer, adviser and board member of their Spencer Art Foundation, to an intimate dinner in their all-white Tribeca loft.
Their son, Alex (Joshua Hernandez), a Columbia University student involved in Black Lives Matter and Showing Up for Racial Justice protests, is also expected to arrive once he's done with a protest against then-President Donald Trump's Muslim travel ban.
But the guest of honor, the focus of this business dinner done up as a social occasion, is Charlotte Cummings (Rita Cole plays the role through March 6, followed by Lela Elam from March 9-27).
Charlotte is a Black photographer who has become a rising star through works that capture recreated moments of violence against Black people. Rumor has it that she's working on a series depicting the aftermath of the 2015 murders of Pastor Clementa C. Pinckney and eight Black worshippers in a Bible study session at a church in Charleston, S.C.
Pushed hard by Eric, Charles is determined to acquire the new work and add Charlotte to what Virginia calls his "stable of artists."
Charles has long championed art of the kind Charlotte creates. Except for Robert Rauschenberg's 1951 "White Painting," the spotlighted pieces perched on the loft's stark-white walls – including Robert Longo's 2014 "Untitled," Glenn Ligon's 1996 "Hands," and Jean-Michel Basquiat's 1983 "The Death of Michael Stewart" – depict Black protest, suffering and death.
Though the evening begins with sophisticated banter and lots of bubbly, it soon disintegrates as microaggressions, clueless mistakes and Alex's ongoing rebellion against his "woke" parents come into play.
"The White Card" has moments, many moments, that will make you grimace or recoil or laugh uncomfortably. You may think, "I can't believe he/she just said that." They do, though, because the playwright paints these people who are so proud of their empathetic advocacy as part of what writer Teju Cole calls the white-savior industrial complex. Rankine's aim is to bring the realities of white privilege into sharp relief and provoke ongoing thought about the many issues referenced in the play.
Fort's carefully calibrated direction keeps the play flowing through its tonal turns, from the breezy if loaded conversation that begins the first scene to the shattering image that ends it, through the choreographed scene change that moves the story to a different location in the following year, to a final reckoning between Charles and Charlotte – with one more devastating final image.
The experienced GableStage actors fully commit to Rankine's characters, including the warts-and-all ones.
Wahl's Charles, for example, says to his guest without a trace of self-awareness, "Charlotte, if I collect your dead, they'll never be buried. You can be certain of that." And in the final scene, when his blinders and more come off, Wahl persuasively takes us through an epiphany that, like so many things in Charles's life, doesn't play out as intended.
As Virginia, Sloan is skillfully playing a woman who perceives herself as sincere and empathetic. Yet her intentions cannot and do not outweigh her mistakes (she conflates the names of Eric Garner and Freddie Gray) and microaggressions (when Charlotte rises to help clear the table, an inebriated Virginia spits, "Sit down. You're not the maid.").
As 20-year-old Alex, Hernandez has mainly the note of rebelliousness to play, though he also conveys naivete and fervor as the character picks apart almost everything his parents do or say. He also is the vessel for introducing important information about what he sees as his father's hypocrisy – angrily, of course.
Batchelor's Eric comes across as a well-tailored shark ready to lunge at any opportunity. Speaking with a markedly nasal American accent that is not his own, the actor smoothly communicates the character's flaws as Eric pretends to know everything about everything, then mangles the name "Ta-Nehisi Coates."
In "The White Card," Charlotte is, in essence, the playwright's stand-in. Striking and commanding, Cole plays the photographer as an elegant, inquisitive, thoughtful artist comfortable in navigating myriad environments. Her Charlotte straightforwardly sets the record straight and shares her perspective, yet the microaggressions that come floating her way like so much dust in a shaft of sunlight never really surprise her. Cole's key moments at the end of each scene are visceral and shattering.
The production's design team – set designer Frank J. Oliva, lighting designer Quanikqua "Q" Bryant, sound designer Brandyé Bias, costume designer Camilla Haith – collaborate to bring to life the Spencers' moneyed world in the first scene and Charlotte's studio in the second.
Although "The White Card" is not a long play, it leaves audiences with much to unpack. To that end, GableStage is holding guided 20-minute engagement sessions, led by Katie Christie of Voices United, at the end of each performance. You may stay or not, but the exercises and discussion touch on multiple aspects of what theatergoers have just seen, and the diversity of reactions can spur further insights.
Rankine has a new commissioned play, "Help," scheduled to premiere at New York's The Shed on March 15. Meanwhile, you can see her best-known transition from the page to the stage here and now at GableStage as she asks that question: What price do all of us pay for white dominance in this country?
WHAT: "The White Card" by Claudia Rankine
WHEN: 2 p.m. and 7 p.m. Wednesdays, 7 p.m. Thursdays, 8 p.m. Fridays, 2 p.m. and 8 p.m. Saturdays, and 2 p.m. Sundays; through March 27, 2022
WHERE: GableStage in The Biltmore Hotel, 1200 Anastasia Ave., Coral Gables
COST: $40-$70 (processing fee additional; discounts available for students, groups, artists, military, veterans and Biltmore staff members)
SAFETY PROTOCOLS: Masks and proof of vaccination or a negative COVID-19 test required; visit gablestage.org/healthsafety for more details
INFORMATION: 305-445-1119; gablestage.org
ArtburstMiami.com is a nonprofit source of theater, dance, visual arts, music and performing arts news.