It has been a tumultuous couple of weeks for Black folks in America. The unjust loss of Black life coupled with the reverberating financial and emotional impacts of COVID-19 is traumatizing. Recognizing the need for moments of life-affirming self-care in these turbulent times, I offer this family-friendly selection of films that hum with Black beauty and excellence.
These films, no matter where you are in the world right now, can provide a ray of hope in these trying times. Watching these films with your family could be considered a covid 19 safety event that you can enjoy inside the confines of your own home.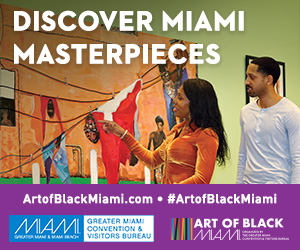 Ole & Nu
Directed by Weenta Girmay, 12 min.
Ole & Nu is a short documentary profiling Ole & Nu Style Fellas social aid and pleasure club, one of over 70 historically African American organizations in New Orleans that stage the city's famous second-line parades. Known in the 1800s as benevolent societies, social aid and pleasure clubs were established in Black communities as a way to pool resources for funerals, build community, and collectively fund charitable works.
Now over 20 years old, Ole & Nu Style Fellas was founded by Sue Press, a longtime resident of the historic Treme district. Her vision in founding the club was to pair younger boys in the community with older mentors. The youth would bring new energy and innovation to the group, and the older members would teach the younger boys the history, discipline, and art of the club. The documentary follows the Press family and highlights the magic that comes once a year when the club puts on their big show during Mardi Gras.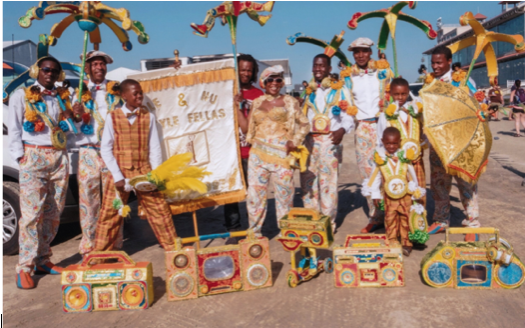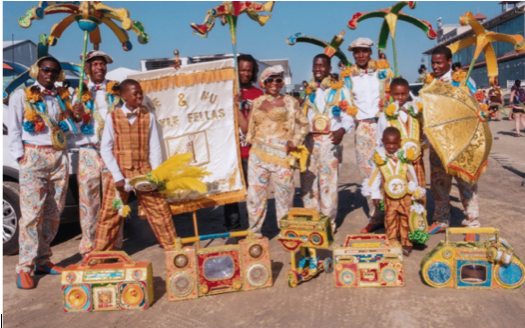 Ole & Nu allows a brief look at what goes on behind the scenes in preparation for a big second-line. The club members make their elaborate costumes and props from scratch-painstakingly beading, sewing, hot gluing, and trimming. Each year, they come up with a different theme and color scheme. "The most rewarding part of the group would be how good we look," Askia Press says with a smile.
The documentary captures the club members in their element as they perform for hundreds of community members and spectators. There are cultural echoes in this finery and footwork-from the Congolese sapeurs to church deacons looking "sharp" on Sundays-a pride in looking good and bringing joyful energy to big celebrations is a hallmark in many diasporic communities.
While the club members delight in the show, their core mission is neighborly support and advocacy, which they fulfill through school supply events, voter registration drives, holiday toy drives, and adopt-a-family programs. Ole & Nu is an ebullient celebration of Black tradition in a city that marches to its own syncopated beat.
Director and co-producer Weenta Girmay moved to New Orleans in 2015 from Pittsburgh. At the time, she had professional experience as a freelance journalist, but she was relatively new to filmmaking. Girmay saw her move as an opportune time to make a shift in her career, so she segued into film and video production. "New Orleans was just a good place to think about how to be a storyteller," Girmay says. "There are a lot of friendly people here who, if you have good intentions, welcome you with open arms."
Girmay met Sue Press and spent considerable time getting to know her. The result is a short film that feels authentic and allows Press and collaborators to share their pride and process. "The relationship I've built with Sue is the thing I most cherish about making this film," Girmay says. "Just by being herself, she taught me what it really means to be in close community with others."
Ole & Nu had its world premiere at the 2019 New Orleans Film Festival and is available to stream on Vimeo at https://vimeo.com/326963570.
The Fisherman
Directed by Zoey Martinson, 15 min.
The Fisherman is a quirky Ghanaian comedy from writer and director Zoey Martinson that examines the trials of aging in a world that prioritizes youth and technology. Ataa Oko is an elderly fisherman whose life changes when he meets a talking fish. The film tackles the challenges of a late-life crisis from the perspective of a protagonist who is well into his 70s. There are moments between Oko and his wife that are familiar, funny, and loving. Prolific Ghanaian actor and writer Emmanuel France, who has been featured in over 50 West African movies, soap operas, and television dramas, brilliantly embodies a tired and frustrated Oko.
By far, the fish is the chattiest character. Once he opens his mouth, hilarity ensues. His witty clap-backs are perfectly timed, and once he is offscreen, you may find yourself longing for more of his verbal jabs. Oko's initial disbelief in the talking fish leads him on a journey of self-discovery through his bustling neighborhood of Jamestown, which is one of the oldest districts in Accra, Ghana. Oko leads the way through sprawling markets, bustling streets, and crowded alleyways. In choosing Jamestown as the location, Martinson showcases the area's visual and social complexity. Jamestown may be impoverished, but there is immense beauty and vibrancy here.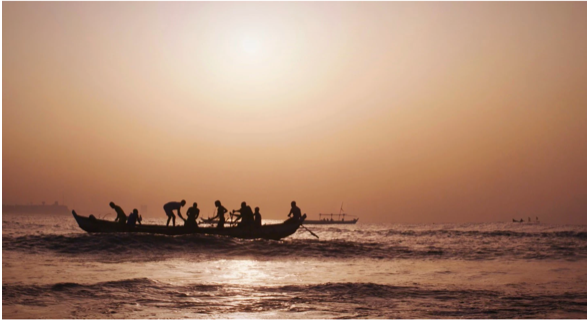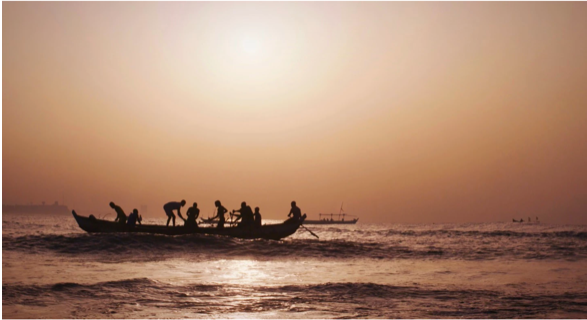 The Fisherman screened in Miami as part of the 2019 American Black Film Festival's (ABFF) HBO Short Film Competition and is currently streaming on HBO platforms: https://www.hbo.com/movies/the-fisherman
Flight
Directed by Kia Moses and Adrian McDonald, 14 min.
Flight, the debut film from Jamaican screenwriter and co-director Kia Moses, screened alongside The Fisherman as a finalist in the HBO Short Film Competition in 2019. In writing the script, Moses wanted to paint Jamaica as a little island full of big dreamers. Indeed, the film is a foray into a childhood that is relatable for many-shared rooms with siblings, corrugated tin roofs, and dusty front yards. Cardboard boxes spark endless imagination and hours and hours of play from sunrise to sunset.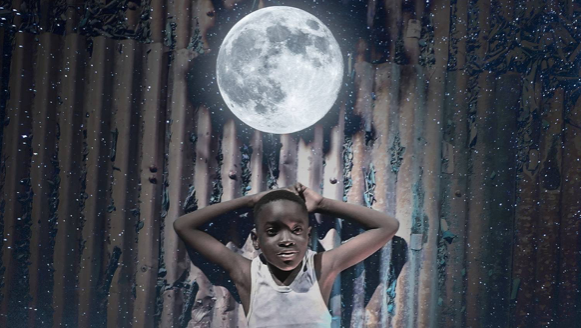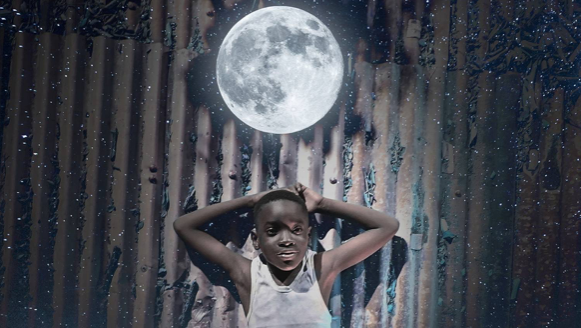 Kemar, a young Jamaican boy, finds solace in his dreams of going to the moon. Though the realities of the world around him are harsh, Kemar's optimism and perseverance just might carry him through. His hardworking father is doing his best to provide for the family, but Kemar's daydreaming gets under his father's skin. "Big dreams like that are for the rich and lucky," Kemar's father says, "And we're not them." Still, Kemar crafts space suits out of tinfoil and discarded Styrofoam and a spaceship out of cardboard.
Shot mostly in the family compound, the film's real-world scenes are rustic and intimate-a stark contrast to the futuristic modernism of Kemar's dream world. What is most striking about this tale are the ways in which simple acts of Black love and commitment manifest. Flight is an endearing story that will win your heart.
Flight can be viewed on HBO platforms: https://www.hbo.com/movies/flight
2017, 18, 19, 20 & So On
Directed by Terence Price II, 5 min.
For those drawn to experimental storytelling, The Institute of Contemporary Art, Miami (ICA Miami) has commissioned a number of works for its digital video channel, which is made possible by the Knight Foundation and "expands the museum's commitment to fostering artistic experimentation and commissioning new works, as well as engaging audiences with innovative artistic voices." South Florida photographer and filmmaker, Terence Price II's short film 2017, 18, 19, 20 & So On combines footage that spans four years of Price getting his hair cut. Each year has its own quadrant onscreen and the footage plays simultaneously with each quadrant shot in one continuous take.
Price notes that these haircuts occurred before important events in his life. The two top quadrants are in color and the two bottom quadrants are monochrome. Sparse dialogue and ambient sounds move seamlessly from one quadrant to the next, further imbuing the project with a meditative calm. For many men of color, barbershops provide sacred, communal space. They are points of connection and familiarity-open for joking, reflection, debate and introspection. The last quadrant, which signals the start of COVID-19 isolation, is eerily somber with Price alone in silhouette cutting his own hair.
2017, 18, 19, 20 & So On is available to view on the ICA Miami website: https://icamiami.org/channel/digital-commissions-terence-price-ii/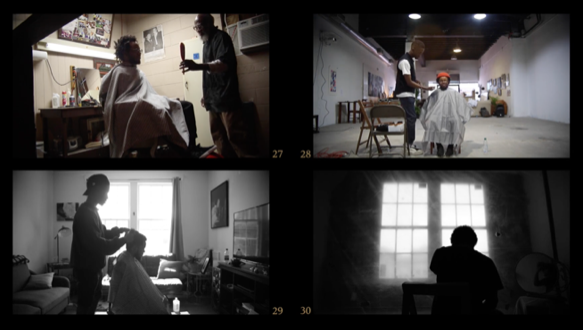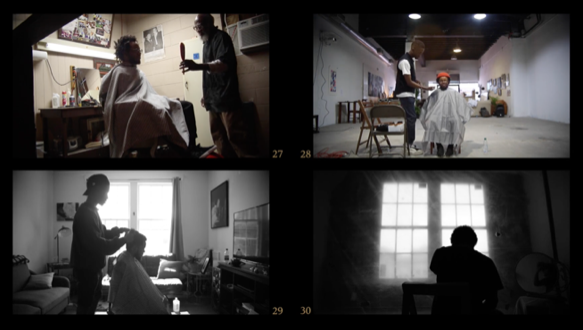 Betye Saar: Taking Care of Business
Directed by Christine Turner, 8 min.
It is hard to believe that artist Betye Saar is in her 90s, but director Christine Turner's gem of a documentary makes it even harder to fathom. Originally commissioned by the Los Angeles County Museum of Art (LACMA), Betye Saar: Taking Care of Business provides a brief glimpse into Saar's life and work through the years. Saar is refreshingly upbeat and down-to-earth, and Turner's creative decision to let this narrative unfold through Saar's own recounting is precisely why this film shines.
The antithesis of what you might expect from an artist who has navigated the art world for decades, Saar is a self-proclaimed recycler, who often walks with her eyes to the ground because that's where she finds some of the best raw materials. She is earnest, gleeful, and unjaded. These days, Saar works mostly in collage and assemblage-sourcing materials from thrift stores and flea markets, among other places. She delights in putting objects together. "Sometimes, they tell a story, and sometimes they don't," Saar says. "I prefer it when they don't tell a story, so the viewer can invent their own story."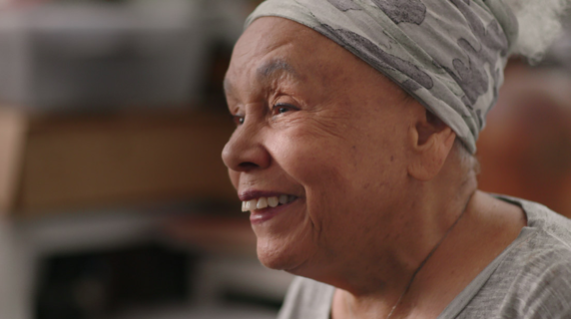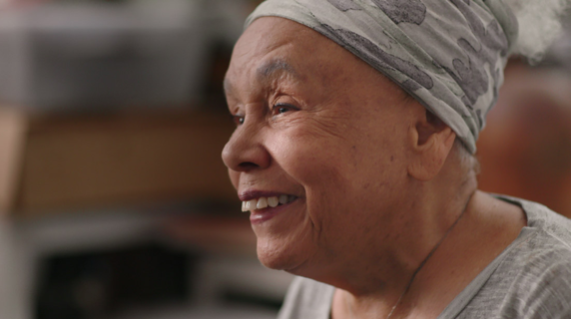 Saar explains that her mother was artistic and, like most women of the era, utilized quilting as a creative outlet. "Women were not particularly encouraged to be artists, especially women of color," Saar says. Saar initially pursued a more acceptable design track in school, but eventually, she moved into fine arts-experimenting with a number of mediums before settling into assemblage. The film utilizes archival footage and photographs that span Saar's illustrious career. These glimpses into the past highlight Saar's perseverance, longevity, and commitment to social justice.
Through Turner's lens, the viewer is granted access to Saar's studio, which houses endless treasures-meticulously grouped by theme and object type-antlers, Black collectibles, clocks. According to Saar, Dr. Martin Luther King, Jr.'s assassination shifted something in her. As a mother of small children, Saar couldn't participate in the protests at the time, but she used art as her protest. Seeking an outlet for her rage, horror, and frustration, she took to working with derogatory Black collectibles. Her groundbreaking work, The Liberation of Aunt Jemima transforms a symbol of Black subservience and denigration into that of a warrior.
Overflowing with ideas for new works, Saar sees time as her only limitation. With no plan of slowing down, Betye Saar has much more to do.
Betye Saar: Taking Care of Business was an official selection of the 2020 Sundance Film Festival and is currently available to screen as a New York Times Op-Doc at https://nyti.ms/37GxYkY.
April Dobbins is a writer and filmmaker based in Miami. Her work has appeared in a number of publications, including the Miami New Times, Philadelphia City Paper, and Harvard University's Transition magazine. Her films have been supported by the Sundance Institute, International Documentary Association, Firelight Media, ITVS, Fork Films, Oolite Arts, and the Southern Documentary Fund.