Above: william cordova, prophets (PLO, DC). Image courtesy william cordova, 2009.
Pérez Art Museum Miami (PAMM) presents william cordova now's the time: narratives of southern alchemy curated by PAMM Associate Curator María Elena Ortiz.
Born in Lima, Peru in 1969, cordova moved to Miami at the age of eight and now lives in Miami, Lima and New York. He is known for creating drawings, sculptures, videos, and installations that bring forth marginalized histories in contemporary culture that defy and transcend social oppression. This exhibition is his first museum survey to date and shows cordova's artistic range bringing together over 30 works made from the late 1990s to 2018. The works are not installed in a particular chronology but are rather presented together, as a single installation, embodying in unison cordova's development from an intimate to larger art making approach. In each work, cordova synthesizes symbols, artifacts, and languages related to his own cosmology, which makes connections with the politics of hip-hop, architecture and African, Andean, and Asian diasporas in the United States.
In his elegant works, cordova collapses linear notions of time and space, uses ephemeral, and precarious materials, as well as challenges traditional Western ideas of identity to offer a reflection on the cultural transformations of our time. The exhibition includes early examples of the artist's interest in using reclaimed materials like a series of postcards that show his early motifs, such as the red hotels from the game of Monopoly and his unique approach towards language. Depicting vinyl records, speakers, and satellites, other works in the exhibition express the influence that the early Miami hip hop scene had on the artist, which writer Jeff Chang describes in an essay published in the accompanied exhibition catalogue, as "evolv[ing] quickly from pop-oriented freestyle, lascivious booty bass, and avant-garde techno bass." Also, a suite of 100 drawings by cordova illustrates the impact that poetry, music, and the Latin American film movement of Third Cinema had on his practice. This exhibition shows cordova's evolution with materials and symbols, illuminating his artistic commitment to histories that have not been part of mainstream culture.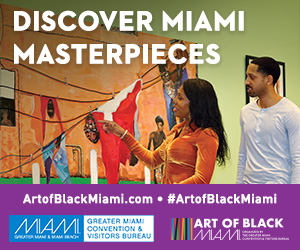 now's the time: narratives of southern alchemy is accompanied by the artist's first museum catalogue with contributions by Jeff Chang, Leslie Hewitt, Candice Hopkins, and María Elena Ortiz.
On April 26, 7-8:30pm, william cordova will be in conversation with Leslie Hewitt, and María Elena Ortiz. The group will speak on the various intersecting narratives cordova's works is informed by such as architecture, cinema, literature, and music.
william cordova now's the time: narratives of southern alchemy is organized by PAMM Associate Curator María Elena Ortiz. Lead individual support received from Estrellita B. Brodsky is gratefully acknowledged.