Above: Julio de Aponte by Jose Bedia. Photo by Melissa Hunter Davis.
Every year, local Miami art fairs and, galleries and civic groups scramble to be a part of the multimillion-dollar Art Week Miami experience. Curators, both amateur and professional choose local and national artists to represent them and their view of the world. Some make a splash; others a thud. The fairs and exhibits listed below did a phenomenal job showing work by some of the best in African diaspora art.
Art Africa Miami: In the seventh year, Art Africa outdid itself. Strong artists with exceptional work, an incredibly diverse crowd and people all over the art world actively looking to go to the Overtown staple means that Art Africa has more than solidified its place in the Miami Art Week fairs.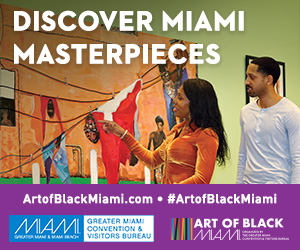 Prizm Art Fair: As a long supporter of Prizm Art Fair, this year was larger, interesting and boasted an amazing bookstore for a bibliophile like me. It was exciting to see work by newcomers like Jared McGriff and Akilah Watts. Also, Shawn Theodore, Basil Kincaid and Didier Williams were some of the highlights of the week.
Visionary Aponte: This show, housed at the Little Haiti Cultural Center, told one of the most concise stories during Miami Art Week. Curated by Marie Vickles, Eduard Duval-Carrie, Tosha Grantham, Edda Ferrer, Linda Rodriguez and Laurent Dubois, Visionary Aponte told the story of Jose Antonio Aponte and African in Cuba that led one of the Caribbean's most prominent slave rebellions. Exciting work by Jose Bedia, Fabiola Jean-Luis, Sanford Biggers and others made this one of the most exciting shows both on and off Miami Beach.