Above: Stephen Arboite. Photo by Dario Calmese.
Stephen Arboite has just completed a stay at the Fountainhead Residency in Miami, FL, where I arranged to meet him for a studio visit. We discussed many things and came to know the kind of fullness of his practice which is shared with you here. 
Stephen was born in New York City to Haitian parents and now lives in NYC and Miami. Arboite holds a BFA from SUNY Purchase. The artist experiments with coffee, paper, various inks and dried pigments. In 2013, Arboite's work was recognized and showcased during Miami Art Week. The artist continues to live and work in NYC and Miami Beach, Florida.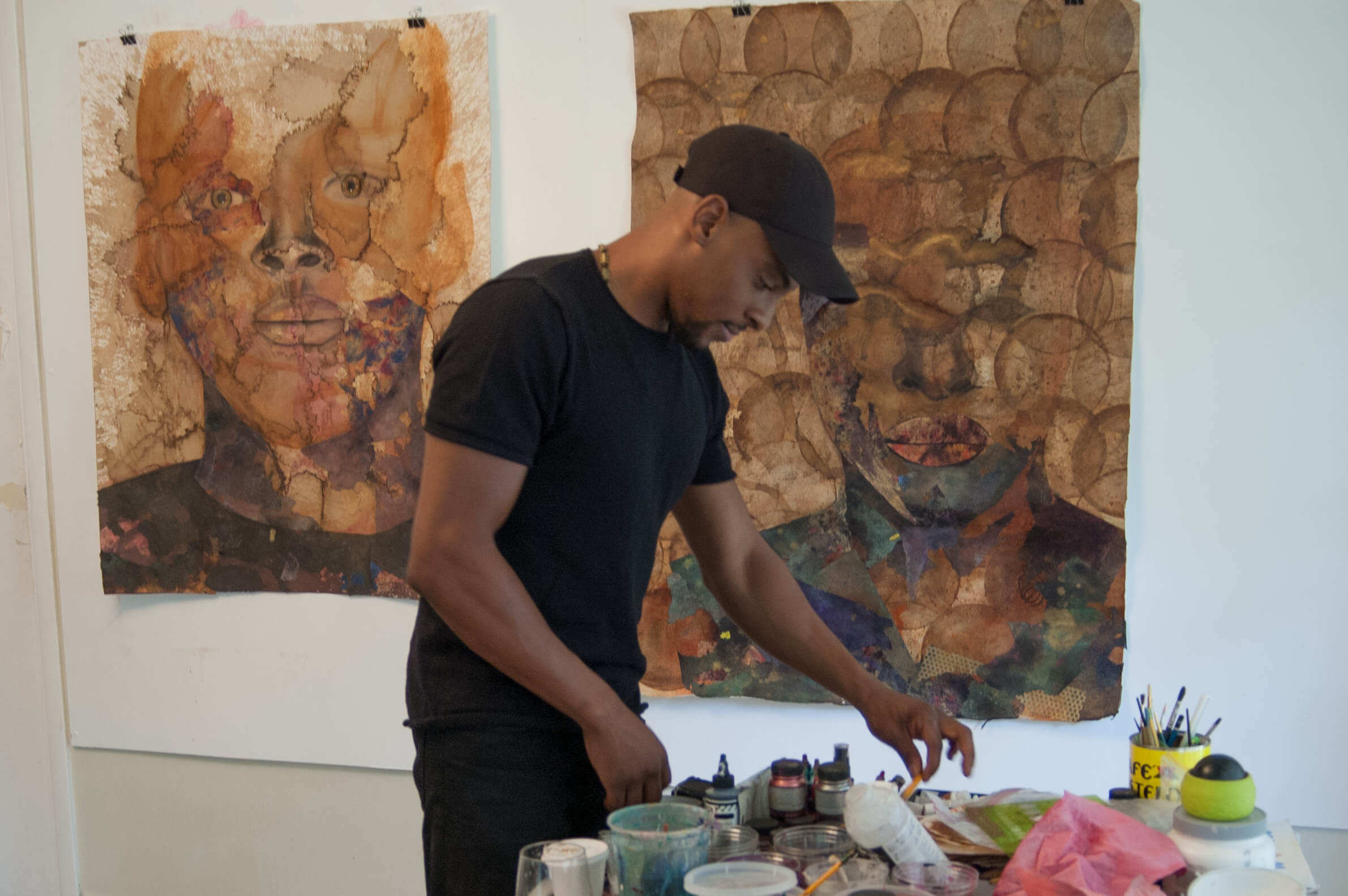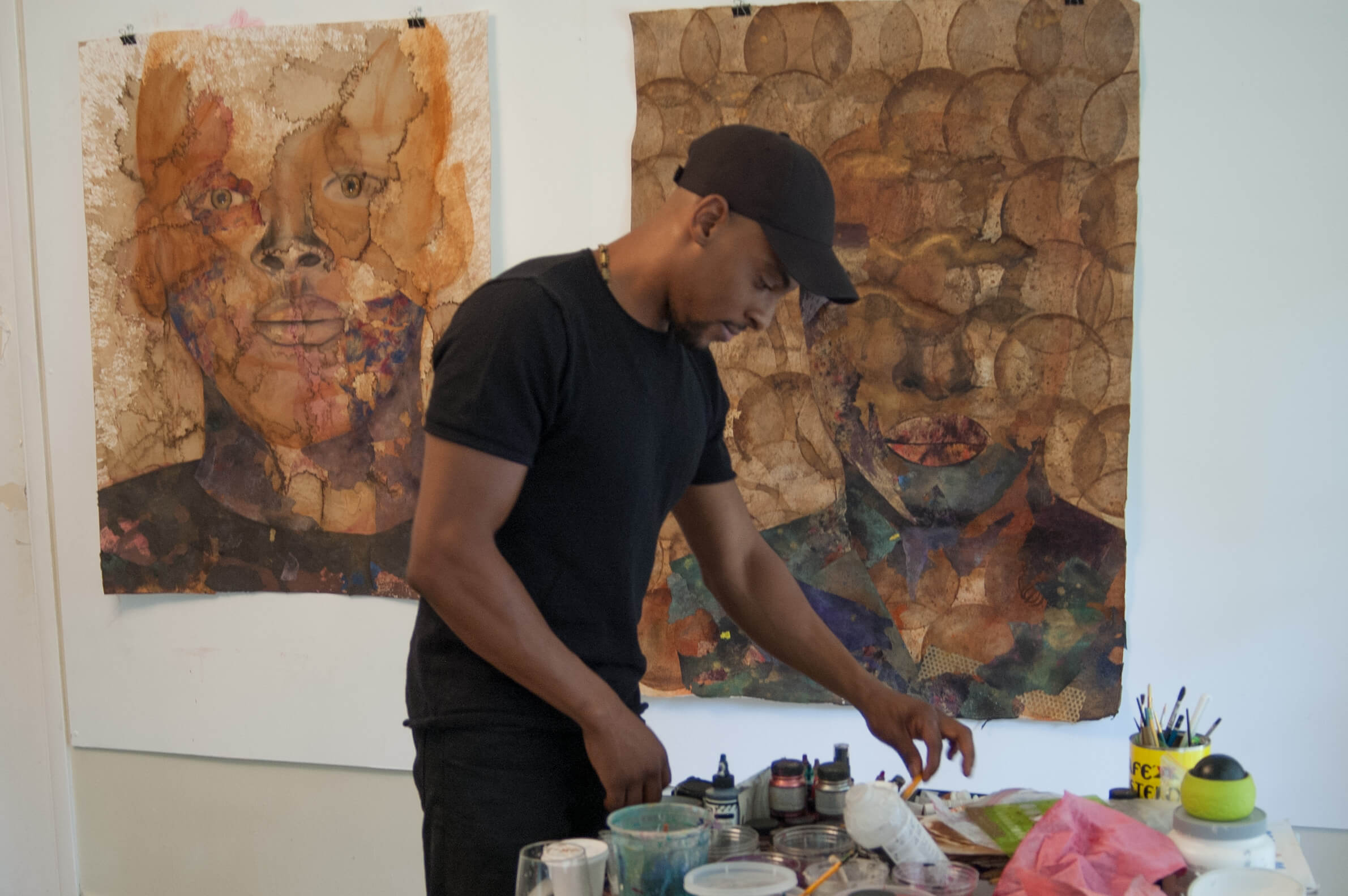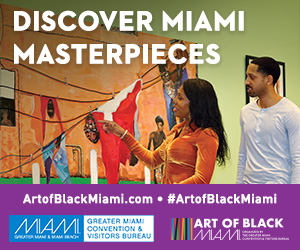 Above: Stephen Arboite working at his residency at The Fountainhead in Miami. Photo by Onajide Shabaka.
Materials are important to the artist, Stephen Arboite, and through his explorations of testing, prodding, trial-and-error, his process driven practice has found outcomes that resonate with him, personally and historically. Coffee, charcoal, dirt, and paper are the primary materials by which Arobite's art comes into being. He found economic reasons to use particular materials while a student but has delved into them more with multiple investigative projects, works on paper upwards in size to 48 x 36 inches and larger. 
While visiting Haiti a few years ago, he decided to make his own charcoal from a local Haitian tree that makes a deep, rich black that he found rewarding. He continues to use that charcoal in his current working process. In addition, he has begun to explore some adobe colored dirt that he also discovered in the Haitian mountains. He says he prefers to use reclaimed materials because he likes being resourceful. Coffee was a resource-driven material at a time when he needed to make work and found something uniquely beautiful about it. He continues to use it. "Of course, coffee has a very significant history in Haiti, and it is important for me to use and investigate it further as [an art making] material," Arboite adds.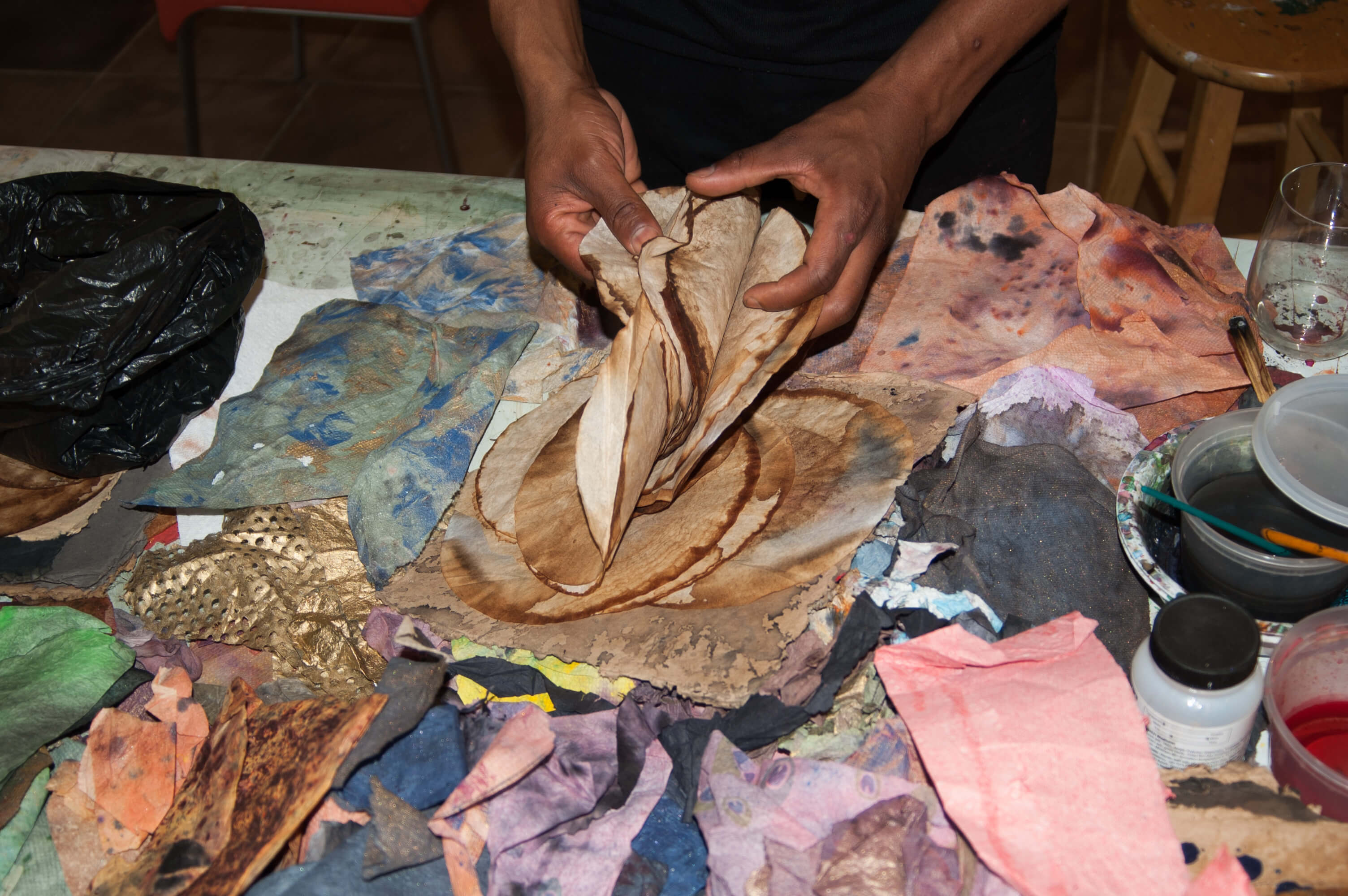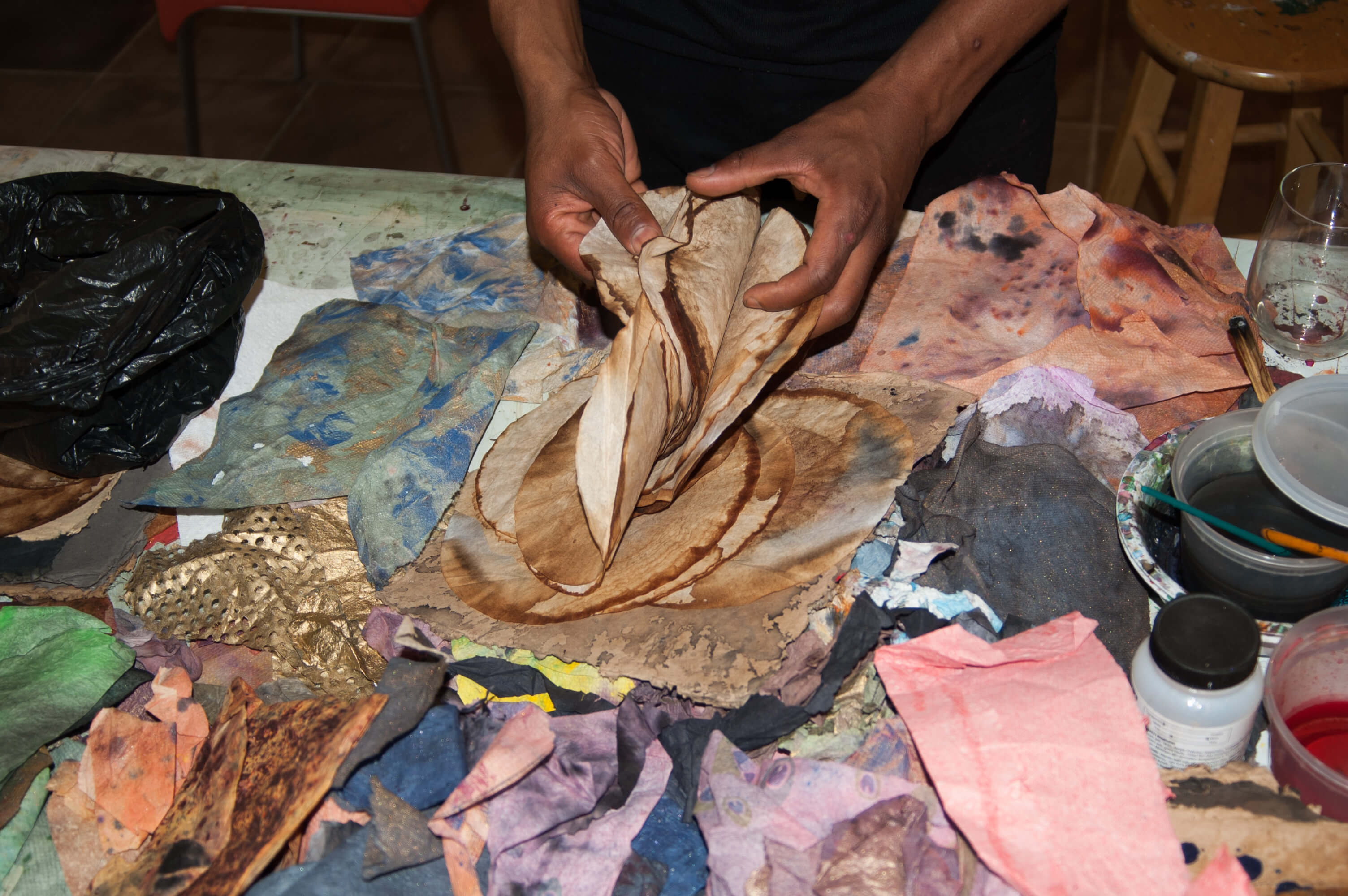 Above: Stephen Arboite working at his residency at The Fountainhead in Miami. Photo by Onajide Shabaka.
Arboite's works on paper are a mixture of abstraction and figuration. His figures are not portraits as such. They arise out of the art-making process as the wet media coagulates, mixes the various layers of viscosity and the drying of pigments and solutions. He wants his figures to be part of a narrative; his narrative that continues to add chapters and depth. The abstract figures are contemplative but part of a larger conversation the artist uses to engage with viewers. 
He really has the motivation to try some different pigments or substances to create a palette of the natural. The coffee, charcoal, and dirt create a rich texture and range of warm tonalities. These are the colors Arboite finds personal and authentic. "I want to work organically. I am interested in the archival quality of what I'm doing right now. You have to stick to your guns and really just do your own thing," Arboite insists, when it came to finding and sustaining his practice.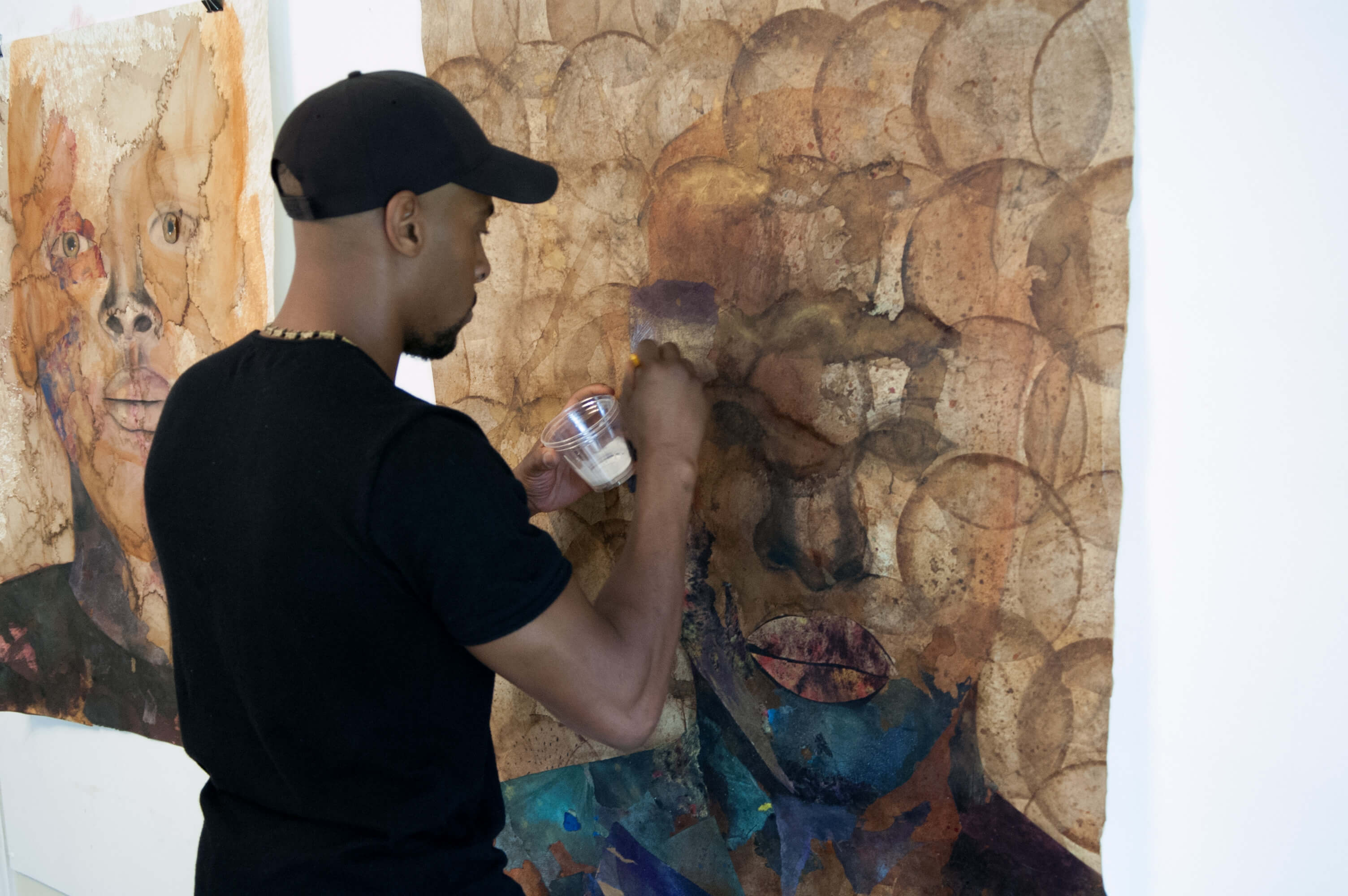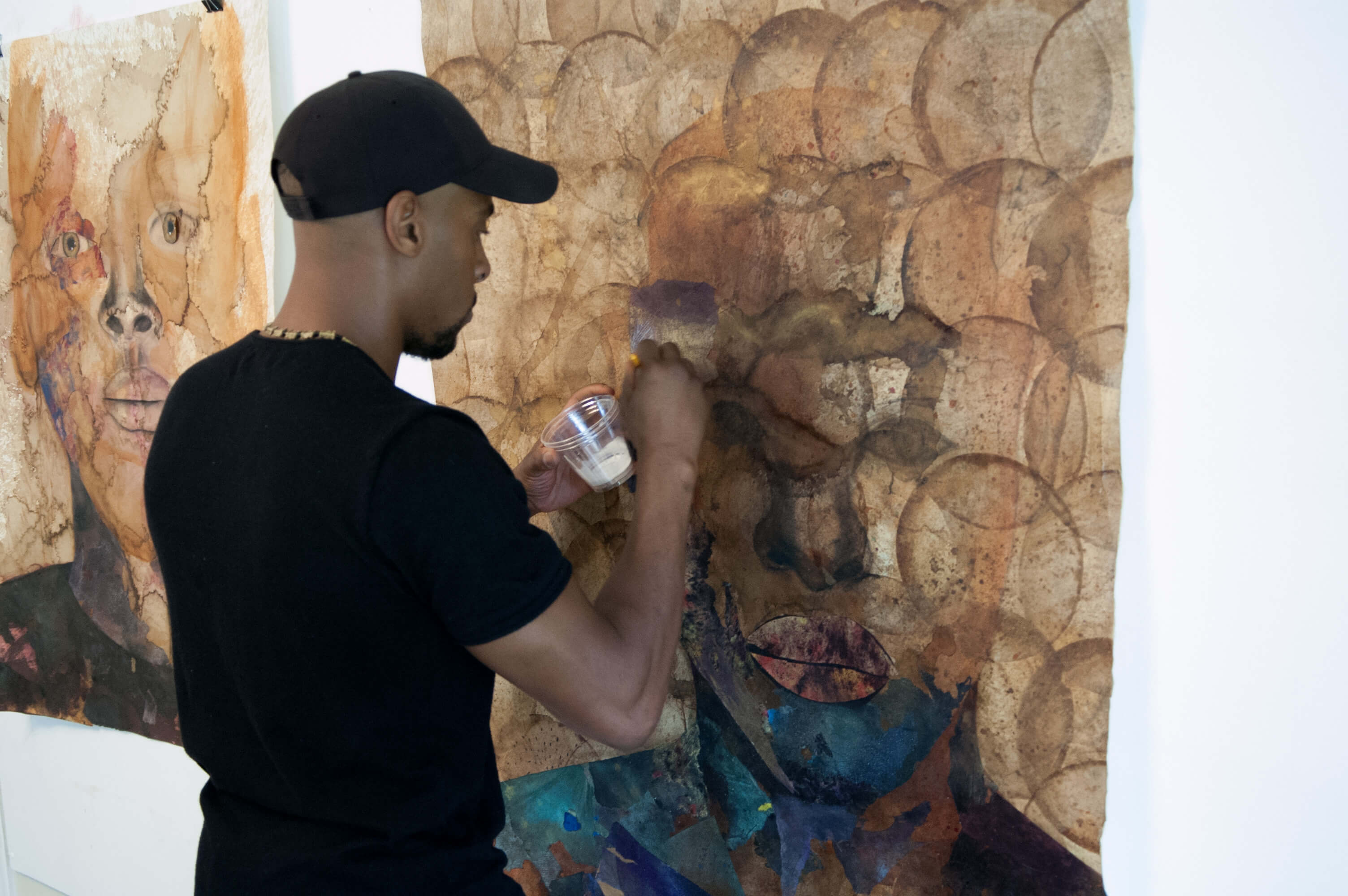 Above: Stephen Arboite working at his residency at The Fountainhead in Miami. Photo by Onajide Shabaka.
Stephen Arboite also saves papers on which he tests inks and solutions that then become part of a work, flowing naturally into a collage. "The paper pieces are just collected until I find the right piece to incorporate them into. It's just a plug-and-play, in that sense. I really like the ones that are very translucent because my work is very layered and that is a way to build the work in a sculptural way. I think of these sculpturally as I'm working on them," Arboite reveals. 
Stephen Arboite's art tells a story that is constantly unfolding. It is an open conversation inviting you, the viewer, to participate. Join him.
Stephen Arboite is represented by Miami gallery, N'Namdi Contemporary, 177 NW 23rd St., Miami, Florida 33127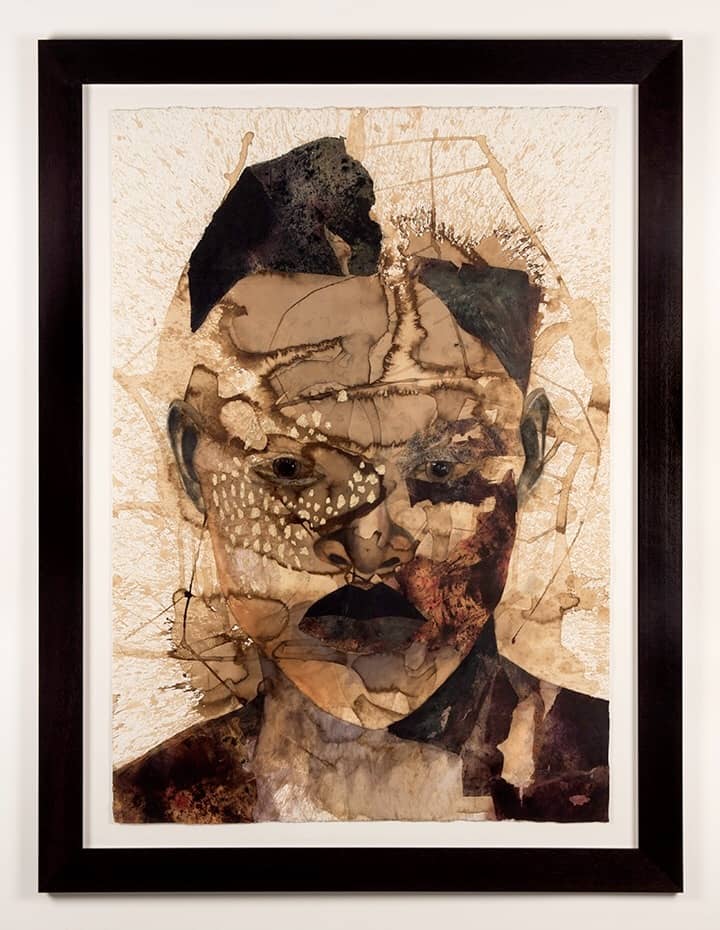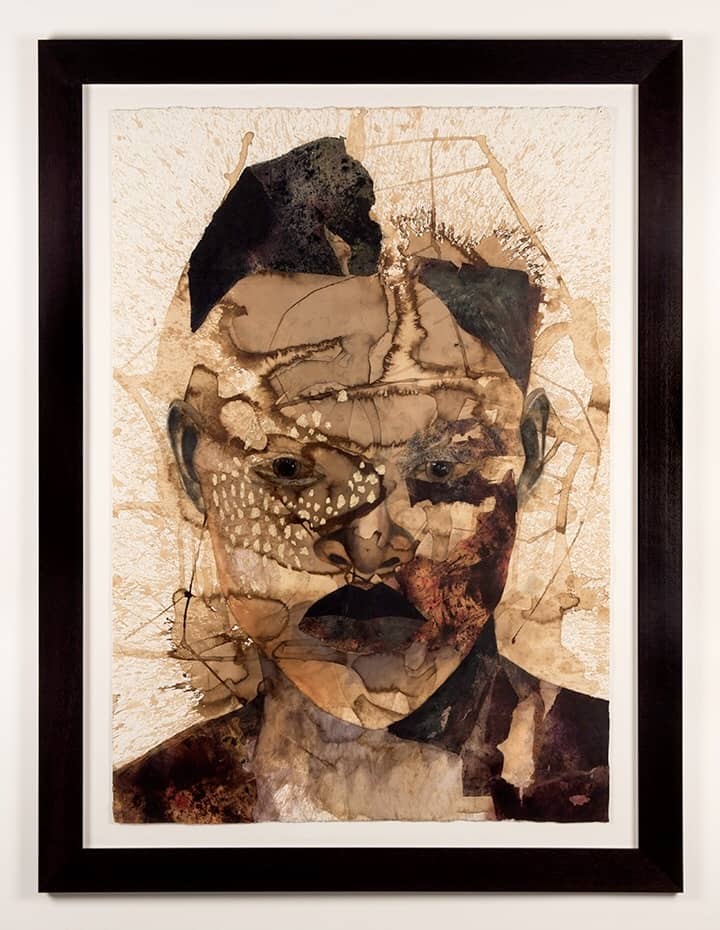 Above: Untitled work by Stephen Arboite. Photo by Dario Calmese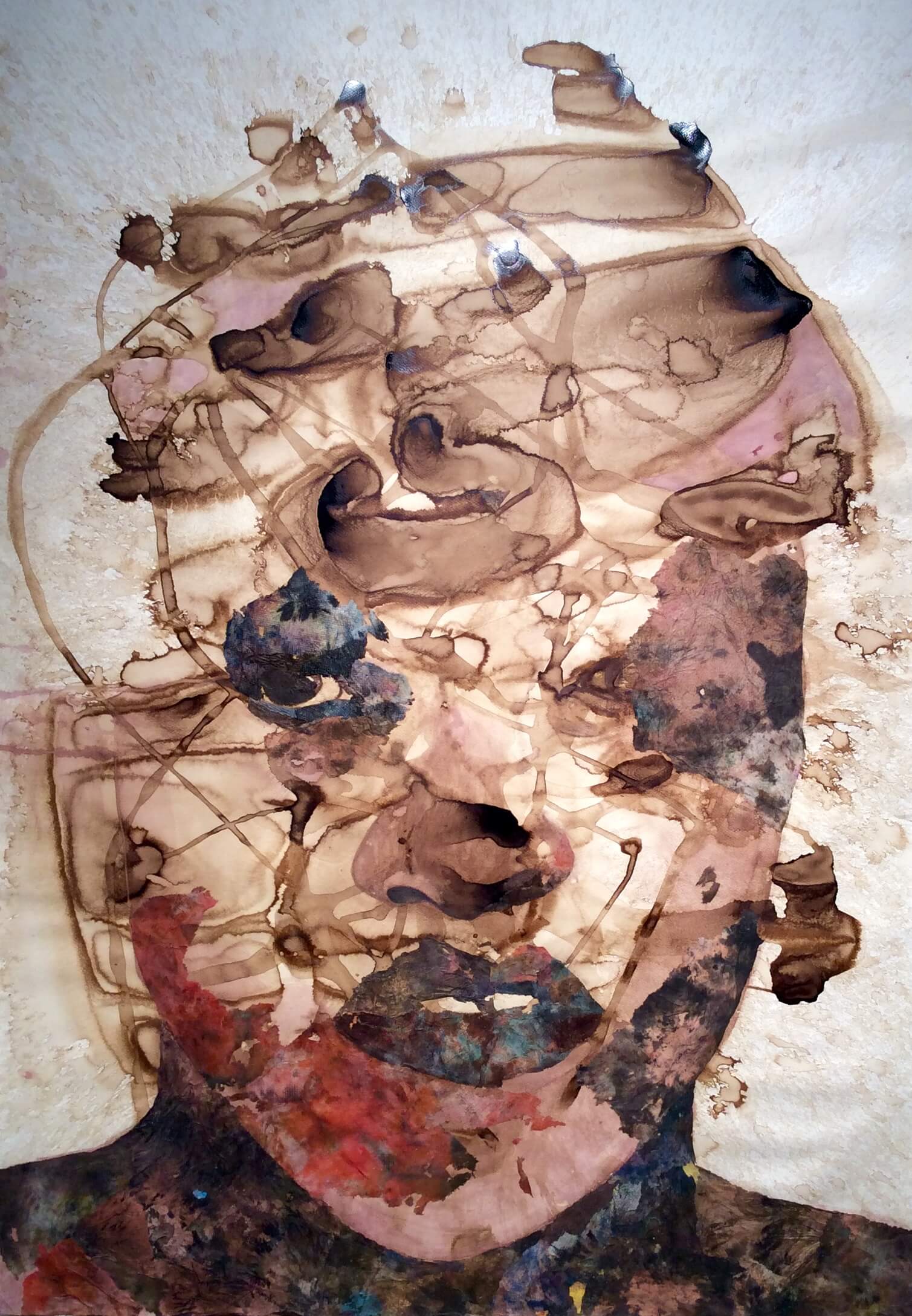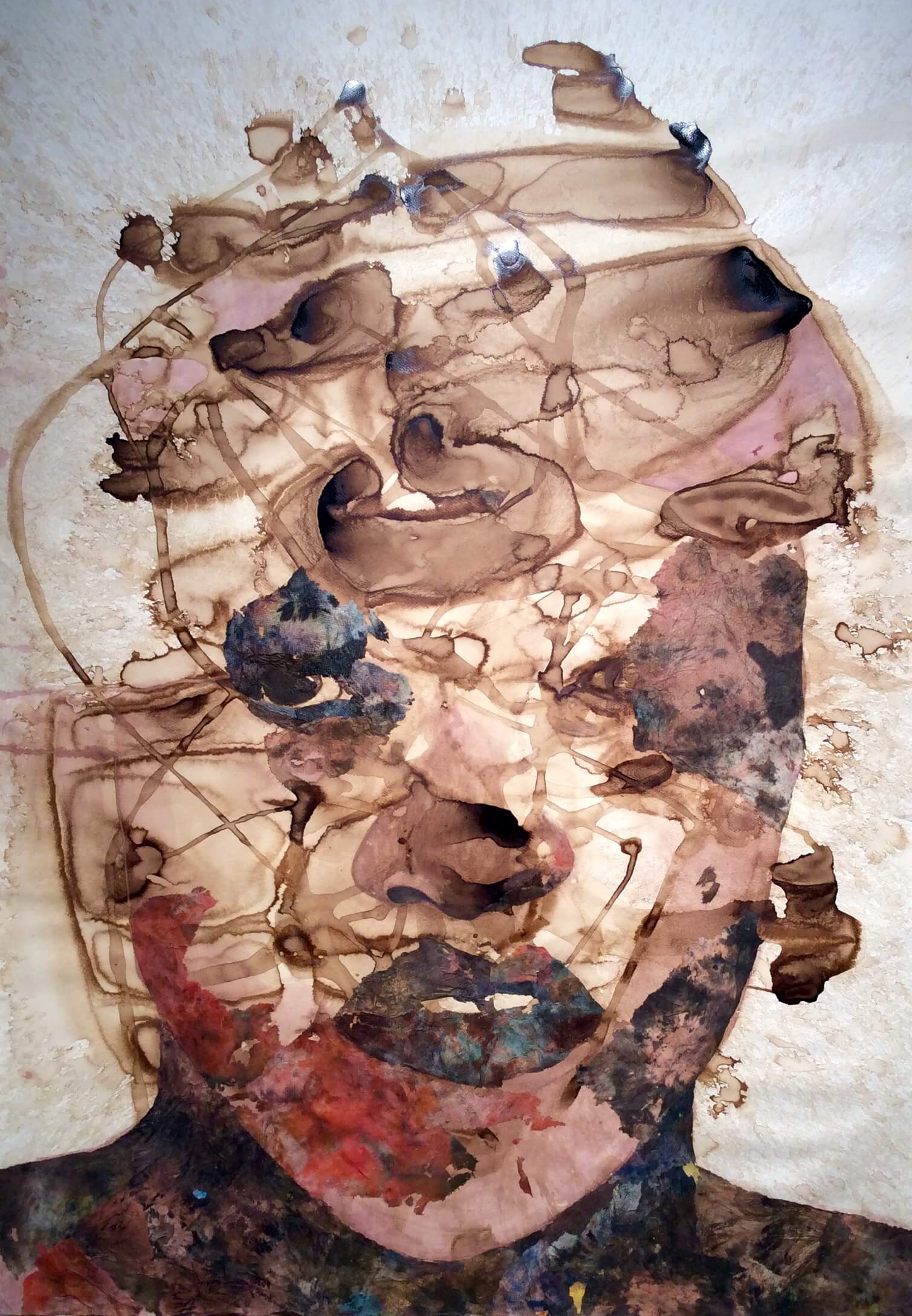 Above: Untitled work by Stephen Arboite. Photo by Dario Calmese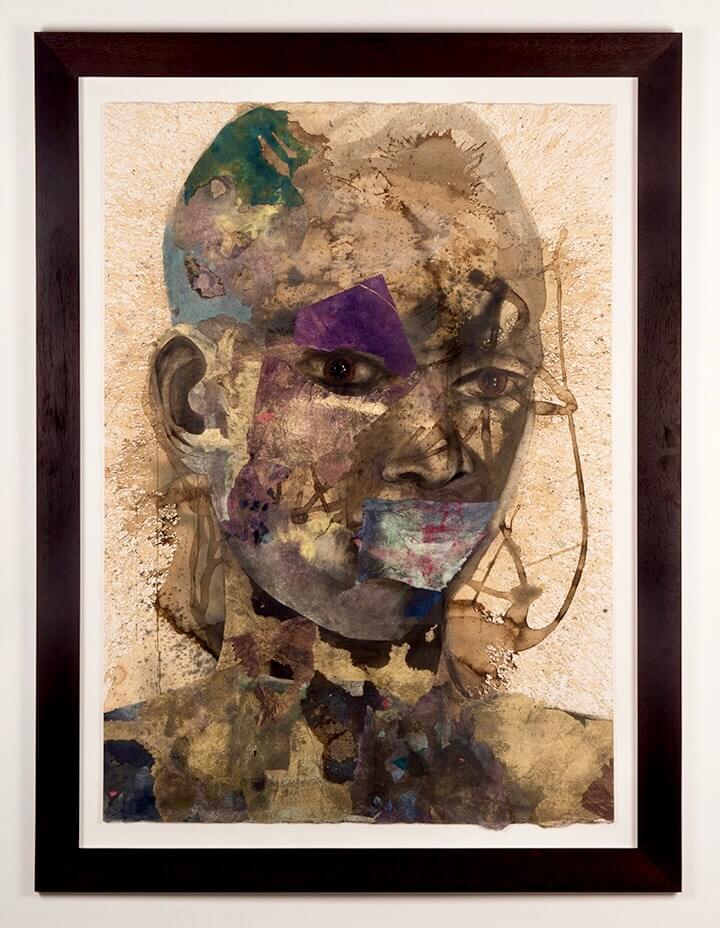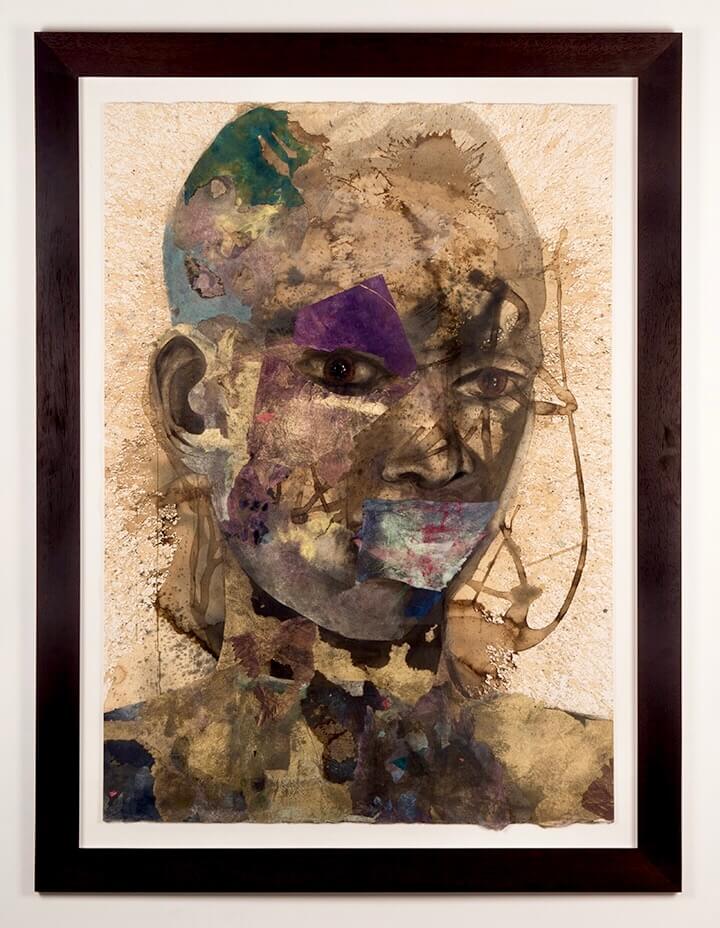 Above: Untitled work by Stephen Arboite. Photo by Dario Calmese