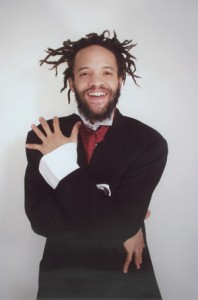 World-famous tap dancer, choreographer and actor
SAVION GLOVER is stomping his way to center stage of the John S. and James L.
Knight Concert Hall at the Adrienne Arsht Center for the Performing Arts of Miami-Dade
County for his performance on Saturday April 6, 2013 at 8 p.m. GLOVER will perform a
new production, titled SoLe SANCTUARY, honoring dancing greats Jimmy Slyde,
Sammy Davis, Jr. and GLOVER's mentor Gregory Hines. The New York Times
describes this powerful performance as "barebones and pure, full of the kind of rhythmic
innovation that trips down one path, splinters off in different directions, and then sweeps
back home."
The presentation is part of the 2012-2013 Knight Masterworks Season – Signature
Dance Series. Tickets range from $50 to $125 and will be available to Arsht Center
members beginning August 31 and to the general public on September 8. Tickets may
be purchased through the Adrienne Arsht Center box office by calling (305) 949-6722 or
online at www.arshtcenter.org.
SAVION GLOVER made his Broadway debut at age 12 in The Tap Dance Kid and has
since then become a living legend in the dance community. GLOVER is credited with
reinventing tap dancing with his hard-hitting style and improvisational choreography, a
groundbreaking fusion of jazz, hip-hop, be-bop, and world music patterns and rhythms.
He choreographed and starred in the Broadway musical Bring in 'da Noise, Bring in 'da
Funk for which he won a Tony Award for Best Choreographer and was nominated for
Best Actor, making him one of the youngest actors ever in the category. His remarkable
career also spans television and motion pictures, including starring roles in Tap with
Gregory Hines and Sammy Davis Jr., Spike Lee's Bamboozled and a multiple-season
role on Sesame Street. GLOVER also choreographed and provided the dancing motion
for Disney's Academy Award-winning animated film, Happy Feet.
GLOVER has also helped bring his art form to younger generations. He shares his
passion for tap dance with aspiring dancers through Savion Glover Productions, which
tours schools across the United States.