In collaboration with the Miami Book Fair, Ayiti Images launches a new film series, Books & Cinema with a special screening of the historical biopic, Toussaint Louverture, at 6:30 p.m. on Friday, May 5th at O Cinema in Miami Shores.
For the past several years, Ayiti Images has been using film as a platform to expose the greater South Florida community to a more positive and varied image about the Haitian experience. Films selected for the series are highly acclaimed and award-winning works capturing an authentic aspect of Haitian life. Many are by Haitian filmmakers.
Haitians constitute the second largest immigrant population in South Florida and their community is very important to the Miami Book Fair. Along with exploring Caribbean literature at their annual book fair in the fall, for the past two years, the Miami Book Fair has focused a special spotlight on Haitian literature, Francophone writing workshops, and other activities such as the annual Little Haiti Book Festival. "I'm really looking forward to including films, another medium for telling stories, in the lineup for Miami Book Fair's ReadCaribbean program," says Lissette Mendez, Director of Programs for the Miami Book Fair, who plays a key role in branding literary activities throughout South Florida.
Additional partners for this special screening are the Kimberly Green Latin American & Caribbean Center at FIU and the Haitian Consulate of Miami. "Ayiti Images provides a wonderful experience of Haitian films series and I am beyond proud of sponsoring a special screening of Toussaint Louverture," said Haitian consulate general, Gandy Thomas.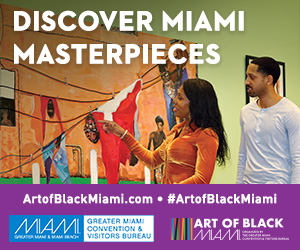 Toussaint Louverture will be screening on May 5th, 2017 at O Cinema Miami Shores, beginning at 6:30 p.m. O Cinema is located at 9806 NE 2nd Ave, Miami, FL 33138. Tickets are $16, $13 for students/seniors, and free for kids under 10.