Above: Rachelle Salnave. Photo Julie Yarbrough
The United States installed a new president on January 20, 2017. Since the inauguration, we have seen worldwide protests and acts of resistance across all age levels, cultures, backgrounds. Artists have a unique role in modern culture; they are the mirror and the griot for society. Artists show us who were, are and where we will go,  often leading the charge for change. This year, we will speak to black creatives about their political philosophies and how they intend to work with our new administration. The series begins with Haitian-American filmmaker and Knight Foundation Arts Challenge winner Rachelle Salnave about her thoughts on the new U.S. president, his administration and how she will work with her community using film.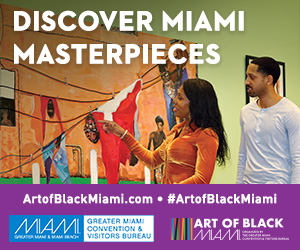 Melissa Hunter Davis (MHD): What were your thoughts about the election?
Rachel Salnave (RS): Well, my thoughts about the election were that many people in the community and our society had accepted the thought process in this election that we're voting for the lesser of the two evils, right? So one evil was out, and that was Clinton. So now we have another evil that we have to deal with. You know, we're constantly in this spiritual warfare of fighting against evil. Now, individually, I'm on a spiritual quest, always have been, to understand and get through this thing we call life. And we have someone in office that is challenging.
I'm a part of many, many different communities. When I say "community," I'll start with the black community. I'm also a part of the Haitian community. I'm a part of the art, the film community. I'm a part of the black film community. And I feel like, "You know what? Sometimes we need to put our backs up against the wall." Sometimes we need stuff that isn't hidden, because, you know, when we talk about the less of two evils, you know, one evil hides and lies and the other one doesn't lie and tells you right in the face that they hate you. So from an artistic perspective, from a spiritual perspective, I think this is an amazing time. I think if we tune into what we want as a community, what we want as a society, what we want as artists, that this is going to be an explosive, revolutionary time for art and film.
MHD: So moving forward, this is a time to work. You know, we don't have any questions about how people feel. We don't have to question about what's going on behind our backs. We don't have to worry about what's happening in secret, because it's all transparent, so there's no need to ask questions now.So what are your next steps? How are you going to work on your communities or bridge those communities together? How do you move forward?
RS: Okay, well, I'm continuing to do the same thing that I've always done and that I've always wanted to do, which is use film as a platform to bring people together. To allow people to speak about the issues of whatever film that I'm promoting. So right now, I'm working on multiple projects. The big project that I'm working on, which I got awarded the Knight Arts Challenge for, is to bring black movies — black independent, well-produced, and well-made films — to Overtown on a monthly basis. So that's one. Two, I also have my Ayiti Images, which presents films that speak about the Haitian experience. Ayiti Images critical, because, it's a unique culture that anybody can look to and feel a sense of inspiration and fire just by the acts of this island and its culture. One, that's one prong to Ayiti Images. The other prong to Ayiti Images is that, you know, I live in a state where Haitians are the second-largest immigrant community in the state of Florida, so I think it's important that people understand Haiti outside of the negative contexts that have been drawn up in the media. Film is a good way to do that.
And then also from an individual artist's perspective, you know, I'll be working on making another documentary and then a narrative soon, in the next two years or so.
MHD: What would you recommend to young artists who are in school, whether high school or in college, and they're trying to navigate their way through this world, trying to find out where their voice fits. How would you advise them to move forward with this new administration?
RS: Well, what I would advise is that people sit with themselves and meditate and pray and keep God in their lives first and dig into what they are passionate about because they're in a great space. They're in a space where some of them may be at home; some of them may be living in a dorm; some of them may be living on their own, but they're still in a space where they're in an incubation process. So what they need to do is find their purpose. What drives them? What motivates them? And don't think about money. Don't think about a career. Don't think about the barriers that may be against you as it pertains to money and all of that stuff. That stuff that brings on fear. When you think about your passion, and you think about what you passionately want to do in this life while you're in that incubation process, do that. Do it with all your might and your heart and your soul.
When you find that passion, start finding a mentor that has done it, that's doing it and is doing it on a bigger scale. If you're a person like me, let's say film, if you're studying film, you know, be part of that community. Go to film festivals. Go to seminars. Travel outside of your area – if you can travel – to different film festivals. Immerse yourself in your passion, in the community.
And then also, you know, life goes on. You know, shut the news off. You know, just pick up the "Times" on Sunday to get caught up if you want to, but shut the news off. You know, pick up a book. Read your blog (Sugarcane Magazine). You know what I mean? Like, shut it off.