Project Runway Season 15 introduced the world to Shreveport, Louisiana native Latasha Henderson, of VonRay Designs. Known for clothing, accessories, and styling the likes of Byshere Gray from Empire, cast members from Power, and a host of celebrity customers, Latasha made a memorable debut on Lifetime's hit show. Latasha said goodbye to Project Runway in episode 6, but she left an impression on a legion of fans. I caught up with #designerTasha (as she is known on the show) to discuss her success and her new platform.
Melissa: It is a pleasure to speak to you. I have watched you for a while now. I first saw you on Fashion Bomb Daily.
Latasha: Oh wow.
Melissa: You were the Bombshell of the Day.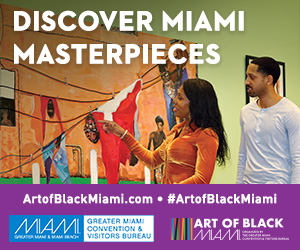 Latasha: Wow, that's amazing.
Melissa: Yes. I liked the style that you brought to plus size fashion. So it gave me a different way of looking at dressing and styling myself. I love your aesthetic and what you do. So when I saw that you made it to Project Runway, I was proud of you like you were my sister. I was happy to see you there.
Latasha: Oh wow, that's amazing. Thank you so much.
Melissa: So speaking of your style, I want to know what informs your particular style and aesthetic in design.
Latasha: I grew up a tomboy. I grew up too, to be honest, on the less fortunate side. I got a lot of hand-me-downs and stuff like that when I was growing up. I had to make the best of what I could. For the indoors, I had a cool removable wallpaper plastered on the walls of my room and a few DIY decor items. But for my clothes, I had to live in my imagination. It's funny but I'm thirty-four now, and I still live in my imagination. So I would create pieces that I knew I could wear more than once. And that comes from having to improvise when I was younger. Like I know if I wear a pair of jeans two or three times this week, I have to change the top. So that's what pushed me in my aesthetic, too. Like layering pieces and using simple pieces so that you can wear things a lot of times and style it many different ways and people wouldn't be bothered by it. You know what I mean? So that was one thing and then my being a tomboy – for sure – was the building of the urban and streetwear aesthetic that I have. So it was a mixture of all of that. And then just making stuff for the everyday woman that they (women) could just put on with heels or sneakers.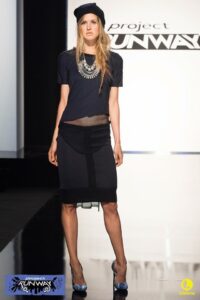 Design by Latasha Henderson of Project Runway Season 15
Melissa: When did you start sewing?
Latasha: I've been sewing since the age of seven. My background started with my grandmother. She made clothes for a living. My mom sewed, all my siblings sewed, I fell in love with it at the age of eight. That's when I really can remember making something and wearing it.
Melissa: So you have this way of looking at clothing for women who still want to be stylish and still want to be comfortable. Do you see other designers tapping into that market or are you by yourself?
Latasha: I feel like other designers are doing it, but they're tapping into it the way that they know how. I like streetwear brands. I like Yeezy; he inspires me. I like him as an artist period. I've been on Kanye since he was making beats for Scarface. I've followed his music. I've followed his style, and before the Yeezy season, his use of pastels and bringing women's apparel to the runway and a lot of people didn't know about that. And I'm really into John Elliott and Zanerobe and designers like that. I'm into the streetwear brands, but I have seen a lot of designers lately that have been bringing in the same thing that I'm doing, they're just using a different approach and different taste.
Melissa: So we saw you on Project Runway. We saw all the challenges. I know as a viewer when I saw the first day that you guys had this huge challenge to take the decorations from the room and create an outfit for the day. It made me nervous. So what is it like, as a contestant, being on that show like that?
Latasha: Girl, they tricked us. We thought we had a little party going on. I was like, maybe they are going do it after we enjoy ourselves and go somewhere. It happened right on the spot. To be in that position, made me apologize to every show that I watched with contestants, and I yelled at the TV like, "Oh I can do it better!" It made me retract and go back and apologize to them because you're there, you're away from your family. You can't hop on the phone. You have to pull inspiration straight out of your head. You didn't have time to research or reference or sketch anything. You just got to straight go into it. It's hard, but if you love fashion, you're going to create something. I didn't care if the judges like it or not, you're going to create something if you're a fashionable person. TV made it look easy, to be honest.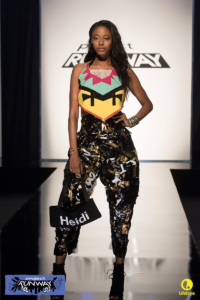 Design by Latasha Henderson of Project Runway Season 15
Melissa: What were the perks of being on Project Runway? What have you done so far?
Latasha: I get a lot of love from my family, but to get love from somebody that doesn't know you; you know what I'm saying? There are times in life that people pass judgment on you and it's wrong. To not be judged by my size, to be judged by my confidence and my attitude and to have so many young followers; it is crazy. There was a time when I used to be really ashamed of my voice because my voice is so heavy. I met a woman and her five-year-old thinks my voice is soothing, so she would have to run the episodes I was on to put her daughter to sleep. All because her daughter liked my voice so much. Then I had another five-year old that I FaceTime'd, and she knew every design that I made. She sewed herself, five years old. She loved the fact that I said "Boss Man" and she cried when I left. Her dad said he passed by a room and she was on the floor kicking and screaming and crying. And he was like, "What's wrong with you?" She was like, "They let Tasha go." To see that young people between the age of five and twenty-five love my aesthetic, love me as a person…
I just went to Nigeria, and that was a perk. They called me and wanted me as a celebrity judge for their Living Fashion show. To showcase and to walk into another country where Project Runway's not even airing yet, but they've been going online to watch. People walk up to me asking for my autograph or pictures and saying I'm their favorite from the show. And I've gotten so many calls from major stores that I shop at that want to do collaborations with me. People in Japan have reached out to me and want me to come and do stuff there. Oh my God, Melissa, it's been a blessing to be able to be on the Project Runway platform because I'm able to inspire people. Stuff that people know me by, because I've been doing this stuff professionally since I was fifteen. People that are turned on to who I am and following what I'm doing; that inspires me. Especially young people, young people keep me afloat.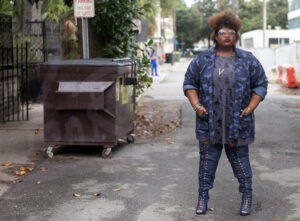 Design and styling by Latasha Henderson of Project Runway Season 15
Melissa: So we've seen your website. You have some new pieces up now. Can you tell me about your current collection?
Latasha: My current collection was mainly created out of comfort, to be honest. I like for women to be cute and comfortable. Since coming back from Nigeria, I'm working on a collection of dresses that I was inspired to do. And we'll also have some new accessories; dope accessories! We gained a following in 2011 and 2012 from so many celebrities wearing our crystallized pins. We're taking it back to accessories as well and doing metalwork. We'll have that coming soon to the website.
Melissa: Before we close out, can you give us one style tip that will take our style over the edge?
Latasha: Yes, I would say always keep something black in your wardrobe. Something black and fitted. Black goes with everything and it's easy to camouflage and wear more than one piece. Like even if it's a beautiful black skirt. You wear different tops with that black skirt, or with nice black pants, or even a black dress that you can layer with a blazer or a jacket.