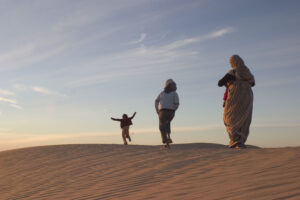 WORLD Channel in association with National Black Programming Consortium (NBPC) will present WORLD Channel Special Report: Behind Stolen on Tuesday, February 26, at 7:00 pm ET (6:00 pm CT, 4:00 pm PT). The two-hour special will include the documentary Stolen, followed by a panel discussion to explore the many complicated issues that have arisen from the independent film in which filmmakers Violeta Ayala and Daniel Fallshaw document what they believe to be modern-day slavery in the Western Sahara region of Africa. Originally scheduled to air on February 5, the film's broadcast was postponed to allow for the production of a special report and discussion segments that address the rising controversy generated by the film. Stolen is part of season five of the series AfroPoP: The Ultimate Cultural Exchange. AfroPoP is produced by NBPC and hosted this year by actress Gabourey Sidibe.
In Stolen, Ayala and Fallshaw head to a refugee camp in Western Sahara to document a U.N.-monitored family reunion between Fetim Sellami, a Saharawi refugee, and the mother she had not seen since she was a child. At the reunion, Fetim and others discuss how Fetim was taken from her mother to work for white Saharawis living in a refugee camp run by the Polisario, the government ruling the Saharawis; during this taping, claims arise that she and her family are enslaved. Other film subjects also say they are enslaved and seek help to gain their freedom. Soon, what was intended to be a happy record of a family reunion becomes an exposé surrounding reported slavery in the camp, bringing the filmmakers under the scrutiny of the Polisario, the government of Morocco and others.
The film has many supporters, but it also has critics—from those who claim that slavery does not exist in Western Sahara to those who challenge the filmmakers' methods. After the film was completed, Fetim withdrew her consent to be in it, and her daughter's father also withdrew his approval for his minor daughter to appear. The Polisario flew Fetim to the 2009 Sydney Film Festival to challenge Stolen and has campaigned against the film at film festivals. To date, Stolen has been screened in more than 80 film festivals around the world. This WORLD Channel broadcast is its world television premiere.
Kicking off the program will be an in-depth report that contextualizes the region and the complicated controversy surrounding the film by lead correspondent Phillip Martin, who has been covering human trafficking internationally since 2010 as senior investigative reporter with WGBH- FM. After the film's broadcast, Ayala and Fallshaw will be interviewed by award-winning WGBH
News journalist Callie Crossley to discuss their transition from documentarians to advocates, the journalistic questions raised as a result of the film and what has happened since the film's release. Experts on the Western Sahara region and modern-day slavery will then participate in a roundtable discussion about geopolitical issues in the area, including human rights. Both companion shows, produced by WORLD Channel in association with NBPC, are designed to provide viewers with information and inspire dialogue in homes and communities across America.
Executive Producer of Content Chris Hastings remarked, "The broadcast premiere of Stolen allows WORLD Channel to dig deep into a troubling question — what is slavery today? Beyond the difficult geopolitical situation and sociocultural differences, WORLD's wraparound special report provides viewers with the information and expert opinion to judge for themselves: are the people in this film suffering from vestiges of slavery or is there a 'cultural' misunderstanding?"
WORLD Channel General Manager Liz Cheng added, "This is WORLD Channel at its best — opening wide a broadcast window on a distant corner of the globe and informing conversations that address complex situations and difficult questions."
National Black Programming Consortium, the producer of the AfroPoP series, will host an OVEE (social video platform for PBS and local public television stations across the county) online discussion of the film from 4 pm to 5 pm ET, prior to the airing of the special. Viewers can watch clips from the film and chat with experts about the challenges of documenting a foreign culture in a region rife with conflict at https://ovee.itvs.org/screenings.
"Combined with the broadcasts of Stolen and WORLD Channel Special Report: Behind Stolen we hope the OVEE online discussion will further extend the audiences opportunity to weigh in on such an important topic," said Leslie Fields-Cruz, co-executive producer of AfroPoP.
The WORLD Channel Special Report: Behind Stolen will repeat at midnight (9pm PT) and re-air on WORLD on Sunday, March 3 at 8:00 am and 4:00p m ET (1:00pm PT). To find your local WORLD station, check your local listings.
AfroPoP is an innovative documentary series consisting of independent films about contemporary life, art and pop culture across the African Diaspora. The series premiered on January 22 with A Lot Like You by Eliaichi Kimaro and continued with Dear Mandela by Dara Kell and Christopher Nizza. A Lot Like You and Dear Mandela has been distributed by American Public Television for broadcast on additional public television channels throughout February 2013 and beyond.
For more information on the series or films, visit www.blackpublicmedia.org. For further information on WORLD and the special, visit www.worldchannel.org.