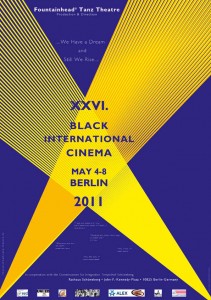 Presented by the Fountainhead Theatre in Berlin, the festival opens with one of favorite Jazz artists/people " A Conversation with Oscar Brown, Jr." directed by Donald Griffiths and the documentary " Jamaica for Sale". According to the festival organizers, the festival :"is a yearly interdisciplinary, intercultural film/video festival produced and directed by Fountainhead® Tanz Theatre / THE COLLEGIUM – Forum & Television Program Berlin in association with Cultural Zephyr e.V. and screens cinema from the African Diaspora and other films from varied intercultural backgrounds or perspectives.
Black International Cinema Berlin originated from the Black Cultural Festival, which was produced and directed by Fountainhead® Tanz Theatre in 1986 for the first time in Europe, a 3-week event in Berlin, which presented the contributions of Black people to world culture through film, theater, dance, music, workshops and seminars, and was an homage to the legendary tap dancer, Carnell Lyons.
The venues were the Theatermanufaktur am Halleschen Ufer from March 3-16, music – dance – theatre; Hochschule der Künste Berlin on March 11, symposium; Kino Arsenal from March 17-23, film.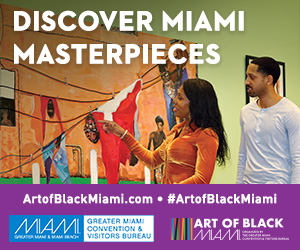 Organization and Artistic Direction: Prof. Gayle McKinney Griffith (USA/Berlin), Prof. Donald Muldrow Griffith (USA/Berlin), Donald Muldrow McKinney Griffith II (USA/Berlin), Dr. Ntongela Masilela (South Africa); in cooperation with: Prof. Dr. Abdul Alkalimat (USA), Uazuvara Ewald Katjivena (Namibia), Getinet Belay (Ethiopia), Joliba Africa Center; Organization: Erika Gregor (Arsenal Cinema, Germany); Organization Assistance: Annette Koschmieder (Germany)
Since then, Fountainhead® Tanz Theatre produces and directs the Black International Cinema each year in Berlin and additionally, in other European and US-American cities.
The festival focuses on presenting works of an artistic, cultural or political nature coinciding with the general educational, social, artistic and economic interest of people from Africa, the African Diaspora and people with an interest in participating in intercultural communication and the resultant interfacing and sharing of educational, social, artistic and economic resources.
Furthermore, Black International Cinema is open to ALL filmmakers and contributes to better understanding and increasing cooperation between people from various cultural, ethnic, national and religious backgrounds, in order to reduce prejudice and support a peaceful and respectful living together in our multi-faceted societies."
Click here for the festival schedule.