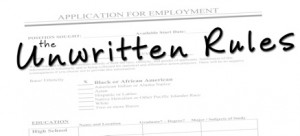 InkSpot Entertainment will premiere a new web series, "the Unwritten Rules" on April 25, 2012. The comedic series is based on the book, "40 Hours and an Unwritten Rule: The Diary of a Nigger, Negro, Colored, Black, African-American Woman", released by Butterfly Ink Publishing in 2004. The book and web-series are written by Writer and Producer, Kim Williams. The web-series examines the comedic realities of being an African-American in a predominantly white workplace. Like the novel, the series delves into the main character, Racey Jones' head to uncover real situations, truthful thoughts, honest reactions, and hilarious moments that African-Americans experience in the workplace.
Writer and Executive Producer, Kim Williams has spent 15 years in the entertainment and is often the "the only one". In 2004, she decided to chronicle the countless stories she and her friends shared about their white co-workers in a fictional diary. "When writing the book, I wanted to stay 100-percent honest with the thoughts, emotions, and situations that Black people experience in the American workplace. I think the humor mixed with the honesty is what connects readers, regardless of ethnicity," Williams shared. After the success of "40 Hours and an Unwritten Rule", Williams decided to enter the digital world to create an authentic depiction of the common daily experiences that are still relevant in the American workplace. Bob Mora ("The Amazing Race", "America's Next Top Model") also serves as Executive Producer.
The series stars Aasha Davis ("Pariah", "Friday Night Lights", "South of Nowhere") as Racey. Other cast members include Balbinka, Nicole Fox (America's Next Top Model, Winner Cycle 13), Sara Finely, David Lowe, Ebenezer Quaye, and Antonio Ramirez. For complete bios, trailer, and more details, visit theunwrittenrulesseries.com.