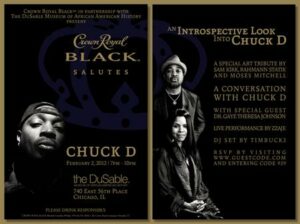 Crown Royal and the DuSable Museum of African American History in Chicago, Illinois have teamed up for Black History Month to present "Crown Royal Black Salutes Chuck D.", a tribute to the life and accomplishments of the legendary Public Enemy front man.
The tribute consists of a pictorial display featuring photos of Chuck D. taken by acclaimed photographer, Moses Mitchell. Also highlighted will be original paintings by artists Sam Kirk and Rahmaan Statik. The collection is co-curated by DuSable curator Charles Bethea and renowned Chicago artist Sam Kirk.
The opening of the artistic showcase will be held on the evening of February 2, 2012, and will feature an introspective conversation with Chuck D. and Dr. Gaye Theresa Johnson on the subjects of hip-hop activism, the 25th anniversary of Public Enemy, and the soft launch of Chuck's new company, Enemy Books.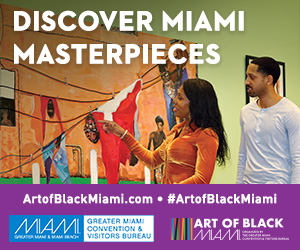 Guests will sip Crown Royal cocktails while enjoying the musical backdrop of WGCI DJ Timbuck 2, and the band Zzaje.
For event details, visit www.guestcode.com (code #929)