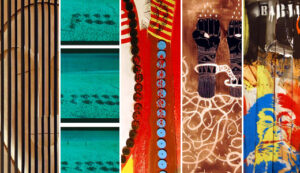 The ROOTS exhibition is the visible result of the ROOTS artistic residency that took place
at LAC – Laboratório de Actividades Criativas, in Lagos, Portugal, in 2011 and which is
now presented at INFLUX CONTEMPORARY ART.
For two whole weeks A. Pedro Correia , Abraao Vicente ,
, Fefe Talevera , Isabel Lima , Jorge Dias worked around the theme of slavery from a contemporary
point of view. The project aimed to build routes and trans-cultural fluxus, through
reflection on the cultural diversity of both "colonizer" and "colonized" countries and their
influences on the creation of a plural and global miscegenation while, at the same time,
trying to question and identify the origin of this process.