Cinema: Ugandan Documentary "Bouncing Cats" Premieres in the U. S.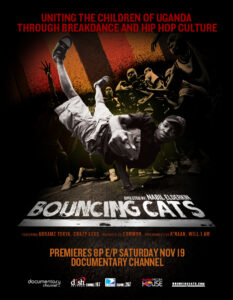 If you live in or get the Documentary Chanel, tune into the award winning documentary "Bouncing Cats" here is a description from the producers "The film, narrated by Common and featuring interviews with Will.I.Am, and K'Naan, follows the legendary Crazy Legs of the Rock Steady Crew and b-boy Abramz, the founder of Breakdance Project Uganda (BPU), on a journey to unify,
empower and inspire youth in the war torn region that has been called one of the worst places on earth to be a child. The film, produced by Red Bull Media House and directed by Australian filmmaker and photographer Nabil Elderkin, toured the film festival circuit in 2010 and 2011, earning awards along the way at Urbanworld Film Festival, Newport Beach Film Festival, and Southern Utah International Documentary Film Festival, among others." It premiers at 8 PM ( EST/CNT) and repeats November 25 at 6 PM , December 29 at 2:30 PM, January 26 9:30 PM and January 27 at 12 AM. All times are Eastern/Central. If you want to no more about the film visit http://www.bouncingcats.com or join the community and share your thought at http://www.facebook.com/bouncingcats.