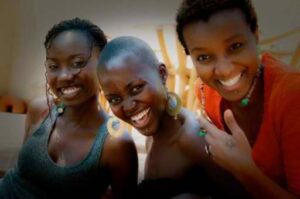 MTV's Shuga is starting its second successful season. The series was funded through U. S. based programs targeting HIV awareness for youths.The first series of Shuga was filmed in Kenya in August-September 2009. Starring a young cast of
upcoming Kenyan actors and actresses, Shuga told a bitter-sweet tale of love, loss, sex, heartbreak
and relationships, set in the clubs, bars, campuses and hangouts of contemporary Nairobi. With a raw and uncut view on the lives of sexually active young Kenyans, Shuga spot lit the risks associated with unprotected sex and the party-hard lifestyles of urban Kenyan youth, told through the interlinked tales of characters Ayira (Lupita Nyongo), Ty (Pepe Haze), Felix (Tumisho Masha), Violet (Sharon Olago), Skola (David Omwange), Sindi (Valerie Kimani), Leo (Nicholas Mutuma), Kennedy (Antony Mwangi)
and Virginia (Eva Kanyang'onda).
First aired in Kenya in November 2009 on MTV Base (DStv Channel 322) and terrestrial stations
Citizen TV, KTN, NTV and KBC Channel One, Shuga reached viewers in 48 countries in sub-Saharan
Africa and more than 70 TV stations worldwide. It continues to be widely viewed in countries such as
Zambia, South Africa and Jamaica, among others, together with a facilitator's guide for peer educators to engage young people in open discussions and to motivate behaviour change. The global success of Shuga as a vehicle for HIV and AIDS messaging for youth consumption was undeniable. In May 2010, Shuga won a prestigious Gold award at the World Media Festival in Hamburg, Germany in the "Public Relations: Health" category, for its vivid and uncompromising focus on love, emotions and sexual behaviour amongst Kenyan youth. You can find the episodes online if you live outside the continent. Here is episode 1 :

Shuga Episode 1 from mtv staying alive on Vimeo.