K Contemporary is pleased to announce representation of three new artists: Brooklyn-based hyperrealist painter Marc Dennis, Colorado-based painter and printmaker Kristopher Wright, and the Massachusetts-based interdisciplinary artist Elizabeth Alexander. With artistic perspectives and practices as rich as they are diverse, Marc Dennis, Kristopher Wright, and Elizabeth Alexander bring a multi-faceted mix of powerful new voices and immense talent to K Contemporary's artist roster. Their work expands
K Contemporary's mission to highlight critical and diverse dialogues about contemporary society.

Whether these artists are exploring the complexity of American values, the subtle power of iconography, technical processes and materiality, personal histories, human connection, or contradiction and perception, ultimately Dennis, Wright, and Alexander all return to a similar conclusion: that art, no matter how it is rendered, appeals to both the eye and mind, providing a sanctuary for the soul.
Marc Dennis is a Brooklyn-based American artist whose ultra-hyper realistic paintings explore provocative intersections between historical movements, Old Masters of the Western art canon, and tropes from popular culture. Using humor, irony, animals, insects, the illusionistic technique of trompe l'oeil, and the artist's extraordinary technical prowess, Dennis' co-opting of iconic works of art invites important questions about beauty, pleasure, perception, reproduction, and the consumption of imagery in contemporary society.
Marc received his B.F.A. from Tyler School of Art of Temple University in Philadelphia, PA and his M.F.A. from The University of Texas at Austin where he was the first studio art major in UT Austin history to receive a Presidential Full Tuition Scholarship. His works have been included in numerous group and solo exhibitions in New York, Palm Beach, London, Los Angeles, Aspen, Dallas, Chicago, Miami, and Seattle among others. His paintings are in numerous prominent private and public collections, including those of John and Amy Phelan, Glenn Fuhrman, Beth DeWoody, Bill and Maria Bell, Larry Gagosian, David and Jennifer Stockman, Carl and Donna Hessel, Larry and Marilyn Fields, Courtney and Karen Lord, Nancy Rogers, Sean and Tammy McCarthy, The Norton Museum of Art, Palm Beach, FL; The JP Morgan Chase Art Collection, New York; The Neuberger Berman Collection, New York; The UBS Corporate Art Collection, Zurich, Switzerland; The Blanton Museum of Art, University of Texas at Austin; The Springfield Museum of Art, Ohio; The MIN Art Museum, Guadalajara, Mexico; and the Iris & B. Gerald Cantor Center for Visual Arts at Stanford University, Palo Alto, California among others. Marc lives in Montclair, NJ with his two children and works in Brooklyn.
Kristopher Michael Wright (b.1991, Denver CO) is an American artist, educator, curator and graduate of the School of the Art Institute of Chicago where he studied painting and printmaking. Based in Colorado's San Luis Valley since 2019, he uses both print and painting techniques together to construct images full of color and complexity. Taking influence from American iconography, machine diagrams, anatomical studies, Blues, Jazz and personal histories, Wright deploys his materials in brash yet thoughtful ways, exploring themes of joy, tragedy and a search for meaning within a landscape of contradiction. Since leaving Chicago, his works have been exhibited in various group and solo exhibitions throughout The West and Midwest, including the Boulder Museum of Contemporary Art, SAIC's Sullivan Galleries, and Chicago's Museum of Science and Industry.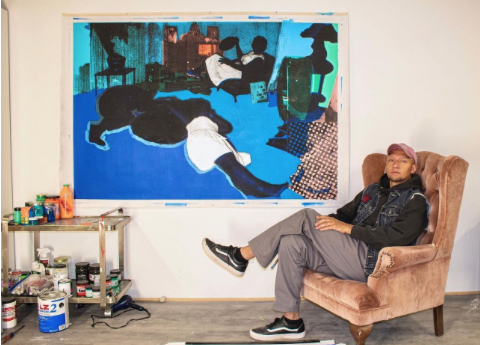 Elizabeth Alexander is an interdisciplinary artist whose intricately patterned and layered installations, sculptures, objects and photography employ cast paper and deconstructed domestic materials to unpack the social, cultural, and psychological implications of American ideals of domesticity, success, and safety. Treating the domestic environment as an extension of human ingenuity, Alexander explores symbols and references of everyday materials while, through purposeful acts of deconstruction and renovation, mining the pervasive chaos embedded in our shared humanity.
Alexander holds degrees in sculpture from the Cranbrook Academy (MFA) and Massachusetts College of Art (BFA) and has exhibited her work across the U.S. at institutions including the Museum of Art and Design, NY; the National Museum of Women in the Arts; the North Carolina Museum of Art; the Southeast Center for Contemporary Art; the Nasher Museum at Duke University; the Currier Museum, New Hampshire; and is included in permanent collections at the Crystal Bridges Museum in Bentonville, AR; Fidelity Investments; and the Mint Museum in Charlotte, NC. Alexander is currently an Associate Professor and Sculpture Department Coordinator at Montserrat College of Art in Beverly, MA.
Elizabeth Alexander with All Things Bright and Beautiful, 2020.
As of Now – Artists' Debut Exhibition
K Contemporary's first exhibition of 2023, entitled As of Now, features all three artists together at K Contemporary and in Denver for the first time. As of Now is K Contemporary's annual group exhibition showcasing the evolution of K Contemporary's innovative artists and projects since its inception in 2017. It highlights where its artists have been and where they are going with revelatory work kicking off each New Year.