This week in African art and culture, we bring news of the first African architect to win the 2022 Pritzker Prize. A Sudanese Ethiopian artist also receives an inaugural art award.
Some of Africa's most celebrated established and emerging artists have donated works for a benefit auction to be presented by Sotheby's at its next sales event.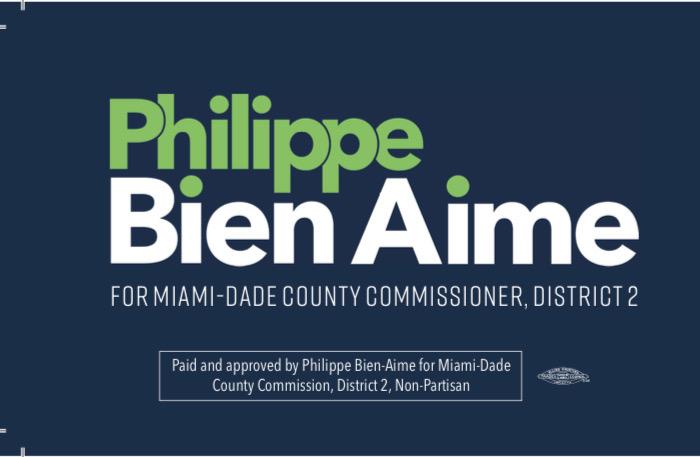 Considering that it's International Women's Month, a noteworthy group exhibition of cross-generational Black South African women artists is on view in Cape Town …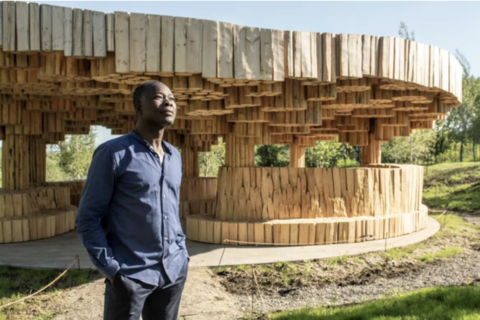 Above: Diébédo Francis Kéré
Burkina Faso's Diébédo Francis Kéré Wins 2022 Pritzker Architecture Prize
Burkino Faso-born architect Diébédo Francis Kéré has become the first African laureate of the prestigious Pritzker Prize, which is often referred to as the Nobel Prize of architecture.
"I am hoping to change the paradigm, push people to dream and undergo risk. It is not because you are rich that you should waste material," said Kéré. "It is not because you are poor that you should not try to create quality. Everyone deserves quality, everyone deserves luxury, and everyone deserves comfort. We are interlinked and concerns in climate, democracy and scarcity are concerns for us all."
"Francis Kéré is pioneering architecture—sustainable to the earth and its inhabitants—in lands of extreme scarcity," commented Tom Pritzker, chairman of The Hyatt Foundation, sponsor of the award. "He is equally architect and servant, improving upon the lives and experiences of countless citizens in a region of the world that is at times forgotten. Through buildings that demonstrate beauty, modesty, boldness and invention, and by the integrity of his architecture and geste, Kéré gracefully upholds the mission of this prize."
Kéré's designs are laced with symbolism, and his upbringing and experiences in Gando, a village in Burkina Faso, have influenced his works outside of Africa. The West African tradition of communing under a sacred tree to exchange ideas, narrate stories, celebrate and assemble is recurrent throughout.
Sarbalé Ke, which was shown in 2019 at the Coachella Valley Music and Arts Festival in California, translates to "House of Celebration" in his native Bissa language and references the shape of the hollowing baobab tree, revered in his homeland for its medicinal properties.
The Serpentine Pavilion (2017, London) also takes its central shape from the form of a tree, and its disconnected yet curved walls are formed by
triangular indigo modules, identifying with a color that represents strength in his culture and more personally, a blue boubou garment worn by the architect as a child. The detached roof resonates with those of his buildings in Africa, but inside the pavilion, rainwater funnels into the center of the structure, highlighting water scarcity that is experienced worldwide.
The Benin National Assembly (Porto-Novo, Republic of Benin), currently under construction and situated on a public park, is inspired by the palaver tree. While parliament convenes on the inside, citizens also may assemble under the vast shade at the base of the building.
Many of Kéré's built works are located in Africa in countries including the Republic of Benin, Burkino Faso, Mali, Togo, Kenya, Mozambique, Togo and Sudan. Pavilions and installations have been created in Denmark, Germany, Italy, Switzerland, the United Kingdom and the United States. Significant works also include the Xylem Pavilion at Tippet Rise Art Center (2019, Montana), Léo Doctors' Housing (2019, Léo, Burkina Faso), Lycée Schorge Secondary School (2016, Koudougou, Burkina Faso), the National Park of Mali (2010, Bamako, Mali) and Opera Village (Phase I, 2010, Laongo, Burkina Faso).
Kéré established the Kéré Foundation in 1998 to serve the inhabitants of Gando through the development of projects, partnerships and fundraising; and Kéré Architecture in 2005 in Berlin. Kéré is the 51st Laureate of the Pritzker Architecture Prize and is a dual citizen of Burkina Faso and Germany.
Sudanese Ethiopian Artist Atong Atem Receives Inaugural La Prairie Art Award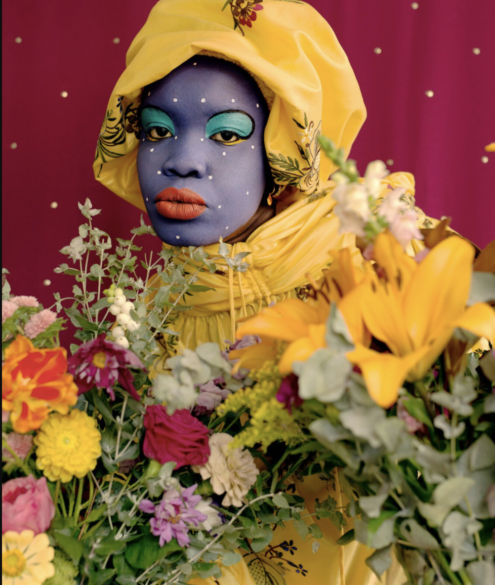 Above: Atong Atem | A Yellow Dress, A Bouquet | 2022
Photographer Atong Atem has received the inaugural La Prairie Art Award for her work, A Yellow Dress, A Bouquet (2022). The award comprises the acquisition of artwork for the art gallery collection, an international artist residency and travel to Zurich to attend the Art Basel international art fair as a guest of La Prairie.
A Yellow Dress, A Bouquet (2022) is a sequential self-portrait in which Atem alludes to classical Western painting traditions through her postures and the symmetry of the group of photos. Throughout, Atem maintains what she refers to as a "decidedly African, postcolonial aesthetic style" with her emphatic use of color and texture.
The hyper-stylized costumes and make-up draw attention to the staging of the studio scene, but such ornamentation also carries political weight. For Atem, the face paint symbolizes aesthetic alienation and a reaction against the idealization of whiteness.
Born in 1991 in Ethiopia, Atong Atem is a southern Sudanese artist and writer based in Naarm/Melbourne, Australia. She works mainly with photography, often using portraiture to explore migrant stories and postcolonial histories of the African diaspora.
Atem explores concepts of home and identity through a critical and sentimental lens and references the works of photographers Malick Sidibe and Seydou Keita and science fiction writers such as Octavia Butler as tools for navigating liminal spaces.
Atem has exhibited her work across Australia, including the National Gallery of Victoria, MUMA Monash, Gertrude Contemporary, Australian Center for Contemporary Art and Internationally at Red Hook Labs in New York, Vogue Fashion Fair in Milan and Unseen Amsterdam art fair.
Works of El Anatsui, Yinka Shonibare, Kehinde Wiley and More at CCA X Sotheby's Benefit Auction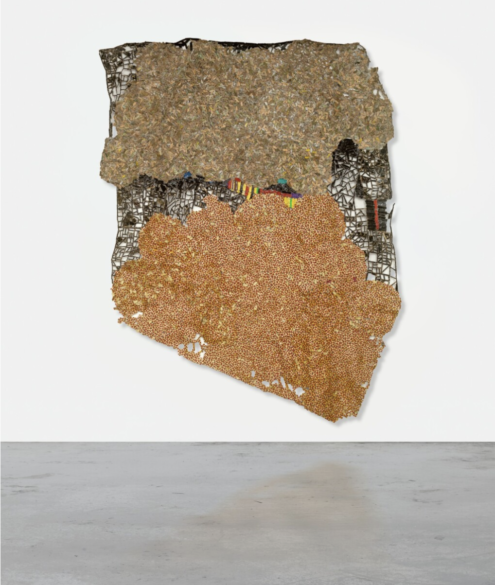 Above: El Anatsui | Revelation| Sotheby's & CCA Benefit Auction  | 2022
Launched on March 17, 2022, Sotheby's London in collaboration with the Centre for Contemporary Art (CCA), Lagos, Nigeria has presented a benefit auction to provide the CCA with a permanent home.
To this cause, some of Africa's most renowned established and emerging artists have donated works. Celebrated sculpture artist El Anatsui created a new bottle cap series, along with works from Kehinde Wiley, Yinka Shonibare CBE, Joy Labinjo, Olu Amoda, Rom Isichei, Osahenye Kainebi, Temitayo Ogunbiyi and Uthman Wahab, among other artists who are committed to the cause.
Offered as part of Sotheby's 10th Modern & Contemporary African Art sale, the 25 artworks are open for bidding until March 22. Over its first decade, the sale has seen more than 100 auction records set for pioneering African artists of the last two centuries and the trailblazers currently working on the continent. A preview exhibition of this season's sale will go on view in Sotheby's New Bond Street Galleries from March 18-22.
CCA Lagos is an independent, nonprofit, visual arts organization founded by the late Bisi Silva in 2007. From its inception, the space quickly became a global platform for the development and presentation of visual culture, while also taking a keen interest in art forms that previously had been under-represented within Nigeria. Today, it also provides access to one of the fastest-growing independent libraries in Africa, reflecting Bisi's belief that exposure to critical thought was key to the development of an impactful artistic practice.
Among the artists who have generously donated works for the sale is El Anatsui, trustee of CCA and longstanding friend of Silva, who specifically for the occasion has created a shimmering, large-scale bottlecap sculpture, titled Revelations, estimated between £600,000-£800,000 (U.S. $0.79 million-$1.05 million).
Speaking to CCA and Bisi's vision, Anatsui said, "CCA, Lagos is a pillar within the local art community. There is no question that it must be preserved and Bisi's mission sustained. I believe that we are all creative animals; we all have creativity inside of us, we just have to awaken it. CCA, Lagos provides a space to do just that. The center inspires new generations of creatives to effect change and to continue to promote the art of this continent."
Yinka Shonibare CBE RA has donated his 2021 textile piece, Modern Magic (Studies of African Art from Picasso's Collection) XI, valued between £50,000-£70,000 (U.S. $65,095-$92,267). In his Modern Magic series, Shonibare responds to the African objects in the collection of Pablo Picasso. Playfully describing this body of work as "Picasso in reverse … cultural appropriation is a two-way thing," the artist draws a parallel between his practice and that of Picasso, adopting various European art forms, just as the Spanish artist took from West African cultures.
Kehinde Wiley donated the sculpture, After La Négresse, 1872 (2006), a reference to Jean-Baptiste Carpeaux's 19th-century sculpture of an enslaved Black female figure, estimated between £8,000-£12,000 (U.S. $10,545-$15,817). Here, Wiley reimagines the woman as a male basketball player wearing a Lakers jersey. In so doing, the artist intends to draw a connection between the sports economy and enslavement, challenging the idea of professional athletics as a pathway to liberation. Another work from this edition resides in the collection of New York's Metropolitan Museum of Art, as it is one of only two known versions of Carpeaux's La Négresse.
Other works offered at the benefit auction include pieces by Abdoulaye Konaté, Joy Labinjo, Virginia Chihota and Babajide Olatunji, to name but a few. The auction also will mark the first time works by Yaw Owusu, Joshua Michael Adokuru, Michaela Yearwood-Dan, Temitayo Ogunbiyi, Odinakachi Okoroafor and Nedia Were have been offered at an auction.
When Rain Clouds Gather: Black South African Women Artists 1940-2000 at Norval Foundation, Cape Town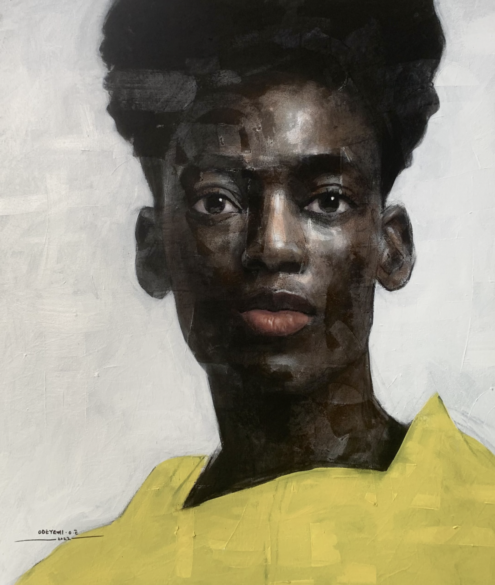 Above: Oluwaseun Odeyemi |Homeboy | conte, charcoal, and acrylic on canvas | 2022
When Rain Clouds Gather: Black South African Women Artists, 1940-2000 is a reflection upon the influential and often unacknowledged contributions of Black women to South African art history in the 20th century. Expressed through a Black African feminist lens and curated by Portia Malatjie and Nontobeko Ntombela, the exhibition is a cross-generational communion of 40 Black women artists, spanning from early modernism to the contemporary period.
The exhibition invites viewers to think critically about Black women's archives and the tools used to engage with them while also taking pleasure in their aesthetic ingenuity.
The more than 120 works displayed in the exhibition demonstrate several recurring themes engaged with during this period. These include the effects of the implementation of apartheid in 1948 and the racial and gender injustices that preceded it, the 1980s state of emergency and the moment of attaining "freedom" from colonial rule. This political ecology exists alongside other concerns with social commentary, and religious and spiritual engagements. Black womanhood, family and community are motifs visited regularly.
The ideas explored by the exhibiting artists materialize in a variety of media, including painting, drawing, etching, printmaking, photography, sculpture, ceramics, installation and textiles.
The exhibition aims to be a platform that presents questions rather than offering definitive answers. It brings together works of "well-known" artists such as Gladys Mgudlandlu, Mmakgabo Mapula Helen Sebidi and Bongi Dhlomo-Mautloa, with lesser-known artists, including Valerie Desmore, Edith Bukhani and Sisanda Mbana. In doing so, the exhibition highlights the parallel worlds (through differences of medium and aesthetic value, primarily structured around geographic divides) in which Black women artists historically operated and how these worlds rarely were encountered simultaneously.
This constellation of works begins to make visible the impact and the intellectual contributions that Black women have made in South Africa's art history in the past century. By engaging with this assembly of artists, artworks, histories and viewpoints, When Rain Clouds Gather: Black South African Women Artists, 1940-2000 demonstrates the ways in which Black women were able to self-organize within and outside of established institutions.
The exhibition, which opened Feb. 9, 2022, is on view at the Norval Foundation, Cape Town, until Jan. 9, 2023.
Serenity Group Exhibition at Mitochondria Gallery in Houston
Opening March 18, 2022 at Mitochondria Gallery in Houston is a group exhibition titled Serenity. The show features Nigerian visual artists Laju Sholola, Odeyemi Oluwaseun and Franklin Ndibam. These artists present nine works that explore a variety of subjects including self-discovery, social commentary, culture and friendship.
Laju Sholola (b. 1989) resides in Lagos, Nigeria, where she explores the uncertainty and hope associated with the self-discovery of women. Using tea, ink and acrylic, she is known for depicting the expression and moods of her subjects.
Odeyemi Oluwaseun (b. 1989) utilizes conte, charcoal and acrylic to create figurative paintings that depict the importance of a social support system. His muses are individuals who have played an essential role in shaping his life. He
works with mixed media, exploring materials such as oil color, pastel, conte, charcoal, acrylic and watercolor. He is drawn to using elements of design to create strong and vivid emotional depictions of Black existence, playing around with wet and dry effects to portray the uniqueness of Black skin.
Odeyemi's work may not only be seen as an ode to African Black history but also a documentation of human connection and experience based on social interactions. This is why he is drawn to using the human face as a means to convey subtle experiences in emotions that could otherwise be missed.
Franklin Ndibam (b.1990) resides in Ibadan, Nigeria. His works focus on capturing and preserving the current state of culture in his environment through portraiture. Serenity features work that depicts a state of togetherness, poise and equanimity.
Compiled by Roli O'tsemaye