As the year comes to an end, we reflect on the many great exhibitions that have featured work by both emerging and established Black artists from Promise, Witness, Remembrance curated by Alison Glenn early this year, a tribute to Breonna Taylor's life featuring a portrait by Amy Sherald to Bisa Butler's iconic textile presentation at the Art Institute of Chicago in early fall, and most recently, Amoako Boafo's highly anticipated first museum solo exhibition: Soul of Black Folks, curated by Larry Ossei-Mensah. 
In this article, we ask collectors what artists left an impression on them. While it is impossible to catch every exhibit, participate in every conversation, and collect every masterpiece, it's important to create dialogue and promote the careers and practices of artists when feasible, and that's what this selected group of collectors is doing. The art collector has evolved from solely purchasing work for the intimacy of their home and personal enjoyment to playing a role in developing and solidifying an artist's career. As an appreciation, we've decided to highlight a curated list of dedicated collectors who are making a difference and supporting the Black art ecosystem beyond solely financial contributions. Documented below, collectors share their favorite purchases and exhibitions of 2021 along with advice for budding collectors.
Jesse Williams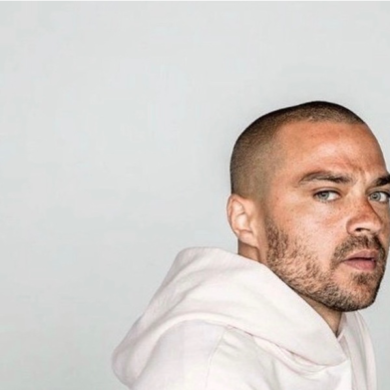 Above: Jesse Williams. Photo by Stefan Ruiz.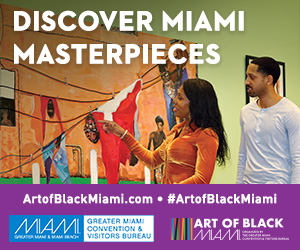 Kendra Walker
: Tell us a little bit about yourself, your work and how you got started collecting.
Jesse Williams
: I started collecting about 13 years ago. But my mom is an artist and I've been collecting her painting and sculpture since high school. Many of our family members are artists. I grew up around the craft of mark-making, painters, woodworkers, dancers, boat builders, architects, carpenters—so I've always appreciated those forms of expression. That's always been in my blood, my family, my background: environment. We made gifts instead of bought gifts (also a product of not having any money growing up) — but it was also our family pushing us to be creatively expressive and have things that really come from the soul instead of consumerism. That's what drew me to the art world and how I got started collecting.
In college and high school, I always surrounded myself with meaningful, spiritual thought provoking language and imagery: propaganda and pop culture posters, cutouts, collages, fine art, magazines, remixing my mom's sculptures and paintings. Both my brothers Coire and Matt are dope creative artists that inspire me daily. My father's use of language has added years to my life- the man has an elegance in intellect and language only the working class can provide. He's a masterful writer. Language itself has been the most soul wrenching art form to impact and transform my life. Sound is visual for me- it's all a spiritual experience and it's evident in the visual art I've always surrounded myself with. 
Once I started to make a little dough, I had incredible guidance from my godmother, Cheryl R. Riley, who really stewarded me through the process of learning about emerging Black artists in a contextual framework: how to support them, how to get to know them and their practice, and make it a distinction between folks who were committed to an interesting long-haul practice, versus the trends and sparks that come or go or have little to say. But, most importantly, buying things you like and investing in people who were really invested in themselves. So, that's how I got started collecting.
KW: 
What was your favorite show or exhibition from 2021?
JW:
 The Noah Davis shows with David Zwirner have been on a level all their own, because it's Noah, but when it comes home to the institution he built with his wife (Karon Davis) and family, The Underground Museum in LA it's gonna reach full ascension. Which is no surprise to those of us lucky enough to know Noah. 
T
he 
Sites of Memory 

 

group show 
at Arthur Lewis's UTA Artist Space, masterfully curated by Essence Harden was ill. Janiva Ellis alone is life changing. But my favorite 2021 show was 
J'ai Deux Amours
 a group exhibition at Mariane Ibrahim's new spectacular Paris Gallery on Avenue Matignon. She has a dense understanding of lasting talent and the show featured wild work from Clotilde Jimenez, Amoako Boafo, Jerrell Gibbs, Ian Mwesiga, Ayana V. Jackson, Shannon T. Lewis, Yukimasa Ida, M. Florine Demosthene and others. Shit was crazy. And she followed with a damn Ferrari Sheppard show. She doesn't miss.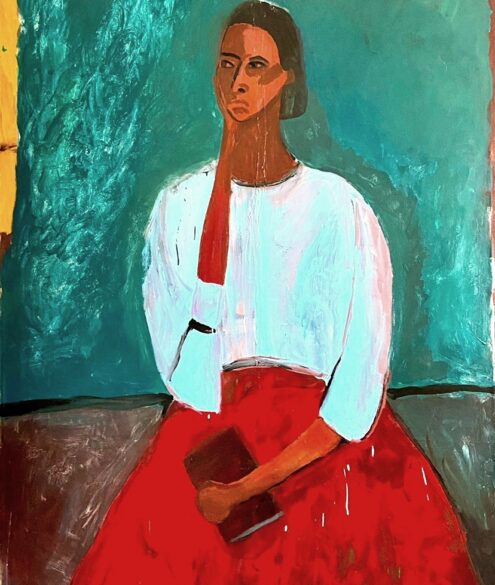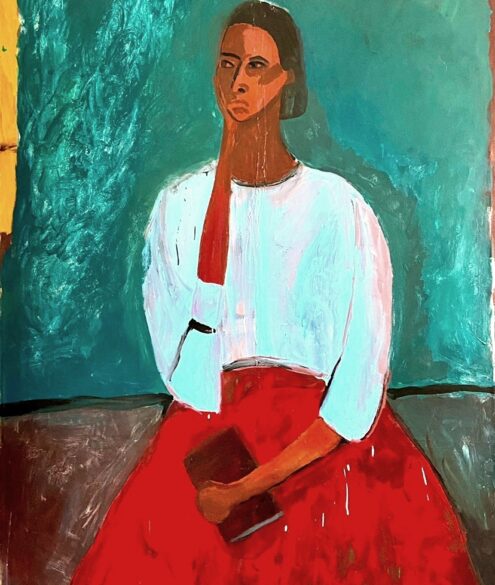 Above: Patrick Eugène "The Stories to Be Told" 2021 72"x 102" Acrylic and Oil on Canvas.
KW: 
What is your favorite purchase from 2021 and why? What do you like the most about this artist?
JW:
 I bought several works by Patrick Eugène this past year, and they're beyond words- they've gotta be experienced in person. I've lived with them all and they're straight up enchanting. I visited him in his studio in Atlanta, and we've become friends. I featured his work in a movie that I just did—He's a remarkable, timeless voice. There's a stripped down baroque quality in essence that's both wholly inventive and traditional, of unplaceable origin. He finds a way to communicate a sincere elegance, both raw and practiced, with a curiously strong, bold yet understated use of color. There's no gimmicks- just near inventions of new color washes that are both one with their background and theme, but also present standout unique hybrid textures and colors. It's a museum-level practice with personality that could easily be at home in the likes of the Centre Pompidou. So yeah, that's the artist that I'm most excited about discovering this year.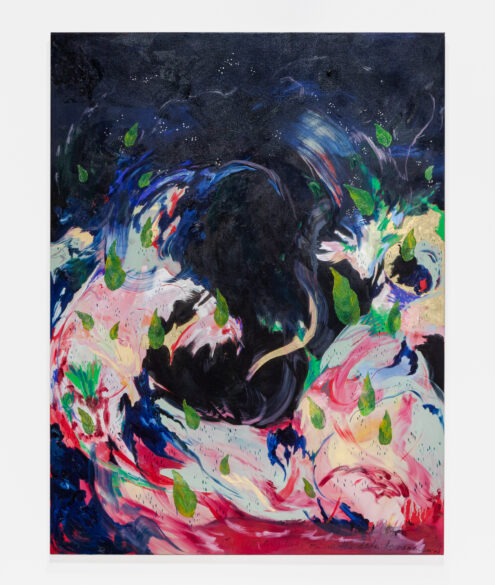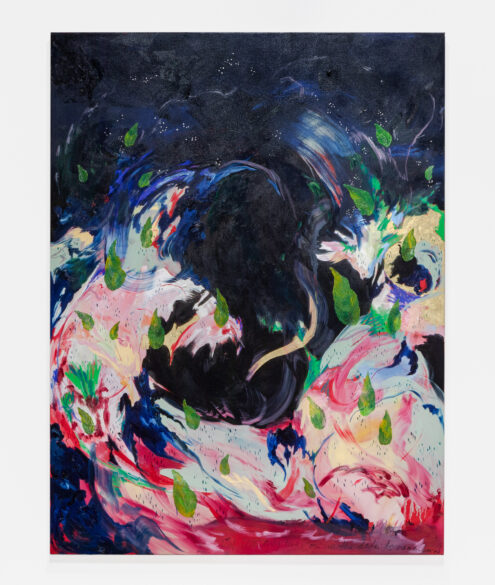 Above: Michaela Yearwood-Dan, Mismatched Blessing, 2021. Oil, ink and acrylic on canvas, 78 3/4 x 59 1/8 inches.
I've also been newly open to even the idea of getting into more abstraction. Michaela Yearwood-Dan is a remarkable painter, though I find her work more what I would call 
figurative abstractionism
. I often find figures in the abstract space, the negative space, and her use of prose, her use of language tucked away, by those who stick around, is remarkable. 
Almost Alice in Wonderland-like because there's always something new to discover and how seamlessly she plays off of color and light. So, yeah, she's a contemporary gateway drug from figurative to abstraction.
KW: 
Advice for new collectors?
JW:
 My advice for new collectors would be to track: You see one piece you like, go look at their body of work, go look at what they did last year, and five years ago. Who were they around? What are they interested in? Do they seem to have a story to tell and an inspired way to get there? Think about it as a filmmaker, or a photographer, or anything else: Did they just hit a lick and get off one great image, or do they have things to say? Do they have a perspective? Do they have a lens through which you're really interested in seeing the world? And then hop on.
Support them. Get to know them. Figure out ways you can help them get to shine. They are human beings, gifting the world with beauty and bravery. Not just devices for us to come up. So, figure out if there's a connection there. And I say that because I primarily have always focused on young emerging Black artists. So, they're my people, they're my peers. Whenever possible you want to get to know them a little bit and see if they're on an interesting journey that you think will produce some really incredible work that you'll be so excited to support.
 Find a community. There are many. 
Michael Ealy + Khatira Rafiqzada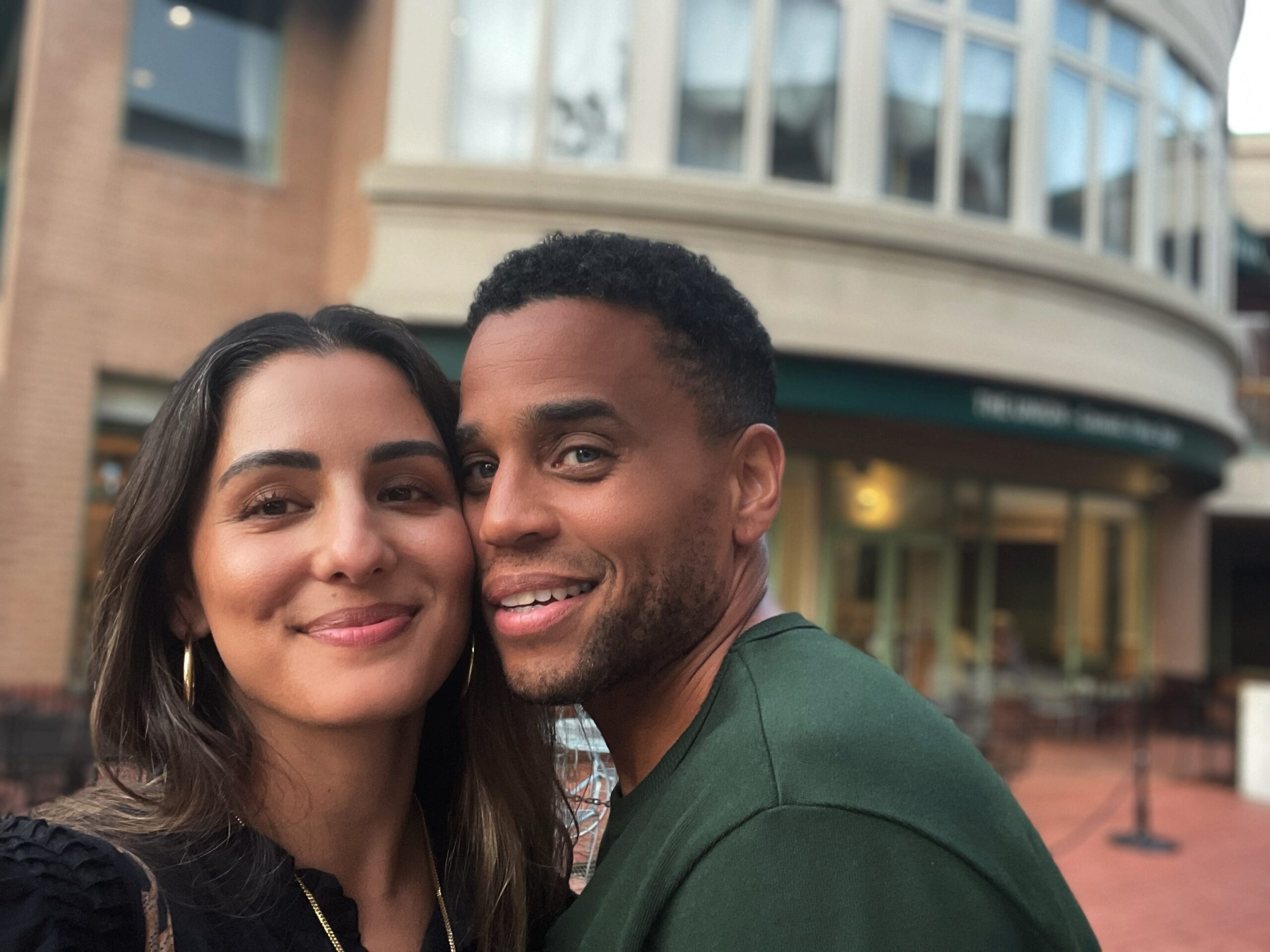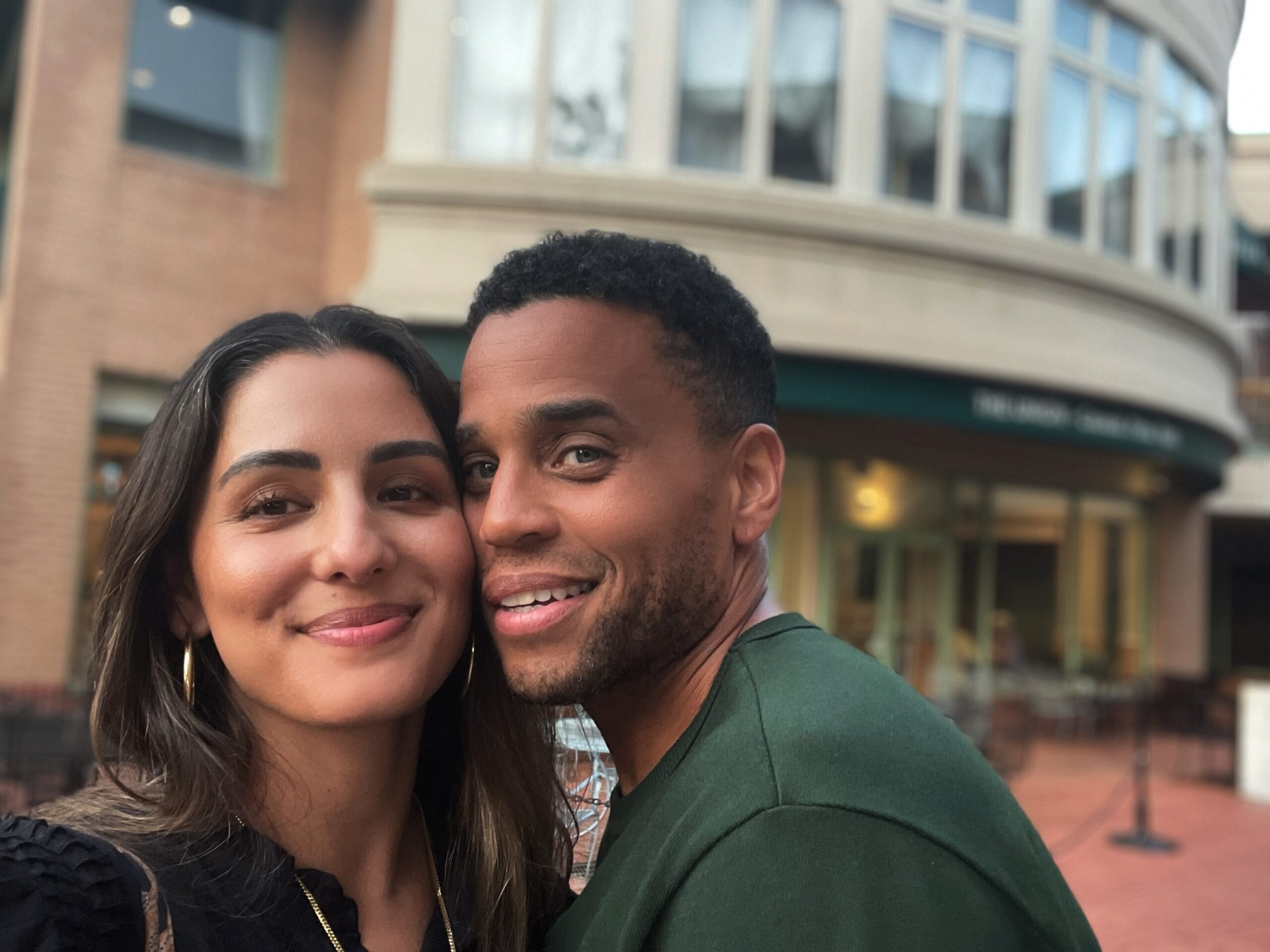 Above: Michael Ealy and Khatira Rafiqzada

Kendra Walker: Tell us a little bit about yourself, your work and how you got started collecting.  
Khatira Rafiqzada: I come from a war-torn country, and we moved around a lot. I was always the new girl who had a hard time communicating the feelings of a broken country. While living in India, I couldn't help but be lost in street art/graffiti. Some were beautiful jungles painted full of color with exotic flowers in the middle of a bustling city, and others were protest art. It was my first memory of feeling heard. Once I came to America, I fell in love with anti-war photography. It expressed the frustration of what my reality was. At the time, I didn't have the language to communicate those feelings. Art gave me the gift of communication without words, and that was powerful for me. I loved photography so much I picked it up as a hobby. 
Michael Ealy: I started collecting because my wife was so passionate and persuasive about it. Truly. I am still collecting because she was right. The passion is infectious, and the impact on our kids seeing themselves in the works is unparalleled. 
KW: What was your favorite show or exhibition from 2021?  
KR: It's difficult to say which exhibition was our favorite. For me, I personally LOVED Beyond the Looking Glass at UTA Artist Space. Curated by Zuzanna Ciolek, I found the works by so many talented women to be inspiring and refreshing. It was even more special because we were finally able to procure an epic work by a dear friend. The immensely talented Genevieve Gaignard.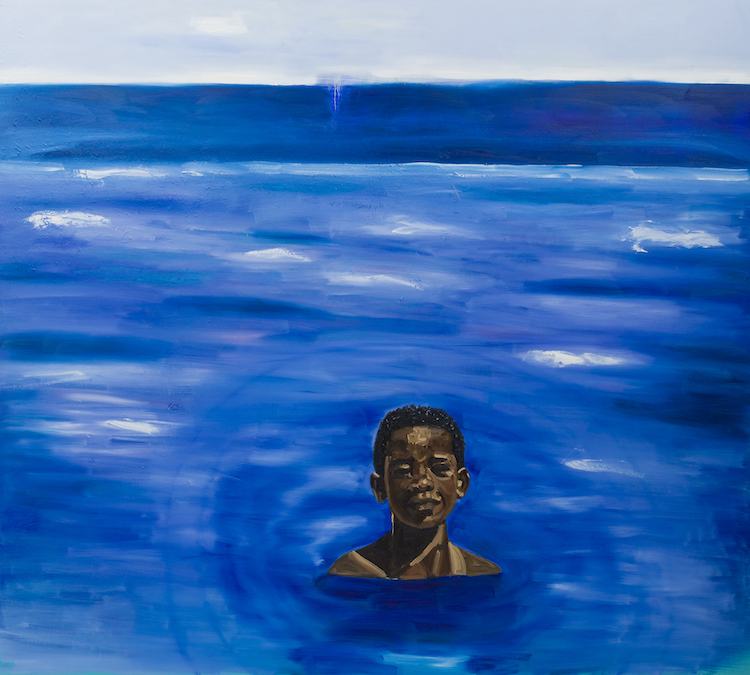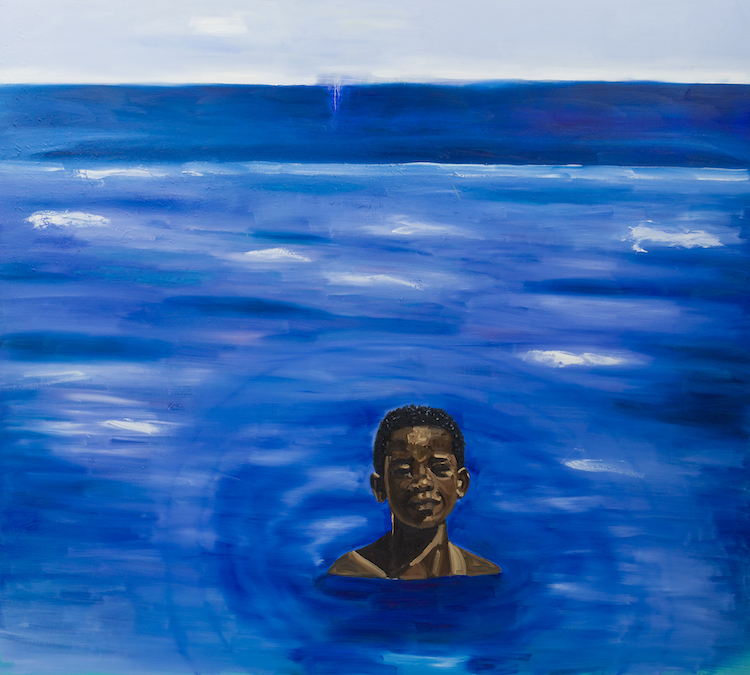 Above: Jerrell Gibbs, 'C note'80 x 90 in. Oil on canvas, 2021. (Image above is not a part of the Michael Ealy and Khatira Rafiqzad collection)
KW: What is your favorite purchase from 2021 and why? 
Both: As collectors, we look forward to supporting Africans, African Americans and artists of color. We also cherish the rarity that is the Black-owned gallerist! 
ME: For me, there are more artists that I'm simply excited about. Jerrell Gibbs is from my hometown, and his work resonated with so much nostalgia from my childhood. I want my children to know this. The works of Peter Uka, Yashua Klos, Kenturah Davis, Monica Ikwegu, and Charles Mason III are a few more that have us excited about the narratives of our collection as well.  
KW: What do you like the most about these artists?  
Both: What we love most is their authenticity. Each one is unique in their craft and storytelling. 
KW: Advice for new collectors? 
KR: For me right now, if collecting seems daunting to you because of the money or the volatility of the market itself, I would advise one to slow down, take a breath, and check in with yourself. Ask yourself, why are you collecting? What is your motivation? What do you want your collection to say? Last, but not least, have a budget! 
ME: I think that's a good point! For me, I'd say go with the work that speaks to you. I find that to be what separates one who is a collector from someone else who is simply trying to catch the next hot new artist. That, in and of itself, can be extremely arbitrary and expensive. 
Joy Simmons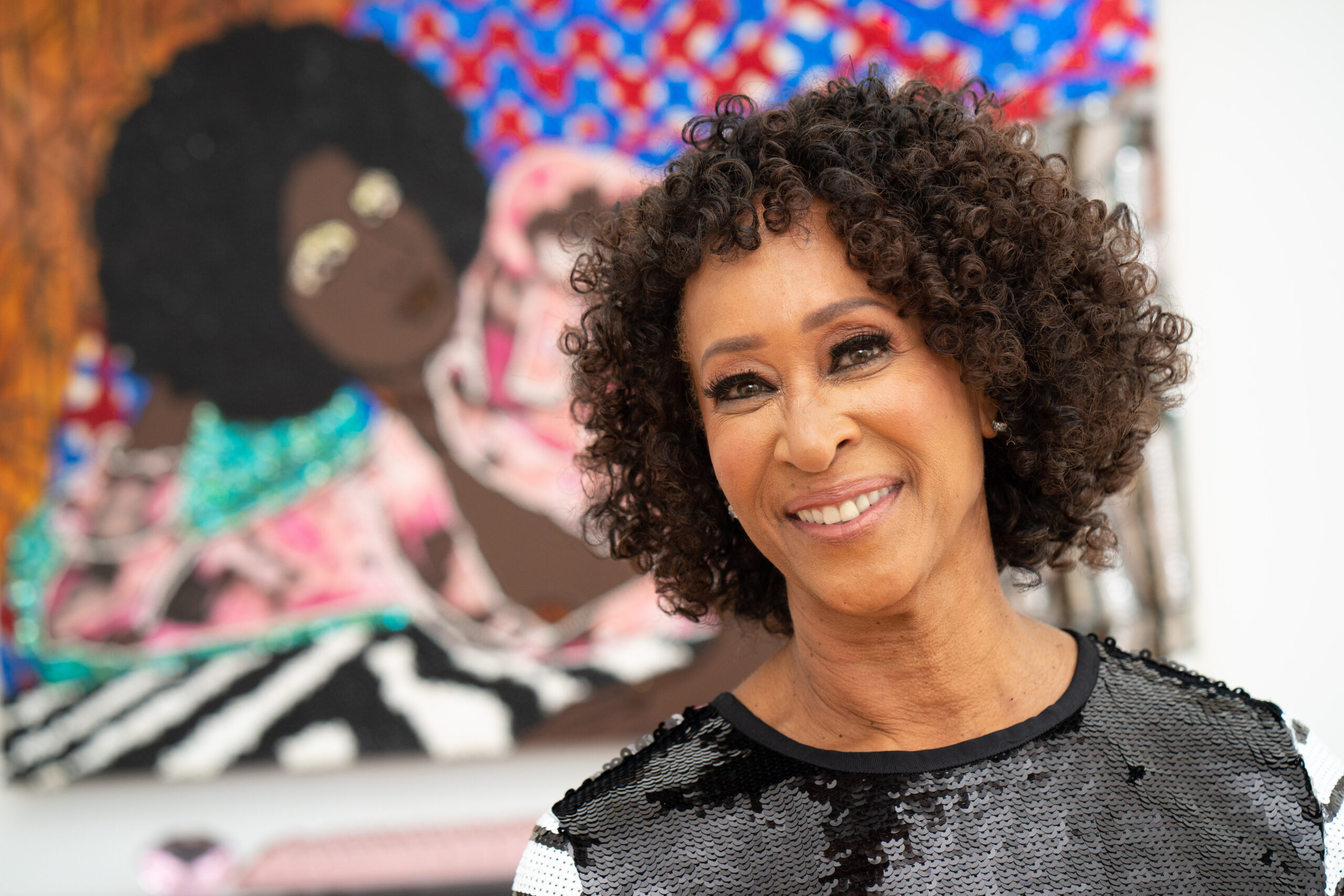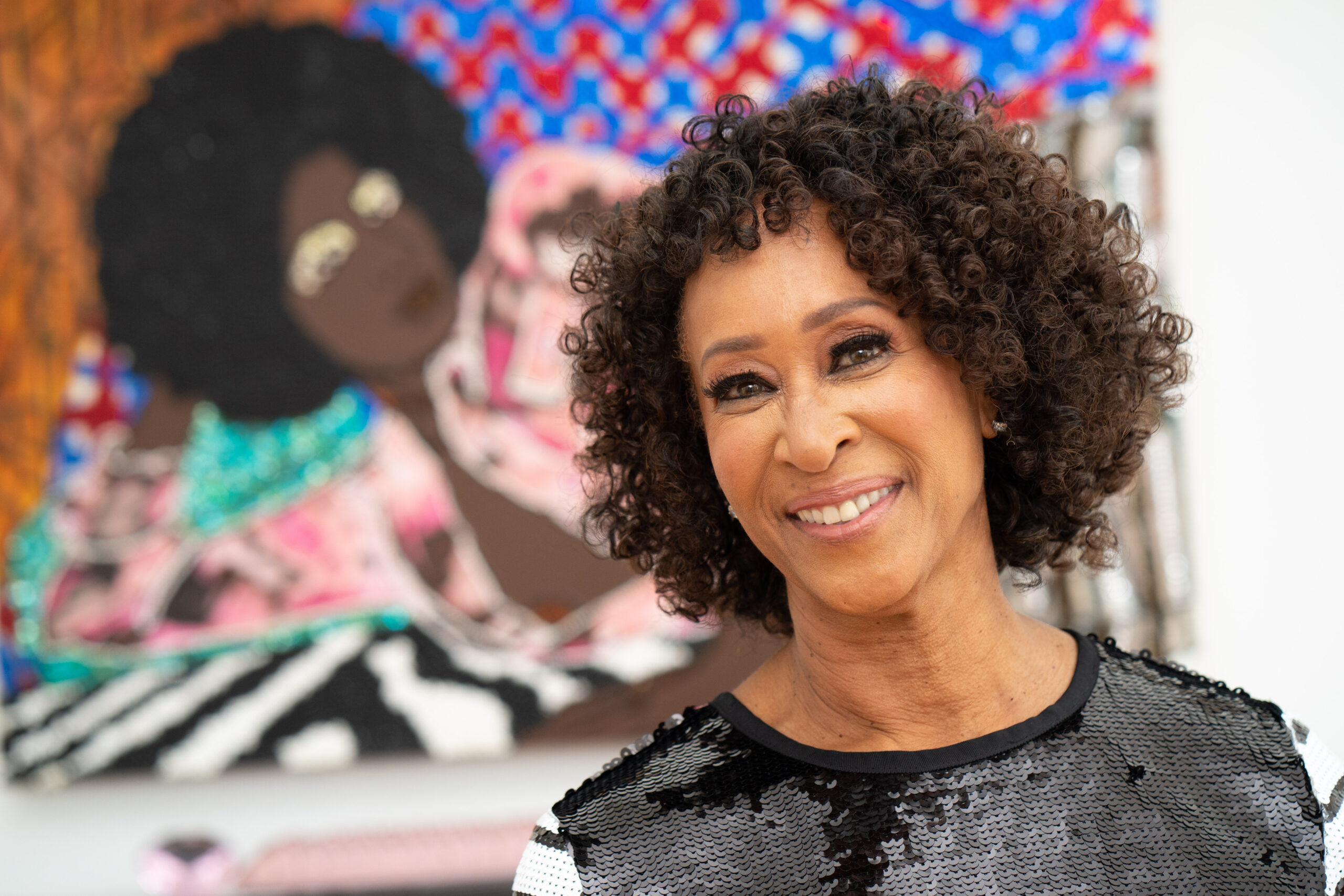 Above: Joy Simmons.
Kendra Walker: Tell us a little bit about yourself, your work and how you got started collecting. 
Joy Simmons: I live in Los Angeles, and I am a physician. I've been collecting for 40+ years, having started with posters in college and purchasing my first print in my first year of medical school.  I've been addicted ever since.
KW: What was your favorite show or exhibition from 2021? 
JS: My favorite exhibition was the Alma W. Thomas exhibition at the Phillips Collection in Washington, D.C. Her work and her vision as an abstract artist are so special and significant for her time. The work is still relevant, the presentation at the Phillips was amazing.
My favorite show was Shattered Glass, curated by Melahn Frierson and AJ Girard at Jeffrey Deitch. It was incredible to see the crowds of Black and Brown people supporting the show, eager to see images by other young artists of color.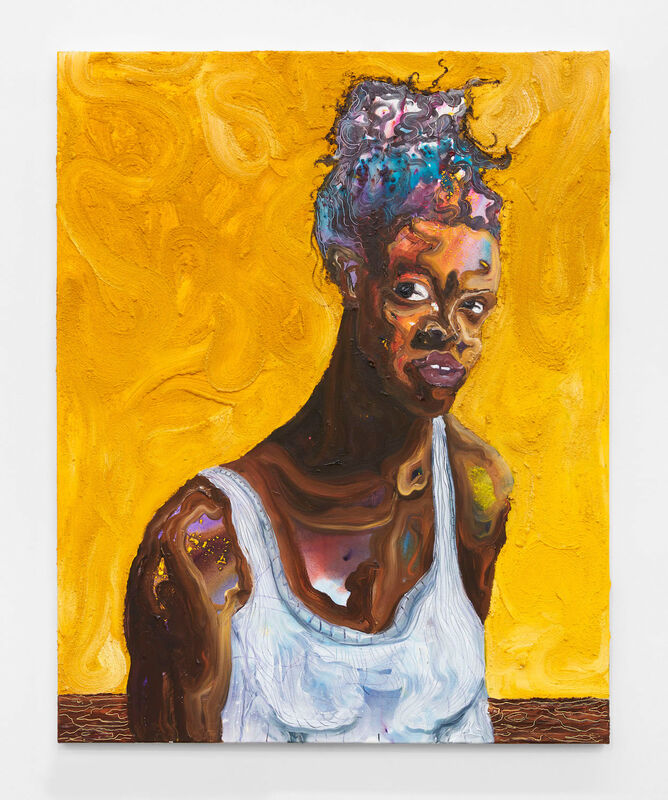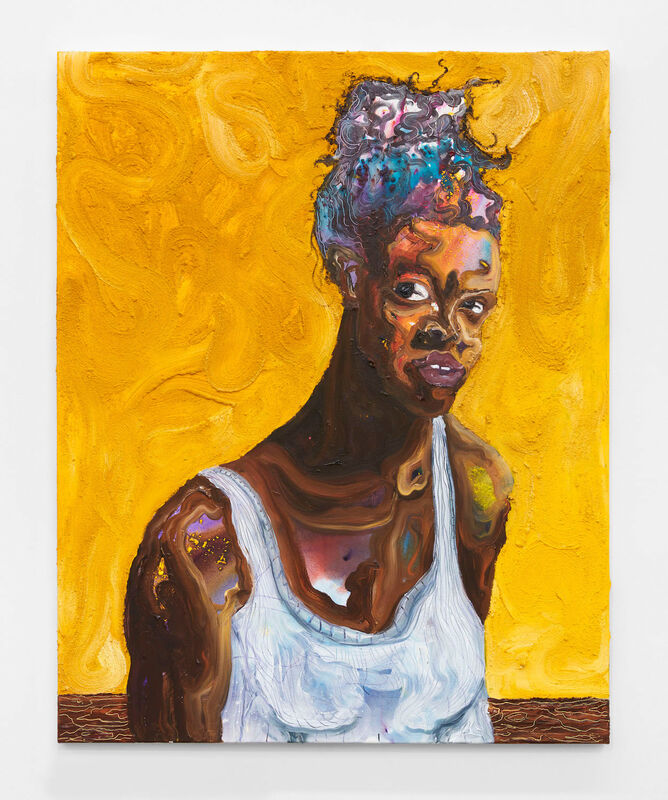 Above: Ludovic Nkoth, The One That Could, 2020. Acrylic and sand on canvas, 60 × 48 in, 152.4 × 121.9 cm.
KW: What is your favorite purchase from 2021 and why? 
JS: I went over budget in 2021 and collected several pieces, but my favorite is by Ludovic Nkoth, the painting, The One That Could (2020).  I could look at her every day… and I do. 
KW: What do you like the most about this artist?  
JS: I've been watching Ludovic grow and his painting mature. I always love that.  His work at the recent Art Basel Miami (2021) was wonderful.  But I still like mine the best 😉 
KW: Advice for new collectors?

JS: Start where YOU are. It can be posters, prints, and work by young artist friends. Support them. See everything you can. Now with IG [Instagram], you can see work from all over the world. That's how you train your eye for what resonates with you and what you like. "Good" is subjective. But buy what "speaks to you." You can never go wrong with that.  


Demetrio Kerrison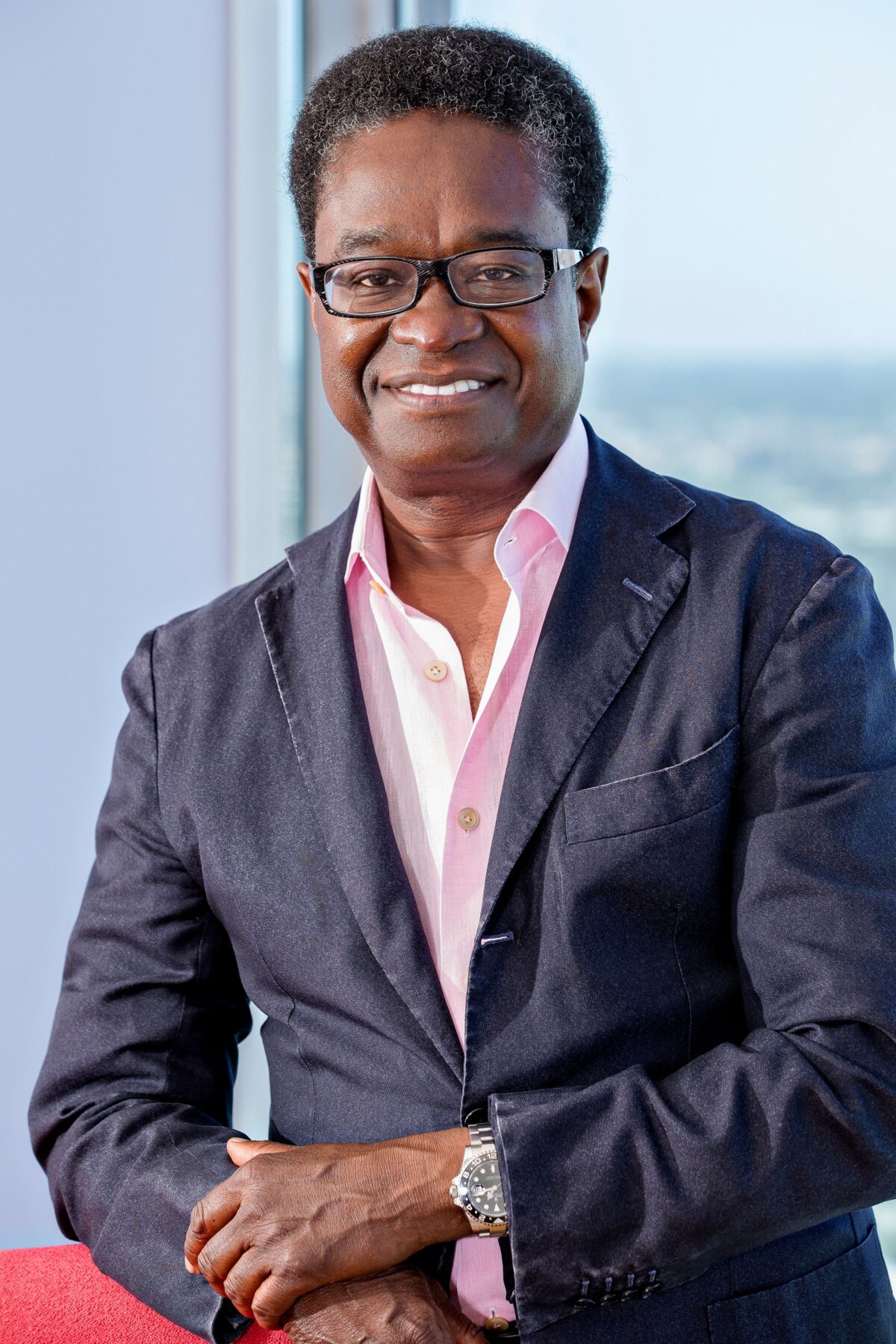 Above: Demetrio Kerrison
Kendra Walker: Tell us a little bit about yourself, your work and how you got started collecting. 
Demetrio Kerrison: Harlem, New York City transplant to Southern California. My wife and I have a wealth management practice with UBS Financial Services in Newport Beach, California. I started collecting photography including the modern masters such as Gordon Parks, Manuel Alvarez Bravo and Roy DeCarava and contemporary photographers such as Dawoud Bey, Howard Bingham, Abelardo Morell. In 2003, I pivoted to contemporary art after seeing Frequency at The Studio Museum in Harlem curated by Thelma Golden and Christine Kim, featuring young, emerging African American artists. 
KW: What was your favorite show or exhibition from 2021? 
 DK: Multidisciplinary artist Lorna Simpson's first solo  show, Everrrything at Hauser & Wirth (Los Angeles) was one of my favorite exhibitions in 2021.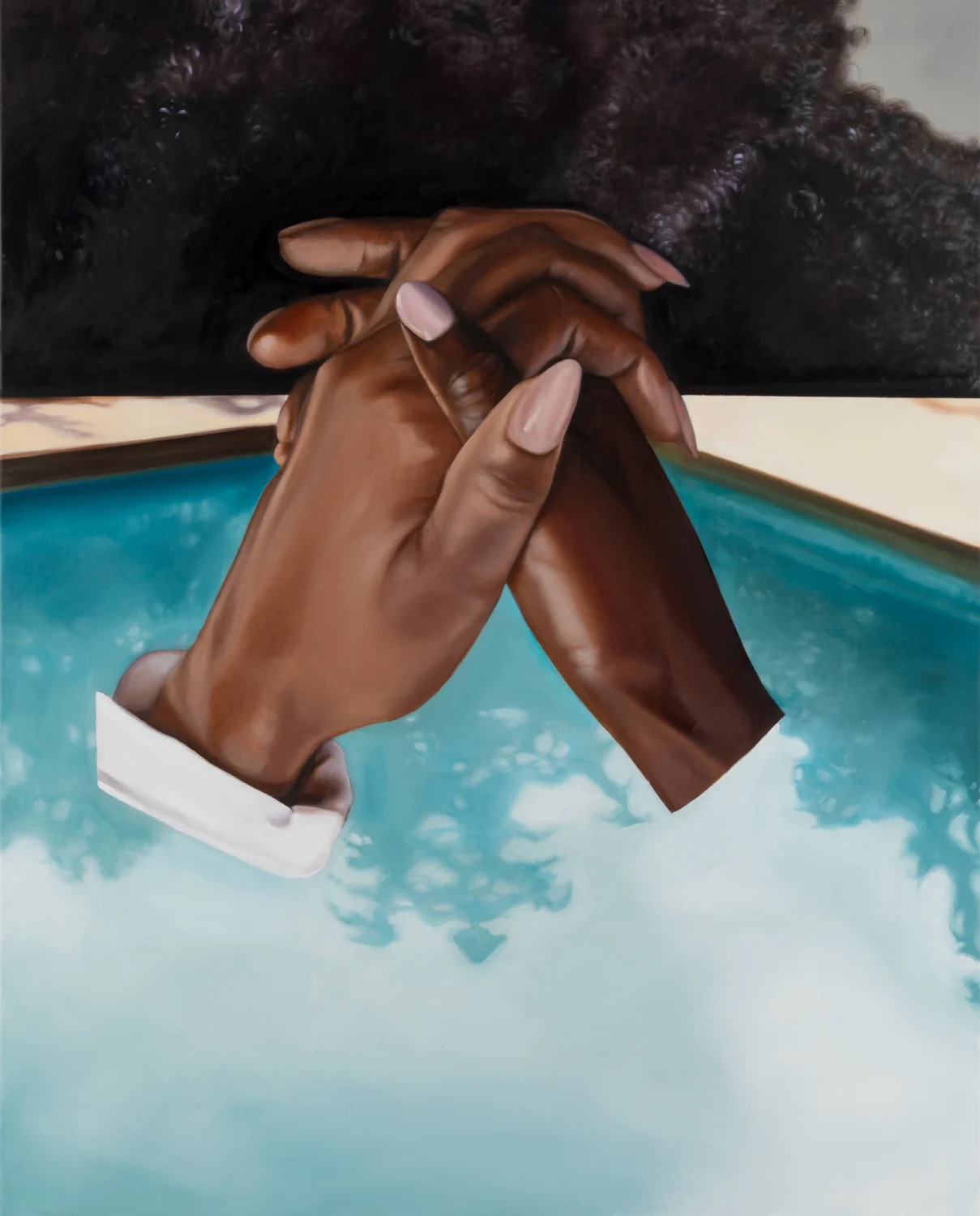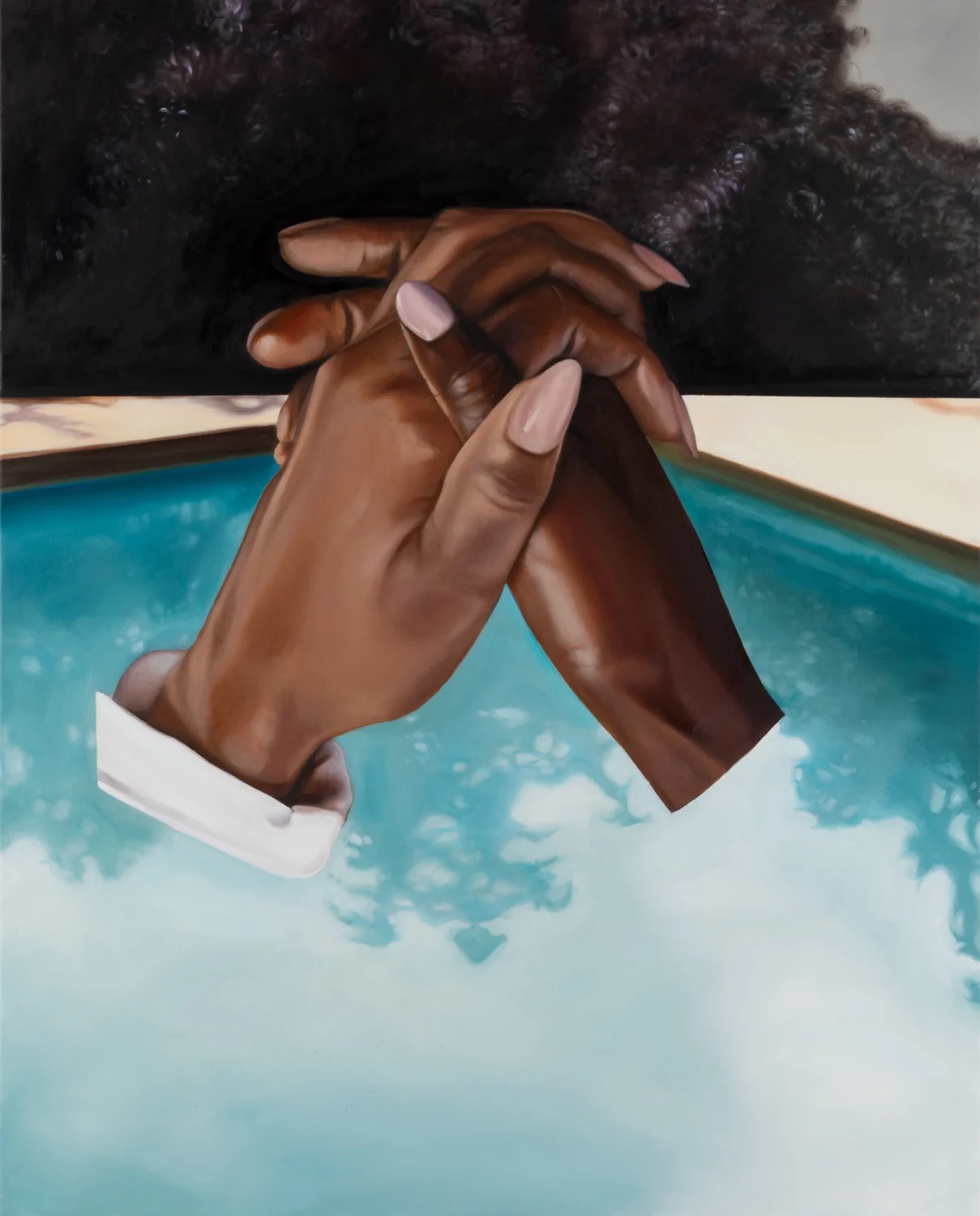 Above: Shannon T. Lewis, Each Remembered Thing , 2021. Oil on Linen, 39 3/8 x 31 1/2 in, 100 x 80 cm.
KW: What is your favorite purchase from 2021 and why? 
DK: My favorite purchase from 2021 was Shannon T. Lewis', Each Remembered Thing from Mariane Ibrahim Gallery. Shannon is an amazing young artist of Caribbean descent who paints fragmented limbs, florals and faces in dreamy and surreal "landscapes." Shannon evokes fantasy, and at the same time, centers Blackness. 
KW: What do you like the most about this artist? 
DK: I like her use of the language of assemblage and painting to create a fresh narrative. 
KW: Advice for new collectors?
DK: Go to galleries and museums, and see lots of art. Find a partner in the art ecosystem to share experiences. 
Charlotte Newman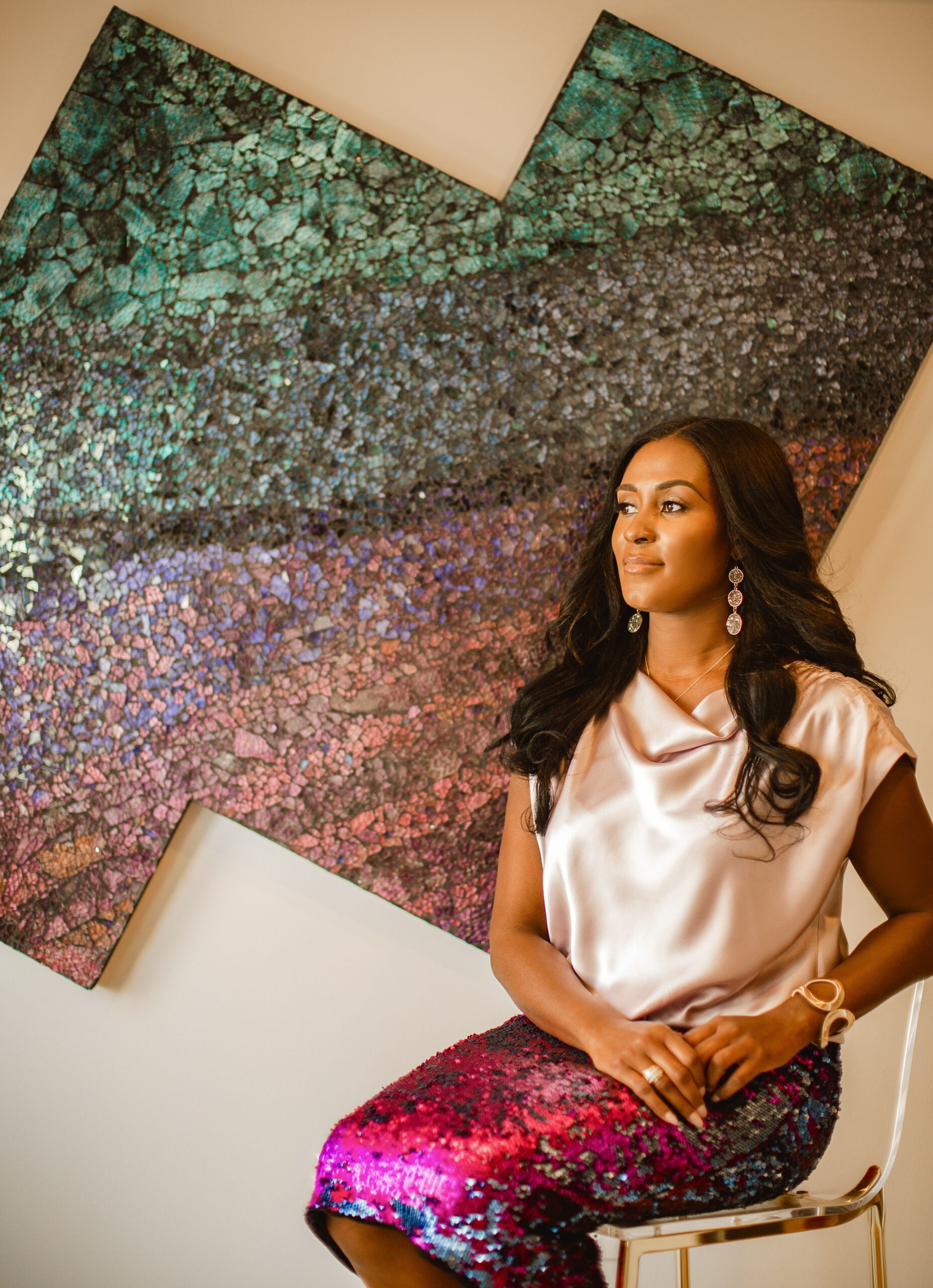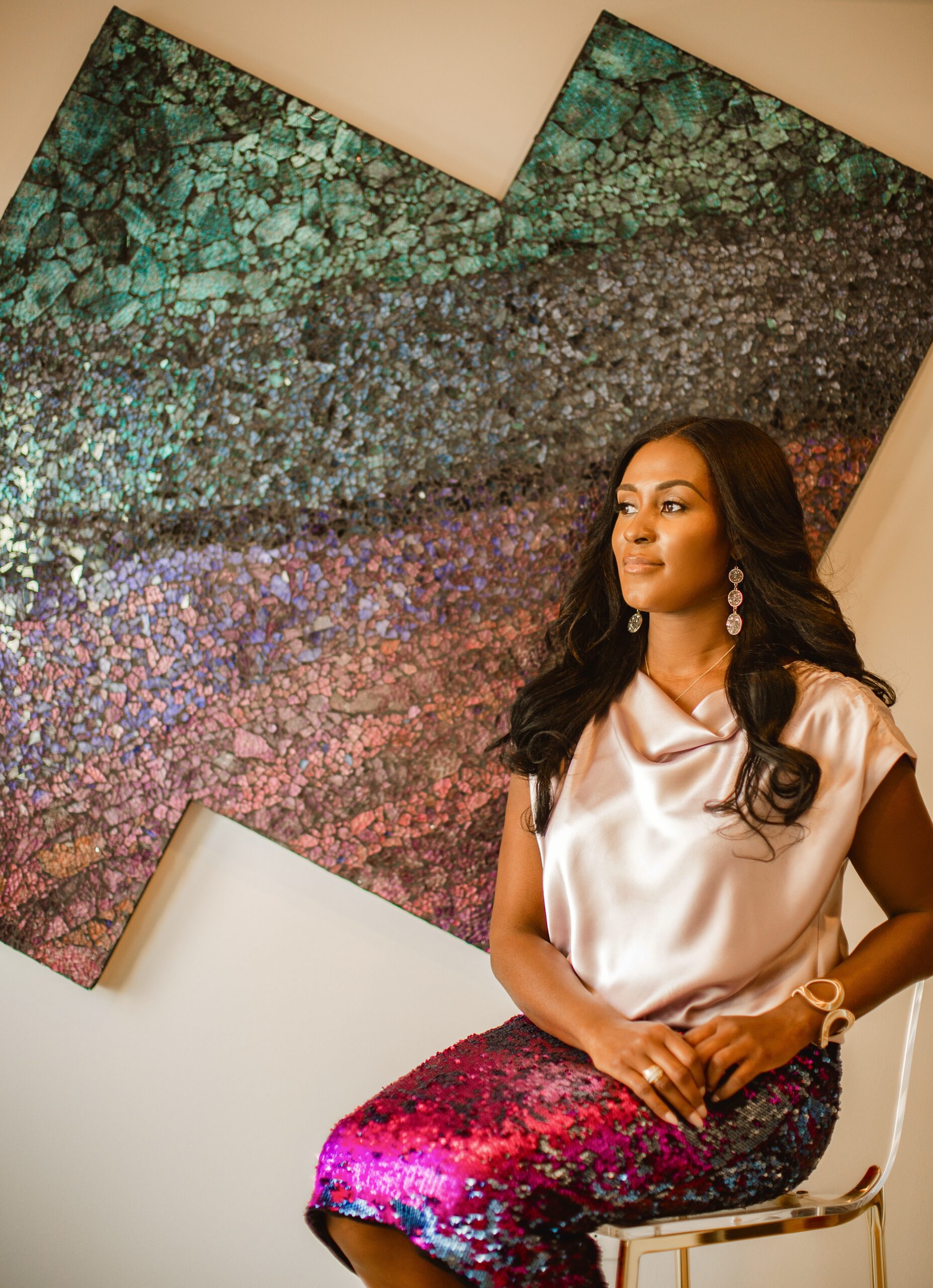 Above: Charlotte Newman with a work by Alteronce Gumby Mirrors in the sky, Like stars in a dark room, 2020. Acrylic & glass on panel.
Kendra Walker: Tell us a little bit about yourself, your work and how you got started collecting. 
Charlotte Newman: I have forged a multi-hyphenate career path at the intersection of art, politics and technology. I currently lead a global team at Amazon that accelerates startups led by diverse founders and am an advocate for gender and racial equity. This work is a natural continuation of several years that I spent as an economic policy advisor to four members of Congress. I am equally intentional about my path as a collector. My interest in art was first sparked by my godmother, artist Tina Dunkley, whose Afro-Caribbean heritage is a continuous source of inspiration for her practice and has informed my interest in art from the African diaspora. 
Earning a bachelor's degree in art history from Wellesley College provided me with a foundational understanding of the art world, formal training in analyzing art, and fluency in a lexicon that can be daunting for new art connoisseurs. Beginning in high school, I understood that talent was equally distributed, but opportunity wasn't. And, I have fashioned a career around leveling the playing field for others. 
When I graduated from college, I decided to teach and turned down a post-baccalaureate post that would have been a precursor to a graduate program in art history. When my professional path shifted from art, I decided to begin collecting to remain connected to the art world. Also, in studying art history, I understood that the art canon had intentionally excluded Black artists throughout history and wanted to play a role as a collector in rectifying that.  
KW: What was your favorite show or exhibition from 2021? 
CN: Born in Flames: Feminist Futures at the Bronx Museum, curated by Jasmine Wahi, featured 14 contemporary artists, each with a unique and intersectional lens on what a more equitable future could be. I loaned two pieces to the show:  Sister and Flamingo by Pamela Phatsimo Sunstrum. When I had the chance to see it in person, I was blown away by Jasmine's vision, which was bold and immersive. Visiting the exhibition was akin to walking through a world reimagined by femme-identified individuals who were challenging everything about the status quo. I was most enamored with pieces by Caitlin Cherry, Saya Woolfalk, and, of course, Pamela Phatsimo Sunstrum.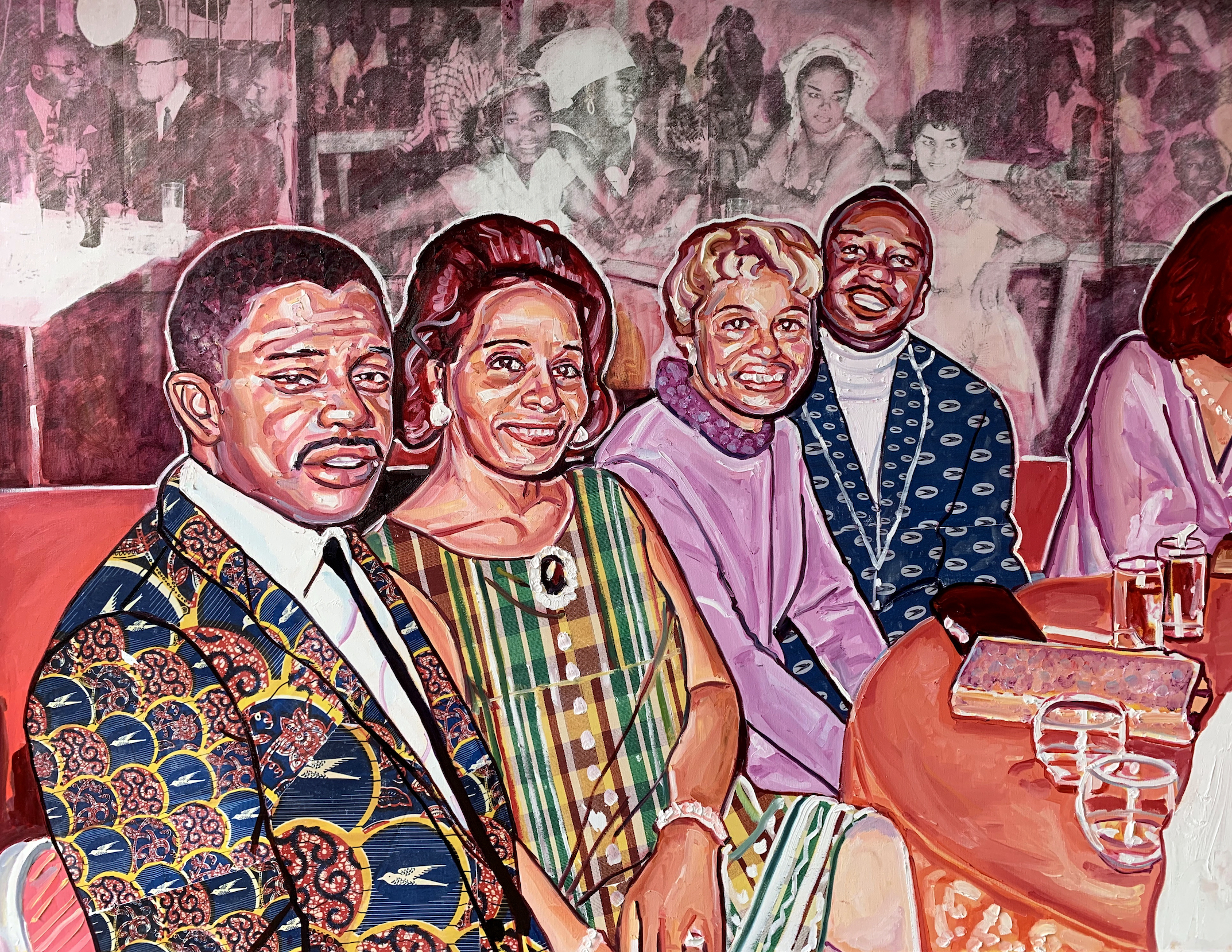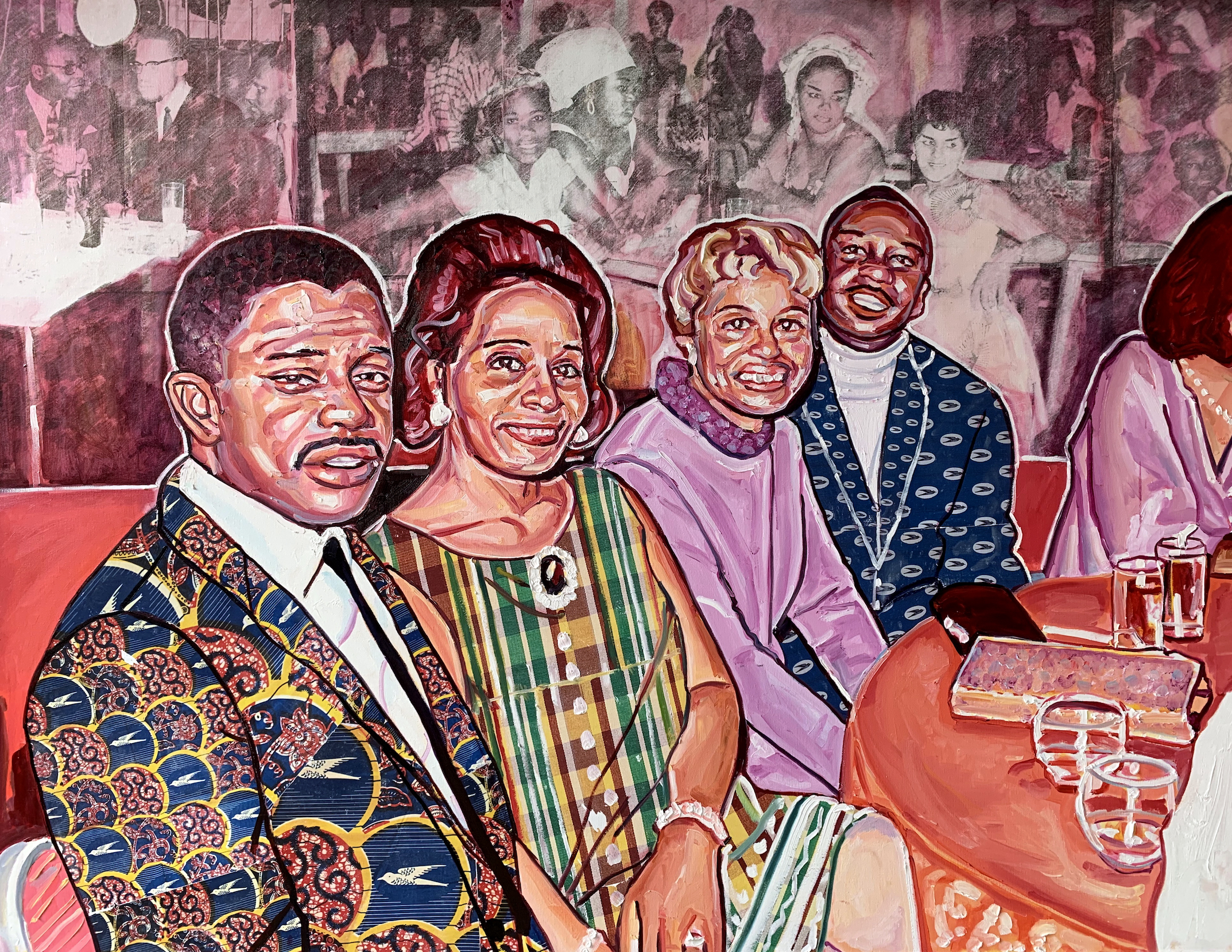 Above: Esiri Erheriene-Essi, A Memorable Moment, 2020. Oil, ink, and Xerox transfer on linen.
KW: What is your favorite purchase from 2021 and why? 
CN:  Esiri Erheriene-Essi, from an exhibition of her work at Galerie Ron Mandos is my favorite acquisition from 2021. The work captures three historical scenes, Malcolm X's visit to Ghana in 1964, nightlife in Leopoldville, Democratic Republic of Congo in the 1950s, and a group at dinner in Lagos, Nigeria in the 1970s. There's a trans-Atlantic conversation that continues between artists living and working throughout the diaspora. To that end, I am really interested in the history of independence movements throughout Africa and how they served as a source of inspiration for the civil rights movement in the United States. 
For example, Martin Luther King Jr. attended Ghana's independence ceremony in 1957 at the invitation of President Kwame Nkrumah. Nkrumah famously had a long friendship and working relationship with W.E.B. Du Bois. During Malcolm X's visit to Ghana, he spoke at the University of Ghana and said, "President Nkrumah is doing something there that the government in America does not like to see done, and that is, he's restoring the African image. 
"He is making the African proud of the African image, and whenever the African becomes proud of the African image and this positive image is projected abroad, then the Black man in America, who up to now has had nothing but a negative image of Africa—automatically the image that the Black man in America has of his African brothers changes from negative to positive, and the image that the Black man in America has of himself will also change from negative to positive."  

KW: What do you like the most about this artist? 
CN: First and foremost, Esiri is a tremendously talented painter. I first saw her work at Armory in 2020 and was blown away by the booth. When travel and shows slowed because of the pandemic, I did a virtual studio visit with her. And I am always even more drawn to an artist's practice once I learn about the full context and background that inspires it. With Esiri, I think she creates interesting narratives in her work by combining different historical periods into one piece or introducing narrative elements that might be anachronistic.  
 KW: Advice for new collectors? 
CN: Let curiosity be your guide, and remain as interested in studying and learning about art as you are in acquiring new work. Also, there is a herd mentality in the art world—like in any market. Be observant, but also have blinders on at times, so that you can remain true to your collecting objectives. 
James Whitner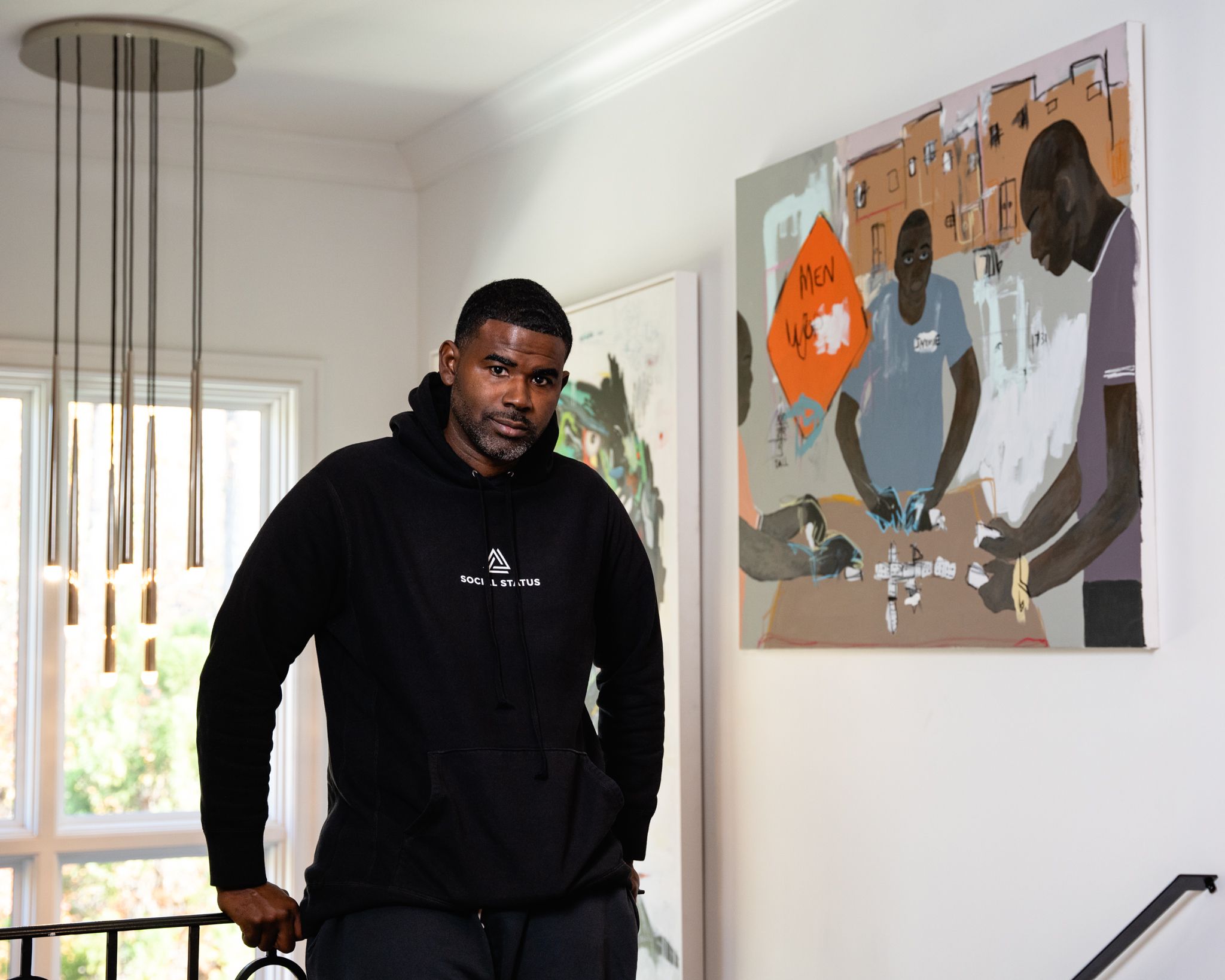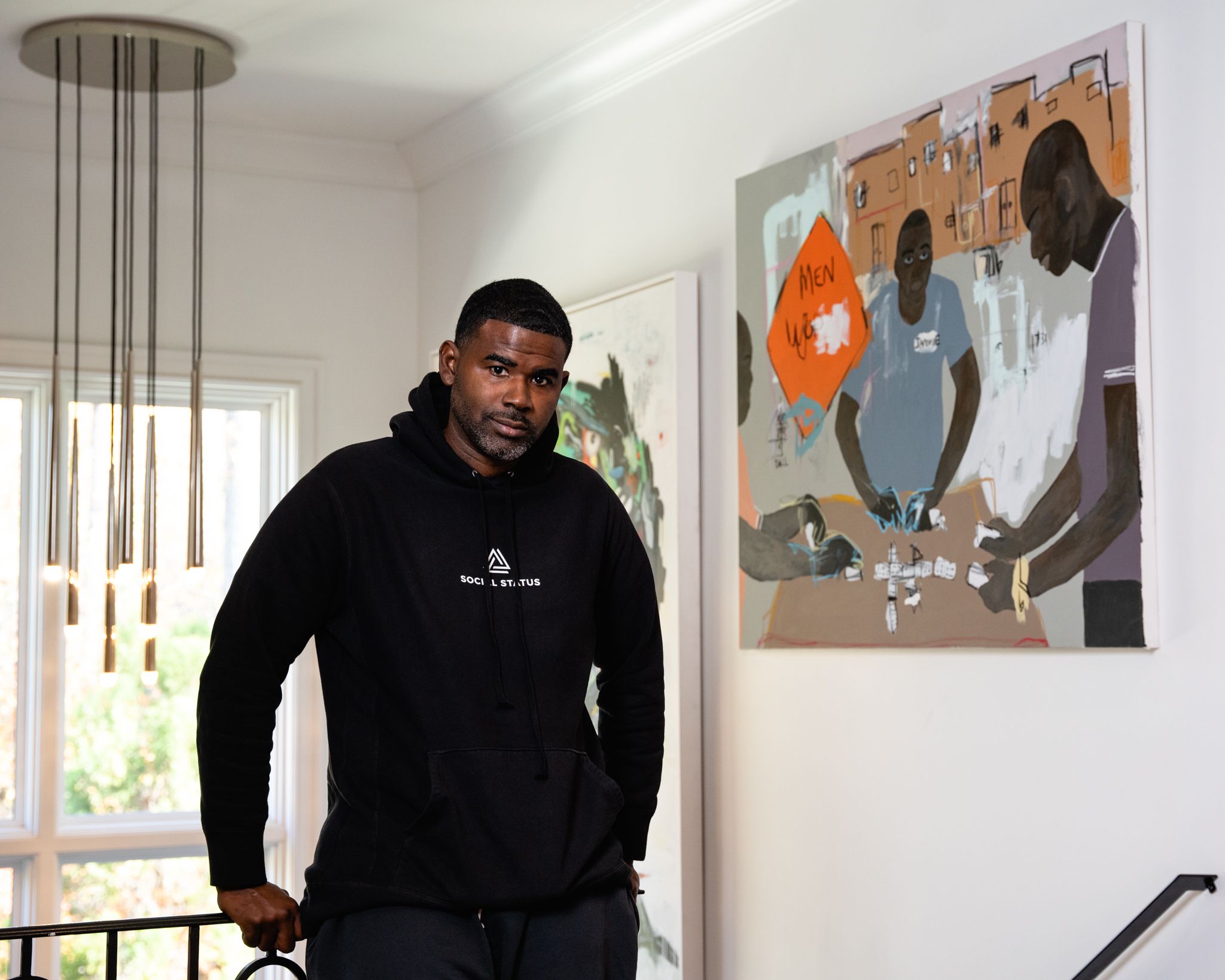 Above: James Whitner.
James Whitner is an American fashion entrepreneur and the owner of The Whitaker Group, the umbrella company for Whitner's immense network of streetwear boutiques including Social Status, APB, and A Ma Maniere. The group's brand services 13 cities, including Charlotte, North Carolina, Atlanta, and Houston. Social Status initially began as a brand, before developing into a clothing and sneakers powerhouse. Social Status carries brands such as Suicoke, Billionaire Boys Club, Nike, Chinatown Market, STUSSY and The Hundreds along with its in-house label. Whitner and his team also have released collaborations with Nike and Air Jordan.
Kendra Walker: Tell us a little bit about yourself, your work and how you got started collecting. 
James Whitner: My name is James Whitner, and I am the Owner and Founder of the Whitaker Group. I'm from Mon-View Heights Projects in Pittsburgh, and I started collecting because I was fascinated by the connection between art, Black culture and my own life experiences. 
KW: What was your favorite show or exhibition from 2021? 
JW: I can't pinpoint an exact show, but just being back in Miami and being able to explore, discover and engage with art and artists once again was an invigorating feeling. Seeing so many Black and Brown artists present and represented this year was also both exciting and encouraging.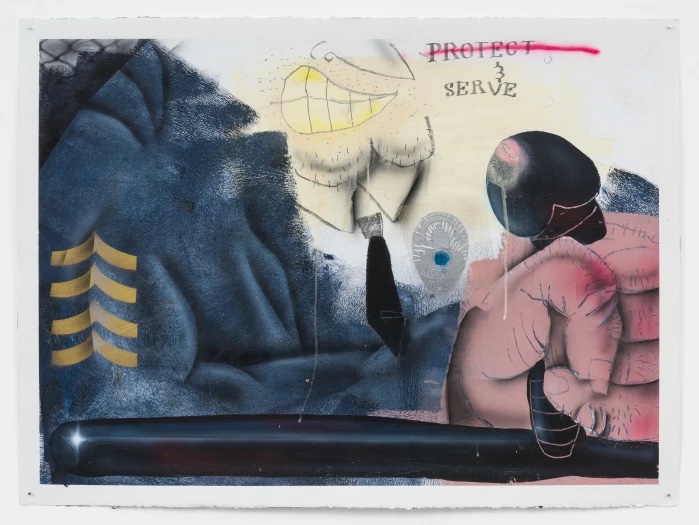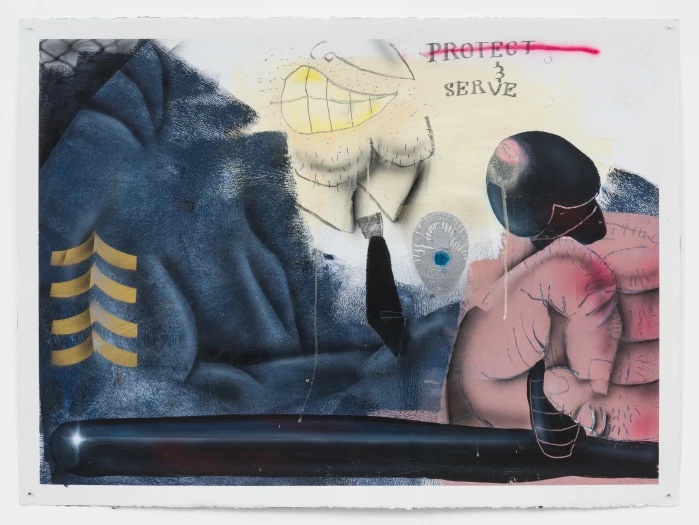 Above: Pat Phillips UNTITLED "… AND SERVE", 2020. Acrylic, pencil, airbrush, aerosol paint on paper. Paper size: 22 x 30 inches (55.9 x 76.2 cm).
KW: What is your favorite purchase from 2021 and why? 
JW: I also can't pinpoint a specific favorite piece this year, but I've been fortunate to acquire some pieces from Pat Phillips including Untitled "…and serve"(2020) and Jammie Holmes  On Narrow Street (2021).
KW: What do you like the most about these artists? 
JW: Their work tells great stories I feel very connected to.
KW: Advice for new collectors? 
JW: Ask all the questions—be relentlessly curious. I like to think of curation over collecting—so think about your personal space and how art can start to shape your world, the world around you and how you want others to see it and experience it.  
Enitan Bereola II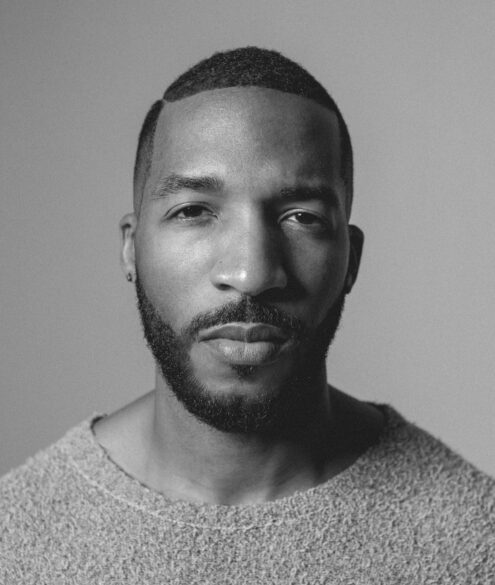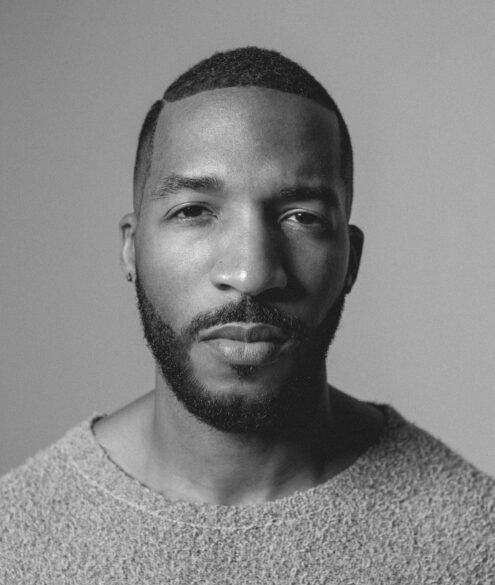 Above: Enitan Bereola
Kendra Walker: Tell us a little bit about yourself, your work and how you got started collecting.
Enitan Bereola II: I love animated departures and romantic goodbyes. Most of my days are packed with prayer, ideas, love and discovery. As co-founder of FLOURYSH™, I serve as creative director, positioned at the core of culture connecting fashion, art and storytelling, making it simple to discover and shop Black-owned brands online. A deeply rooted conviction led me to step into my role as an art collector and cultural custodian. This is a divine assignment.
KW: What was your favorite show or exhibition from 2021?
EB: The KNOW Contemporary presents Less is More by Knowledge Bennett and Onto Something by YoYo Lander, curated by Charles Moore. 'Twas a slice of simplicity and beautiful minimalism with a side of complexity between a lady and a gentleman.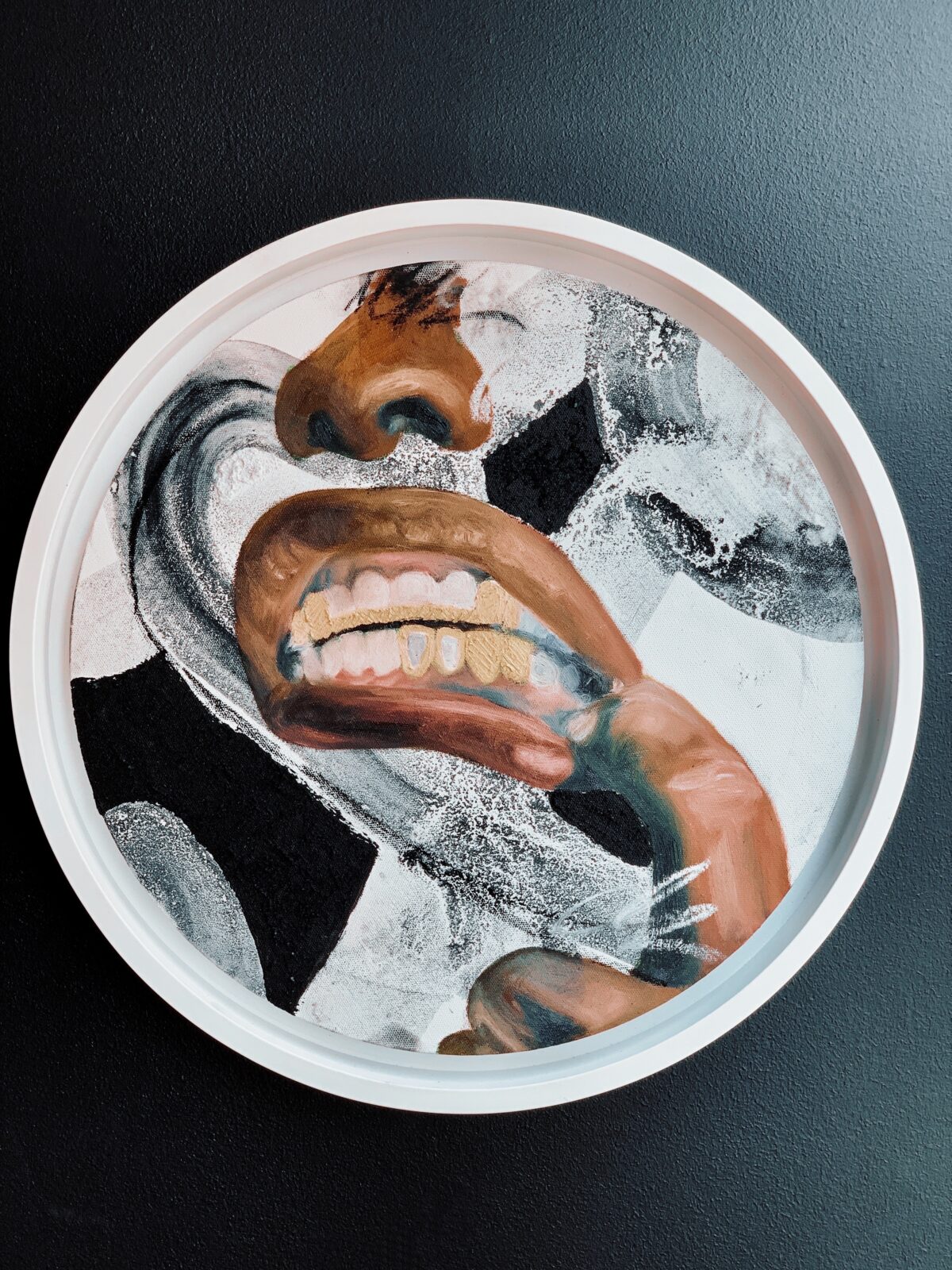 Above: Khari Turner, Never Talk Down, 2021. Acrylic, Oil, Ink, Charcoal, Sand & Water from the Pacific Ocean, Lower Manhattan Harbor, Lake Michigan and the Milwaukee River, Stretched Canvas.
KW: What is your favorite purchase from 2021 and why?
EB: Khari Turner Never Talk Down (2021). This acquisition was hella personal. I'm from the Bay (San Jose / Oakland, California), and the painting is influenced by the Bay Area's Hyphy Movement. Khari's Hella Water solo exhibition at Voss Gallery in San Francisco combines the best of both worlds.
KW: What do you like the most about this artist?
EB: Form & function. Khari's curiosity is visible through his technical creative process with elegant expressions of perfected brushstrokes in areas that can easily go unnoticed, rewarding the curious observer with a desire to discover more—more emotion, more connection and more beauty.
KW: Advice for new collectors?
EB: Buy Black art by Black artists—don't buy the hype.
The Wrights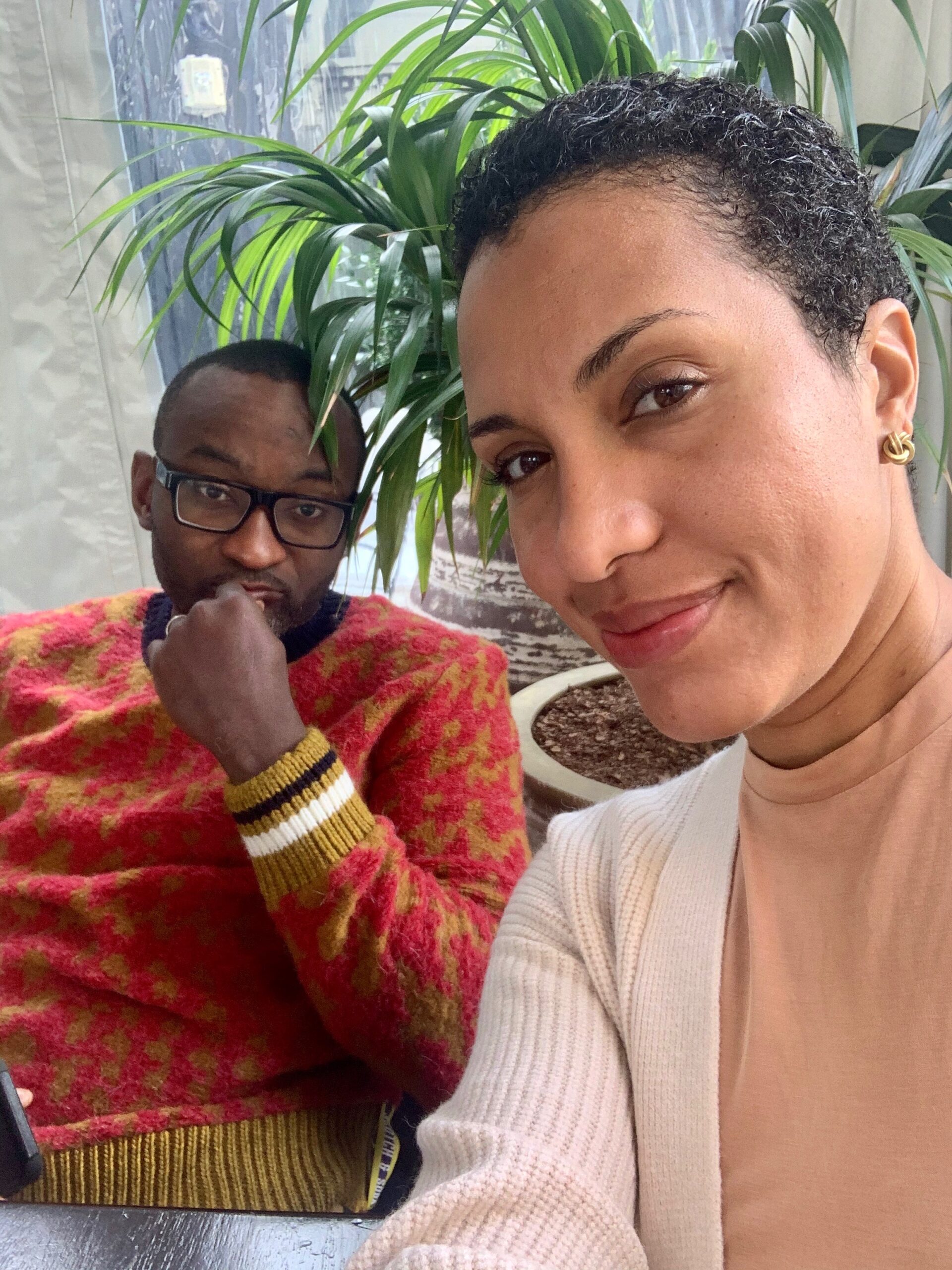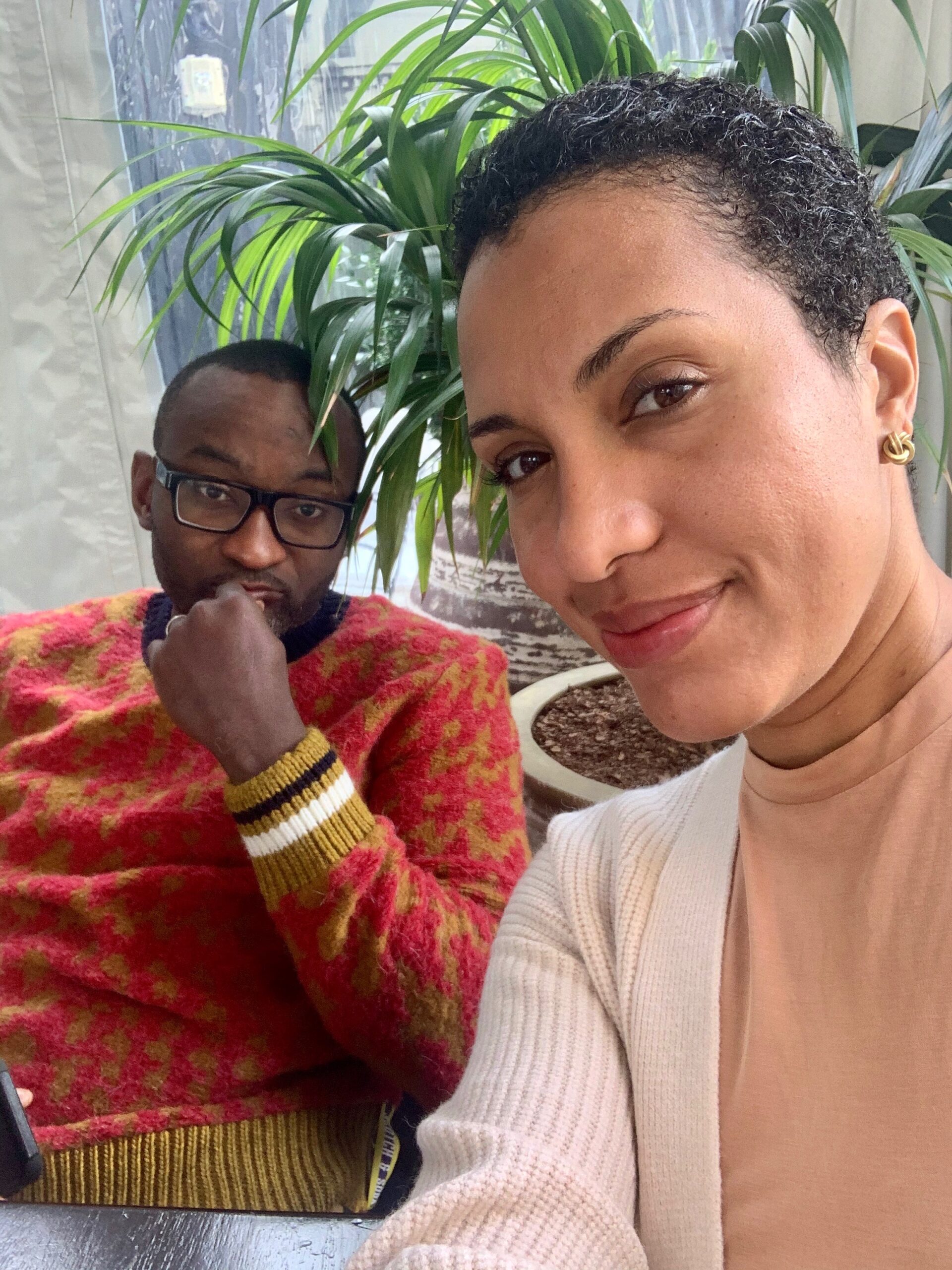 Above: The Wrights.
Kendra Walker: Tell us a little bit about yourself, your work and how you got started collecting.  
The Wrights: I, Ato, was born in Ghana, and Tonya was born in Anguilla. We met in medical school. Tonya is an obstetrician and gynecologist, and I am a radiation oncologist. After starting our lives as a married couple in New Orleans, we were inspired to start collecting, and our first piece was a gift from my wife.  
KW: What was your favorite show or exhibition from 2021?  
W: Thinkspace's Kayla Mahaffey Remember the Time was our favorite and most memorable exhibition of the year. It marked our very first painting purchased from a gallery in a solo exhibition show. I have admired her work for some years and was happy to have had the opportunity to collect her work.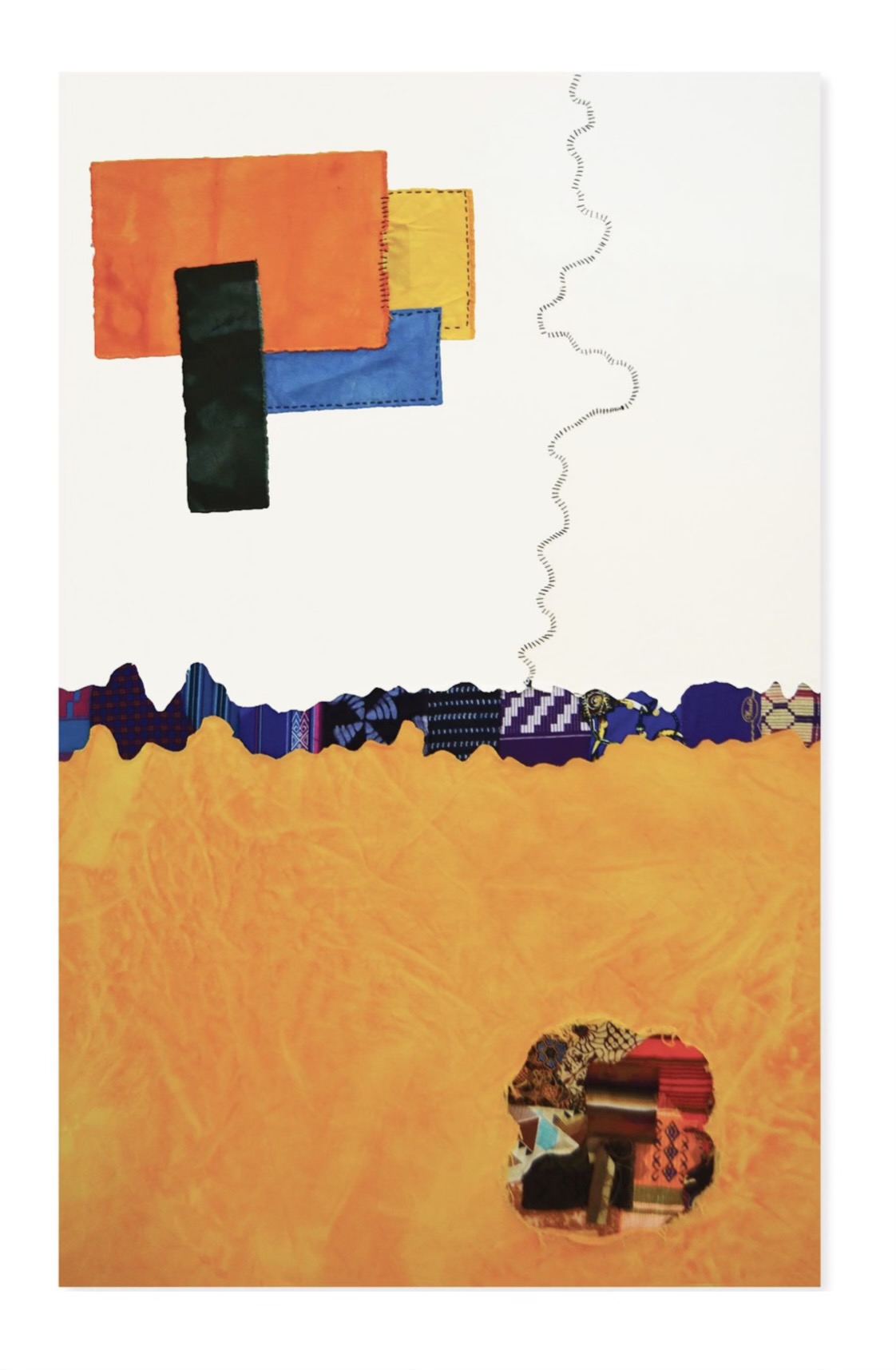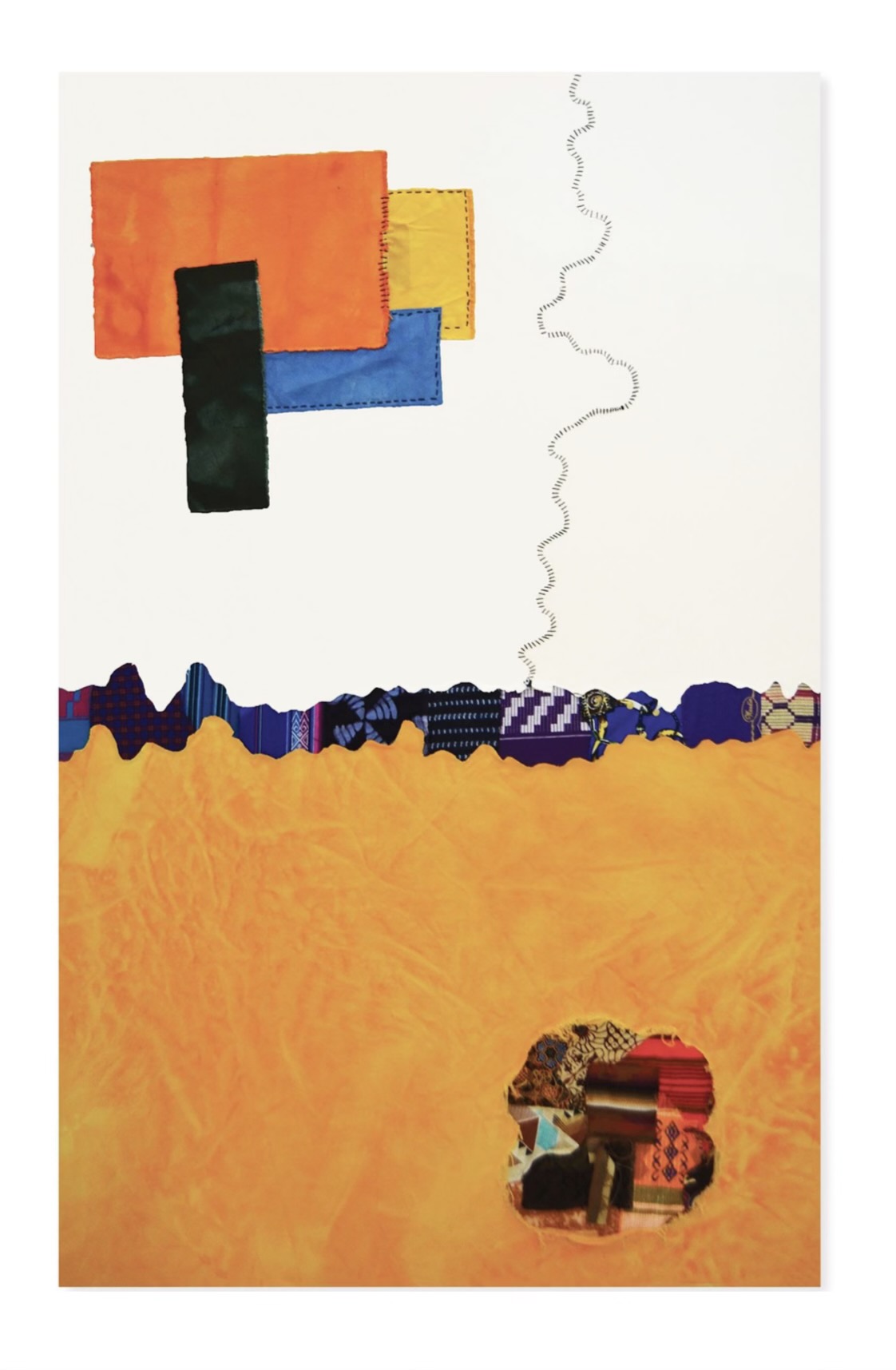 Above: Kwesi Kwarteng, Friends of Friends #3. 70" x 44", mixed media, combination of dyed canvas, raw canvas and assorted cultural fabrics.
KW: What is your favorite purchase from 2021 and why?  
W: Friends of Friends #3 by Kwesi Kwarteng, is a mixed media piece created with a combination of dyed canvas, raw canvas and assorted cultural fabrics, some of which were gifted to the artist by friends from various parts of the world, including Kente fabric from Ghana, West African assorted wax prints, Maasai-Kenyan, Mexican, Ecuadorian Malian, and Ankaran (used across West Africa) items.
Beyond its aesthetic beauty and what that does for my home space, it has a message; cultures are to be shared. When I look at this piece, with fabrics from different countries, it acknowledges a belief that cultural diversity and allowing people to share their cultures help foster fertile environments that yield success.  
KW: What do you like the most about this artist?  
W: I like this artist because of his unique use of fabric, texture, color and different materials to create paintings and sculptures in his art.
KW: Advice for new collectors?  
W: Art collecting is personal, so buy what you love. Make sure it means something to you. Art collecting has additional value in that sometimes a piece can stop you in your tracks and ask you to reflect. In that vein, this piece reminds me that cultural diversity is a very valuable resource, and representation matters.
Kenneth Montague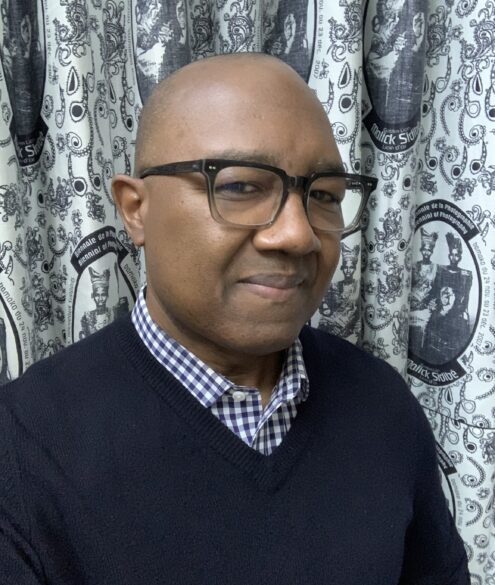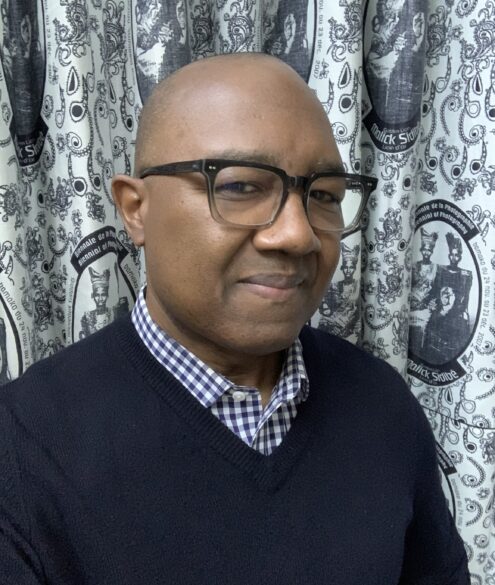 Above: Dr. Kenneth Montague.
Dr. Kenneth Montague is a full-time dentist and art collector. In 1992, he opened his dental office, Word of Mouth Dentistry, where he takes a different approach to dentistry, rotating different artwork throughout his office to be viewed by his patients and visitors. 
Kendra Walker: What was your favorite show or exhibition from 2021?  
Kenneth Montague: Here in Toronto, the Art Gallery of Ontario (AGO) opened Fragments of Epic Memory curated by Julie Crooks, the curator of arts of global Africa. This exhibition (open until Feb. 21, 2022) features works by Sandra Brewster, Ebony G. Patterson and Frank Bowling.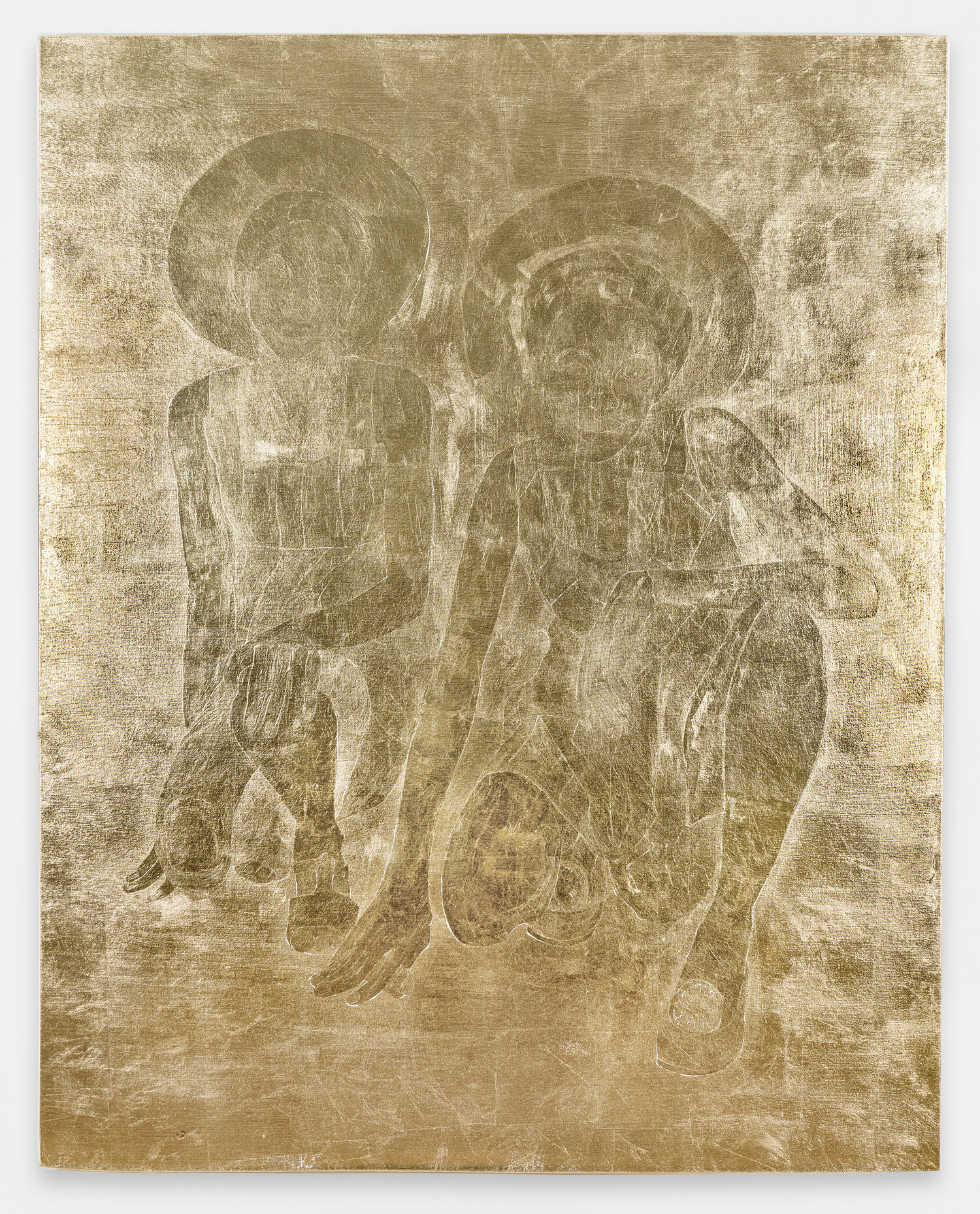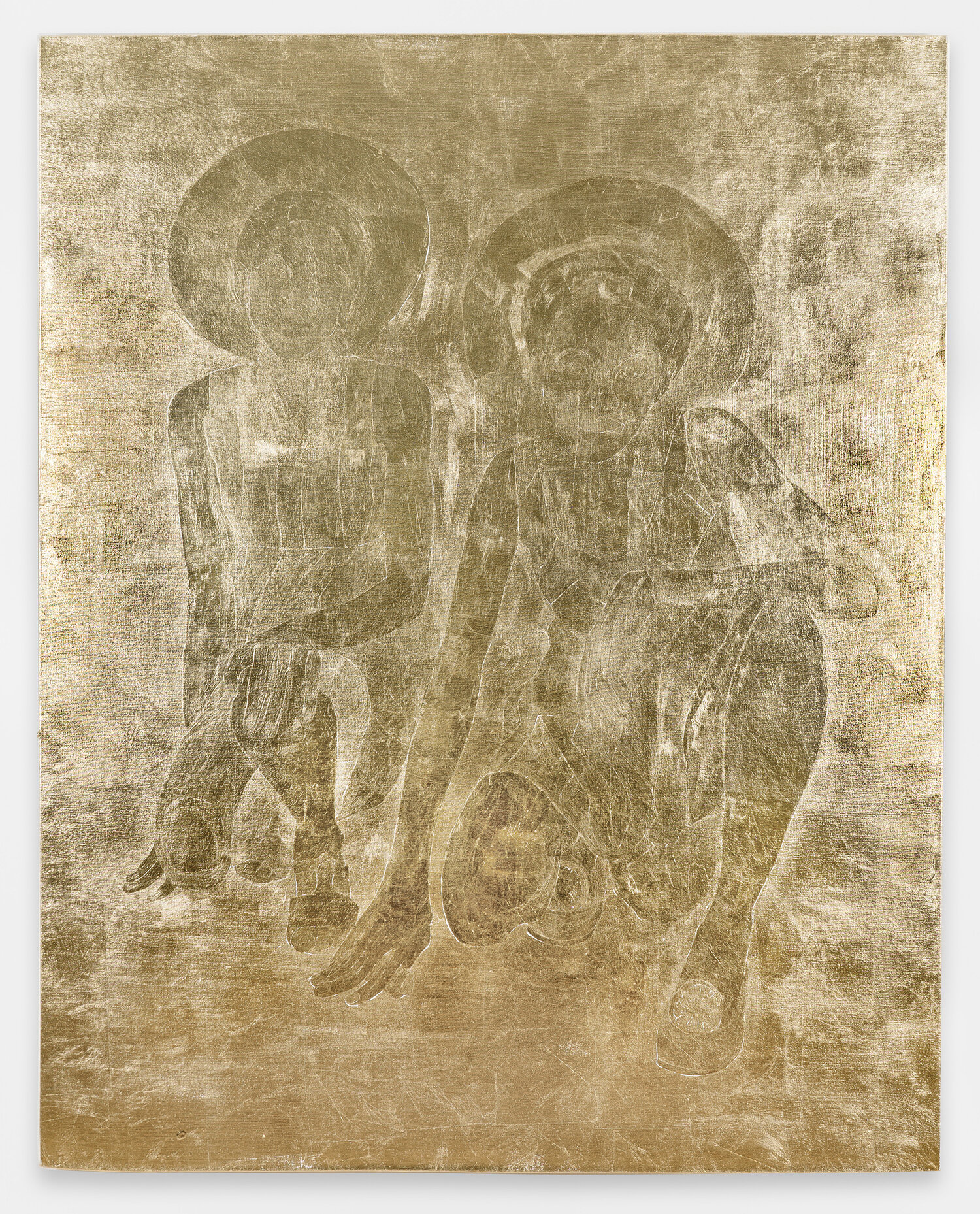 Above: Stacy Lynn Waddell, THE TWO OF US CROUCHING DOWN WITH HALOS AS HATS (for M.S.), 1973/2021. Composition gold leaf on canvas, 60 x 48 inches.
KW: What is your favorite purchase from 2021 and why?  
KM: My favorite 2021 purchase is Stacy Lynn Waddell's The Two of Us Crouching Down with Halos as Hats (for M.S.)—a spectacular gilded painting based on the portrait photography of the late Malian artist, Malick Sidibé.
KW: What do you like the most about this artist?  
KM: Stacy Lynn Waddell is an artist I've been following for over a decade. I met her at a Barkley Hendrix show in 2008. She was an emerging artist then. It's nice to see the evolution of this artist, who uses interesting materials. She was using lots of different materials and ended up using gold. As a collector whose collection started with photography, and the foundation of the wedge collection is photography, it was also exciting to see work in another medium that referenced iconic photographs. 
KW: Advice for new collectors?
KM: Your collection should reflect your personal history, your dreams and desires. Your collection should not be influenced by what's trending this year or what's a good investment, it should be for what you love. For me, it's do I want to spend more time with it than seeing it on a gallery wall or Instagram? Buy work that truly resonates with you versus something that's trendy. Try to have your collection tell your story. Have each piece build on itself with cohesion.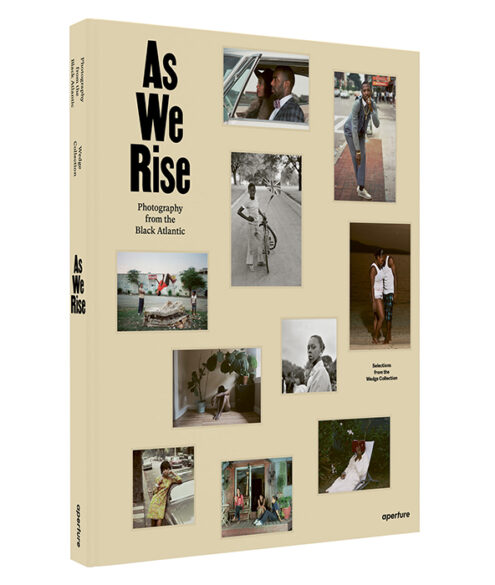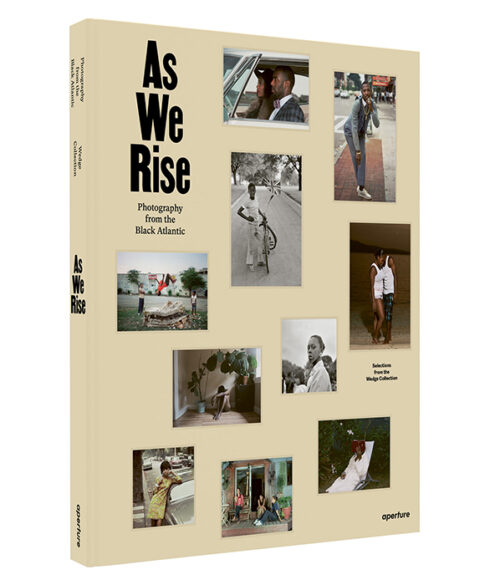 KW: As a collector, you've reached a moment where you've decided to release a book on your collection. Can you tell me about As We Rise (2021) and why as a collector you wanted to release a book?
KM: As We Rise is a new photo book from the Aperture Foundation that celebrates the work of Black artists in the wedge collection. The book looks at my collection through the lenses of community identity and power, which I think is important to the many images of a Black community that lives with violence and oppression. The book is about uplifting, my late father's phrase, "lifting as we rise." It's about the beauty of Black life. It's important to share the collection at this moment, because there are so many Black artists today that don't have enough exposure. Just so people acknowledge the work and the value and expansiveness of Black life. Not just a few Black stars in New York, there are great photographers around the world.