Above: Prince Gyasi, The Power of Choice, Courtesy of Nil Gallery. Prince Gyasi , represented by Nil Gallery will be at Art Miami.
After almost two years of COVID pandemic-mandated virtual events, 2021 Art Basel Miami Beach will return with its first in-person, socially distanced fair since 2019. Sugarcane Magazine is pleased to present the 2021 Black and Basel Guide to showcase Miami Art Week and Art Basel Miami venues that reflect dynamic representations of Black creative expression from across the diaspora.  
Sugarcane Magazine Founder Melissa Davis originally created the Black and Basel Guide to help visitors and South Florida locals feel connected to the contemporary art market. By highlighting Miami Art Week/2021 Art Basel Miami venues in and beyond the beach that represent a broad spectrum of Black identities, this Guide shines a spotlight on a series of hybrid virtual and in-person events, auctions and exhibits.  We are excited about the visibility that large fairs like 2021 Art Basel Miami Beach provide both emerging and established Black artists. 
Represented among the emerging artists in this special guide are their artworks at Meridians, curated by Magali Arriola, director of Museo Tamayo, Mexico City, including Todd Gray's Sumptuous Memories of Plundering Kings (2021), a 14-part work that explores European colonialism presented by David Lewis; Howardena Pindell's Sweatshop (1998-1999) presented by Garth Greenan Gallery, and Yinka Shonibare, CBE's Moving Up (2021), an installation presented by James Cohan Gallery.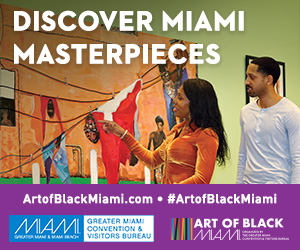 To name just some of the events and venues in the Black & Basel Guide… we share insights about a new fair, Le Art Noir in Liberty City, exhibiting work by interdisciplinary artist and designer Cornelius Tulloch. We look forward to viewing virtual exhibits at Prizm Art Fair. And Art Beat Miami, which showcases emerging Caribbean artists. We also pay attention to a series of new paintings by Otis Kwame Kye Quaicoe that explore identity, materiality and race. Finally, interactive opportunities abound to attend hybrid in-person and virtual talks with featured artists and curators.     
Follow along with Black & Basel as we celebrate the best and brightest Black artists exhibited at Miami Art Week/ 2021 Art Basel Miami Beach. Plan on visiting? Be sure to reserve tickets in advance, wear your mask, and be prepared to social distance!  ̶ Angela N. Carroll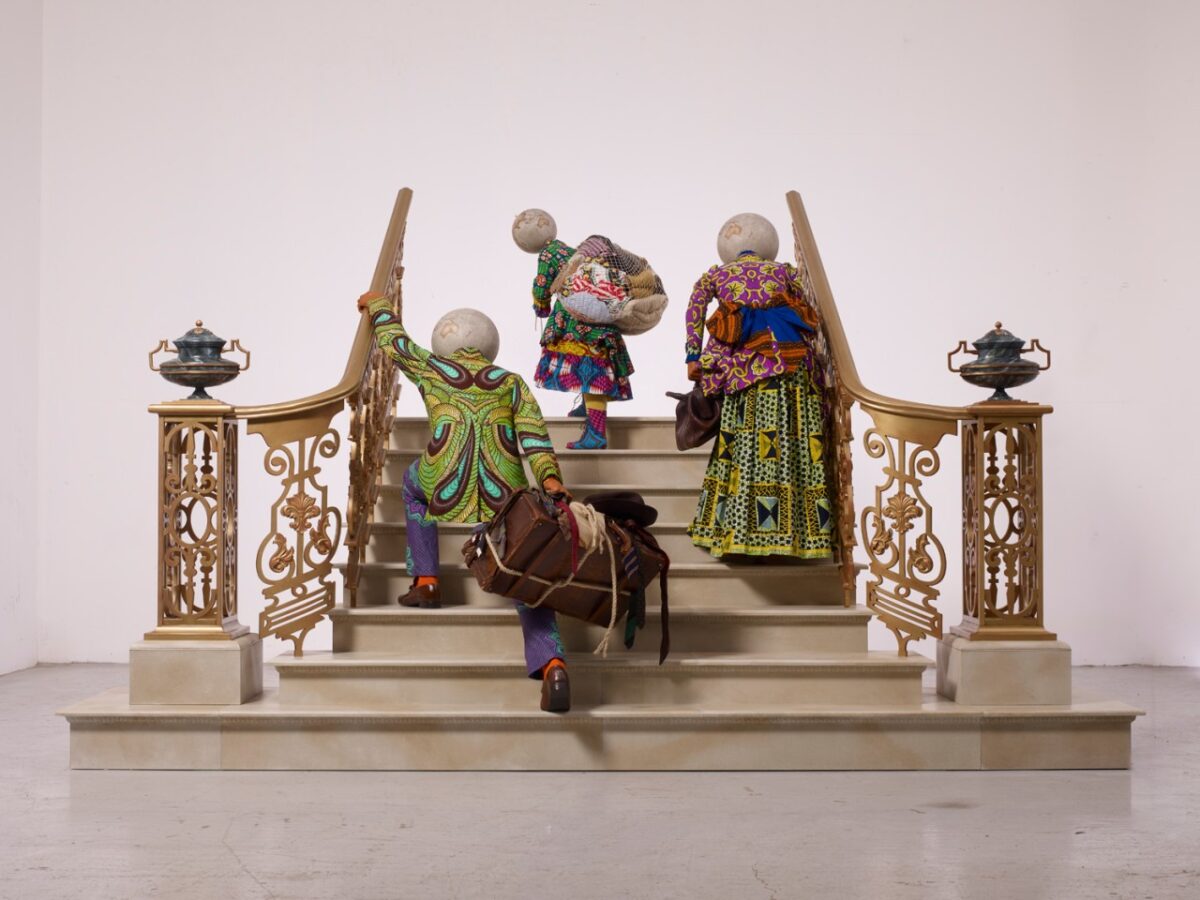 Above:Yinka Shonibare, CBE, Moving Up, 2021. © Yinka Shonibare CBE 2021. Courtesy the artist and James Cohan, New York. Photo by Stephen White & Co. 
Private showing: Nov. 30- Dec. 1, 2021
Open to the public: Dec. 2-4, 2021
Miami Beach Convention Center 
1901 Convention Center Dr.
Miami Beach, FL 33139
The fair that brings art collectors from all over the world. Miami Beach will feature 255 galleries from 30 countries and territories. It will be accompanied by a conversation series. There are several galleries showing work by Black artists. And there are galleries from the African continent to support, including Afriart Gallery, Goodman Gallery, Stevenson Gallery, etc. 
But why are we really excited? Art Basel features six galleries helmed by Black women: Mariane Ibrahim, Jenkins Johnson Gallery, Rele Gallery, Housing, Welancora Gallery and Nicola Vassel. Now that's something to celebrate. Further, join Sugarcane Magazine on Dec. 2 at 11:00 a.m. EST for our live podcast, This Week in Caribbean Art and Culture. Also, look in the Meridians Section for Hank Willis Thomas, Howardena Pindell, Conrad Egyir, Yinka Shonibare CBE, plus Vaughn Spann. Visit Kandis Williams' work at Night Gallery and Karon Davis at Wilding Cran Gallery in Positions.
Le Art Noir: Diversity in Color
VIP Preview: Dec. 2, 2021 | 7 pm  ̶  10 pm
GENERAL ADMISSION
Dec. 3, 2021 | 12 pm – 6 pm
Dec. 4, 2021 | 12 pm – 6 pm
Dec. 5, 2021 | 12 pm – 6 pm
African Heritage Cultural Arts Center
6161 NW 22nd Ave.
Miami, FL 33142
The inaugural Le Art Noir, Diversity in Color takes place during Art Basel Miami Beach, Dec. 2  ̶  5 2021. It is a unique multicultural collaboration of artists from around the globe, showcasing innovative exhibitions that capture the heartbeat of our society and focus on relevant topics. Le Art Noir's platform for artists challenges the boundaries on issues that plague today's society. Look for art from Miami's own Cornelius Tulloch and South African Johnathan Shultz's Nelson Mandela fingerprint made with over 9,000 diamonds.
Prizm Art Fair: Points of Contact
Nov. 30  ̶  Dec. 19, 2021
Virtual
Enlisting the wisdom of global leaders in Black/African existentialist thought, Points of Contact envisages Black existentialism's meaning in this contemporary moment through the various material praxes of Prizm 2021's exhibition of artists, painting, sculpture, drawing, mixed media and photography. Curated by Mikhaile Solomon, Points of Contact, through the works presented, will explore answers to the questions central to Black existentialism such as: "What would my life be, as a person of African heritage, if I didn't have to consider, factor in or negotiate around the construct of racism and other similar disruptive social maladies?" We're looking forward to work by Tessa Alexander, Yanira Collado, Christa David and Francks Deceus.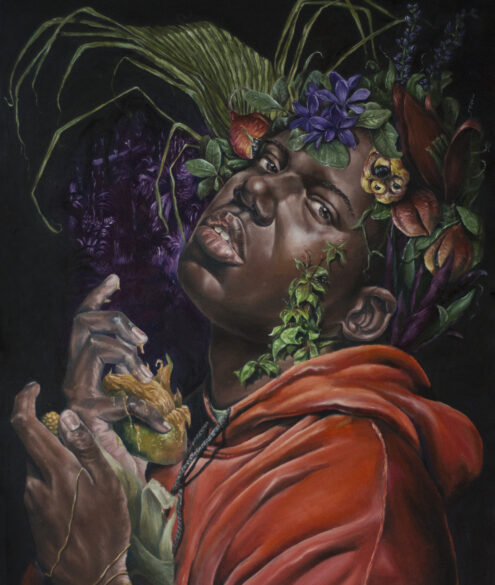 Above: Cornelius Tulloch, Caribbean Contemporary. Mr. Tulloch is exhibiting at Le Art Noir.
Witness: Afro Perspectives from the Jorge M. Pérez Collection at El Espacio 23
Espacio 23
Until February 2022
11 AM-5PM
2270 NW 23rd St, Miami, FL 33142
Witness: Afro Perspectives from the Jorge M. Pérez Collection at El Espacio 23
El Espacio 23 is excited to present its 2021 Art Week exhibition – Witness: Afro Perspectives from the Jorge M. Pérez Collection. Back by popular demand, the exhibit will feature over 100 works by African and African Diaspora artists, and will address themes of systematic oppression, intergenerational trauma, syncretism, identity and territory. Guest curated by Zimbabwean curator Tandazani Dhlakama of Zeitz MOCAA, in collaboration with Pérez Collection curators Patricia M. Hanna and Anelys Alvarez, visitors can expect to witness a new set of newly acquired works from the Jorge M. Perez Collection, comprised of powerful pieces from influential African artists such as Takadiwa Mottat, Cinga Samso, Ajarb Bernard Ategwa, Cassi Namoda, Penny Siopis, Athi Patra Ruga and more.
Dec. 1  ̶  5, 2021
5925 NE 2nd Ave.
Miami, FL 33137
Art Beat Miami is an annual satellite art fair presented by Little Haiti Optimist Club and Welcome to Little Haiti, showcasing emerging and renowned artists from Haiti and around the world. Now in its eighth year, Art Beat Miami focuses on emerging Caribbean artists. Look for work by Annick Duvivier, Levo Exil, and many more.
Nov. 29-Dec. 4, 2021
Ocean Dr. & 12th St.
Miami Beach, FL 33139
Untitled Art Fair returns with a diverse offering and is curated by Natasha Becker of the Fine Arts Museum of San Francisco. This year, Untitled continues to provide cultural programming that represents the world we live in. Enjoy a performance by Coco Fusco, art by April Bey at Tern Gallery, Yanira Collado at Emerson Dorsch, Gio Swaby at Claire Oliver and Sheena Rose at Debuck Gallery. Also, stop by Gallery 1957, Richard Beavers Gallery, Afrikaris Gallery and Zidoun-Bossuwyt.
Jeffery Dietch: Shattered Glass
Nov. 29 – Dec. 5, 2021
Miami Design District Moore Building
191 NE 40th St. 
Miami, FL 33137
One of Los Angeles' most talked about exhibitions, Shattered Glass brings together 40 artists presenting Black and Brown figurative paintings, photographs and sculpture that depict familial ties with a laser focus on diversity and inclusivity. This exhibit, curated by Melahn Frierson and A. J. Girard will be the final exhibition from Jeffery Dietch in the Moore Building.
Oct. 28, 2021 – April 17, 2022
61 NE 41st St. 
Miami, FL 33137
Betye Saar: Serious Moonlight: One of the most anticipated museum shows in Miami, ICA presents scaled-down work from Betye Saar's 1960-1970 creations. Saar's exploration of spirituality, race and gender—with intricate and multi-layered, installations, pastel silks and interactive alters—provides respite for the Miami Art Week visitor. Also, ICA Miami is showing work by artists Jade Fadojutimi and Hugh Haydn.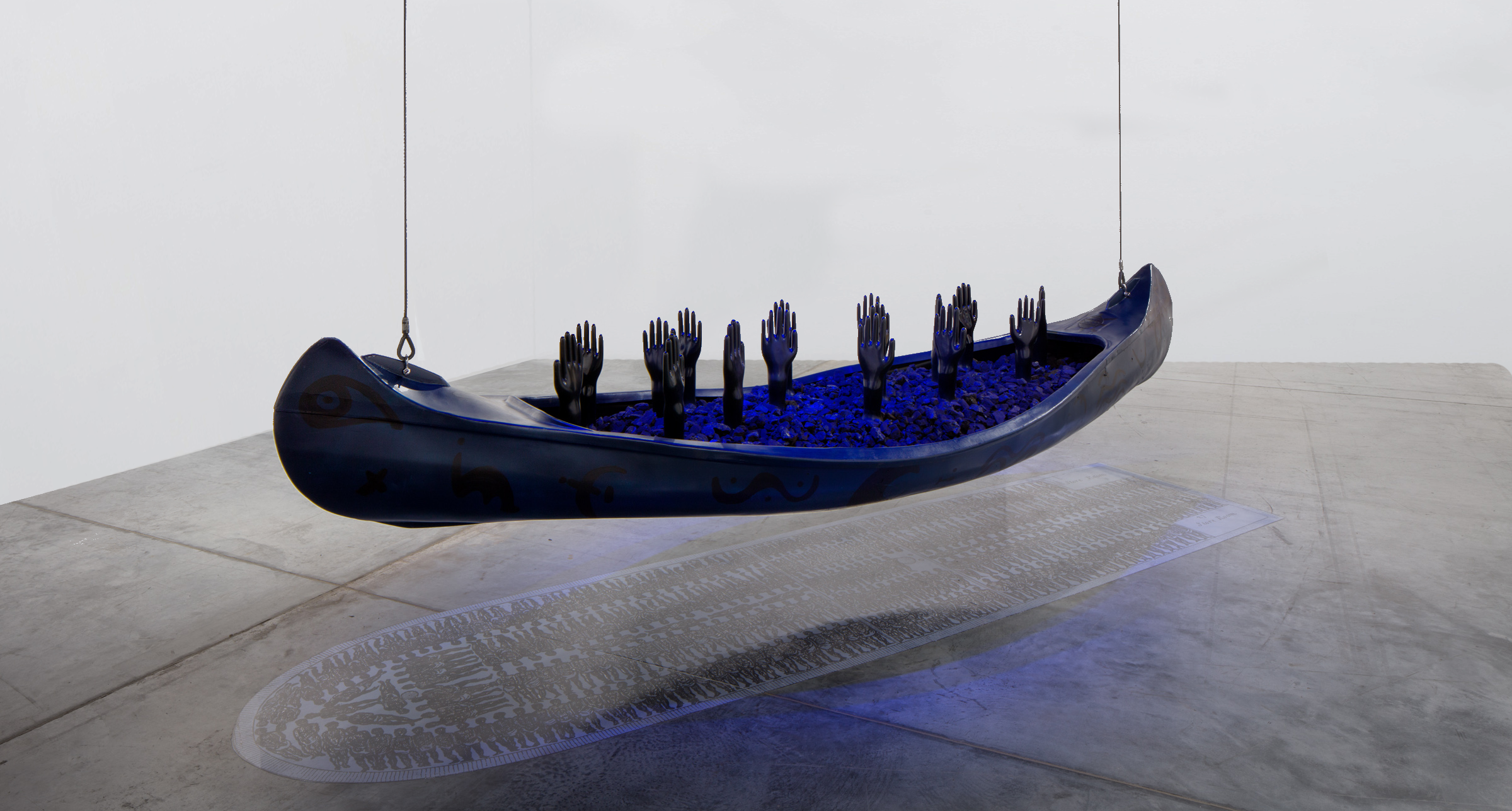 Above: Betye Saar, Gliding into Midnight. Ms. Saar is Exhibiting at ICA Miami
Haitian Heritage Museum: Introspective Noir
Dec. 2, 2021-Jan. 30, 2022
4141 NE 2nd Ave.
Suite 105C 
Miami, FL 33137
The Haitian Heritage Museum presents "Introspective Noir," during Art Basel, ArtWeek. This group exhibition features works by renowned visual artists Addonis Parker and Pierre Jean Baptiste, African American and Afro Caribbean artists, respectively the . Their contemporary artworks circumspect the narratives of identity and reflective themes of self-awareness in our communities. There will be an Artist Discussion Panel on opening night, Thursday, Dec. 2 from 6 pm – 10 pm moderated by Professor Mikki Taylor of the Howard University Fine Arts Department.
Griot Gallery: We Are Who We Are
Dec. 3, 2021: 1 pm – 8 pm
Dec. 4, 2021: 10 am – 8 pm
Dec. 5, 2021: 10 am – 1 pm
8260 NE 2nd Ave.
Miami, FL 33138
Back for the fifth annual show, We Are Who We Are at Griots Gallery in Little Haiti features originals by the legendary living artist Frank Frazier alongside emerging Black fine & craft artists. Frank Frazier has always been a staple with mentoring Black artists across the nation, encouraging them to share their art with the world. We Are Who We Are is a family-friendly outdoor event where serious collectors and joyful appreciators alike can come out to interact with and support the artists.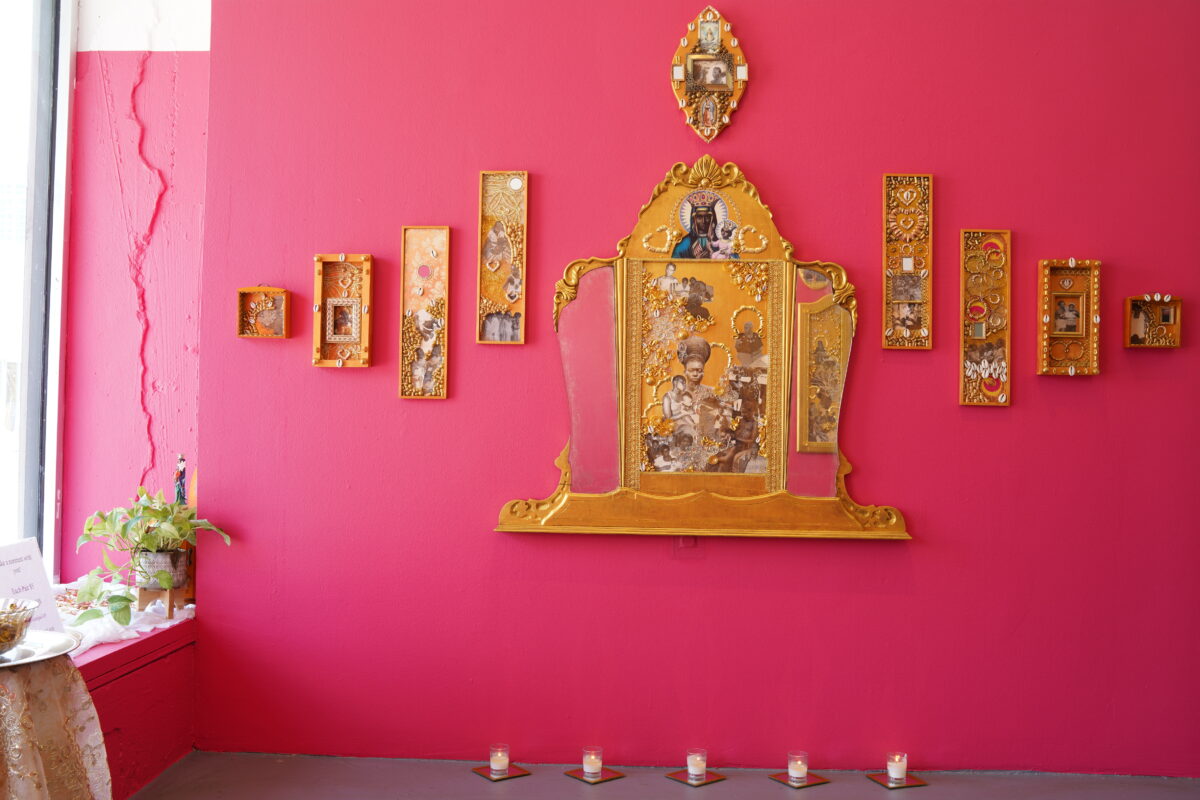 Above: Loni Johnson's Remnant. Ms. Johnson is exhibiting at Edge Zones.
Edge Zones: Familiar Distances
Nov. 19, 2021 – Jan. 7, 2022
3317 NW 7th Ave. Cir.
Miami, FL 33127
Familiar Distances, a group show curated by Victoria Ravelo brings together artists who are shaping the narrative and asks them to investigate humanity. Featuring work by Chire Reagans, Loni Johnson and Issac Scott, we experience humanity from their lens. Expect to see work that revolves around loss, activism and spirituality.
Point Comfort Art Fair and Show 
Dec. 3 – Dec. 6, 2021
12pm  ̶  8pm
Ward Rooming House
249 NW 9th St.
Miami, FL 33136
Point Comfort Art Fair and Show in Historic Overtown, presented by Hampton Art Lovers, comprises an art exhibition, video installations on the exterior walls, and Indaba Lounge Series behind the gallery in the garden. Point Comfort Art Fair 2021 will feature HBCU Exhibit SHOWCASE "Atlanta Annuals, In Search of Black Excellence in Art (1940-1970)," curated by Hampton Art Lovers from the Clark Atlanta Art Museum. These collections provide a rich resource for the study of African American art, yet many also possess a diverse array of 19th– and 20th-century American art. The show will include the works of contemporary artists Basil Watson, Athlone Clark, Varnette Honeywood, Ernie Barnes and many others.
Dec. 1  ̶  6, 2021
1103 Biscayne Blvd.
Miami, FL 33132 
PAMM's Art Week schedule allows guests to enjoy the museum's exhibitions in person, which include Allied with Power: African and African Diaspora Art from the Jorge M. Pérez Collection, an exhibition of over 35 works by international African and African diaspora artists; and Meleko Mokgosi: Your Trip to Africa, a group of newly commissioned paintings by the artist that addresses themes of colonialism, nationalism, tourism and race. Also, join the conversation about Allied with Power by attending Art Talk: El Espacio 23 x PAMM: Across the Afro Diaspora with Maria Elena Ortiz and Tandazani Dhlakama.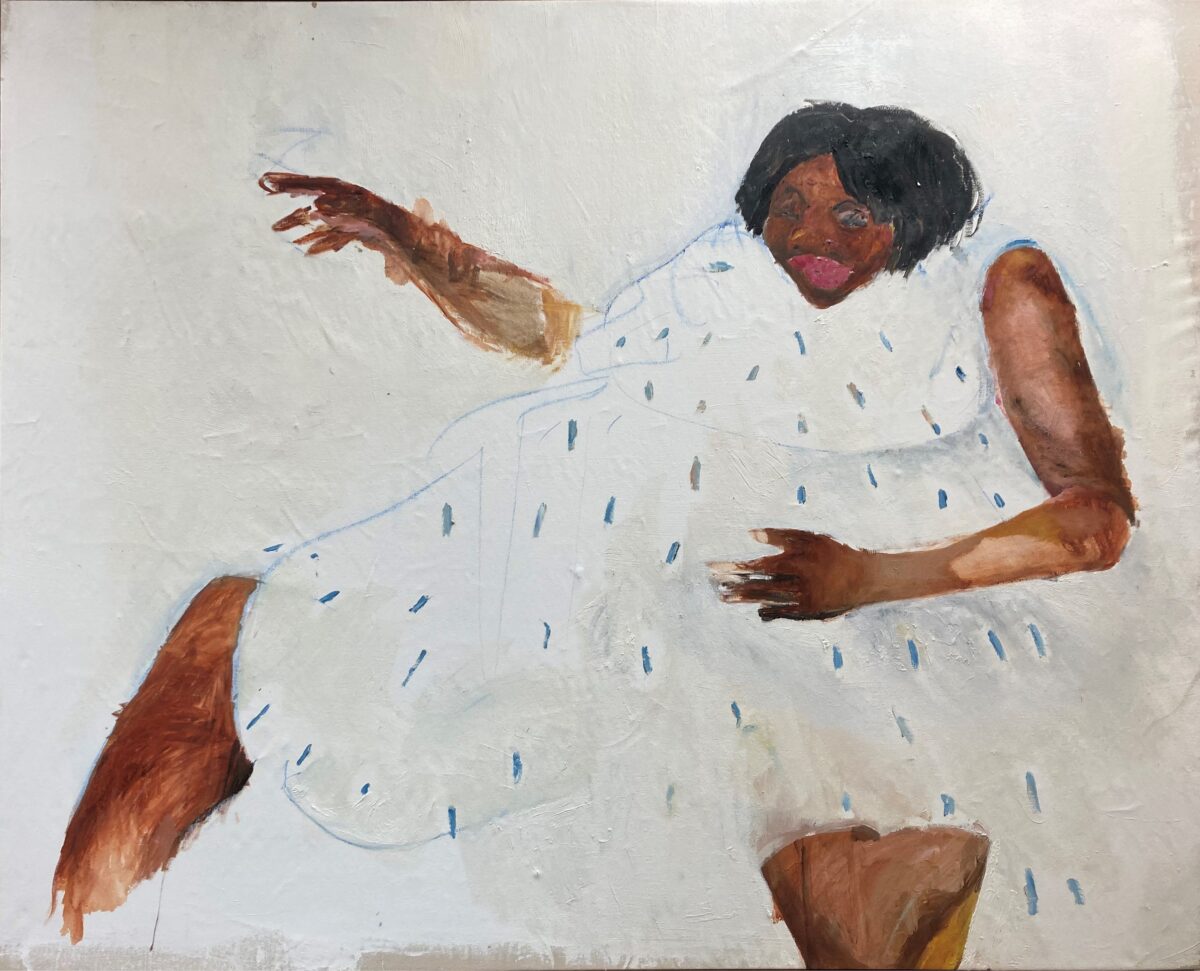 Above: Work by Jared McGriff. Mr. McGriff is exhibiting at NSU Art Museum Fort Lauderdale.
NSU Art Museum: Jared McGriff | Iké´ Udé´ | Erick N. Macks | Christopher Carter
Nov. 20, 2021 – Feb. 13, 2022
1 E Las Olas Blvd.
Fort Lauderdale, FL 33301
NSU Art Museum in Fort Lauderdale is off the beaten path, but you should make a trip to this city just north of Miami to see the first solo museum exhibition of Miami artist Jared McGriff. Titled Jared McGriff: Where We Are You, this exhibition showcases McGriff's dreamlike narratives that remain timeless even as he integrates his family's history into the realities of the present. Jared uses watercolors to document the life of a Black family and their move from the rural south to California. Also, be sure to see Iké´ Udé´ "Select Portraits," Erick N. Macks "Let Me Go Across the Room" and "The Carter Project," a live/work/exhibition space that artist Christopher Carter calls "an adult treehouse."
Opening Vernissage: Dec. 3, 2021 ̶ 10am  ̶  1pm
Dec. 4, 2021  ̶  Feb. 28, 2022:
Weekdays 10am  ̶  6pm
Saturdays 11am  ̶  4pm
Sundays Closed
212 NE 59th Terrace
Miami, FL 33137
Noir Atlantic: Connecting the Continents, presented by the Little Haiti Cultural Complex and the Haitian Cultural Arts Alliance, is curated by Marie Vickles, Edouard Duval-Carrié and Sandy Dorsainvil. It is the 13th iteration of the Global/Borderless Caribbean exhibition series, which exists to facilitate contemporary cultural dialogues about the Caribbean. The 2021 exhibition program will bring together artists, curators and researchers in conversation around the theme of the Global South and the connections of the African diaspora across the Atlantic featuring contemporary artists based in Florida, representing the continent of Africa, the Caribbean region and the Southern United States. Auxiliary programming on the campus and neighboring vicinity of the Little Haiti Cultural Complex will be provided by partnering arts organizations IPC ArtSpace, the Studio of Edouard Duval-Carrié, and Art Beat Miami. The Little Haiti Cultural Complex will host workshops, special events, lectures and performances that emphasize and support the power of expressive authenticity and a commitment to cultural roots. Also, be sure to visit Art Ayiti thats taking place on the cultural campus as well
Rubell Museum: Otis Kwame Kye Quaicoe
Nov. 29, 2021 – Oct. 2022
1100 NW 23rd St.
Miami, FL 33127
Visit the Rubell Museum to see works by Ghanaian artist Otis Kwame Kye Quaicoe. Quaicoe creates empowering lush portraits of Black figures where color functions as a unique language to represent the character of the subject. He approaches American history with a fresh perspective as he seeks to reclaim the cultural identity of the American cowboy by delving into the forgotten history of the Black cowboy. Also, be sure to view work by Genesis Tramaine and Reginald O'Neal while you're at the museum.
Opa Locka Community Development Corporation
Reframed: Miami Art Week Kick-off Art Talk + Open Spin 
Nov. 29, 2021: 6 pm  ̶  9 pm
Opa-locka ARC
675 Ali Baba Avenue
Opa-locka, FL 33054
Free with Eventbrite RSVP
Old school media collide for an evening of music, memories and art. Dust off your vinyl records for an Open Spin with Vinyl Social Club, featuring vintage soul and hip-hop samples. Meet artists Keisha Rae Witherspoon, Terence Price II and Carrington Ware, whose films inspired by archival footage are found in the exhibition Casting Shadows | Framing History. Bring your own retro slides, negatives and photos for a hands-on projection workshop presented by Media + Archive Studies Miami. Complete your night with a walking tour of "Opa-locka Light District."
6 pm Open Spin with Vinyl Social Club. BYO vintage soul records.
6:15 pm Walking Tour of Opa-locka Light District
7 pm Art Talk with Keisha Rae Witherspoon, Terence Price II, and Carrington Ware
Ongoing Projection workshop with Media + Archive Studies Miami. BYO retro photos, slides and negatives.
Opa-locka Light District Walking Tour 
Nov. 29  ̶  Dec. 4, 2021
6 pm  ̶  7 pm Daily
Historic Hurt Building
490 Opa-locka Blvd, Opa-locka, FL 33054
Free with Eventbrite RSVP
Created by Opa-locka Community Development Corporation and O, Miami, the Opa-locka Light District is a series of nine poems projected onto the streets, sidewalks and buildings along Opa-locka Boulevard. Each poem was written by an Opa-locka resident and is projected using specifically designed outdoor projectors created by Maker Faire Miami and Moonlighter Maker Lab. The project, a winner of a Public Space Challenge grant from The Miami Foundation, broadcasts the voices of Opa-lockans adds additional illumination to the streetscape and increases pedestrian safety.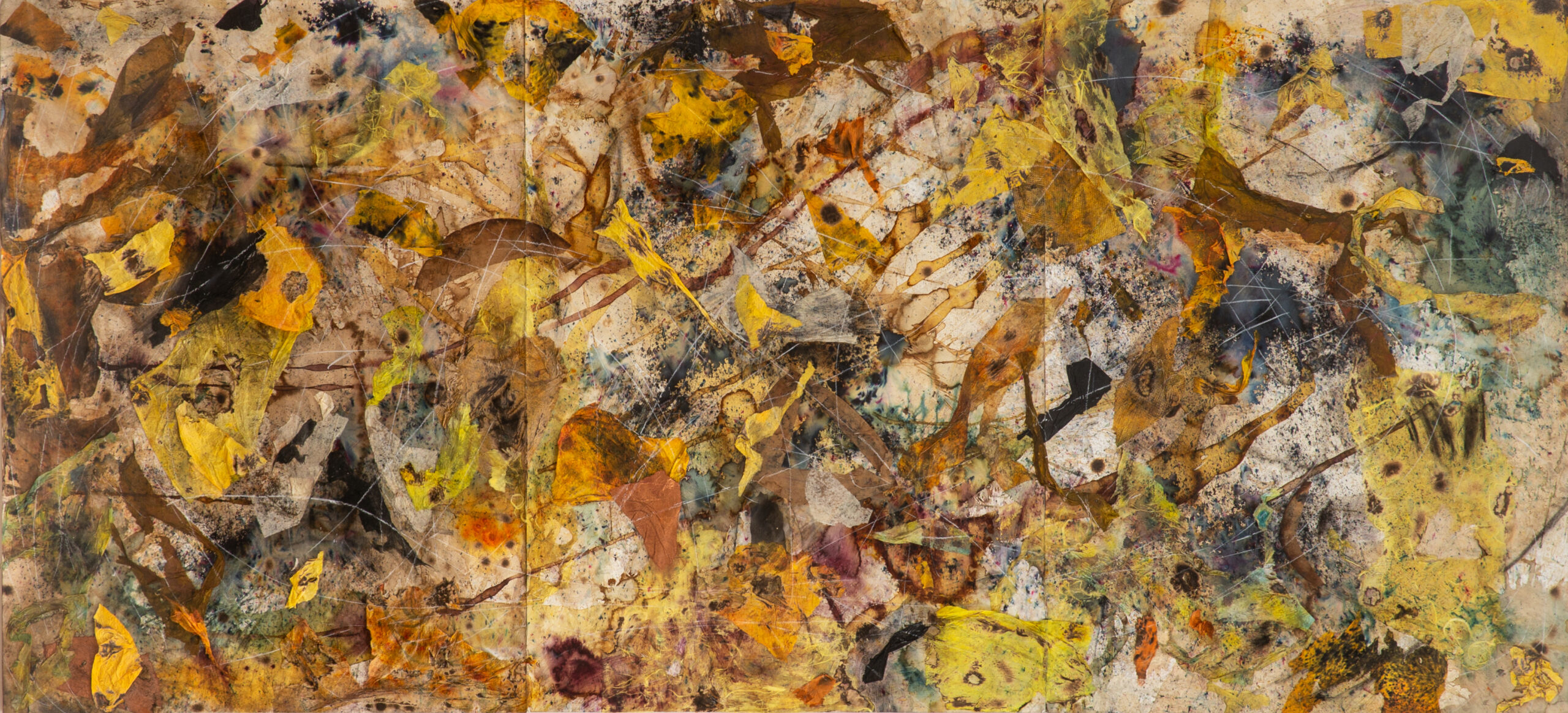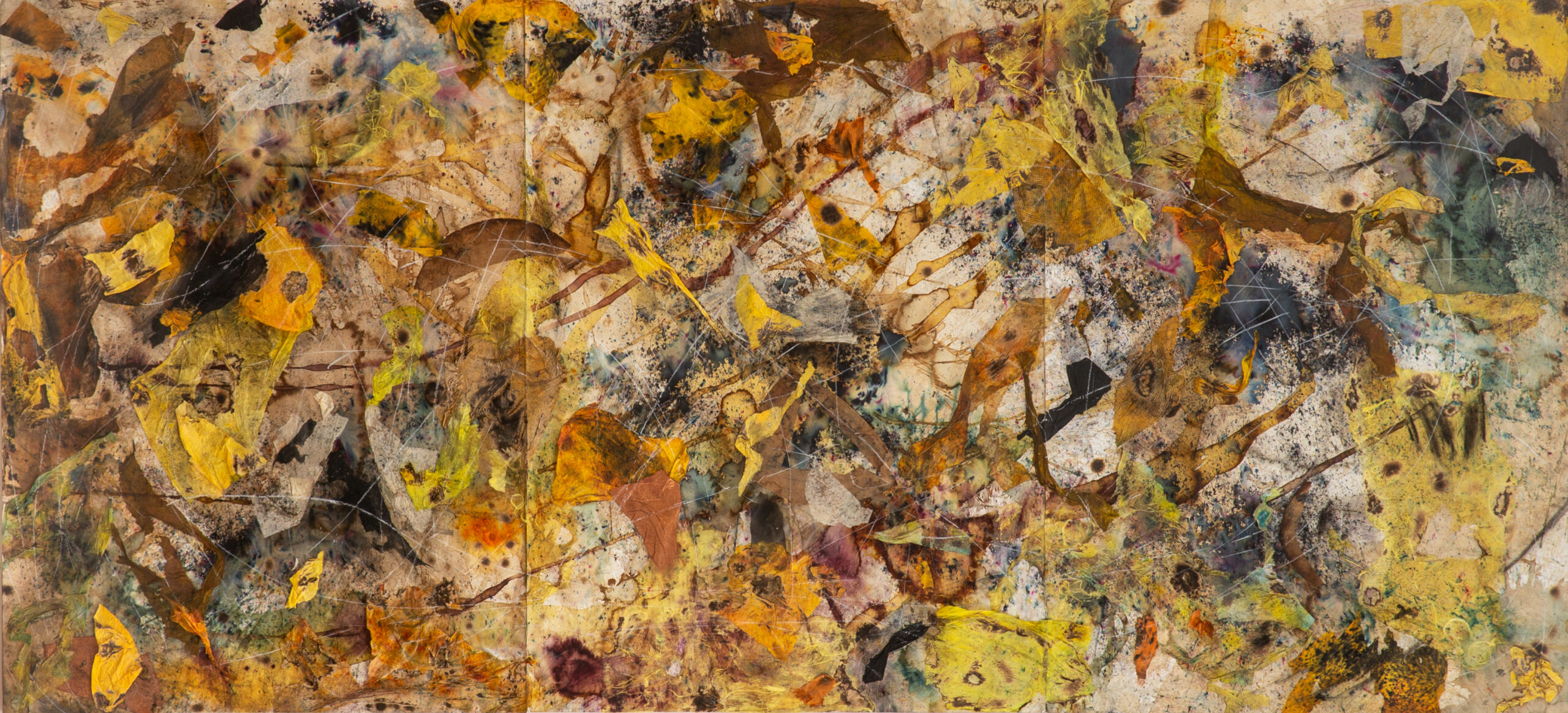 Above: Work by Stephen Arboite. Mr. Arboite is exhibiting at Greenspace Miami.
May 17  ̶  Dec. 5, 2021
736 Collins Ave.
Miami Beach, FL 33139
Inspired by the idea of aṣẹ, the West African concept relating to our power to produce change, Aṣẹ: Afro Frequencies celebrates the historical, social and cultural aspects of the Black experience through the perspective of artists Vince Fraser and Ursula Rucker. Artechouse is a first-of-its-kind art space that connects art and audience by showcasing experiential and technology-driven works by artists who are forerunners of the new age in the arts and technology.
Nov. 18  ̶  Dec 9, 2021
Riviera Hotel South Beach
318 20 Street 
The City of Miami Beach, in collaboration with the Miami Beach Visitor and Convention Authority (MBVCA) is pleased to announce the second edition of No Vacancy. No Vacancy is a juried art competition that celebrates artists, provokes critical discourse, and invites the public to experience Miami Beach's famed hotels as destination art spaces. This year, No Vacancy will present ten temporary public art projects. Look out for artist and curator Chris Friday and her project In/Visable/Men/d
Dec. 1  ̶  Dec. 5, 2021
Mana Wynwood 
2217 NW 5th Avenue at NW 22nd St. 
Miami, FL 33127
Spectrum Miami is one of the most popular art fairs. Each year, visitors enjoy the accessible fair to view contemporary art, and this year, expect two shows under one roof, which means there are more than 300 exhibitors showcasing works from around the globe. This year, view works by Richard Mayhew, Charly Palmer, Kerry James Marshall, Dana Todd Pope and more, presented by Pigment International.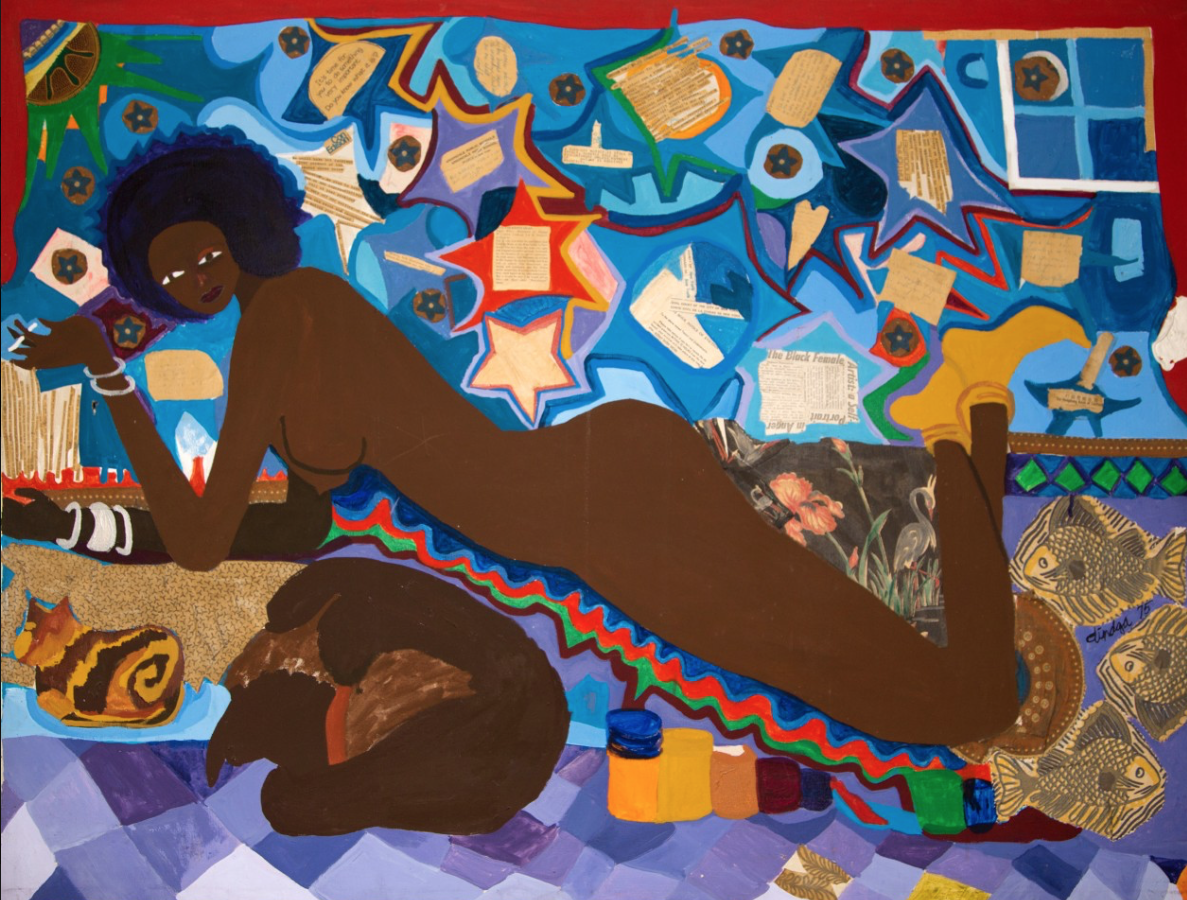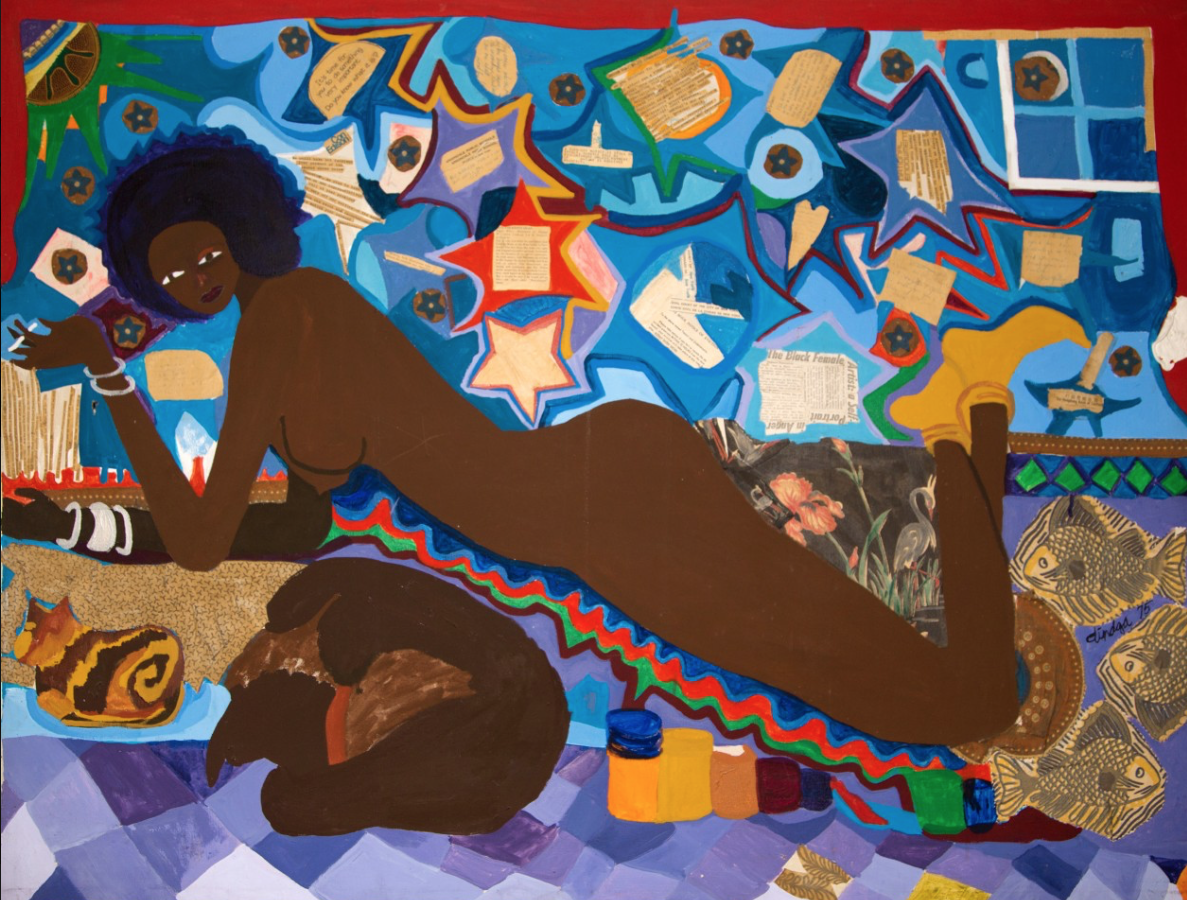 Above: Dindga McCannon, A Day In The Life of A Black Woman Artist #1, 1975. Courtesy the artist and Fridman Gallery, New York
Nov. 30  ̶  Dec. 5, 2021
One Herald Plaza (NE 14th Street & Biscayne Bay) 
Miami, FL 33132
Art Miami is the fair that is responsible for a busy Miami Art Week. The in-person and virtual hybrid model Art Miami features contemporary and modern art including installations and exciting special projects from 140 national and international galleries. Expect work from Issac "Cee" Adams, Thornton Dial, Sam Gilliam, Amoako Boafo, Reggie Burrows Hodges. Also, stop by Nil Gallery to view work by Prince Gyasi and Abe Odedina.
Dec. 1  ̶  Dec. 4 2021
1400 N Miami Ave.
Miami, FL 33136
NADA Art Fair is one of our favorite fairs for exciting and experimental work as well as an art book fair. This year's fair returns to the Ice Palace in Wynwood with work by Nyugen Smith, Ochi Galley and L.A.'s Black-owned Dominique Gallery.
Nov. 12, 2021  ̶  Jan. 8, 2022
Tuesday  ̶  Sunday from 12 pm  ̶  7 pm
Free & open to the public 
7200 Biscayne Blvd Suite A
Miami, FL 33138
Green Space Miami is a project space created by the Green Foundation. For its inaugural exhibition, visit Inside Feelings, Outside Voices: Reflections from Miami. View work by Morel Doucet, Rhea Leonard, Stephen Arboite, T. Eliott Mansa, Depaul Vera and Vanessa Charlot.
Nov. 30  ̶  Dec. 10, 2021
1620 Washington Ave.
Miami Beach, FL 33139
Zoe Lukov curates a show with some of the world's heavy hitters such as Hank Willis Thomas, Theaster Gates, Sheena Rose, Kennedy Yanko, Juana Valdes and Derrick Adams. Zoe is a curator and writer who worked for Faena Art, Prospect 3 and is known for many exciting exhibitions and projects. We expect a show with top-tier Black artists participating.
Loan Depot Park
501 Marlins Way
Miami, FL 33125
Text ALBMIA to 68405 to RSVP
Art Beats + Lyrics (AB+L) is a traveling urban art and music exhibition founded by Cult Creative.  AB+L started as a local art show in Atlanta and has grown to support visionary artists and musicians who values of authenticity, creativity, and individuality.
These amazing creators are at the core of AB+L mission to create a unique art experiences that helps move the culture forward. Art, Beats + Lyrics is proud to have showcased hundreds of visual artists from across the U.S.
SPIRITS of HAITI
Collectors Opening
Date: December 2, 2021
Time: 7:00pm – 11:00pm
Public Opening
Date: December 3, 2021
7:00pm – 10:00pm
Jakmel Art Gallery 154 NW 37th Street. Miami, FL 33127
A project started in 2010 by renowned Haitian artist Jude "Papaloko" Thegenus, Spirits of Haiti is a tribute to the rich cultural heritage of Haiti and its people, celebrated every year with a multimedia art exhibit curated by Papaloko. Through combining visual arts forms such as painting, sculpture, drawing and photography with traditional music and dance, Papaloko immerses the audience into the depth of the Haitian culture. the experience is renewed every year, as he features artists and themes in tune with the times.This year's Spirits of Haiti centers on the powerful art of Jude Papaloko and the mesmerizing photography of Marc Baptiste.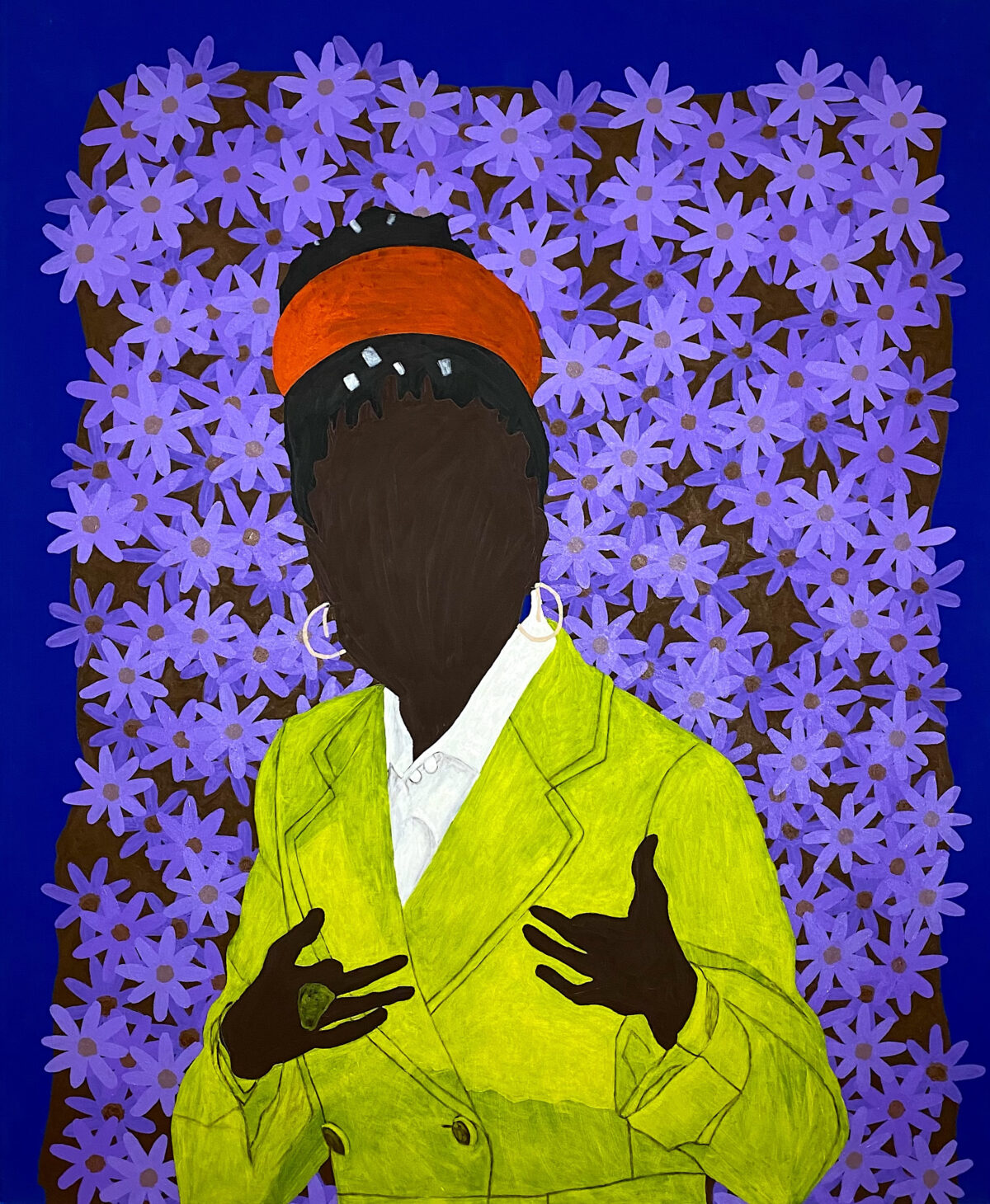 Above: Amanda Gorman Raphael Adjetey Adjei Mayne. Courtesy of the artist and Destinee Ross-Sutton, 2021.
Black Excellence/Black Elegance
December 1-December 5
11:00 AM- 8:00 PM
345 Lincoln Rd, Miami Beach, FL  33139 
Destinee Ross-Sutton is celebrating  her first year anniversary as a galleries with a small exhibition in Miami Beach. artist include Johnson Eziefula, Annan Affotey, Adesina Adegboyega, David "Mr StarCity" White, Odinakachi Okoroafor, Raphael Adjetey Adjei Mayne, Joshua Michael Adokuru, Khari Turner, Nedia Were and Idowu Oluwaseun.
In conjunction she will be releasing a limited edition print of Raphael Adjetey Adjei Mayne's much publicized portrait of Amanda Gorman, now in the permanent collection of Harvard University's Hutchins Center for African & African American Research.
HBCU Digital Art Collection Project (H-DAP)
Virtual: Friday, December 3, Noon to – 1pm EST
To coincide with the bursting week of art fairs and events, Picture That Consultants is proud to launch the first ever virtual tour of an HBCU art collection in Florida featuring Florida Memorial University (FMU) during 2021 Art Basel Miami Beach on December 3. This tour is a part of Picture That's HBCU Digital Art Collection Project (H-DAP) where fifteen HBCU Art Collections have been featured thus far.
BLK Miami Studio (Wynwood, Miami)
2060 NW 1st Ave, Miami, FL 33127
Open to the public Wed.Dec 1, 10am-3pm, Thurs Dec.2nd 10am-6pm
Auction: Friday, Dec.4th 10am-12am
The Bishop Gallery has teamed up with Triller to host and feature our traveling exhibition Our Friend, Jean.
4PM-6PM – Our Friend, Jean Live Discussions
Basquiat's long-time friends Alexis Adler and Al Diaz artist reflection panel about seeing Basquiat through a modern lens. 
8PM- 12AM – Basquiat X Triller NFT Auction –  exclusive event of art, music along with a LIVE NFT auction experience. A total of six NFT's (five online, one exclusively for guests in attendance) will be auctioned off at a private, invite only VIP party. In addition to the auction, there will be several main stage moments, a physical donation of a NFT to the Smithsonian National Museum of African American History & Culture, exclusive access and first look opportunities, live discussions with friends of Basquiat, the physical gallery experience, NFT auction room with exclusive in-person only pieces, musical performances  and a celebrity guest speaker.
Miami Ironside
7610 Northeast 4th Court
Miami, FL 33138
Wednesday 12/1 – 8 pm: Private VIP Launch of AfriKin Art Fair
Thursday 12/2 – 8 pm: Performance by Moonchild
Friday 12/3 – 7 pm: Film Screening: The role of the artist in society by James Baldwin
Friday 12/3 – 8 pm: Panel Discussion by the artists
Saturday 12/4 – 7 pm: Keynote Address: Saturday Night by Professor Dr. Maguèye Kassé
Saturday 12/4 – 8 pm: Panel by national scholars
Saturday 12/4 – 9 pm: The Wax: Contemporary African Fashion by Aida Diop NDiaye – Senegal
Sunday 12/5 – 7 pm: Rose Water Dance by Michelle Grant Murray
The fair is an art exploration of the "Fire Next Time" opens at 8 pm on December 1st with private VIP Launch; It runs open to the public from December 2nd through the 5th to see exhibition of works; traditional African dance and drum performances; Jazz music jam sessions; Speakeasy Poetry Lounge; artists VIP meet and greet; curated cocktail bar, palate-pleasing sensory experience of culinary arts by Barbados Tourist department, lively panel discussion; art film screenings. Produced by Alfonso D'Niscio Brooks founder of AfriKin, Curated by Babacar Mbow.
-Written by Angela N. Carroll, Melissa Hunter Davis with contributions by Jeff Nesler and Sumaiyah E. Wade.