Above: Modupeola Fadugba | Medallion Girls Series | 2021 
It's the peak of the art season in Lagos, Nigeria. By art, we mean contemporary African art. The city is brimming with countless exhibitions to list. Art enthusiasts are spoiled for choices but are bent on being as present in as many of these exhibitions as possible, because for one, it's been over 18 months without this charged energy due to the pandemic and it has been missed. 
The Lagos art scene at this time serves as means to celebrate skills and talents inherent in the Nigerian art scene. A means to recognize the dedication, growth and variety of this art scene's visual expressions.
For this reason, the highlight of this week's newsletter is focused solely on where the excitement is, and to make it worth your while, we have listed five shows you should definitely have seen, if you were an art fan in Lagos.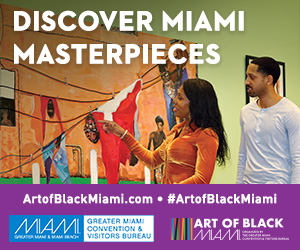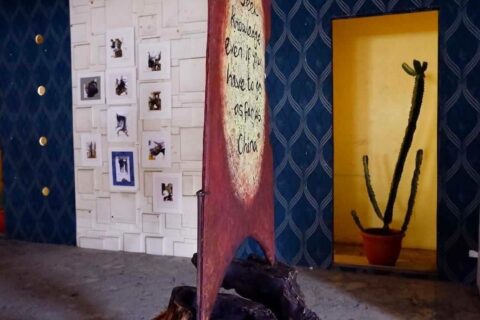 Above: Gallery view of Kanbi Projects at ART X Lagos 2021
ART X Lagos 2021
On Nov. 4, 2021, the ART X Lagos fair welcomed visitors with excitement to this year's edition of the fair at Federal Palace, Victoria Island. Some 30 galleries from Africa and its diaspora are being featured, with 15 galleries exhibiting online. Seeing this activity in person is so refreshing after the long break resulting from the pandemic. It's all lights, all bright and so big, it felt like a concert of art pieces.
Some of the galleries participating include kó (Lagos, Nigeria), SMO Contemporary Art (Lagos, Nigeria), DADA Gallery (Lagos, Nigeria and London), Nike Art Gallery (Lagos, Nigeria), Galerie Cécile Fakhoury (Abidjan, Côte d'Ivoire; Dakar, Sénégal; and Paris), LouiSimone Guirandou Gallery (Abidjan, Côte d'Ivoire), Nubuke Foundation (Accra, Ghana), Gallery 1957 (Accra, Ghana and London), Circle Art Gallery (Nairobi, Kenya), Afriart Gallery (Kampala, Uganda), Stevenson (Cape Town and Johannesburg, South Africa; and Amsterdam,) and Sakhile&Me (Frankfurt, Germany).
In addition to the stunning presentation of works, the 2021 curated program includes ART X Talks, a lively and robust series of conversations exploring themes pertinent to the state and evolution of contemporary art in Africa; ART X Live!, a platform for expression and experimentation by Africa's dynamic young creators that fuses music and visual art, and special projects, including an exploration of NFT art on the continent.
Each year, ART X Talks organizes a series of conversations that invites artists, art professionals and collectors to explore a range of themes pertinent to the evolving state of contemporary art in Africa. This year's Talks reiterate the fair's theme: the restful ones are not yet born, exploring the past to imagine new possibilities for the future. 
Some of the panels to attend or follow online are "Beyond Collecting: Building an Ecosystem," moderated by ART X Founder and Director Tokini Peterside; "Danger of a Single Story," moderated by visual artist Ayọ̀ Akínwándé; "The Power of the Archive and its Limit," moderated by writer and critic Emmanuel Iduma; "The Future is Now," moderated by TSA Art Magazine Managing Editor Bukola Oyebode; and "ART X NFTs: Speculative Futures," moderated by ART X Curatorial Associate Maurice Chapot.
Another show within the fair that is exciting to encounter, is It's All in My Head, a solo exhibition by the 2020 Access Bank ART X Prize winner, Etinosa Yvonne.
ART X Lagos comes to close on Nov. 7, 2021 and then continues online until Nov. 21, 2021.
Modupeola Fadugba's The Artist's Algorithm: Why Nations Win at ALARA Lagos 
It's been three years since the art scene last saw new works from Modupeola Fadugba in an exhibition. And while it seemed like the world moved on, seeking excitement with the latest shows by other artists, she returns to compel attention with the pieces presented in a groundbreaking project titled, The Artist's Algorithm: Why Nations Win.
The Artist's Algorithm is a new series of exhibitions, essays, talks, games, performances, mentorship programs, murals and videos that aims to shed light on problems in education, politics and governance—through art. 
Why Nations Win is the inaugural exhibition in Fadugba's The Artist's Algorithm series. It serves as an overview for a multi-year, multimedia project activating the past three years of her socially engaged research, evolving studio practice and resulting artworks. For its first presentation at Alara before traveling to Senegal in 2022 and Harlem in 2023, the exhibition will embrace an introductory, open-studio context including 20 works on paper and canvas, a video installation, and a game installation that provoke thoughts on the state of the educational, socio-political and economic system in Nigeria.
In Why Nations Win, we again see her key visual element of synchronized swimmers, which is her way of conveying the importance of team effort in some works like The Medallion Girls, Together, Lift Nigeria and Bronze Lift.
At the end of November, Fadugba will be having another presentation in New York under The Artist's Algorithm titled, Dear Young Artist. 
The Artist's Algorithm: Why Nations Win is on view at ALARA Lagos until Nov. 6, 2021 but can be viewed online until Dec. 20, 2021.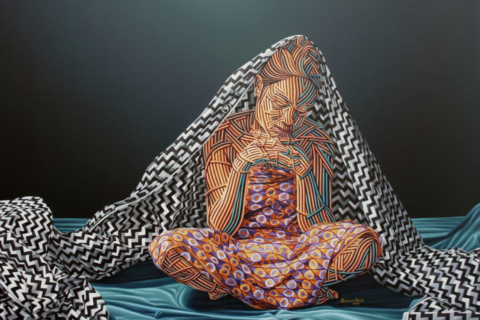 Above: Abdulrazaq Ahmed | Installation view of KNoWMaDS | 2021
Revolving Art Incubator Presents Abdulrazaq Ahmed's KNoWMaDs at the Centre for Contemporary Art, Lagos
This week, Revolving Arts Incubator (RAI), launched KNoWMaDs, the first solo exhibition of Nigerian multimedia artist Abdulrazaq Ahmed at The Centre for Contemporary Art in Lagos. 
Co-curated by Jumoke Sanwo and Byenyan Jessica Bitrus, the exhibition is the first installment in Ahmed's ongoing investigation into the factors spurring conflict on contemporary living and topographies in rural and urban centers across northern Nigeria.
KNoWMaDs is a multi-layered exhibition of mixed media paintings, sculpture and audio-visual installations. It is a means to interrogate and expand the discourse around the contemporary practice of "al-Muhajirun," particularly in the northern parts of Nigeria. 
The title of the exhibition derives from a combination of two terms, "know" and "nomad." We use this as an entry point into engaging the historical practice of the al-Muhajirun, which is to migrate while seeking knowledge. 
In the show, there is The Process Room, which reveals the emergence of Ahmed's signature slate figures, from years of research and distillation of text, audio and visual materials on the subject. In the process room, Ahmed's piece, Conformity 1 (2006) is a large mixed-media entry piece that incorporates human forms, mathematical formulas, symbols and other elements where enlightenment takes place in a circular flow of exchange, around the encircled teacher known as "Mallam."
The exhibition is on view until Dec. 4, 2021.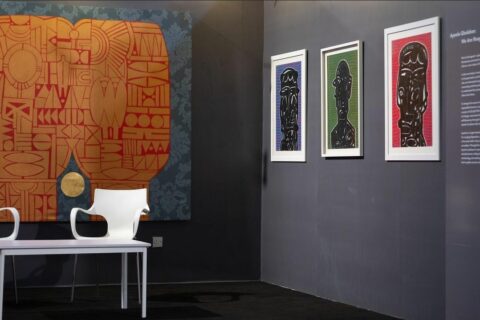 Above: Olawunmi Banjo | Introspection I | 2020 | Courtesy of SMO Contemporary Art
SMO Contemporary Art Presents Sense of Self by Olawunmi Banjo at The Wheatbaker, Lagos
"Sense of Self" is a collection of paintings by Nigerian artist Olawunmi Banjo with the exploration of three central themes: accepting self, letting go of the past, and embracing present moments. It is her ode to our life-long journey towards self-realization and actualization, towards "clarity coming by aligning with the core of our inner being."
Banjo is a self-taught visual artist with a degree in creative entrepreneurship from the Pan-Atlantic University in Lagos. Her hyper-realism style was inspired by exploring surrealistic landscapes that question constructs around physical reality. Banjo paints figures that are woven together by electrical wires, in acrobatic dance poses, leaping through time and space, propelled by a colorful surge of electric energy.
Hanging here and there around the sprawling walls of The Wheatbaker hotel in Ikoyi, Lagos, Banjo's works are at once peaceful, yet nudging. Many viewers might easily see aspects of themselves with the emotions exuding from the works. The vibrant use of color makes the viewer want to stay with the works longer, perhaps in search of comfort, peace or simply for appreciation of the process behind the way these works came to be. 
These works, indeed, give a sense of one's self to the viewer, regardless of whoever is looking. 
Sense of Self can be visited until Jan. 16, 2021.
Affinity Art Gallery Presents a Group of Young Emerging Nigerian Artists in Intersections
At Affinity Art Gallery, Lagos, a group of young artists are also being represented in the spirits of the festive art season. Titled Intersections, the exhibition brings together four emerging contemporary Nigerian artists: Claire Idera, Chigozie Obi, James Adebayo and Jonathan Chamberlain. The artists explore themes around the paradox and consequence of choices, the importance of documentation of the times, and they dare to challenge societal stereotypes. Notably, the works include paintings, photographs and texts that make distinct references to contemporary culture. 
Chigozie Obi (born 1997) is a multi-dimensional, visual artist who obtained a Bachelor's Degree in visual arts from the University of Lagos in 2017. Obi's work confirms her keen interest in the aspects of human life, the body, beauty standards and self-acceptance. She aims to create sustained conversations about people and society—the cultural narratives adopted and the effects on people, particularly women. 
Obi emerged as the winner of the Access Bank Art X Prize 2021 and has participated in several group exhibitions, including Shyllon Museum (The Invincible Hands), Lagos, 2021 and Thinkspace Projects (Real Life Is Fragile), Los Angeles, 2021. She has completed residency programs with Bethany Arts Community, New York (2020) and was chosen as Arthouse Contemporary's Artist of the month in 2018. 
James Adebayo, born 1996 in Ilorin, Nigeria is a self-taught artist working predominantly with acrylic and oil paint. His figurative paintings often depict scenes of historical and contemporary life, familiar moments, mundane activities and simultaneously convey innate human emotions and nostalgic feelings. James has participated in a group exhibition at Artpedia Gallery (A Tale of Shared Experiences), Lagos, 2021. 
Claire Idera, born 1993 in Lagos is a self-taught visual artist with a Bachelor of Science degree in architecture and a master's degree in fashion design from Kingston University London. She focuses on creating delicate, semi-biographical representations of herself to mirror the young, Black woman. Idera is constantly fascinated by the idea of identity and the role choices play in the architecture of life. She has participated in group exhibitions worldwide, including Rele Gallery (Group Exhibition), Lagos, 2018, For you Gallery (Phenomenology of a Black Woman), Dubai, 2021. She was a nominee for the Future Awards, Culture and Arts category in 2016. 
Jonathan Chambalin, born 1995 in Lagos obtained his Bachelor of Arts in theater arts from the University of Benin in 2017. He is an artist who works predominantly with monograms, mixed media, and acrylic. He creates symbolic forms that are a product of less seen and more felt phenomena that have shaped the human mind through societal structures and adaptation. 
Chambalin has participated in group exhibitions including FNB Art Joburg (Online art fair), South Africa, 2020, Rele Gallery (Rele Young contemporaries), Lagos, 2020, Native (African Artist foundation AAF) in collaboration with the International Women Media Foundation (IWMF), Lagos, 2018. Alternating between figurative and narrative, the works in the exhibition show the way each artist explores the crossroads between different dimensions and indirectly creates new forms of meaning.
Intersection comes to a close on Nov. 30, 2021.
Compiled by Roli O'tsemaye