Above: Stephen Arboite. "Mete Dlo Nan Diven Ou (Put Some Water In Your Wine)," 2018
The works of Alma Leiva, DePaul Vera, Edison Peñafiel, Luis Garcia Nerey, Morel Doucet, Pamela Largaespada, Rhea Leonard, Stephen Arboite, T. Eliott Mansa, and Vanessa Charlot will feature in Green Space Miami's inaugural exhibition titled Inside Feelings, Outside Voices: Reflections from Miami.
Inside Feelings, Outside Voices: Reflections from Miami opens at Green Space Miami, 7200 Biscayne Blvd Suite A, in the MiMo Historic District from November 12, 2021 – January 8, 2022, free & open to the public Tuesday through Sunday from 12:00 PM to 7:00 PM.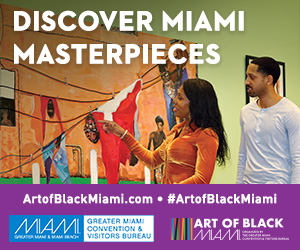 In November 2020 Green Space Miami launched the Green Space Initiative, a community effort to amplify the work of Miami-Dade County artists who are Black, Indigenous and People of Color (BIPoC) as the pandemic lockdown brought a halt to South Florida's arts scene, cancelling events and opportunities for artists to exhibit, perform, teach and work.
A committee of Miami's cultural leaders and educators came together to select 10 artists from hundreds of submissions. From Pérez Art Museum, FIU Patricia and Phillip Frost Art Museum, Museum of Contemporary Art (MOCA) North Miami, PRIZM Art Fair, Little Haiti Cultural Center, and other Miami-Dade cultural organizations, the Initiative team united around shared principles of inclusion, community empowerment and education. The ultimate ambition of the project was to build a show for all to witness the selected artists' work in person as soon as possible.
Through these paintings, photography, sculptures, installations and videos, the artists address race, gender, immigration, justice reform, healthcare access and education, illuminating life in Miami and critical issues of our time and place. Their work reminds us of urgent conversations which the pandemic intensified and continue to inform and stimulate the work of Miami-Dade's artists.
"Artists help us understand our world and each other, especially in these turbulent times. Over the last 20 months many artists lost income, shows and studios," said Dr. Kimberly Green, President of Green Family Foundation. "It's important more than ever that we invest in artists, providing space and resources to work and exhibit – particularly BIPoC creatives whose stories and viewpoints are so important to bring us together as a community."
"I was deeply impressed by the quality of works submitted, which made the process both competitive and thrilling, speaking to the depth of talent found in Miami," said Franklin Sirmans, Director of Perez Art Museum of Miami. "I am incredibly proud to be a part of this truly special initiative of Green Space Miami that shines a light on the great artists of Miami. The Green Family Foundation has always shined a light on artists of the utmost caliber, but their passion for artists of color is particularly important now."