This week, African art and culture is marked with distinctive visual arts and literature wins across the continent. A South Africa-based art prize announces four winners in celebration of diverse talent on the continent, a British-Nigerian artist receives esteemed recognition from the German government, and aCongolese artist wins an international prize over a renowned industry practitioner.
In literature, more African novels make it for adaptation to screen, and in the spirit of what might be the biggest literary win of the year, a Black African author wins the Nobel Prize for literature.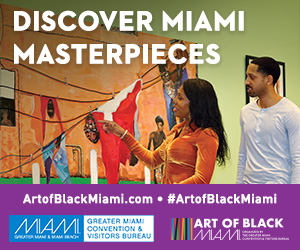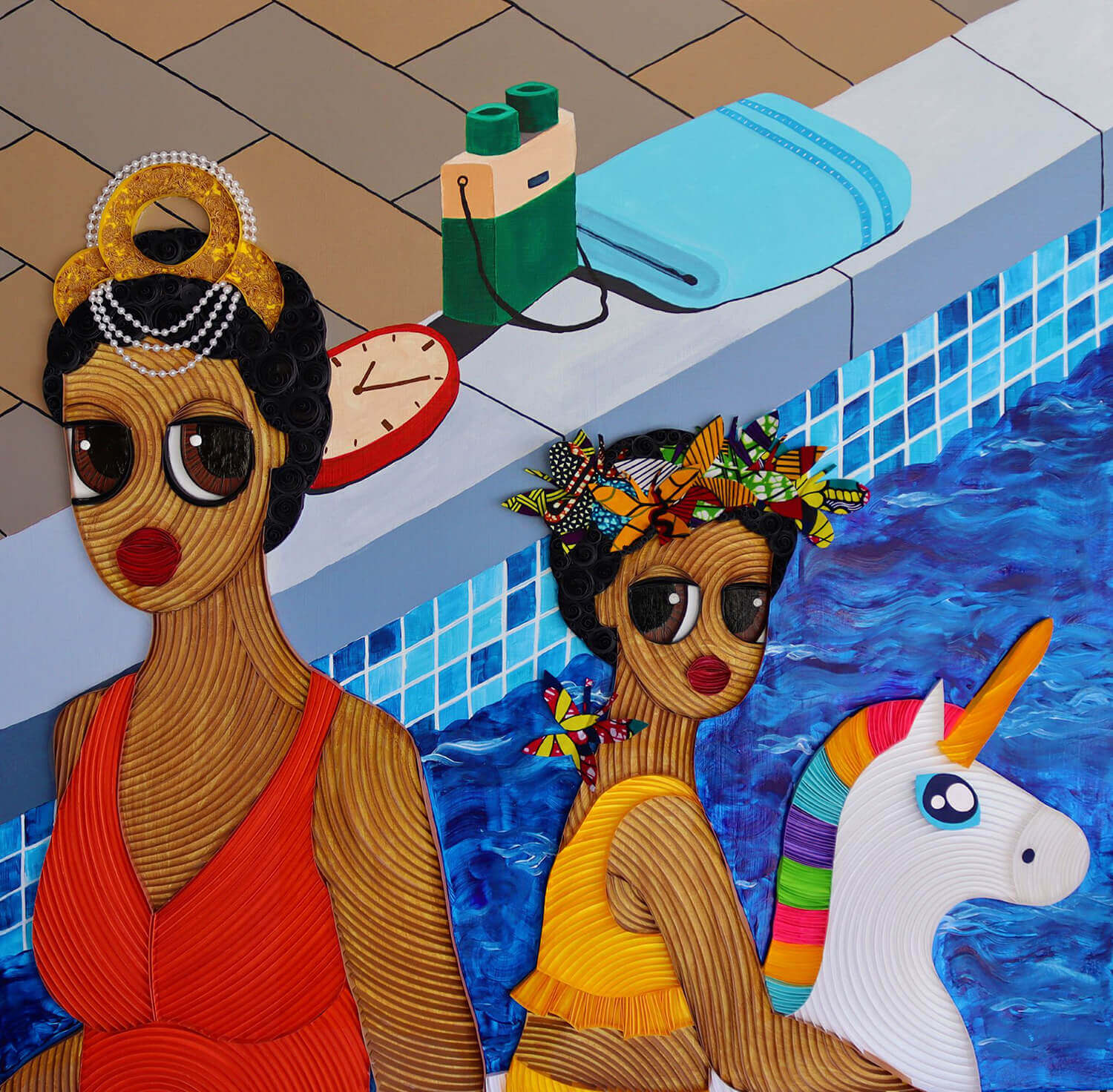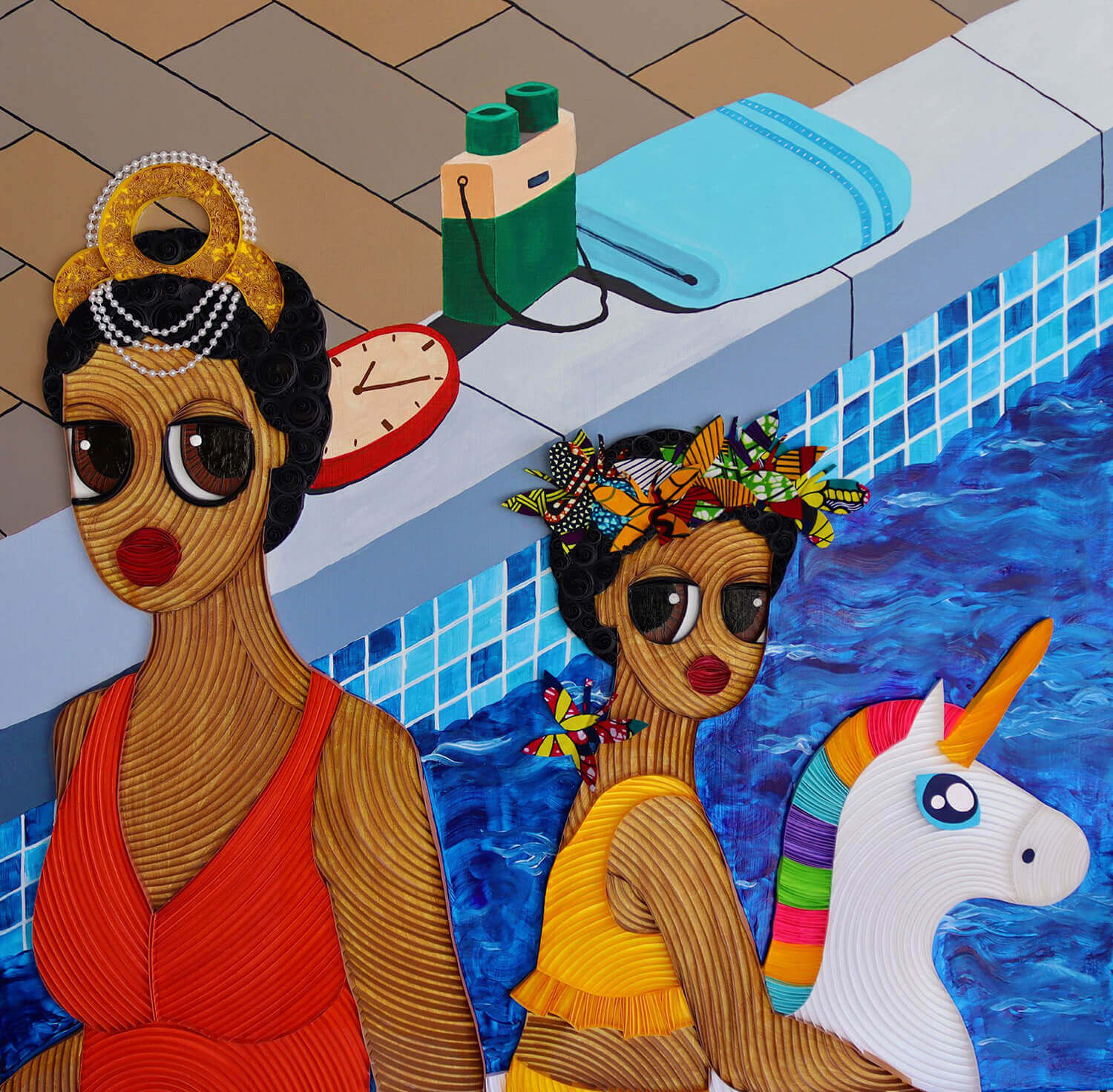 Above: Winning work by Ayobola Kekere-Ekun
Absa

L'Atelier 2021 Announces Four Winners, Celebrating Diverse Artists Across Africa
Absa, in partnership with the South African National Association for the Visual Arts (SANAVA), has announced the four category winners of the prestigious 2021 edition of the Absa L'Atelier.
One winner per group was chosen from three groups of African countries.
•
In Group A (Mozambique, South Africa, Uganda and Zambia), the winner was 
Adelheid
von
Maltitz
from 
South Africa.
•
In Group B (Mauritius, Nigeria, Seychelles and Tanzania) the winner was 
Ayobola
Kekere-Ekun
from 
Nigeria.
•
In Group C (Botswana, Ghana, Kenya and Namibia) the winner was 
Blebo
Michael Jackson 
from
 Ghana.
These artists now take on the title of Absa L'AtelierAmbassador 2021.
Meanwhile, the winner chosen in this year's Absa L'AtelierGerard Sekoto category was Cape Town-based artist Abongile Sidzumo.
The criteria for selecting the ambassadors included technical execution, that is, the artist's expert handling of material and techniques; conceptual and thematic engagement, or how they revealed an honest and intellectual reasoning or rationale; the freshness of artistic vision within the context of the contemporary African art landscape, showing how the artist engaged with honest and fresh ways of seeing; and aesthetic appeal, which implies that the artist must have shown great consideration for visual quality and conceptual concerns and that the portfolio of artworks was a cohesive submission carrying the intended message or thematic idea.
The judges for this year's award were acclaimed artist and BKhz's Director Banele Khoza, and Armelle Dakouo, independent curator and artistic director at AKAA Art & Design Fair.
Though COVID-19 provided its challenges, the past two years were a period of innovation and technological progression.
"The pandemic has allowed us to advance our digital art presence with the launch of the Absa Art Hotspot," said Paul Bayliss, senior specialist art curator at Absa. "This unique virtual experience platform made it possible for us to host live events such as webinars, art exhibitions, art masterclasses and art auctions, while certain elements of our art-related sponsorships and partnerships, such as this year's awards event, were also migrated to the platform."
SANAVA President Dr Avitha Sooful, commended her partners at Absa for forging ahead and continually seeking ways to impact the African visual arts scene even during the ongoing pandemic.
"The COVID-19 pandemic derailed our plans for 2020, but through some innovative thinking, we were able to come back stronger this year and we actually have more entries than we have ever had for this competition," Dr Sooful said. "I commend the work that our partners, Absa, have done in making sure that African artists continue to reap the rewards of their hard work.
"We look forward to working with this year's ambassadors and Gerard Sekoto winner and providing the next generation of young African artists with the support, recognition and exposure they need to solidify their careers and build their brands," Bayliss said.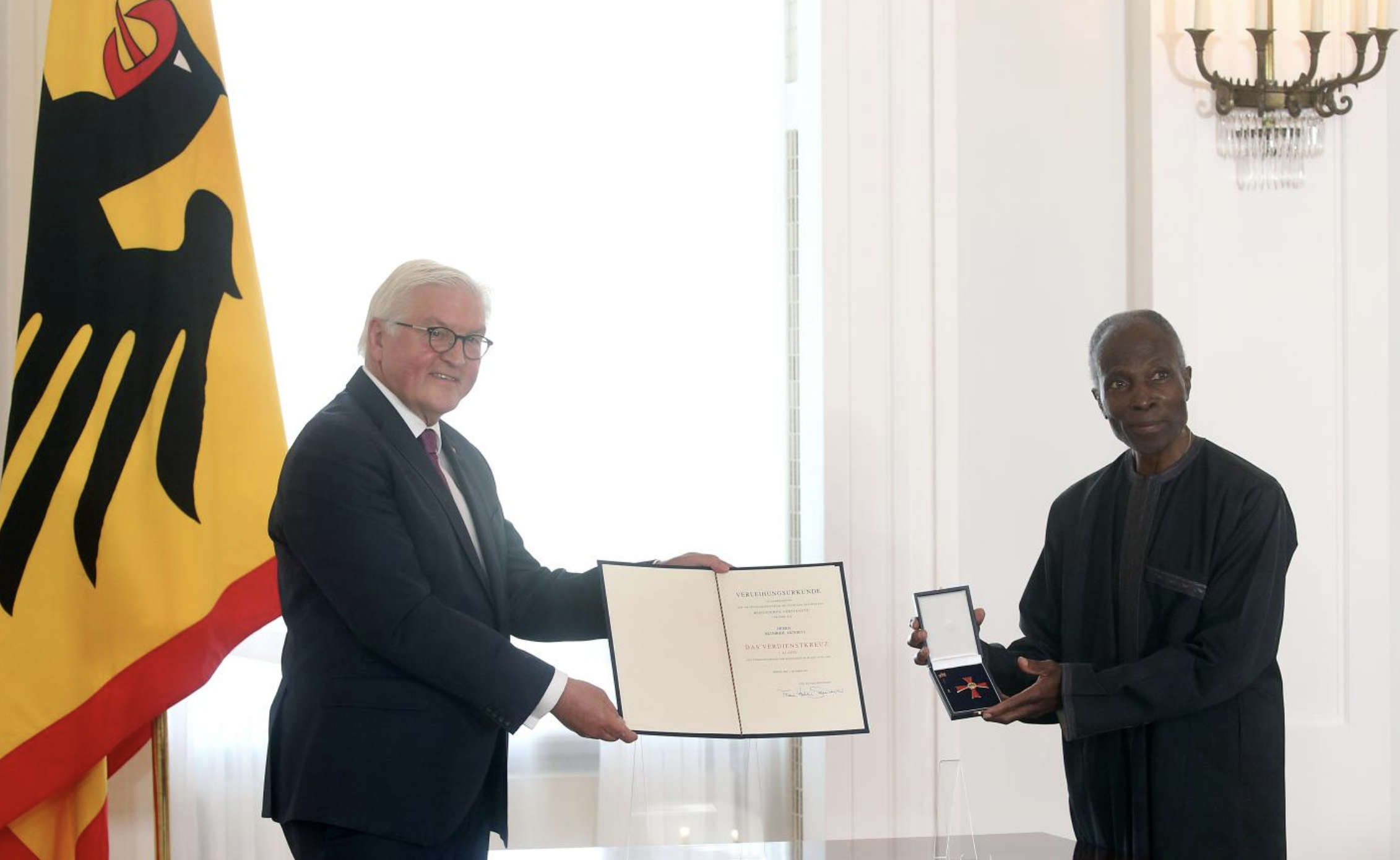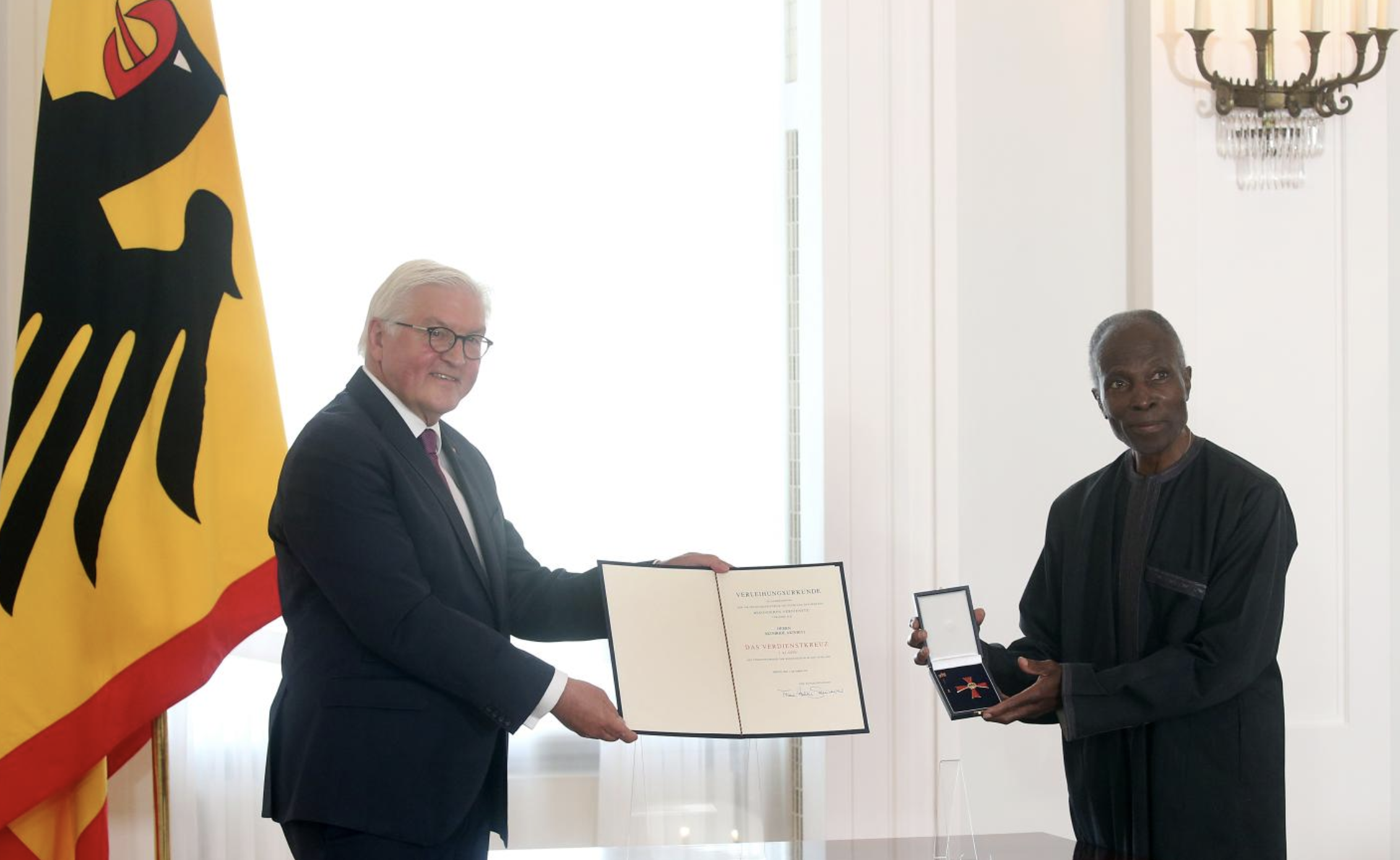 Above: Akinbode Akinbiyi receiving his Order of Merit
British-Nigerian Artist Akinbode Akinbiyi Awarded Order of Merit of Germany
British-Nigerian artist and photographer AkinbodeAkinbiyi, who has lived since the early 1990s in Berlin, has been awarded on the occasion of "Tag der Deutsche Einheit" (Day of German Unit) with the Order of Merit of the Federal Republic of Germany.
Akinbiyi, born 1946 in Oxford, England, is an artist, photographer, curator, and writer. He studied literature and English in Nigeria, England and Germany. His engagement with photography started in the mid-1970s in a self-taught practice. His photography is a window to everyday life, covering urban spaces and megacities. He lives and works in Berlin.
A renowned photographer, his works have been featured in various exhibitions and biennales in Tokyo, Paris, Philadelphia, Johannesburg, Havana and several other cities. He was featured in one of the main exhibitions at Documenta 14.
Akinbiyi regularly writes catalog texts for exhibitions he oversees, and in 2014 participated as co-author in the book project, Just Ask! about the contemporary African photography scene (2014, edited by Simon Njami). In cooperation with the Goethe-Institut in Nigeria, he founded an art center that is now part of a network of African photography schools. In 2016, he was awarded the Goethe Medal. In 2017, as part of Documenta 14, he exhibited his work, Passageways, Involuntary Narratives, and the Sound of Crowded Spaces (2015-2017) in Athens and Kassel.
At the Berlin art space, SAVVY Contemporary, he presented an extensive body of work in the group exhibition, THAT, AROUND WHICH THE UNIVERSE REVOLVES: On Rhythmanalysis of Memory, Times, Bodies in Space. Akinbode Akinbiyi lived temporarily in Munich after his studies and has lived in Berlin since the early 1990s.
With a special look at the cultural life in Germany, Federal President Frank-Walter Steinmeier awarded 14 citizens the Order of Merit of the Federal Republic of Germany on Oct. 1, on the Day of German Unity.
Sandra Mujinga Receives the Preis der Nationalgalerie 2021y
Sandra Mujinga (born 1989 in Goma, Democratic Republic of Congo), has been announced as the winner of the Preis der Nationalgalerie 2021. With the award, the artist will receive a large solo exhibition in the Hamburger Bahnhof—Museum für Gegenwart, Berlin next year with accompanying publication.
Four other artists and collectives had been nominated at the beginning of the year, including music and installation artist Lamin Fofana, photography duo Calla Henkel and Max Pitegoff, and conceptual artist Sung Tieu. Each of the shortlisted artists created a small solo exhibition of new and recent works at the Hamburger Bahnhof in Berlin.
The jury, which included Emre Baykal (chief curator, Arter, Istanbul), Sven Beckstette (curator, Hamburger Bahnhof—Museum für Gegenwart, Berlin), Gabriele Knapstein (director, Hamburger Bahnhof—Museum fürGegenwart, Berlin), Emma Lavigne (president, Palais de Tokyo, Paris) and Yesomi Umolu (director, curatorial affairs and public practice, Serpentine Galleries, London), selected Mujinga to be winner.
"The topics addressed by her works resonate greatly with the present moment, while also seeming to come from a future already passed," said the jury in a joint statement. "These works remind us to be considerate of other living beings for the sake of our own survival, and that we can observe and learn from their various strategies of adapting to an ever-changing world."
Born in Goma, Democratic Republic of Congo, Mujinga now lives between Berlin and Oslo. The artist, who is represented by Croy Nielsen in Vienna and The Approach in London, recently closed a solo exhibition at the Swiss Institute in New York. Her sculptures and installations oscillate between the figurative and abstract, and often occur as ghostlike figures made with carefully executed, otherworldly textiles. At the Hamburger Bahnhof, Mujinga presented faceless, towering figures in a green-washed space, as well as a large, ominous ship-like sculpture.
As part of the prize, Mujinga will receive a solo exhibition at Hamburger Bahnhof in 2022 and an accompanying publication.
The award is handed out every two years to an artist under 40 who lives in Germany.
Adaptation of Jordan Ifueko's Novel Raybearer Goes to Screen
Netflix has announced that the adaptation of Nigerian-American writer Jordan Ifueko's young adult fantasy novel, Raybearer is coming to its network.
According to Variety, the adaptation will be led by acclaimed director Gina Atwater, who is known for her work in Westworld and Star Wars: The Force Awakens.Atwater will serve as writer, director and producer for the series. The adaptation is the first project in a newly-signed multi-year deal with Netflix. Raybearer is reportedly in the early stages of development at Netflix and hails from Sugar23 and Macro Television Studios.
Raybearer is based on West African culture and follows a child who has a mysterious upbringing. Released in 2020, it has made several lists of best books of that year, and its sequel, Redemptor, which was released just last month, continues the story of Tarisai, a girl who was raised in isolation by a mysterious figure known as "The Lady." Everything changes when she is sent into a global competition with a dangerous mission: earn the trust of the crown prince, and then end his life.
At the moment, there is no set date for the release of Raybearer.

Above: Abdulrazak Gurnah
Tanzanian Writer Abdulrazak Gurnah Wins 2021 Nobel Prize for Literature
The 2021 Nobel Prize for Literature has just been awarded to Tanzanian novelist Abdulrazak Gurnah. He is the seventh African to receive this honor. The announcement was made on Oct. 7, 2021, after a closed-door deliberation by members of The Swedish Academy. No Black African writer has won the prize since Wole Soyinka in 1986. Gurnah also is the first Black writer to win since Toni Morrison in 1993.
Gurnah was awarded "for his uncompromising and compassionate penetration of the effects of colonialism and the fate of the refugees in the gulf between cultures and continents" in line with the ideals of Alfred Nobel, after whom the prize is named.
Gurnah, who had been in his kitchen when he was informed of his win, said he assumed it was a prank. He told the Swedish Academy correspondent in a call that was posted on YouTube, "These things are usually floated for weeks beforehand, or sometimes months beforehand, about who are the runners, so it was not something that was in my mind at all. I was just thinking, I wonder who'll get it?"
Born in Zanzibar (now Tanzania) in 1948, Abdulrazak Gurnah emigrated to Britain to escape persecution of Arab citizens during the Zanzibar revolution. He earned a doctorate at the University of Kent in 1982, and ventured into an academic career that spanned Britain and Nigeria.
Hailed as one of Africa's greatest living literary giants, his impressive body of work ranges from essays, short stories and ten novels, including the Booker-longlisted By the Sea (2001), and most recently, Afterlives, which was longlisted for the Walter Scott Prize for Historical Fiction. Based in the U.K., he maintains firm links with the African literary space, serving as contributing editor for Wasafiri Magazine since 1987. He also has served on the judging panels of the Caine Prize and the Booker Prize. In August, he was announced as the headliner for the 2021 Ake Festival.
Gurnah is the author of many books including Paradise,which tells the story of a boy, Yusuf, who is pawned out as a servant in exchange for his father's debt. The novel was shortlisted for the 1994 Booker Prize and the Whitbread Award. Reportedly, it was also the determining novel for Gurnah's Nobel Prize win.
Gurnah's editor, Alexandra Pringle at Bloomsbury said she was thrilled for Gurnah to get the recognition that, it seemed, he had been long denied. She describes him as a writer "as important as Chinua Achebe" with a writing style that was "particularly beautiful and grave and also humorous and kind and sensitive."
Gurnah will receive a cash prize worth 10 millionSwedish krona (U.S. $1,139,186), in addition to a gold medal and a diploma. He also joins the rare and elite class of African literature Nobel laureates, which include Algeria's Albert Camus (1957), Nigeria's Wole Soyinka (1986), Egypt's Naguib Mahfouz, and South Africa's Nardine Gordimer (1991), J.M Coetzee (2003) and Doris Lessing (2007).
– Compiled by Roli O'tsemaye